New Products
DD71™ Series Air Scrubbers from USFilter Davis Products provide a flexible method to eliminate contaminants for all types of odor and fume control in air streams from 1,000 to 6,000 cfm.
Nov 1st, 2002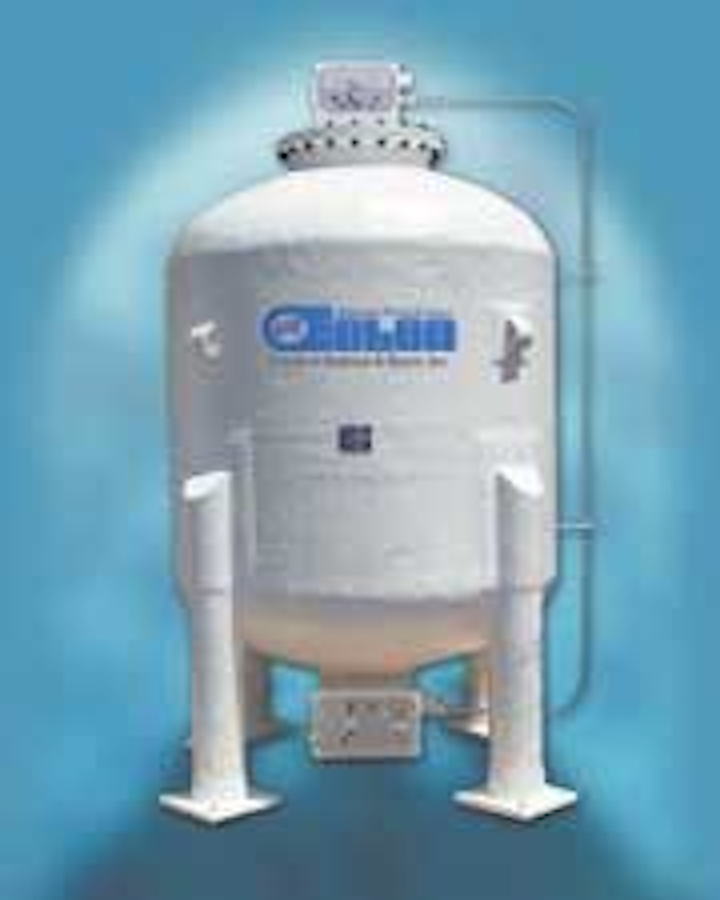 Air scrubbers
DD71™ Series Air Scrubbers from USFilter Davis Products provide a flexible method to eliminate contaminants for all types of odor and fume control in air streams from 1,000 to 6,000 cfm. The DD715 systems use the modular Poly-Stage™ scrubbing technology, featuring a packed-bed wet scrubbing process, providing treatment of airborne contaminants including hydrogen sulfide, ammonia, acid and chlorine, among others. State of the art design features a clean uncluttered appearance with a low profile so that they are unobtrusive and blend into the surrounding area.
USFilter Davis Products
Thomasville, GAWeb: www.usfilter.com
Vessels, linings, coatings
Edlon Inc., a unit of Robbins & Myers, offers the Secure & Pure™ family of vessels, linings, and coatings for ultra-pure applications. The family's Day Tanks are designed for storage of ultra-pure, electronic-grade chemicals used in the semiconductor industry. They feature a one-piece, 90-mil-thick, removable Teflon PFA liner with a high-density polyethylene outer shell (overpack) to eliminate possible metal-ion contamination from the container. Additional features include sidewall cutouts for liquid level monitoring, heat exchanger coils, PFA-coated mixer assemblies, spray bars, baffles and flare-type fittings for feed line connections. The product line also includes fluoropolymer coatings and glass-backed, bonded fluoropolymer liners designed to satisfy the semiconductor industry's purity requirements.
Edlon, Inc.
Avondale, PA
Tel: 800-753-3566
Web: www.edlon.com
Dual tank console
Terracon, the creator of Terrapure® tanks, now offers a dual tank console ready for installation of piping, valves, pumps, mixers, and other accessories to create finished mix and dispense systems. Originally designed for mixing and dispensing sodium bicarbonate solution in hemodialysis clinics, this tank console fits the bill in any batch application that requires a complete mix and verification prior to distribution or dispensing. Users are able to configure the system in the manner that best suits the application. Some use one tank only for mixing, and the other only as a distribution loop reservoir. Others perform both processes in both tanks, alternating between tanks to allow for cleaning and disinfecting between batches. Standard 60- or 115-gallon consoles are available for use as is, or to build prototypes.
Terracon Corp.
Holliston, MA
Tel: 508-429-9950
Web: www.terracontanks.com
Safety shutoff systems
Halogen Valve Systems offers automatic shut off systems for Chlorine and SO2 cylinder and ton container valves. The Eclipse Actuator™ mounts directly to standard container valves without special tools. The battery-operated actuator will close a chlorine valve in less than one second in response to signals from leak detectors, earthquake sensors, and local or remote "panic buttons." Operators need not enter a toxic atmosphere to shut off a leaking chlorine system. The latest Fire Codes recognize and approve the "automatic-closing fail-safe shutoff valve" system in lieu of a scrubber treatment system. When combined with a leak detection system, the shut off system stands guard 24 hours a day.
Halogen Valve Systems
Irvine, CA
Tel: 877-476-4222
Web: www.halogenvalve.com
Lift station
The new Hydromatic PFC6X6 above-ground lift station is engineered to use Hydromatic's 40RP "Rapid Prime" self-primer pumps. Enclosed in a fiberglass covered, 6 ft. x 6 ft. primer station, the station is designed to meet industry specifications for remote primer lift stations. It is pre-engineered and ships complete from the factory with the incoming power and piping connections. It comes complete with four access panels, two lockable-hinged doors and two solid fastened panels with tamper-proof screws.
Hydromatic Inc.
Ashland, OH
Tel: 419-289-3042
Web: www.hydromatic.com
Process medium
KDF® 55 Process Medium, from KDF Fluid Treatment, provides an effective means of reducing contaminants in water. The copper-zinc alloy medium reduces contaminants such as chlorine, bacteria and heavy metals using a chemical process called redox, or oxidation-reduction. During redox, free electrons are transferred between molecules turning previously harmful substances such as chlorine into a benign substance like chloride. The medium's unique redox process, which removes up to 98% of inorganic water-soluble heavy metals from filtered water, is protected by 14 US patents and numerous foreign patents. It can be used at both POE and POU, and has extensive applications in residential, commercial and industrial settings.
KDF Fluid Treatment, Inc.
Three Rivers, MI
Tel: 800-437-2745
Web: www.kdfft.com
Pulsed UV system
LightStream Technologies offers the new LSi, which integrates pulsed UV light, digital operating systems, optimum fluid dynamics and touch screen operation into a state-of-the-art "plug & play" disinfection machine that uses no chemicals and contains no mercury. The equipment produces UV by means of short, high-current pulses of electricity (up to 30 per second) through a single inert (non-mercury) xenon flash lamp. Through the company's patented Constant Optimum Dose methodology, the unit conducts continuous sub-second analysis of the UV intensity and makes real-time adjustments to deliver the specified UV dose. This is accomplished by means of an internal closed loop control system which, in real-time, adjusts the reactor module's UV power and/or flow rate to accommodate a wide range of varying influent conditions.
LightStream Technologies, Inc.
Reston, VA
Tel: 703-860-8580
Web: www.LightStreamUV.com
Hydrocarbon removal
Mycelx offers a line of 316 stainless steel filter systems with single unit flow rates from less than 1 gpm to 780 gpm using a Mycelx HRM™ (Hydrocarbon Removal Matrix) cartridge to remove the pollutants to below detectable limits in a single pass with no backpressure. The filter systems are designed to take up a minimum of space and can be retrofitted into virtually any application or treatment train. The systems generate less waste than activated carbon with greater removal efficiency. Mycelx MX series cartridge filtration products are designed to remove hydrocarbons ranging from raw BTEX to crude oil, sheen, natural and synthetic oils, chlorinated solvents, PCBs, POPs, TBT, and organically bound metals from wastewater.
Mycelx Technologies Corp.
Gainesville, GA
Tel: 888-306-6843
Web: www.mycelx.com
Pipeline inspection
Pearpoint has announced the launch of its P374 Intrinsically Safe MiniCam. Approved, Labeled and Listed as intrinsically safe for inspection and entry to Zone 0, T6 environments, it is ideally suited for industrial and small commercial inspections. This newest addition to Pearpoint's portable inspection system line is a fully self-contained unit for inspections in lines 1 in. to 4 in. with a range of 200 feet. Features include: 360 TVL resolution, CMOS camera technology, sapphire glass, maintenance free white LEDs, and manually set focus.
Pearpoint, Inc.
Thousand Palms, CA
Tel: 760-343-7350
Web: www.pearpoint.com
Pump protection
The patented Blacoh Spill-Stop is designed to prevent toxic and/or expensive chemical spills caused by the failure of diaphragms in air-operated diaphragm pumps. The device captures any contaminated exhaust air or liquid leaked through a ruptured diaphragm. It then automatically shuts off the pump pneumatically -- no electricity or batteries are required. The device can automatically turn on a standby pump or trigger an alarm for immediate response.
Blacoh Fluid Control, Inc.
Riverside, CA
Tel: 800-603-7867
Water conditioners
The HC-Series of Heavy Commercial water conditioners from Water Right offer capacities between 60,000 and 600,000 grains and flow rates to 107 gpm. They are ideal for use in boiler feeds, cooling towers, and light industrial applications. The systems use a lead-free, solid brass piston-type controller that can be expanded to multiple tank configurations for applications requiring continuous soft water or higher flow rates.
Water Right, Inc.
Appleton, WI
Tel: 800-777-1426
Web: www.water-right.com
Oil skimmer
Zebra Skimmers recently announced the introduction of the Oil Slider™, an oil skimmer for commercial wastewater environments. Applications include automotive garages and service stations, car washes, and lube stations where unwanted contaminants exist. The skimmers feature a flexible floating collector tube that snakes over and around debris to reach hydrocarbons and other contaminants from water. Built with a continuous duty motor and stainless steel housing, the skimmers require minimal upkeep. The self-contained skimming tube drive cartridge can be switched-out in minutes and enables up to 10 units to operate at one time.
Zebra Skimmers Corp.
Cleveland, OH
Tel: 888-249-4855
Web: www.zebra-us.com.
Filtration system
The CTF System from Valve & Filter Corp. is a filtration system for removing particulate from fluid handling systems. It works to remove suspended solids down to 15 micron using stainless steel screen media. A controller monitors dirt cake buildup on the screen and at preset intervals or high D.P., conducts a backwash lasting less than 30 seconds without interrupting filtration and flow. The system can be used to keep cooling towers clean for improved efficiency. It mounts in a "side stream" loop around a cooling tower. The skid-mounted system comes with its own filter, pump, valves, controller, and pump starter.
Valve & Filter Corp.
Arvada, CO
Tel: 303-425-4242
Web: www.valveandfilter.com
Filtration, separation system
Pall Corp. and Aqua-Aerobic Systems have joined forces. By combining Pall's expertise in filtration and separation processes with Aqua's biological reactor designs, a unique separations technology is now available for wastewater reuse applications. This process also increases the capacity of active wastewater treatment plants. This significantly reduces the physical size of the bioreactor. Further cost savings are realized by passing biomass directly to an advanced design membrane stage which rejects suspended materials and biosolids. It provides effluent that exceeds current EPA guidelines for safe discharge and is ideal for reclaiming water for industry and agricultural applications.
Pall Corp.
East Hills, NY
Tel: 516-801-9104
Web: www.pall.com
Chemical metering pump
Watson-Marlow Bredel offers its new 323 pump, which is ideal for chemical metering. The pumps can handle harsh chemicals such as sodium hypochlorite, ferric chloride, alum, sodium bi-sulfite, caustic, aqueous ammonia, polymer, and many others. In addition, the pump will not vapor lock from hypochlorite off-gassing. Because the pump's tube is the only replacement part, tube change-over can be completed in three seconds, making the pump virtually maintenance-free. A typical pump rebuild costs less than $15. The pump is reversible, offers turndown ratios of 20,000:1, and requires no pulsation dampeners, strainers, or back pressure valves.
Watson-Marlow Bredel
Wilmington, MA
Tel: 800-282-8823
Web: www.wmbpumps.com.
General Service Pumps
Patterson's Type "A" Horizontal Split Case Pumps are engineered, built and tested to move clear water or low viscosity clear liquids at moderate heads. Their rugged, simple design contributes to extended service life, reduced maintenance costs and minimum power consumption. Fabricated parts are standardized and accurately machined for true alignment. They are available in capacities from 50 to over 100,000 gpm, with single stage heads to 550 feet and two stage heads to 1,150 feet, or in custom sizes.
Patterson Pump Company
Toccoa, GA
Tel: 706-886-2101
Web: www.pattersonpumps.com
Industrial stroboscope
Palm Strobe, a removable, re-chargeable battery pack stroboscope, is offered by Monarch Instrument. The patent-pending design provides unlimited continuous use of this inspection light. A joystick tuning button provides rapid and precise frequency selection for instant stop-motion inspection.
Monarch Instrument
Amherst, NH
Tel: 800-999-3390
Web: www.monarchinstrument.com
AC drive
The new GT 3000 Low Voltage AC drive from ASIRobicon is designed to meet a wide variety of process requirements for AC motors 3 hp to 800 hp. Along with built-in software macros for customizing the drive to the end user's process parameters, the system's Process Tolerant Protection Strategy (ProToPS™) offers improved performance that extends the life of the motor.
ASIRobicon
New Kensington, PA
Tel: 724-339-9500
Web: www.asirobicon.com
Odor neutralizer
Ecosorb® Natural Organic Odor Neutralizer from Odor Management Inc. breaks down and eliminates harmful gases, including hydrogen sulfide, sulfur dioxide, ammonia, ethyl mercaptan and methyl mercaptan. A broad spectrum odor neutralizer, the product is used in a variety of settings, including wastewater treatment plants. The product is typically diluted with water and sprayed into odorous areas in an atomized mist. The droplets electrostatically attract the molecules that form the odor, then capture and neutralize them, diminishing their volatility until they are reduced to their lowest possible form. Feed systems are custom-designed for each facility.
Odor Management, Inc.
Barrington, IL
Tel: 800-662-6367
O&M manual software
CAE Consultants has released O&M Writer 6.0. This updated version of the O&M Writer features support for more video formats, higher resolution screens, Windows XP and compatibility with FileMaker 6.0. The software offers a relational multimedia database to create Operations & Maintenance manuals and safety manuals. Perfect for the small plant where the plant engineer must do it all, this program is menu driven and allows the user to fill in the blanks daily, at his/her own pace until the manual is complete.
CAE Consultants Inc.
Yonkers, NY
Tel: 914-963-3695
Web: www.municipalnets.org
Automation controller
Healy-Ruff's new Versatile Process Automation Controllers (V-PAC) are specifically designed for water and wastewater applications such as SCADA, telemetry, and variable speed pump control. Key benefits are derived from V-PAC's flexible I/O, integrated user interface, and a single software program for both ladder logic and display configuration.
Healy-Ruff
St. Paul, MN
Tel: 651-633-7522 ext. 239
Web: www.healyruff.com
Plastic basins, drains
Hancor has introduced a new product line, Drain-Rite plastic catch basins and in-line drains. The new products are manufactured from a specially formulated resin compound for durability. The PVC bodies are abrasion resistant and virtually immune to most types of corrosion.
Hancor, Inc.
Findlay, OH
Tel: 800-537-9520
Web: www.hancor.com
Color, turbidity sensor
The CT-Cense™ from Dascore is a color and turbidity sensor that can measure critical water quality parameters in a distribution system. Color and turbidity are prime indicators of problems associated with distribution piping, wells, and low use zones. This sensor is packaged in a 36 mm stainless steel probe designed for insertion into pressurized distribution systems up to 230 psi and in pipes from 2 to 72 inches in diameter. It is available in 4-20 mA output or LonWorks® network variable format.
Dascore Corp.
Jacksonville, FL
Tel: 866-321-3804
Web: www.dascore.com
Cengrifugal pumps
Grundfos has expanded its small multistage centrifugal pump line, with the introduction of the CR1s, CR1, CR3 and CR5 pumps, providing new sizes with greater flow range. The new pumps will provide nominal flow rates from one half gpm through 45 gpm. The line includes the company's LiqTec™ Sensor, which automatically stops the pump when it detects an absence of liquid, reducing dry running.
Grundfos Pump Corp.
Olathe, KS
Tel: 913-227-3400
Web: www.grundfos.com
Pest control
GatorGuard is a life-sized floating replica of an alligator head that is designed to scare birds and small animals away from water bodies such as wastewater lagoons and ponds. The floating replica moves around with the wind and waves. Mirror-backed flashing eyes reflect the sun from changing angles. This movement and change make it difficult for birds to acclimate to a fixed pattern. The guard is made of weather-proof urethane foam with a UV protected coating.
Bird-X Inc.
Chicago, IL
Tel: 800-662-5021
Web: www.bird-x.com
Turbidity measurement
Mettler-Toledo Ingold has introduced a new full range turbidity transmitter (Trb 8300) together with a selection of turbidity sensors for all major applications in the wastewater industry. The transmitter offers three independent parameter sets to cover the requirements of different applications, a full text menu guide, and three different procedures for application-tailored calibration routines.
Mettler-Toledo Ingold
Woburn, MA
Tel: 978-939-6338
Web: www.mt.com/pro
Video surveillance
The new SR2 Video developed by ALCO Engineering provides a means to integrate video surveillance with SCADA systems. The system combines digital remote wireless video technology with a scalable, open architecture to provide seamless surveillance management across any IP network. The system is available as a complete package of intruder surveillance, critical data monitoring, and quality control supervision.
ALCO Engineering
Cranston, RI,
Tel: 401-467-4448
Web: www.alcoengineering.com
Filter housings
Rosedale Products announces the release of its Quick Access Cover for Bag & Cartridge Filter Housings (QAC). The QAC filter housings feature a quick clamp and spring assisted hinged cover that allows the cover to be removed without special tools. These housings reduce element change-out time. The average time necessary to open and close a traditional eyebolt style housing is 15 to 25 minutes, while the average time it takes to open and close the QAC is only 5-15 seconds.
Rosedale Products, Inc.
Ann Arbor, MI
Tel: 734-665-8201
Web: www.rosedaleproducts.com
Monitoring, control
Hach offers a variety of equipment designed to optimize water systems in power generation. Products include the company's Series 5000 Silica Analyzer, which provides, part-per-billion surveillance to detect demineralizer breakthrough and steam carryover. Its 9073 Sodium Analyzer provides part-per-trillion detection in condensate. A choice of on-line pH monitor probes and ranges are available to meet system specifications. The company also offers its sensION™ 156 portable pH/conductivity/dissolved oxygen meter. Its DR/4000 Spectrophotometer provides preprogrammed tests for a multitude of sensitive water quality parameters.
Hach Co.
Loveland, CO
Tel: 800-227-4224
Web: www.hach.com
Metering pumps
F-20 Metering Series Pumps from Hydra-Cell Industrial Pumps, Wanner Engineering Inc., pump up to 1 gpm at up to 1200 psi. They deliver linear flow with excellent repeatability and accuracy for dosing applications. These sealless metering pumps are self-priming and can run dry without damage, and are ideal for pumping harsh abrasive slurries, shear sensitive fluids and clean corrosive chemicals, among others. These pumps can be mounted closed or flexible coupled to an electric, gear, hydraulic or air motor.
Hydra-Cell Industrial Pumps, Wanner Engineering Inc.
Minneapolis, MN
Tel: 612-332-5681
Web: www.hydra-cell.com
Epoxy coatings
Wear Guard™ epoxies from Devcon protect equipment from abrasion. These bead-filled coatings and linings cure rapidly at room temperature, allowing equipment to be returned to service in as little as 1.5 hours. They are ideal for pipe elbows, fans and housings, screens, chutes, hoppers, screw conveyors, slurry pumps, pneumatic conveying equipment, and many other applications. Wear Guard High Load and Wear Guard Fine Load are alumina ceramic bead-filled epoxy putties that will not run, drip, or sag when used on vertical or overhead surfaces.
Devcon
Danvers, MA
Tel: 800-933-8266
Web: www.devcon.com
Fluid recycling
Based on the growing need to purify and recycle spent industrial fluids, Osmonics has introduced the MiniWizard™ fluid recycling system. The system is designed as an automated, point-of-use device for the factory floor ideal for small parts washing operations, such as metals finishing and automotive garage shops. The system recycles spent industrial fluids including aqueous cleaners, mass finishing (vibratory) compounds, mop water and synthetic coolants at a rate of 50 gallons per day.
Osmonics Inc.
Minnetonka, MN
Tel: 952-933-2277
Flow restrictor
The Tideflex® TFO Flow Restrictor stops cavitation in discharge-to-atmosphere applications. The TFO features a variable-orifice, Duckbill® design that creates a natural restriction, restoring pressure in the line. This protects the throttling valve and other process equipment. The restrictor is most often used on discharge lines through which process byproducts, such as dewatered sludge, are discarded into open tanks.
Red Valve Company, Inc.
Carnegie, PA
Tel: 412-279-0044
Web: www.redvalve.com
Screenings conditioner
Now the benefits of an in-channel augur screening system can be added to an existing mechanical bar screen installation. The Spiralift SC Screenings Conditioner is the latest addition to Franklin Miller's line of shaftless screw screening devices. The SC takes screenings from a bar screen and washes, de-waters, compacts and deposits them in a container for disposal. The units can be installed behind a new mechanical bar screen or as a retrofit to an existing installation. The SC unit uses a Taskmaster grinder to reduce solids to a small size.
Franklin Miller, Inc.
Livingston, NJ
Tel: 973-535-9200
Web: www.franklinmiller.com
Turbine agitator
Chemineer offers the HT Turbine Agitator, which is ideal in harsh, demanding environments where reliability is a key consideration. The agitators are used in blending and motion, solids suspension, and gas dispersion applications among others. Product features include output speeds of 5 to 350 rpm; a compact, right-angle gear drive; 13 standard drive sizes from 1 to over 1,000 hp, and a variety of mountings, shaft seals, and impellers. Tapered roller bearings are service rated to over 100,000 hours L-10 life.
Chemineer Inc.
Dayton, OH
Tel: 937-454-3200
Web: www.chemineer.com
Speed reducers
Transcyko® cycloidal speed reducers operate without vibration and can absorb extremely high shock loads in excess of 500%. The reducers are used in wastewater treatment plants, primarily in the areas of grinders, augers and clarifiers. They are available in a wide range and combinations of sizes, ratios, input power, mountings and configurations. Reduction ratios — 6:1 through 119:1 per stage — through 7569:1 double and 658,503:1 triple reduction. Input horsepower from 1/16 to over 200 hp. Output torque in excess of 500,000 in. lbs.
Hyatt TSC Reducers Inc.
Vancouver, British Columbia
Tel: 604-736-7301
Web: www.hyatt-transcyko.com
Dewatering pump
A cast iron submersible pump designed for handling both groundwater and wastewater has been introduced by ITT Flygt Corp. Designated as model 3068, the pump can deliver up to 260 gpm, and the maximum head is 100 ft. The pumps are available in three configurations: with a closed, 2 vane solids handling impeller for most wastewater and groundwater applications; with a vortex impeller that reduces abrasive wear and minimizes clogging caused by passing large or stringy solids; and a chopper version, with Ni hard impeller and cutter plate, capable of handling solids, fibrous materials, heavy sludge and other matter found in normal sewage applications. The pumps are available in 230 V single-phase and 208/230/460/575 V three-phase versions, and are rated at 2.3 hp and 2 hp (single phase) and 2.4 to 3.8 hp (three phase).
ITT Flygt Corp.
Trumbull, CT
Tel: 203-380-4700
Stator removal device
Moyno recently introduced the Moyno® Stator Removal Device, a maintenance tool that facilitates removal and reassembly of large stators and rotors. Designed to be portable within a plant facility and for use at either the pump location or in the maintenance shop, the device is compatible with all medium to large Moyno® 2000 Pump and 1000 Pump stators.
Moyno, Inc.
Springfield, OH
Tel: 877-486-6966
Web: www.moyno.com
UV disinfection
The LPX ultraviolet disinfection series from Suntec Environmental incorporates low pressure, high output lamp technology that provides higher disinfection levels with fewer lamps than the traditional low pressure, low intensity disinfection systems. The systems feature modular racks and an automatic mechanical cleaning system. Their high frequency submersible ballasts (capable of variable output) are "Cooled by Configuration." Using the wastewater to cool the ballasts eliminates the need for additional cooling systems, cabinets or buildings.
Suntec Environmental, Inc.
Concord, Ontario
Tel: 905-669-4450
Web: www.suntecuv.com
Air-operated pinch valve
Red Valve's Type A Pinch Valve features a full-port opening and straight-through flow path to eliminate turbulence when open. The simple, two-piece body acts as a built-in pneumatic actuator. Fabricated elastomer sleeves offer wear resistance and seal on entrapped debris. Double-Wall and Cone Sleeves are also available for extremely abrasive and high-pressure applications.
Red Valve Inc.
Pittsburgh, PA
Tel: 412-279-0044
Web: www.redvalve.com
Sensor calibration
Sensotec has launched its Identity Technology plug, play & calibrate systems for its sensors and signal conditioning. The system is compliant to the soon to be published IEEE 1451.4 standard for connectivity of sensors and associated signal conditioning. The transducer electronic data sheet (TEDS) containing sensor specifications, calibration data and user defined location information is stored in the sensor. When connected to the SC2000 or any IEEE1451.4 compliant signal conditioning the sensor is interrogated for the TEDS information and automatically sets up and calibrates the signal conditioning with the sensor.
Sensotec, Inc.
Columbus, OH Tel: 800-848-6564
Web: www.sensotec.com