Corrosion
Stahlin Non-Metallic Enclosures has introduced its new family of DiamondShield™ fiberglass enclosures for use in corrosive environments.
Nov 1st, 2002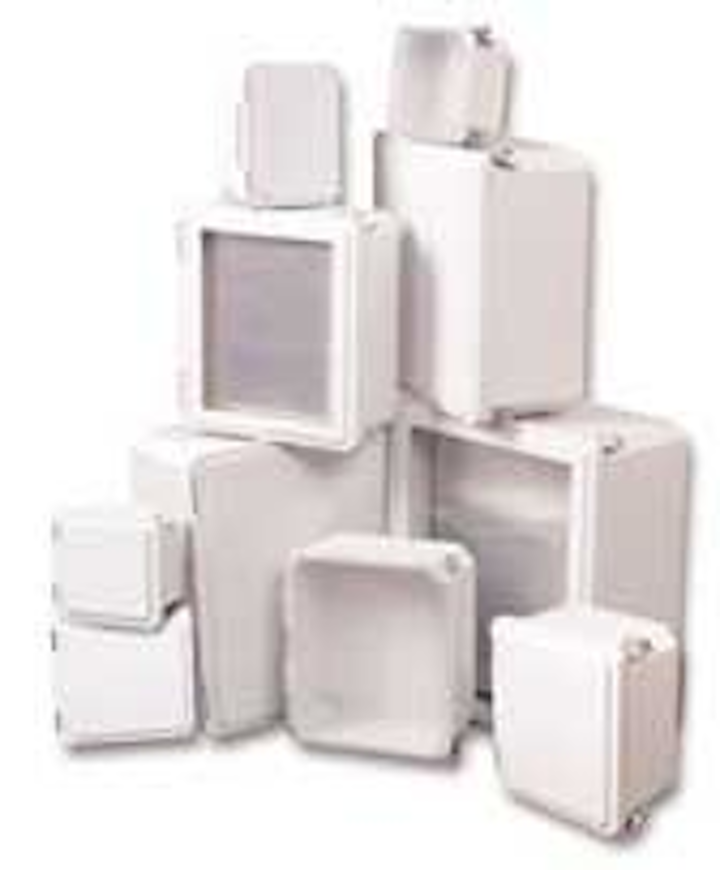 Fiberglass enclosures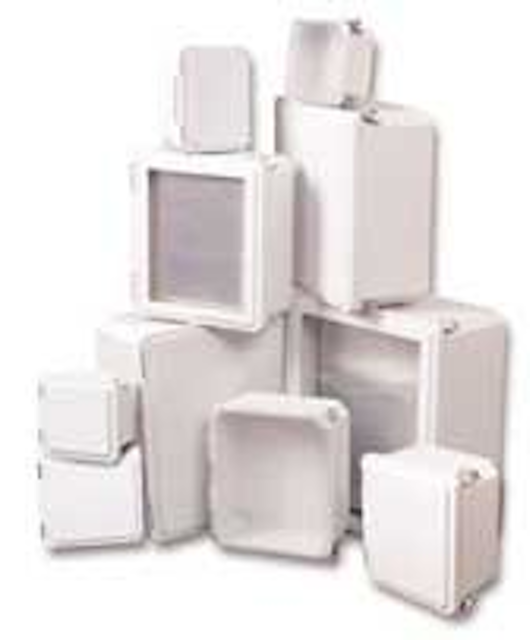 Click here to enlarge image
Stahlin Non-Metallic Enclosures has introduced its new family of DiamondShield™ fiberglass enclosures for use in corrosive environments. Every cubic inch of interior volume is available and completely protected in the enclosures. Furthermore, through use of the product's "No Limits" Panel Management System™, any panel of any size can be mounted at any height or depth and hinged in any direction, even on the door.
Stahlin Non-Metallic Enclosures
Belding, MI
Tel: 616-794-0700
Web: www.stahlin.com
Fiberglass tanks, vessels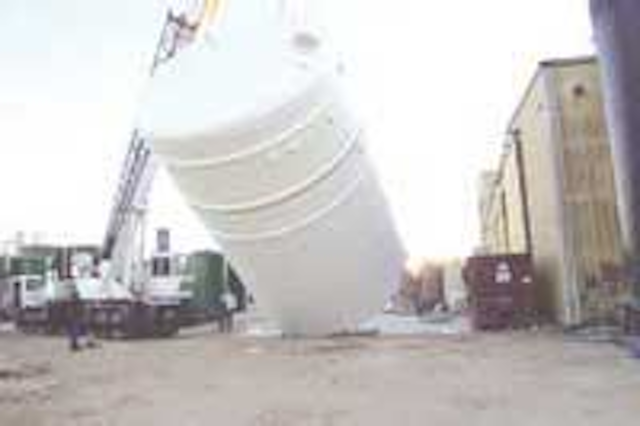 Click here to enlarge image
Belco and Ershigs — both divisions of Plasticon Fluid Systems — manufacture fiberglass tanks and vessels to meet the demands of applications where corrosion is a daily threat. Belco's plant-manufactured tanks and vessels will not crack, chip, rust, rot or decay. Also, they resist the affects of ultra-violet light, seismic loading and most corrosive chemicals. They are available from one to 20 feet in diameter, in vertical, horizontal, flat-bottom, dish-bottom and cone-bottom designs. In addition to tanks and vessels, Belco also produces corrosion-resistant pipes, ducts, scrubbers, towers and manholes.
Belco Manufacturing
Belton, TX
Tel: 254-933-9000
Pipe, fittings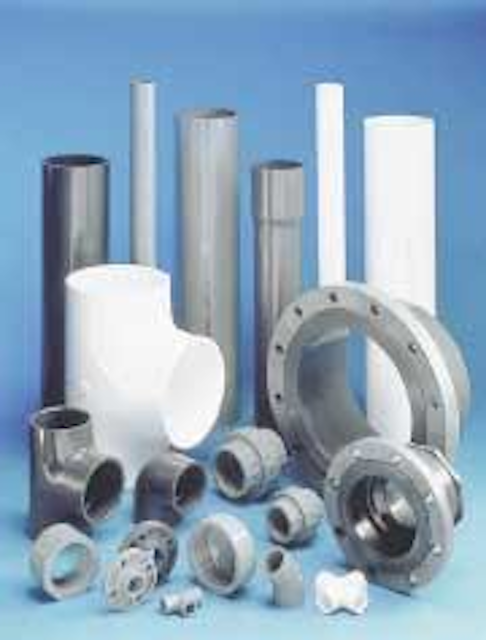 Click here to enlarge image
Charlotte Pipe and Foundry offers a full line of corrosion resistant pipe and fittings for the industrial water market. The product line includes PVC Schedule 80 and Schedule 40 pipe and fittings, Corzan® CPVC Schedule 80 and Schedule 40 pipe, and Corzan CPVC Schedule 80 fittings. CPVC pipe is available in 1/4 in. through 12 in. diameters, and PVC pipe is available in sizes 1/4 in. through 16 in. Fittings of both materials are available in all standard geometries from 1/2 in. through 12 in. sizes. Designed for conveying corrosive liquids in industrial water applications, all Charlotte Pipe industrial products meet all applicable ASTM and NSF standards.
Charlotte Pipe and Foundry Co.
Charlotte, NC
Tel: 800-438-6091
Web: www.charlottepipe.com
Valve acutators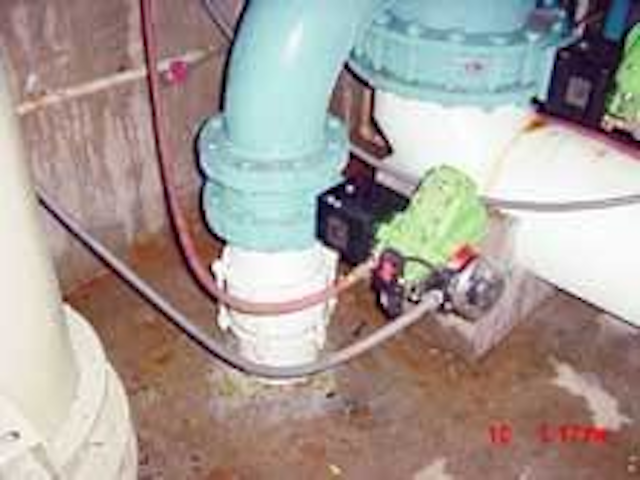 Click here to enlarge image
K-Tork® patented 1/4-turn high-performance valve actuators are ideal for corrosive environments. Each actuator comes standard with a thermo-setting hybrid polyester/epoxy powdercoat finish with ultraviolet inhibitor both inside and outside. Included are stainless steel fasteners and stainless steel dual, adjustable travel stops. The pneumatic actuators will operate all 1/4-turn valves, including eccentric plug valves, AWWA butterfly valves, ball valves and sludge basin blower valves. The actuators are compact to fit in the tight confines of a pipe gallery and provide constant torque output without side-loading the valve shaft. Each is available with control accessories to interface with new or existing control systems.
K-Tork International, Inc.
Dallas, TX
Tel: 214-341-1099
Web: www.ktork.com
Vitrified clay pipe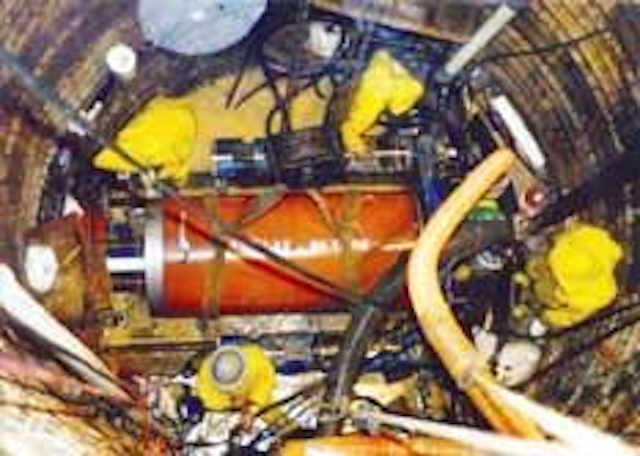 Click here to enlarge image
Denlok Vitrified Clay Jacking Pipe, for microtunneling and pipe bursting, is Can-Clay's newest product. The pipe is available from 6 in. to 48 in. diameters and up to 10 ft. in length. Clay pipe is well known for its ability to carry a wide range of domestic, commercial and industrial wastes. It is immune to attack by sulfuric acid generated by hydrogen sulfide and unaffected by the presence of solvents.
Can-Clay Corporation
Cannelton, IN
Tel: 800-282-2529
Web: www.canclay.com
Corrosion inhibitors
Steam condensate systems can be protected against both carbonic acid and dissolved oxygen corrosion by a single product that combines a unique non-gunking filming inhibitor and a neutralizing amine technology. Steamate™ NF series inhibitors from GE Betz achieve corrosion control through the formation of an adherent, nonwettable barrier film on metal surfaces, and provide pH buffering. Unlike conventional filming agents, the filming inhibitor is resistant to fouling in overfeed or contamination conditions.
GE Betz
Trevose, PA
Tel: 215-355-3300
Web: www.gebetz.com
Sewer valves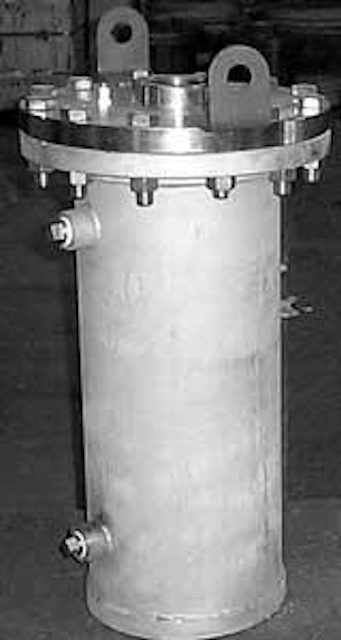 Click here to enlarge image
Available in both cast and fabricated bodies, Crispin's new Stainless Steel Universal Sewer Valve is ideal for even the most highly corrosive applications. It stays open to fully exhaust air volume, and comes in both short and long body styles. Stainless steel internals add durability to the design, reducing the need for frequent backflushing; and optional backflush materials are also crafted from stainless steel.
Crispin-Multiplex Mfg. Co.
Berwick, PA
Tel: 570-752-4524
Web: www.crispinvalve.com
Coatings, grouts
AquataPoxy and Raven high performance coatings and grouts are used for protecting and rehabilitating manholes, pipes, tunnels, tanks, clarifiers and other structures. For more than 20 years, these moisture tolerant, solvent-free epoxy coatings have succeeded at eliminating infiltration, stopping corrosion, and reinforcing deteriorating brick, precast and steel underground structures. Raven Lining Systems supports over 25 Certified Applicators equipped with the latest in application technology.
Raven Lining Systems
Tulsa, OK
Tel: 800-324-3810
Web: www.ravenlining.com
Flow control valve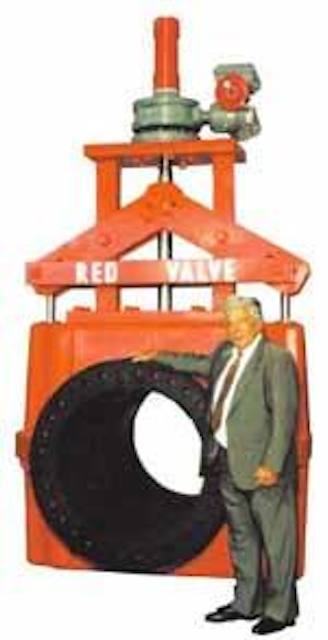 Click here to enlarge image
The full-ported elastomer sleeve of Red Valve's Series 5400 Influent Flow Control Valve allows for unrestricted flow when open and provides a bi-directional, drop-tight seal when closed. The sleeve maintains excellent long-term throttling accuracy as it will not corrode upon contact with untreated, highly solid wastewater. In the picture shown, Red Valve Chairman Spiros G. Raftis stands next to a 36 in. Series 5400, 11 of which were purchased by the City of Milpitas, CA, for its new, high-capacity collection system.
Red Valve Inc.
Carnegie, PA
Web: www.redvalve.com.
Submersible pumps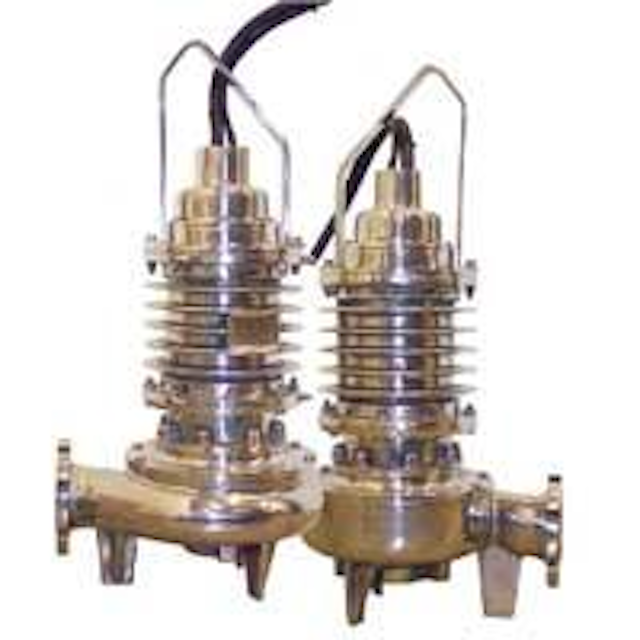 Click here to enlarge image
Yeomans Series 9500 stainless steel submersible pumps are designed to handle corrosive sewage and wastewaters, light slurries and by-product mixtures. The enclosed non-clog impeller design passes large solids with ease. 4 in. and 6 in. discharge sizes cover a wide range of hydraulic requirements. Standard 316 stainless steel construction is suitable for acidic wastewater mixtures. The air-filled submersible (IP68) motor is equipped with thermal overload protection and moisture detection sensors. State of-the-art design silicon carbide mechanical seals, Nitronic 50 shafts and Viton elastomers are standard.
Yeomans Pump
Aurora, IL
Tel: 630-236-5500
Web: www.yeomanspump.com
Polymer mortar pipe
Non-metallic construction gives Hobas centrifugally cast, fiberglass reinforced, polymer mortar pipe inherent corrosion resistance without linings or coatings. It is widely used in both new construction and rehab for corrosive environments such as wastewater effluents, contaminated drainage and foul air. It is also approved for potable water. It is manufactured in diameters from 18 to 102 inches in pressure and non-pressure classes.
Hobas Pipe USA, Inc.
Houston, TX
Tel: 800-856-7473
Web: www.hobaspipeusa.com
Manhole rehabilitation
Deteriorated manholes can be rehabilitated with spray-on, pure polyurea from Perma-Tech Industrial Coatings. At a cost of approximately $100/vertical foot, polyurea creates a seamless, monolithic coating that covers the brick, seals cracks and restores structural integrity to manholes. With an elongation of 495% and a tensile strength of 1900 psi, the company's UX-397 can withstand the expansion and contraction cycle without loss of adhesion, cracking or brittleness. It is a hydrophobic material that can be sprayed in the damp conditions encountered in a manhole.
Perma-Tech
Cleveland, OH
Tel: 888-885-4637
Web: www.perma-tech.com
Coatings
Tnemec offers a variety of coating systems, including the Endura-Shield II, a urethane coating offering exceptional color and gloss retention. Other products include Triton, a waterborne polyurethane, and Omnithane, part of the company's expanding line of moisture-cured urethanes. The company also offers ChemRoc mortar, designed specifically to provide protection to concrete from hydrogen sulfide gas and sulfuric acid solutions, and StrataShield, a floor protection system.
Tnemec Company, Inc.
Kansas City, MO
Tel: 816-483-3400
Specialty access doors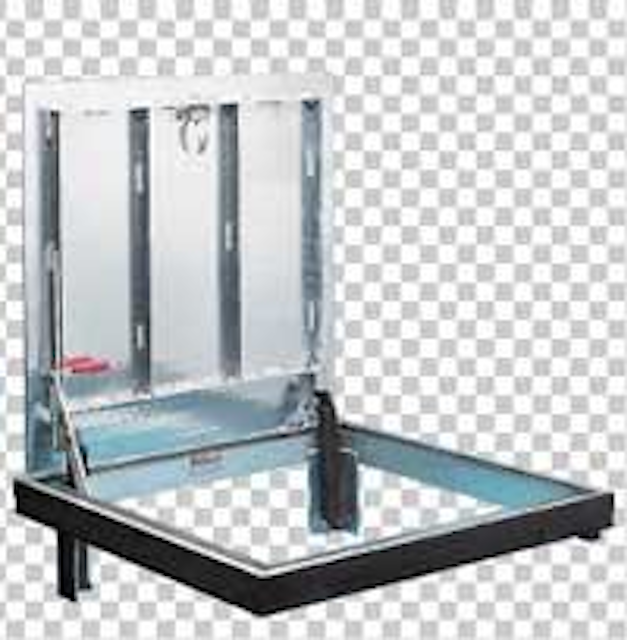 Click here to enlarge image
Bilco's J-AL Door is ideal for most corrosive environments. Available in single- or double-leaf design, the aluminum door can provide access to areas located underground or beneath/between floors. The doors can be operated by a single person. Special anti-corrosion hardware includes forged aluminum hinges, a 5086 aluminum cover plate, electrostatically coated compression springs and composite spring housing assemblies. The company's exclusive 70 durometer EPDM debris gasket limits dirt and debris from entering the channel frame.
The Bilco Company
New Haven, CT
Tel: 203-934-6363
Web: www.bilco.com
Remote monitoring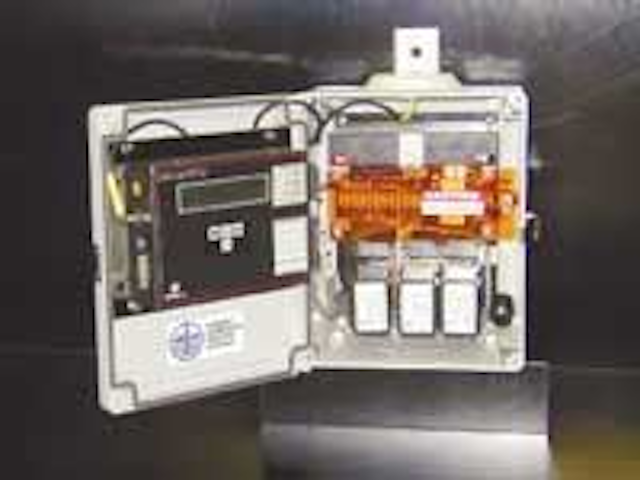 Click here to enlarge image
Offered by Farwest Corrosion Control Company, LaBarge's ScadaNET Network™ is a wireless remote monitoring system for the cathodic protection industry. The network uses the control channels of the existing cellular network to monitor status and alarm conditions at cathodic protection rectifiers. System status is monitored via the Internet and alarm conditions are sent via e-mail, fax, pager or voice dialer. There are no long distance charges or fixed monthly fees, significantly reducing monitoring costs for the rectifier owner.
Farwest Corrosion Control Co.
Gardena, CA
Tel: 310-532-9524
Web: www.farwestcorrosion.com
Hydrogen sulfide analyzer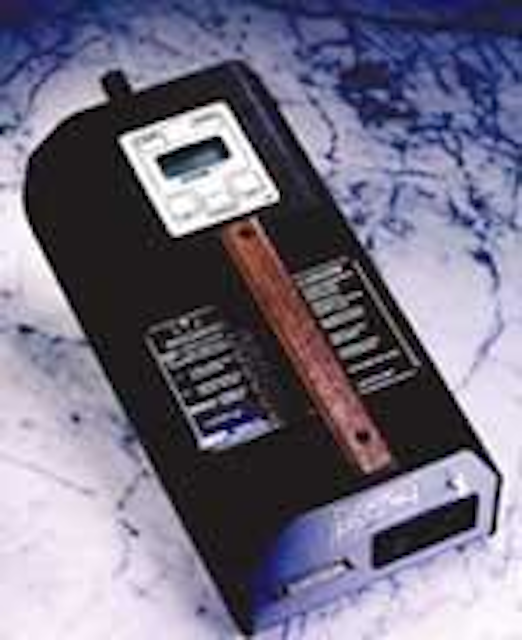 Click here to enlarge image
Using a patented gold film sensor, the Jerome 631-X measures hydrogen sulfide concentrations from 3 ppb to 50 ppm. This portable instrument offers push-button operation. An optional data logger is available for portable surveys, and computer interface software is available for unattended sampling. Applications include survey and response, fence-line monitoring, scrubber efficiency testing, corrosion control and regulatory compliance.
Arizona Instrument
Tempe, AZ
Tel: 800-528-7411
Web: www.azic.com
Fiberglass manholes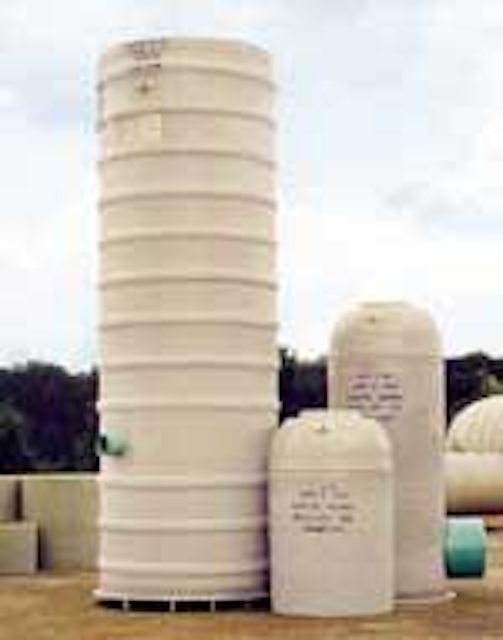 Click here to enlarge image
Containment Solutions manufactures Flowtite® manholes and wetwells, which provide the wastewater industry with fiberglass solutions to corrosion, infiltration/exfiltration and have a lower installation cost. The manholes and wetwells are available for new construction; rehabilitation liners are also available for existing structures. Standard IDs range from 36-120 in. One-piece lengths are limited only by transportation restraints. Larger diameters and burial lengths are also available. Fiberglass manholes eliminate the need for future rehabilitation caused by microbiologically induced corrosion.
Containment Solutions Inc.
Conroe, TX
Tel: 800-777-2823
Web: www.containmentsolutions.com
H2S control
The Bioxide®/Bioxide-AQ® process from USFilter Davis Products can be used to reduce hydrogen sulfide emissions from sludge treatment systems, thereby reducing the corrosion potential of the gas. The process takes advantage of natural-thriving bacteria to use the dissolved sulfide present in their metabolism. This prevents further formation of dissolved hydrogen sulfide in the treated effluent, thereby preventing the release of hydrogen sulfide into the air.
USFilter
Tallevast, FL
Tel: 800-345-3982
Soft water treatment
The CorePro™ Saturator from Filtronics is designed to reduce the corrosive nature of very soft waters. Raw water is introduced at the bottom of the saturator, which contains calcium carbonate. As the water passes through the saturator, it picks up calcium and alkalinity, raising the pH. The discharge of the saturator is mixed with raw water that is by-passed around the saturator. After the mixing, the pH is measured. The proportion of the bypassed water and the saturator water is adjusted by a throttling valve at the discharge of the saturator. The valve is set so the pH of the combined water is equal to the pH of saturation on the combined water.
Filtronics Inc.
Anaheim, CA
Tel: 714-630-5040
Web: www.filtronics.com
Corrosion control kit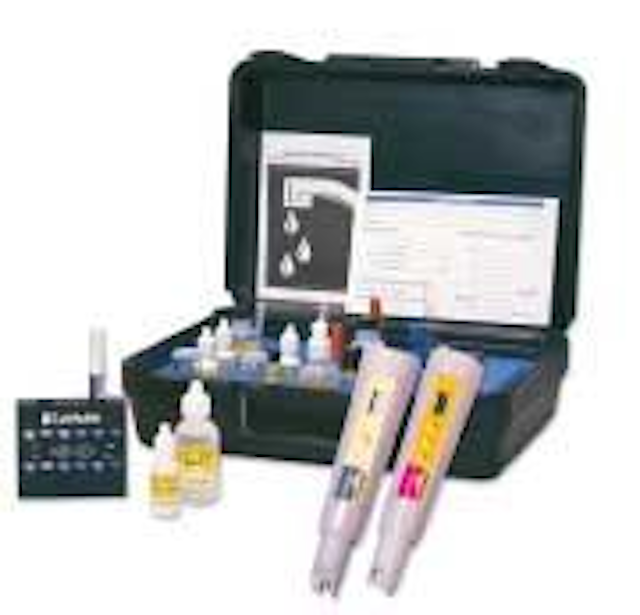 Click here to enlarge image
LaMotte offers a Corrosion Control test kit to determine corrosive conditions in water supplies. Each unit includes tests for P and T alkalinity, calcium hardness, temperature, pH, phosphates, and total dissolved solids. The kits calculate saturation index by the Langelier method to indicate the corrosive conditions in water supplies. The kit is packaged in a portable carrying case for on-site use.
LaMotte Co.
Chestertown, MD
Tel: 410-778-3100
Web: www.lamotte.com
Corrosion control services
HDR Services helps water utilities control corrosion. The company's experts help utilities develop techniques to monitor and mitigate corrosion in water distribution systems. HDR has helped more than 50 utilities achieve compliance with the EPA's Lead and Copper Rule, and the HDR Corrosion Services Laboratory is on call to assist utilities with forensic assessment of their corrosion-related problems.
HDR Inc.
Austin, TX
Tel: 512-912-5100
Web: www.hdrinc.com
Pipe descalers
Click here to enlarge image
Scrapers on the Reed pipe descaler remove corrosion and other obstructions from the pipe surface to allow more effective cutting, joining, gasket or valve seating, or other operations. The descalers are faster and more effective than chisels, chains or files and require only a few inches clearance around the pipe. DS12 and DS36 descalers are made entirely of steel that is zinc plated for corrosion resistance. Reed also produces a line of heavy-duty, power-transmission-belting pipe descalers (DS12B, DS36B).
Reed Manufacturing Co.
Erie, PA
Tel: 800-666-3691
Web: www.reedmfgco.com
Basalt linings
Click here to enlarge image
Basalt wear-resistant linings from Abresist Corp. provide protection for all types of hydraulic and pneumatic processing and conveying equipment. The linings are beneficial in extending the effective life of Archimedes type screw pumps used in the sewage treatment industry. The pre-engineered basalt linings accommodate the bending typical of long conveying screws. During construction of new pumps, a temporary blade is fastened to the screw and rotated through the wet concrete of the trough bed.
Abresist Corp.
Urbana, IN
Tel: 800-348-0717
Web: www.abresist.com
Coating systems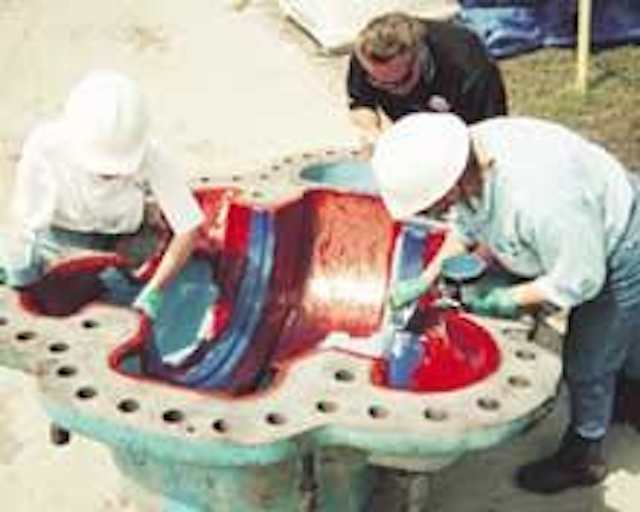 Click here to enlarge image
Devcon Brushable Ceramic and Sprayable Ceramic are repair epoxies engineered for resistance to abrasion and chemicals at service temperatures up to 350° F. Applied by plant personnel, they cure at room temperature to seal and protect new surfaces or recondition old ones, improving the performance and longevity of pump casings, impellers, valves, tanks, and other industrial equipment. Brushable Ceramic is a low-viscosity, alumina-filled, epoxy compound that cures to a smooth barrier against wear, abrasion, corrosion, erosion, cavitation, and chemical attack. It can be applied with a roller or short-bristle brush. Sprayable Ceramic™ can be sprayed like a high-solids paint and cures with the same physical properties as the brushable coating. It can be built up to 15-30 mils in a single pass using standard airless equipment.
Devcon
Danvers, MA
Tel: 800-933-8266
Web: www.devcon.com
Pipe, fittings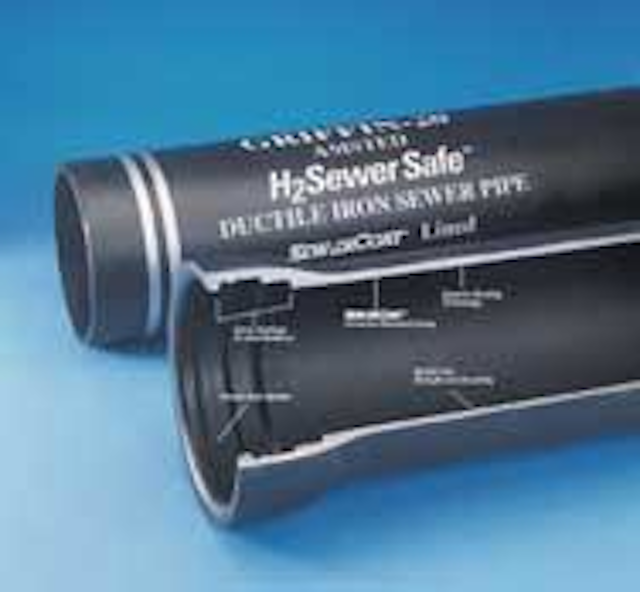 Click here to enlarge image
H2Sewer Safe, available from Griffin Pipe Products, is a line of pipe and fittings originally developed for wastewater infrastructure. It is specially designed and manufactured for use in highly corrosive areas. These products feature a fused calcium aluminate mortar lining called SewperCoat® which has exceptional resistance to the primary agent of sewer system corrosion: hydrogen sulfide gas. The lined ductile iron pipe is available in push-on, mechanical joint and flange versions with a full range of sizes up to 48 inches. Mechanical joint fittings and flange fittings are also available.
Griffin Pipe Products Co.
Downers Grove, IL
Tel: 630-719-6500
Web: www.griffinpipe.com
Zinc caps
Low-cost Mars Zinc Caps offer corrosion protection by providing a sacrificial anode to divert the current path to an inexpensive threaded zinc cap. They can be added to any bolt, without the use of tools. They are especially beneficial when installing repair clamps, saddles and all-thread rods. Stainless clamps and bronze saddles attached directly to iron or steel pipe can create a galvanic cell which will promote corrosion of the pipe. Zinc caps divert this corrosion away from the pipe and add up to 25 years to the normal life in aggressive soil conditions.
Mars Co.
Ocala, FL
Tel: 800-782-5268
Web: www.marswater.com
Cathodic protection
A line of platinum clad anodes for cathodic protection applications is available from Anomet Products. The anodes can be supplied as wire, rod or woven mesh. They are available as platinum clad niobium or platinum clad titanium; with or without a copper core. Applications include protection of storage tanks and pipelines. Wire and rod is supplied in sizes 0.031 in. to 1 in. diameter, the mesh is available up to 24 in. wide.
Anomet Products Inc.
Shrewsbury, MA
Tel: 508-842-3069
Web: anometproducts.com
Plastic enclosures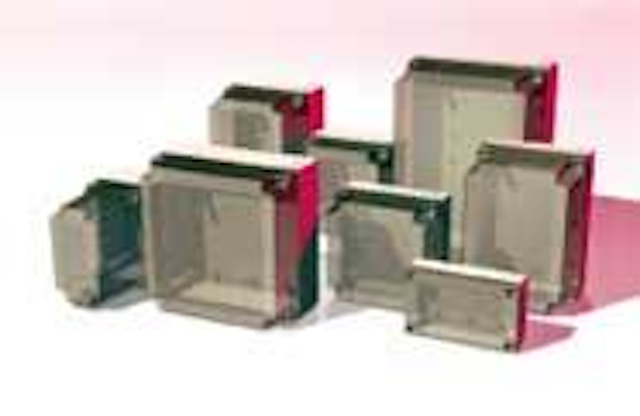 Click here to enlarge image
Fibox's MNX polycarbonate (PC) or ABS plastic enclosures are specifically designed for housing and protecting electronic components and equipment in harsh environments. The enclosures, UL listed and rated NEMA 4X, 6, 12, and 13, feature three body and four cover depths to offer over 100 off-the-shelf variations. A continuous gasket, molded in place on the enclosure's cover, ensures a waterproof fit with the enclosure body. An optional swing-out interior panel provides a convenient mounting surface, easy component access, and protection. The MNX's cover features a recessed center to protect membrane keyboards or printed graphic overlays.
Fibox USA
Glen Burnie, MA
Tel: 888-342-6987
Web: www.fiboxusa.com
Pulsation control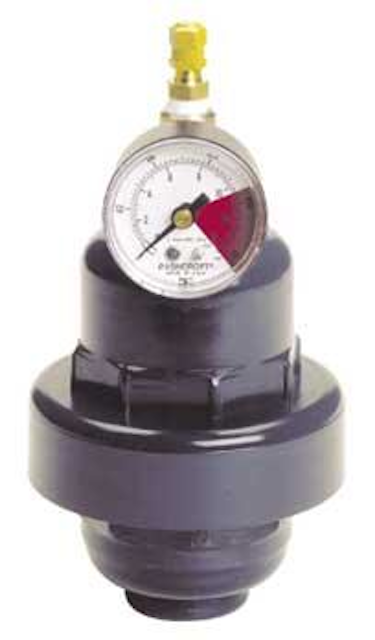 Click here to enlarge image
Blacoh Fluid Control has released its new "Revolution" pulsation dampener. The dampener's unique design features threaded housings that screw together, eliminating the need for metal fasteners that are subject to the damaging effects of corrosive environments. The units are available in PVC construction, with a PVC bladder for total chemical compatibility with many corrosive chemicals, such as sodium hypochlorite.
Blacoh Fluid Control Inc.
Riverside, CA
Tel: 800-603-7867
Web: www.blacoh.com
Odor control
Nanovapor Systems has developed sulfur reduction biochemistries for the inhibition of sulfate to sulfite reaction in process wastewater streams. Trials recently completed in the United Kingdom for a paper mill operator have shown well documented results (5 ppm to <0.1) with minimum dosing requirements. Graphs and data on request. Nano SI (sulfur inhibitor) and Nano SS (sulfur scavenger) allow for the safe treatment of high sulfate process water streams by blocking the enzyme production site on the sulfur reducing bacteria to prevent production of aqueous and gas phase H2S.
Nanovapor Systems US
Aptos, CA
Tel: 831-685-1148
Web: www.nanovapor.com
Epoxy coatings
Dura-Plate® 235 Multi-Purpose Epoxy from Sherwin-Williams Industrial & Marine group are corrosion resistant coatings for plant structures in light, moderate or severely corrosive environments including immersion service. The multi-purpose epoxy is a VOC-compliant coating recommended for immersion and atmospheric service. It can withstand application temperatures ranging from 0° F up to 120° F without adverse affects to coating performance.
Sherwin-Williams Co.
Cleveland, OH
Tel: 800-524-5979
Web: www.sherwin-williams.com
Enclosures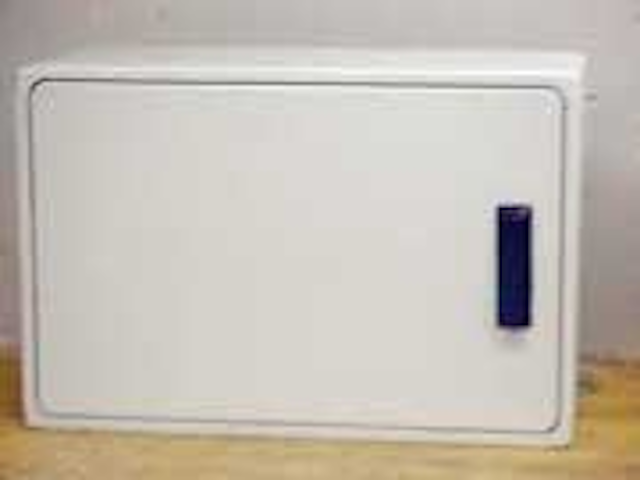 Click here to enlarge image
Vynckier Enclosure Systems introduces its Polysafe enclosure. These corrosion and maintenance free enclosures are available in 14 standard sizes, and have coupling possibilities. They are CE approved and UL listed for Type 4X including the coupled enclosures. The enclosures are made of a self-extinguishing, hot molded, halogen-free, fiberglass reinforced polyester. They're designed for wall mounting, floor standing, and pole fixing, making these enclosures versatile for many applications. All units come with a five-point latching mechanism in the door and continuously poured gaskets for complete protection against the elements and vandalism.
Vynckier Enclosure
Houston, TX
Tel: 713-672-2471
Web: www.enclosuresonline.com
Containment cover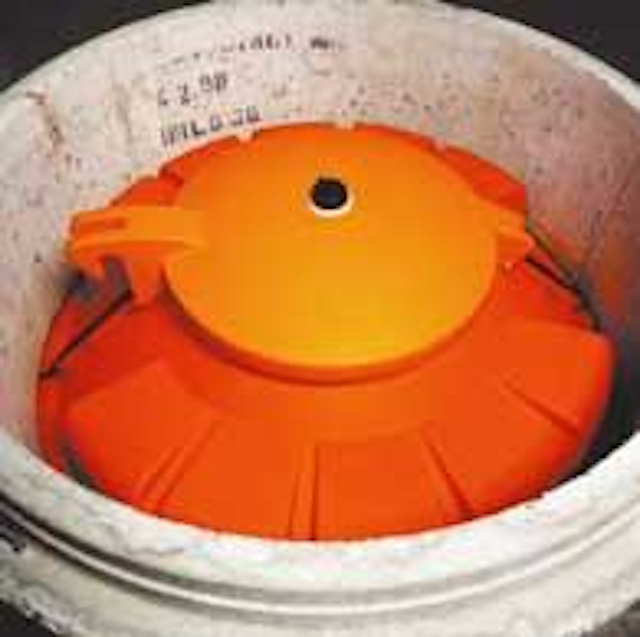 Click here to enlarge image
The Century Manhole® Containment Cover from Royal Environmental protects against manhole concrete deterioration by keeping gasses in and water out. It helps maintain the structural integrity of manholes for longer life and reduced maintenance costs. The polyethylene containment cover eliminates sewer outgassing and reduces storm water infiltration to save on water treatment costs. The company also offers the Century Manhole® Plastic Invert which acts as a protective barrier between concrete and hydrogen sulfide gas.
Royal Environmental Systems, Inc.
Stacy, MN Tel: 800-817-3240
Web: www.royalenterprises.net
PVC pipe liner
Ultraliner PVC Alloy Pipeliner has unique properties with sufficient material stiffness to provide full independent structural integrity when installed in 4–24 in. pipelines. The tight-fitting liner has high impact strength, a high degree of dimensional stability, exceptional abrasion and chemical resistance, and the ability to relieve high levels of stress without structurally compromising the material. Through its "blow molding" installation process, the liner will conform to the shape of existing pipelines, including size transitions, bends, offset joints, dips, protruding taps, and other irregularities.
Ultraliner, Inc.
Oxford, AL
Tel: 205-831-5515
Web: www.Ultraliner.com
Pipe coatings
3M Scotchkote brand 134 and 206N Fusion Bond Epoxies (FBEs) are custom and pipeline powder coatings that have been tested and are certified to ANSI/NSF Standard 61 for use with potable water. The coatings provide chemical resistance and are effective over a wide range of temperatures. They also resist cavitation, cathodic disbondment, soil stress and backfill compaction.
3M Corrosion Products
Austin, TX
Tel: 800-722-6721
Web: www.3M.com/corrosion
Corrosion control
Ondeo Nalco offers products to control corrosion and scale in municipal water distribution systems. Available in both liquid and dry formulations, its inhibitors provide system protection against corrosion by forming a stable protective film on metal surfaces. This film controls corrosion of both ferrous and nonferrous metals, and eliminates "red" and "brown" water. The company's inhibitor products prevent calcium and magnesium scale, keeping distribution lines free of deposits and lowering pumping costs.
Ondeo Nalco
Naperville, IL
Tel: 877-589-6657
Web: www.OndeoNalcoMunicipal.com