New Products
A new comprehensive engineering text and reference book on industrial waste treatment has been released.
Mar 1st, 2002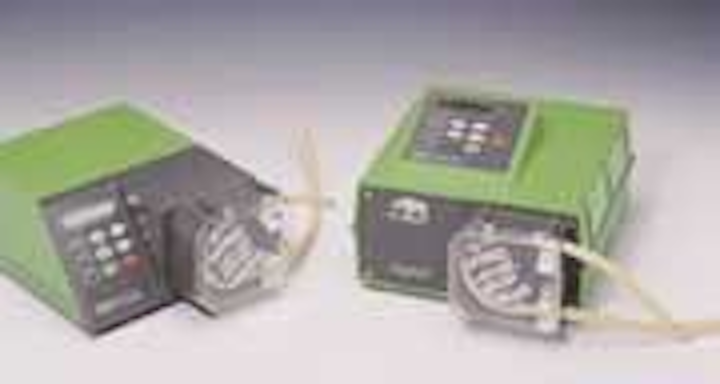 Waste treatment handbook
A new comprehensive engineering text and reference book on industrial waste treatment has been released. Author Franklin E. Woodard, Ph.D., P.E., is co-founder of the consulting firm Woodward & Curran and an engineering professor at the University of Maine. The book, Industrial Waste Treatment Handbook, runs 528 pages in length and presents a practical, on-the-job engineering manual for working professionals and a text for students. The book covers the fundamentals of industrial waste treatment, laws and regulations, stormwater management, pollution prevention, groundwater contamination, and quick-reference charts.
Butterworth Heinemann, U.S.A.
Woburn, MA
Tel: 781-904-2613
Web: www.bhusa.com.
Metering pumps
Click here to enlarge image
Watson-Marlow Bredel offers its 500 series pumps which are ideally suited for sodium hypochlorite metering applications. The series reduces maintenance downtime, resists damage from hypochlorite crystallization, and prevents vapor lock due to off gassing of the hypochlorite. By allowing the hypochlorite to contact only the inner wall of the tube, the 500 series prevents corrosion and wear. In addition to offering a reversible option for back-flushing lines, the 500 series is self-priming, self-checking, and can run dry indefinitely. The pumphead accepts tubing in seven different sizes and six materials. The series accommodates flow rates from 0.00016 to 70 gal/hr, pressures up to 30 psi, and interfaces with most SCADA systems.
Watson-Marlow Bredel
Wilmington, MA
Tel: 800-282-8823
Web: www.watson-marlow.com.
Wastewater treatment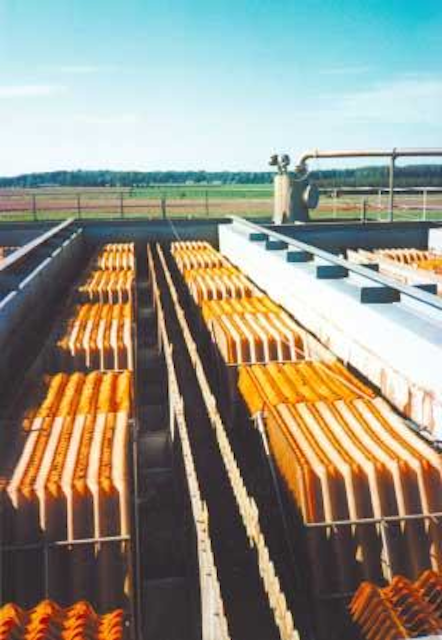 Click here to enlarge image
Ondeo Degremont North America (ODNA) has signed a license agreement with Biotim R&D N.V. of Wilrijk, Belgium. ODNA will design, manufacture, sell, install and start up its Biotim® UASB (Upflow Anaerobic Sludge Blanket) medium-rate anaerobic wastewater treatment technology to industrial clients in North America and Canada. The Biotim® UASB system incorporates a three-phase settler design with proprietary cross-flow modules that enhance efficiency. Effective in the retention of anaerobic biomass, the Biotim® reactor maintains removal efficiency. Whether for pretreatment prior to sewer discharge, or preceding an aerobic/anoxic nutrient removal system, the systems are capable of removing the bulk of organic load in wastewaters.
Ondeo Degremont North America
Richmond, VA
Tel: 800-446-1150
Web: www.infilcodegremont.com
Drum handlers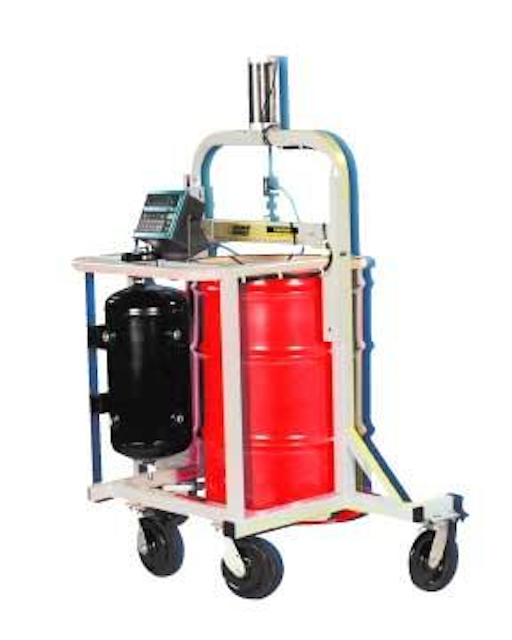 Click here to enlarge image
Workplace mishaps associated with improper handling of storage drums can be avoided with the use of multi-function drum handlers from Drum Runner. Available in numerous models, they offer patented features that ensure maximum operator safety without sacrificing performance or ease of use. The company offers manually operated models, as well as forklift and hoist attachments designed to safely transport steel, plastic and fiber drums weighing up to 1,000 pounds.
Drum Runner Material Handling Co.
Columbus, OH
Tel: 800-378-6786
Web: www.drumrunner.com
Corrosion control
Tuff Span fiberglass reinforced plastic (FRP) panels provide high strength and corrosion protection for waste treatment facilities. The fiberglass reinforced plastic materials are available in standard industrial profiles in opaque colors or as translucent (which can transmit heat and natural light). The materials are applied as environmental and process covers, as roofing and siding panels, and as sludge drying bed covers. Combined with Tuff Span FRP beams, the materials are also used for walk-in cover systems and as complete, corrosion resistant structures. Benefits include life cycle cost savings, long service life, (optional) light transmission, odor and emission control.
Enduro Composites
Nashville, TN
Tel: 713-358-4000
Web: www.endurocomposites.com
Backflow prevention assemblies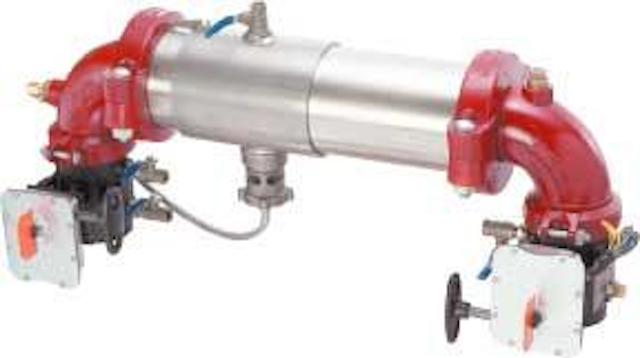 Click here to enlarge image
Hunter Innovations manufactures assemblies for both low hazard and high hazard backflow prevention applications. The Hunter assembly uses a Schedule 40, 300 series stainless steel housing along with its patented "quick access" closure sleeve, and patented "link check" assemblies. Grooved connections throughout provide for ease of installation and pipe alignment with a choice of UL/FM grooved butterfly valves with built-in tamper switch or Resilient Seat gate valves.
Hunter Innovations Inc.
Sacramento, CA
Tel: 916-928-0123
Web: www.hunterinnovations.com
Chlorine generation systems
Klorigen™ provides a method to maintain current chlorine disinfection practices while removing EPA Risk Management headaches and liability insurance. With no storage requirements and an ability to deliver chlorine gas on-site and on demand, these systems offer a viable replacement for pressurized chlorine gas. Electrolytic membrane cells generate high purity chlorine gas and sodium hydroxide. The raw materials required are salt, water and power. The co-product is 15% sodium hydroxide, suitable for pH balancing and odor control.
Electrolytic Technologies Corporation
North Miami Beach, FL
Tel: 305-655-2755
Web: www.electrolytictech.com
Controllers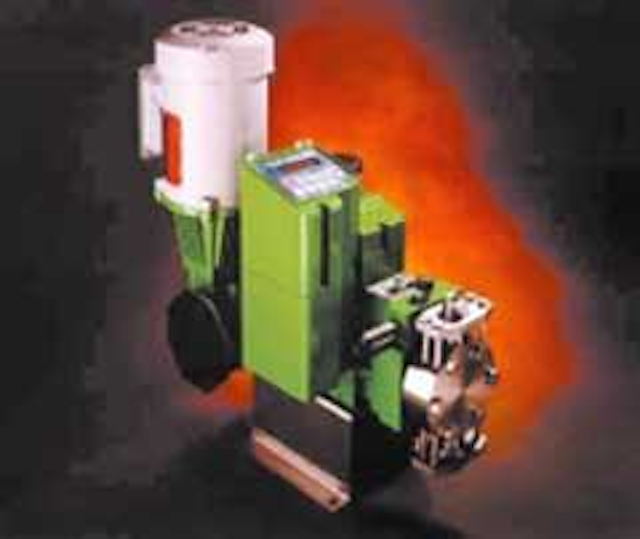 Click here to enlarge image
Pulsafeeder's Pulsar® Series hydraulically actuated diaphragm metering pumps have proven to be a generation-leap in high accuracy and quality. The rugged design features exclusive onboard hydraulic visual diagnostics. Other special features include advanced balanced diaphragm to ensure reliability, precision three component check valves, DynalloyRegistered bronze power transmission train, and four bolt tie bars to resist excessive piping strain. The manual stroke adjustment provides control within
Pulsafeeder, A unit of IDEX Corporation
Rochester, NY
Tel: 585-292-8000
Web: www.pulsa.com