Valve Systems
Hydra-Cell Industrial Pumps from Wanner Engineering has introduced the Hydra-Cell C Series Valves. These valves are constructed of rugged Hastelloy® C or 316 L stainless steel to provide accurate, repeatable pressure regulation or relief of corrosive solutions.
Jun 1st, 2002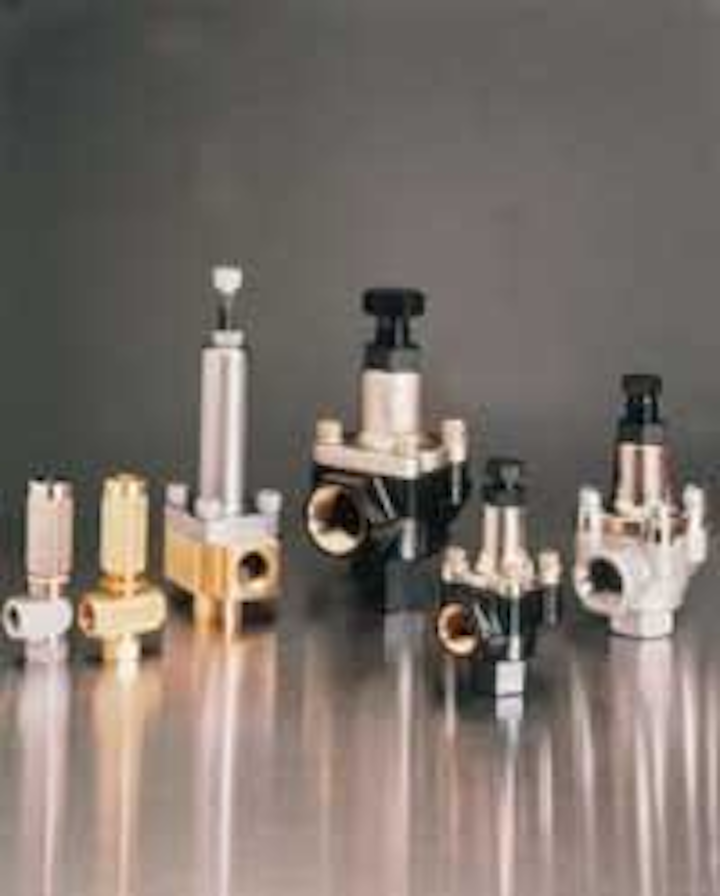 Pressure regulating valves
Hydra-Cell Industrial Pumps from Wanner Engineering has introduced the Hydra-Cell C Series Valves. These valves are constructed of rugged Hastelloy® C or 316 L stainless steel to provide accurate, repeatable pressure regulation or relief of corrosive solutions. These valves feature smooth, chatter-free bypass and minimal pressure surge. They have no external springs or moving parts, are easy to adjust and can be used with any positive displacement pump.
Click here to enlarge image
Hydra-Cell Ind. Pumps, Wanner Eng.
Minneapolis, MN
Tel: 612-332-5681
Web: www.hydra-cell.com

In-line check valves
Red Valve's exclusive Saddle Support Technology doubles the backpressure ratings of its versatile line of Tideflex® In-Line Check Valves. The valve features all of the benefits of the standard Tideflex® Check Valve, including absolute backflow prevention, abrasion-resistance and low head loss, and boasts a long list of flexible installation options.
Click here to enlarge image
Red Valve
Pittsburgh, PA
Tel: 412-279-0044
Web: www.redvalve.com

Multi-port control valve
Osmonics has enhanced its Autotrol® 180 multi-port control valve combination with the Autotrol 962 electronic controller to offer expanded functionality and versatility over a broad range of commercial water treatment applications. Intended for light commercial applications, the control valve works in softener and filter systems with 14- to 24-inch diameter tanks (media dependent). The valve uses a turbine flow meter to measure water usage and determine appropriate regeneration times. Advanced diagnostic capabilities provide users with valuable operational data, such as water usage and peak flow rates, to identify and troubleshoot problems quickly and accurately. The valve is piston-driven and manufactured with brass components.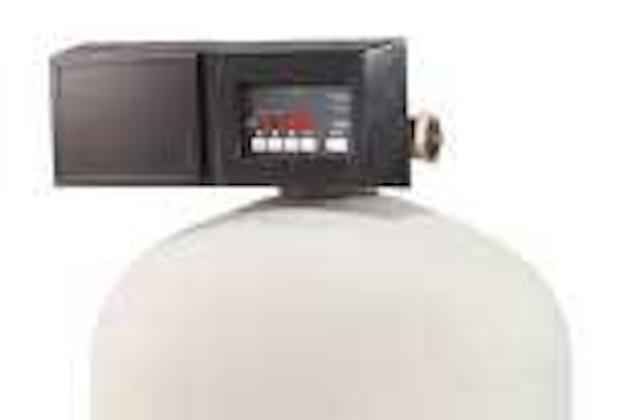 Click here to enlarge image
Osmonics
Milwaukee, WI
Tel: 800-245-9421
Web: www.osmonics.com

Bi-directional valves
Hoke has announced the release of its High-Cycle 7223D RotoBall® Bi-Directional Valve Series. The series includes a high performance Delta stem seal designed for an extended life cycle, 50,000 to 100,000 cycles depending on system configuration. The maximum operating pressure is 5000 PSIB at 70 degrees F, with temperature ranges of -65 to +400 degrees F. The new series was developed to meet demanding high-cycle actuation applications. It is available in a choice of connection types and sizes for leak-free performance, and with the option of factory assembled electric or pneumatic actuators.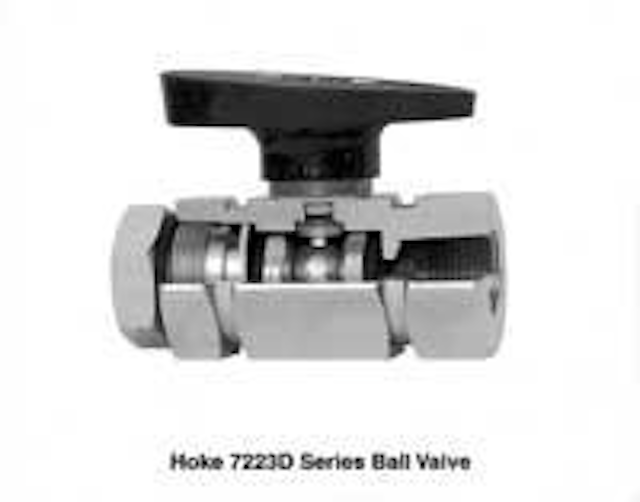 Click here to enlarge image
Hoke, Inc.
Spartanburg, SC
Tel: 864-574-7966
Web: www.hoke.com

Solenoid valves
Circle Seal Controls (CSC) presents a line of solenoid valves in 3-way/2-position or 2-way/2-position, normally closed or normally open direct lift/balance poppet configurations for a variety of industrial applications. A variety of AC and DC voltages are offered and most units come standard with class H coils for longer life at higher temperatures. The valves allow for bi-directional flow and can provide zero leakage with response times that are typically less than 100 milliseconds. The company designs and manufactures a broad range of instrumentation valve products including check valves, relief valves, solenoid valves, motion-control systems, motor-operated valves and more.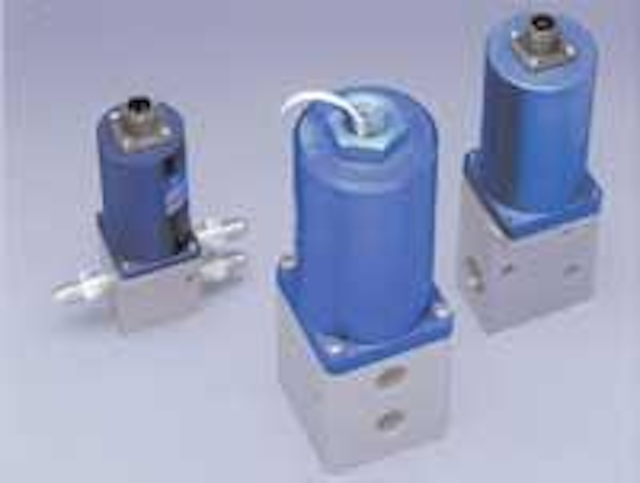 Click here to enlarge image
Circle Seal Controls, Inc.
Corona, CA
Tel: 909-270-6200
Web: www.circle-seal.com

Pneumatic pinch valves
A new pneumatically actuated pinch valve designed to handle slurries, abrasives and corrosive fluids is a recent introduction from Onyx Valve. The maintenance-fee actuator employs a spring for reliable, fail-safe operation and drop-tight closure. It is suitable for both throttling and on/off applications, permitting only minimal pressure drop. The valve consists of a rubber compression-molded sleeve inside a full-round cast iron bonnet assembly. Options available include a solenoid valve, a positioner, a 316 stainless steel stem, a secondary containment package and ductile iron housing, epoxy paint, a position indicator, auxiliary hand wheel override, a filter/regulator, and limit switches.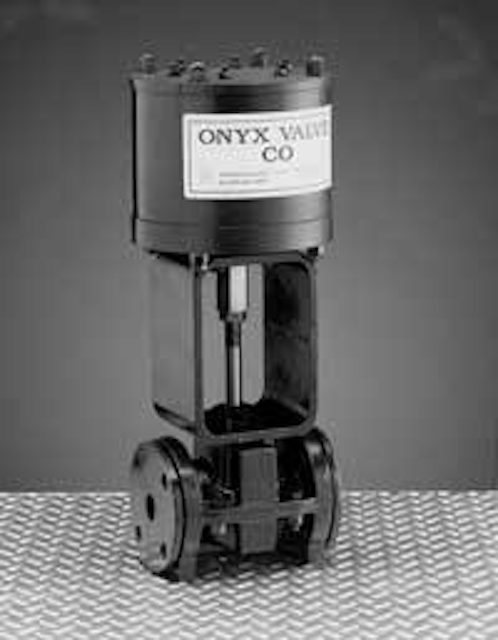 Click here to enlarge image
Onyx Valve
Cinnaminson, NJ
Tel: 856-829-2888
Web: www.onyxvalve.com

Valve software
An enhanced Version 6.4 of Alpha I software from SPX Valves and Controls allows users to select the most suitable DeZurik valve for a wider range of process conditions. The software provides specification sheets, calculations, characteristic curves and outline drawings. The program calculates parameters for superheated steam conditions in addition to sizing for valves with the required capacity for the specified process conditions.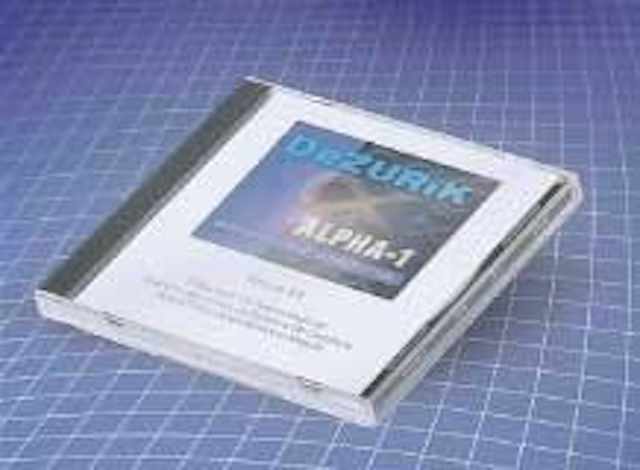 Click here to enlarge image
SPX Valves & Controls
Sartell, MN
Tel: 320-259-2000
Web: www.spxvalves.com

Mixing valves
Conbraco Industries is offering its new 34B Series ASSE 1016 certified thermostatic mixing valves designed for domestic hot water use. Fully compliant with ASSE 1016, the valves feature a cast bronze body, a temperature controlling polypropylene handle, EPDM O-ring, stainless steel spring and brass stem, retainer, union tail piece, union nut and spring washer. Available in 1/2, 3/4 and one-inch sizes, the new valves come with either threaded or solder pipe end connections.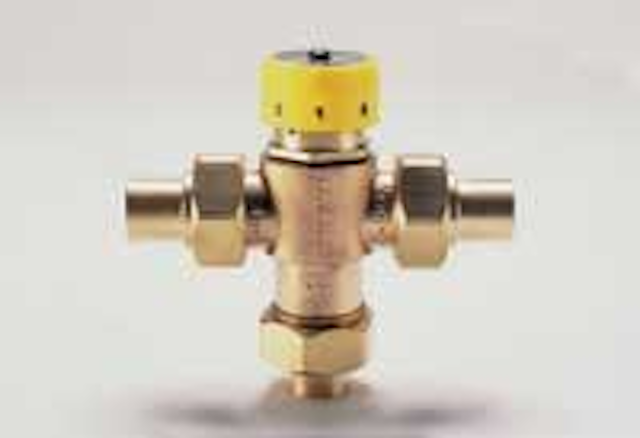 Click here to enlarge image
Conbraco Industries
Matthews, NC
Tel: 704-841-6000
Web: www.conbraco.com

Open solenoid valves
Plast-O-Matic Valves announced the addition of a normally open solenoid valve for applications in which it would be dangerous for valves to close or remain closed in the event of a power failure. In applications that require continuous flow for cooling or other critical applications, Series Easy-NO remains in the open position when de-energized. Constructed of corrosion-resistant thermoplastics with no wetted metals, the valves can be used for corrosive or ultra-pure liquids, and handle pressure, drain or vacuum applications.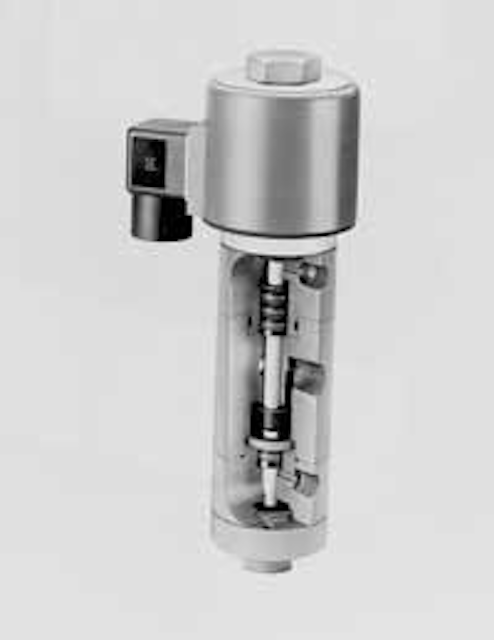 Click here to enlarge image
Plast-O-Matic Valves, Inc.
Cedar Grove, NJ
Tel: 973-256-3000
Web: www.plastomatic.com

Valve controller panels
Hayward's new Universal Control Panel provides cost effective control of up to 25 automated valves without the complexity and cost of a programmable controller or the confusing maze of wires associated with the use of hardwired relays. The panel works equally well with both electrically or pneumatically actuated valve systems. The extremely compact, state-of-the-art devices can serve as multiple timers, counters, clocks and relays and can be programmed to perform endless combinations of operations. Control relay and expansion modules provide up to a maximum of 20 digital inputs, maximum of two analog inputs and a maximum of 10 relay outputs rated to 10A resistive (3A ind).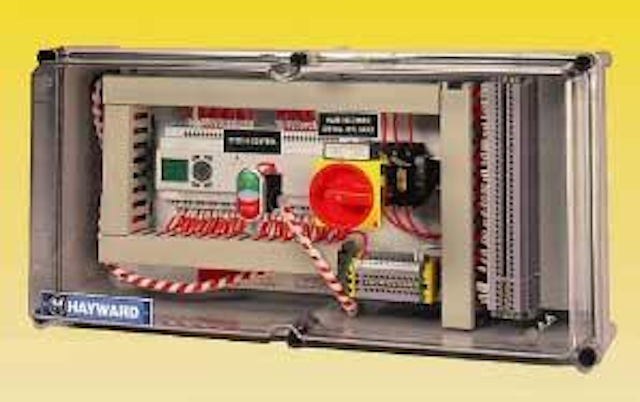 Click here to enlarge image
Hayward Industrial Products, Inc.
Elizabeth, NJ
Tel: 908-351-5400
Web: www.haywardindustrial.com

Miniature check valves
Watts has developed five different series of precisely engineered miniature plastic check valves for easy assembly into faucets, fittings, pumps, filtration equipment, and other types of water handling or processing equipment. The series CO, IO and IN in-line check valves have recently obtained NSF 61 approval. All these valves employ a specially developed sealing principle to guarantee complete sealing at high and low backpressures.
Click here to enlarge image
Watts Regulator Company
North Andover, MA
Tel: 800-671-3274
Web: www.wattsreg.com