New Products
Compilation of new products for the industrial water market.
Mar 1st, 2016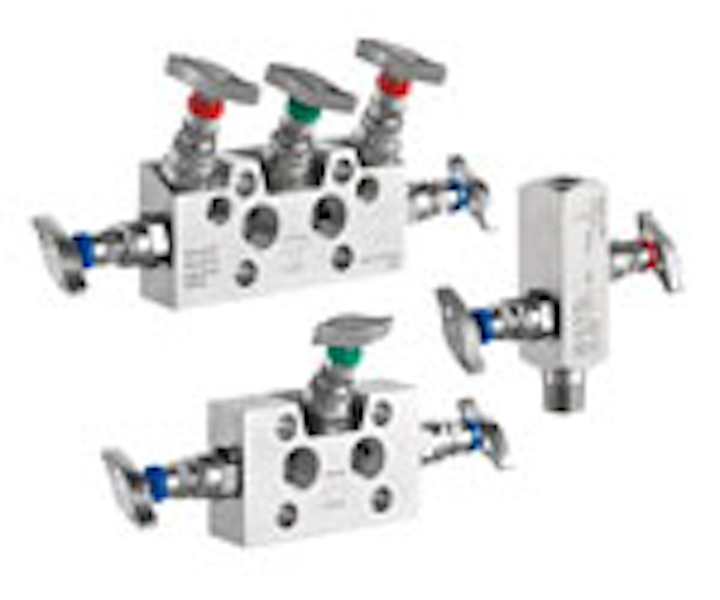 Pressure instrument accessories
Ashcroft has introduced a line of stainless steel valve and manifold accessories for use in pressure instrument installations. A new pressure limiting valve, gauge valve and multi-valve manifolds are available in several configurations to bleed, isolate or equalize pressure. The new products simplify installation of pressure instruments in many types of systems.
Ashcroft Inc.
Ultrasonic flowmeter
KROHNE Inc. introduces the OPTISONIC 8300 ultrasonic flowmeter for superheated steam, which delivers 1% measuring accuracy, high repeatability and a large dynamic measuring range with maintenance-free operation. The two-beam ultrasonic flowmeter is capable of handling high flow rates of superheated steam, making it ideal for power plant boiler and plant efficiency monitoring, energy balancing, and inter-company steam billing. It features a full bore flow sensor without moving parts or obstructions, and an overall sturdy and robust construction with no cables or sensitive parts exposed. The flowmeter is rated for pressure up to 200 bar (3,625 psi) and temperature up to 540°C (1,004°F), with higher-rated units available on request.
KROHNE
High-pressure ion chromatography system
The Thermo Scientific Dionex Integrion High-Pressure Ion Chromatography (HPIC) system, the newest addition to the company's ion chromatography portfolio, delivers high-pressure capability and optional electrochemical detection. With a simple, logical, flow-based plumbing layout and integrated performance features including whole-system smart monitoring, it offers fast run times in a robust and reliable system. Additional features may include easy-to-install IC PEEK Viper Fittings that enable easy operation and minimize peak dispersion and band broadening; detachable tablet with local language support; consumables device monitor that regulates installation errors by logging and tracking both system and consumable performance; and a thermally regulated detector compartment that provides extended life to consumables.
Thermo Fisher Scientific
Oil/water separator
The OilDawg combines the use of separation enhancing polypropylene tubes with an innovative tank design to create an oil/water separator that can handle flows from 5 gpm to over 1,000 gpm. The coalescing tubes are contained in removable baskets that are no more than 12" deep, allowing the tubular media to be cleaned in the basket using standard pressure washing equipment. The adjustable rotating pipe skimmer removes accumulated oil from the vessel.
Park Process
Ammonia monitoring
The Q46N Free Ammonia Monitor is designed for the continuous measurement of free ammonia, total ammonia, and monochloramine in potable water. It is intended for monitoring chloraminated water to minimize the amount of excess ammonia in the system. The Q46N provides continuous, real-time updates for better process control. Systems come complete with monitor, chemistry module, sensor membranes and electrolyte, reagent bottle brackets, reagent pickup tubing assemblies, and a spare parts kit.
Analytical Technology Inc.
Mechanical joint restraint
EBAA Iron's 54 inch nominal pipe size MEGALUG® mechanical joint restraint for ductile iron pipe has a 200 PSI rating with a 2:1 safety factor. The 1100 Series MEGALUG is available for restraining the plain end or spigot end of 54-inch Ductile Iron Pipe (DIP) at Mechanical Joint (MJ) fittings or other MJ appurtenances with a 200 PSI pressure rating, which includes a 2:1 safety factor.
EBAA Iron Engineering
Engineered skid systems
CHEM-FEED® Engineered Skid Systems are well suited for use in water treatment applications, when paired with Blue-White's ProSeries® line of Chem-Pro® C2 & C3 Diaphragm Metering Pumps. CHEM-FEED Skid Systems are constructed of 6061-T6 powder-coated welded aluminum, which is lightweight for wall or floor mounting. Additional benefits include a metal-free check valve, which protects operators from back-flow during maintenance, and a removable drip containment tray for easy cleaning.
Blue-White Industries
Retaining lid
Meissner QuaDrum® rigid outer containers (ROCs) are now available for rehydration and mixing applications. A new accessory retaining lid, stainless steel dolly and true bottom drain option allow the ROC to deliver enhanced recirculation-based mixing functionality for process volumes between 50 and 200 L. The new retaining lid option for mixing applications not only provides access to fluid paths located on the top of the biocontainer but also can positively locate and support a 3" TC port on top of the biocontainer. This port can be used for powder addition or other operations that require large bore access.
Meissner
Integrated control platform
Mitsubishi Electric Automation's iQ-R Series incorporates sequence, motion, safety, process, and C language control into one platform. The iQ-R Series control platform is designed for applications requiring integrated motion and safety control, tight synchronization between various processes and high production throughput. The integrated design allows machines or production lines to consolidate control in one rack. The system can have up to 4 CPUs per rack for various combinations of motion, sequence or process control. Key features include 0.98 ns execution speed, multi-discipline control with up to 4 CPUs in a single rack; high-speed bus; and built-in SD memory card database.
Mitsubishi Electric Automation Inc.
https://us.mitsubishielectric.com/fa/en
Non-contact radar transmitter
Magnetrol International has launched the Pulsar™ Model R96 Non-Contact Radar transmitter for accurate, reliable level control in process applications. Virtually unaffected by the presence of vapors or air movement within a vessel's free space, the two-wire, loop-powered, 6 GHz Radar transmitter measures a wide variety of liquid media in process conditions ranging from calm product surfaces and water-based media to turbulent surfaces and aggressive hydrocarbon media. Features include an extensive measurement range of 130 feet (40 meters), advanced diagnostics with automatic waveform capture and data logging, and a powerful device type manager (DTM) with field configuration and troubleshooting capabilities.
Magnetrol International
Pump protection system
The VapourView Pump Protection System from Sundyne is now cUL, ATEX and IECEx approved. The system is an innovative tool that monitors the gas inside the process fluid as it passes through a sealless magnetic drive pump. When the probe detects the presence of even the most minute gas levels - as low as 1% per volume - a warning signal is sent to the process operator. This instant feedback helps prevent harm to the pump from occurring by providing early warning of incorrect priming, venting, cavitation or entrained process gas, which can result in pump damage or even failure. Key features include a non-invasive detection sensor, flameproof electronics, on-board data recording, and a local visual display, as well as a wide temperature operating range of -40 to +356°F (-40 to +180°C).
Sundyne
Expanded pump line
Franklin Electric Co. has expanded its line of AG Series Centrifugal Close-Coupled Pumps, designed for optimal performance in challenging water transfer applications demanding efficiency in industrial, commercial, and agricultural markets. The expanded series now includes 10 pump families covering the most popular hydraulic performance ranges with models from 3 through 75 hp, flow ratings from 50 through 2,000 gpm, and heads up to 300 feet. Each is equipped with either a NEMA standard JM or JP motor for mechanical seal or packing gland configurations, both of which include a 416 stainless steel shaft sleeve for durability and ease of service.
Franklin Electric Co. Inc.
Coupling with patented winged design
The BaldorDodge® Raptor coupling from Baldor Electric Company features a finite-element optimized winged elastomeric element design. Raptor's patented WingLock technology increases surface area at the most critical regions of the element, resulting in higher bond strength, improved fatigue resistance, and longer life than competitive urethane designs. A non-lubricated natural rubber element results in lower stiffness and improved vibration damping. For reduced maintenance, the Raptor offers a split element for easy installation and replacement without moving or realigning connected equipment. Slotted clamp ring holes offer extra clearance for mounting hardware. Couplings are third-party ATEX certified for use in hazardous environments. Raptor elements are also available with an Armored element that exceeds ASTM 1149-07 rubber deterioration standards for use in extreme environments.
Baldor Electric Company
Low profile, high volume chamber
The StormTech SC-160LP Chamber is an addition to the Advanced Drainage Systems StormTech product line and is 12 inches tall with an installed volume of 15 cubic feet of water for underground infiltration and detention systems. The new unit requires 14 inches of total cover to carry AASHTO HS-20 live loads, which reduces site development costs in shallow applications by minimizing the amount of needed fill and maximizing open infiltrative areas. The chamber requires no separation between chamber rows, making it easier for the contractor to install and also minimizing the aggregate required. It can be installed using an injection-molded 8-inch end cap or a solid end cap.
Advanced Drainage Systems
CCFRPM pipe
Hobas pipe is suitable for virtually every installation method of new construction and rehab. The centrifugally cast, fiberglass-reinforced, polymer mortar pipe is inherently corrosion resistant and lasts 100 years or more. Leak-free, push-together joints reduce installation time and costs. It is widely used in corrosive environments such as industrial effluents, contaminated drainage and foul air as well as cooling and circulating water lines. It is also approved for potable water. Computer-controlled manufacturing delivers a uniform, high-stiffness pipe. Non-pressure and pressure classes are manufactured in diameters from 18 to 126 inches.
Hobas Pipe
Back pressure regulator
Asahi/America Inc. has expanded its Chem Proline® Advanced PE piping system to include Frank Series V86 back pressure regulators. Made from an Advanced PE resin, Chem Proline Frank pressure regulators possess the same chemical resistance and stress crack resistance as Asahi/America's Chem Proline pipe and molded fittings. The mechanical parts are isolated from the system media by an EPDM diaphragm. The Chem Proline V86 regulator is adjustable under working conditions and provides highly accurate and stable control in pressurized lines.
Asahi/America Inc.
Software suite
ProcessVue® from M.A.C. Solutions is a suite of software that provides clear, relevant and prioritized information to plant operators, supervisors and managers, enabling them to make better-informed decisions about their processes and plant safety. The software combines the latest communication, data logging and reporting technologies with a Master Alarm Database, a set of alarm rationalization tools and comprehensive Management of Change functionality.
M.A.C. Solutions
Triple-offset butterfly valve
The new Crane®FKX 9000 is a new triple offset butterfly valve from Crane ChemPharma & Energy, delivering exceptional flow control, optimized Cv and low Delta P in a single valve. Engineered to address the inherent dangers of demanding applications, the Crane®FKX 9000 adheres to the industry's most stringent standards. The precision machined metal seat and seal ring deliver reliable and bi-directional shutoff in high-temperature, high-pressure and severe service applications, among others. The right-angle conical design facilitates an almost frictionless in-line sealing.
Crane
Antimicrobial tubing
Clearflo Ag-47, NewAge Industries' antimicrobial tubing, is now available in an additional seven sizes, expanding its range up to 1" I.D. The NSF-listed tubing protects liquids from harmful bacteria that can result in taste transfer, odors and illnesses and is designed for applications such as beverage and dairy transfer, food processing, water lines, medical devices and clean fluid transfer. Clearflo Ag-47 is unique in that its antimicrobial properties are present throughout the tubing, not only on the inside.
New Age Industries