New Products
Compilation of new products for the industrial water market.
Jan 1st, 2016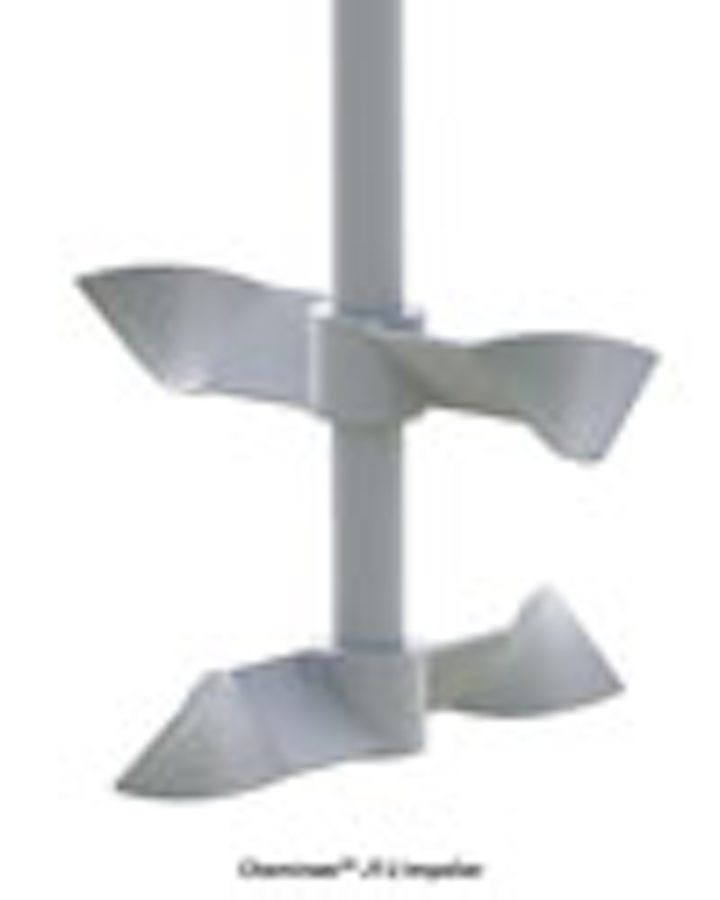 Blending impeller
The new Chemineer JT-2 Impeller from NOV has been developed for superior blending in transitional flow. The new impeller is used after conventional turbines have lost efficiency due to viscous effects and before the need for close clearance impellers. The design promotes blending by efficiently moving material in one direction in the center of the tank and the opposite direction on the outside of the tank. The improved flow pattern greatly reduces recirculation zones that extend the blend times of other impellers.
NOV
Sealed internal gear pumps
EnviroGear G Series pumps (formerly known as Maag Industrial) utilize only two moving parts and operate in both directions while providing a positive, non-pulsating flow. Multiple inlet and outlet positioning, a single end-clearance adjustment and easy drive-end access provide ease of maintenance and adjustability. G Series pumps are available in both cast iron and stainless steel and are extremely reliable, durable and cost effective for challenging industrial applications involving both thin and highly viscous liquids up to 431,000 cSt.
EnviroGear® Pumps
Air & gas flow meter
With its thermal mass flow sensor design, the ST98 Air/gas flow meter from Fluid Components International (FCI) provides direct mass flow measurement without the need for additional temperature or pressure sensors or density calculating devices. The meter's insertion style configuration makes it simple to install in existing piping without cutting the pipe or welding, offering minimal interruption to plant operations. Accuracy is ±1% of reading, plus ±0.5% of full scale. Exceptionally consistent, the ST98 meter offers repeatability to ±0.5% of reading.
Fluid Components International
Industrial-grade LTE router
The Digi TransPort® WR31 from Digi International® is a rugged, versatile enterprise LTE router built for critical applications operating in harsh environments. Designed for critical infrastructure environments where onsite visits are infrequent or impractical, the WR31 features advanced security and monitoring and is capable of operating on nearly any 3G or 4G LTE network. In addition, by supporting global HSPA+ and 4G LTE networks, the WR31 provides customers the flexibility to future-proof their router installation as wireless network requirements evolve.
Digi International
Self-contained water management system
Metron-Farnier's water meters and web-based "Water Scope" portal are aimed at minimizing water use in commercial properties. High resolution, 5-minute data is scanned and the owner/manager is notified of various wasteful conditions such as leaks, misprogrammed irrigation controllers, and malfunctioning toilet flappers. The meters can be supplied as complete units or the electronics can be sold separately to attach to existing water meters.
Metron-Farnier
Mobile odor control
The OdorBoss® 60G with Heat by Dust Control Technology® (DCT) combines a mobile enclosure with insulation, heat tracing and internal heat generation to protect equipment and components during operation and storage in freezing conditions. The unit uses a mixture of water and odor treatment agents to distribute a specially-engineered mist over great distances using a powerful fan that propels the treatment into the air where it can attach to odor vapor without equipment clogging or downtime from frozen lines. Fitted with a 2-5/16" Class III ball hitch, the unit can be quickly repositioned on its trailer to accommodate changing work locations or shifting wind patterns with a standard pickup truck or small skid steer.
Dust Control Technology
UL-recognized components
Ashcroft® T2, G2 & G3 pressure transducers are now recognized under the Component Recognition Program of UL. Designed for outstanding performance in extreme operating environments, these rugged sensors are approved for installation into UL-Listed systems and equipment.
Ashcroft
Thermoplastic pump
Vanton Pump's CHEM-GARD® CGA thermoplastic pumps are inert to handling corrosive, abrasive and other aggressive fluids, providing longer service life than metallic or fiberglass pumps. They meet ANSI B-73.1 standards and are metal armored, thereby enabling them to handle the same nozzle loadings as metal pumps. These centrifugal pumps are offered self-priming, close coupled, mag drive, combination close-coupled/mag drive, sealless, DIN as well as with motor types that have integral pump shafts. The pumps feature unique, reverse-mounted seal arrangements that avoid metal contact with fluids, therefore eliminating the need for exotic metal seals. They are rated for flows up to 1,450 GPM and heads to 400 feet.
Vanton Pump and Equipment Corp.
Ultrasonic level transmitter
The Sitrans LU150 from Siemens is a non-contacting ultrasonic transmitter with a range up to five meters. The device incorporates the sensor and the electronics in a single compact unit and can be used for continuous level measurement of liquids and slurries in open or closed vessels. IP68 rated, the Sitrans LU150 has a rugged, fully encapsulated PVDF sensor that is resistant to corrosion, chemicals and extreme shock. With only two cables to be connected, the device can be installed quickly and easily.
Siemens
Management solutions
InSight Analytics from GE is an industrial internet solution that can help achieve greater system efficiency, reduce operating costs and optimize production by providing near real-time performance calculations and clear, reliable reporting. The first GE analytics available are for reverse osmosis (RO) membranes and condenser efficiency in heat transfer systems. InSight Analytics for RO will help operators get the most out of their membranes through better management of their membrane cleaning schedules. The other offering, InSight Analytics for condenser efficiency, brings a new level of reliability and transparency to measuring condenser efficiency in heat transfer systems, offering real-time data normalization, even during peak production times, in a clear, simplified report.
GE
Vortex flowmeter for advanced energy measurement
Equipped with comprehensive communication options, and designed in accordance with international IEC 61508 functional safety standards, the OPTISWIRL 4200 vortex flowmeter from KROHNE is a major update to the original OPTISWIRL 4070. With one temperature sensor integrated as standard, the device can be installed as a heat meter in the feed line directly connected with an external temperature sensor in the return line. The gross and net heat calculation can be fed into a distributed control system (DCS) to support advanced energy management. The all-in-one solution features integrated pressure and temperature compensation, and can perform both gross heat calculations for steam and net heat calculations for steam and condensate.
KROHNE
Surface aerator
The Aqua-Jet® surface mechanical aerator, introduced in 1969 by Aqua-Aerobic Systems has more than 1.5 million installed horsepower, representing 9 billion hours of run-time. The robust design and high efficiency of the Aqua-Jet aerator is applied in a wide variety of industrial applications with thousands of units treating pulp and paper wastewater. Units are available in 1-150 HP and feature high efficiency/low maintenance motors, short lead times and simple installation.
Aqua-Aerobic Systems
SCADA solutions
ICONICS' GENESIS64™ HMI/SCADA suite takes advantage of the convergence of 64-bit computing machinery and the latest Microsoft operating systems (including Windows 10, Windows 8 and Windows Server 2012) to provide rapid development of HMI/SCADA solutions, engaging three-dimensional graphic visualization and enhanced connectivity from the plant floor or building operations to corporate business systems. Engineering typically takes up more than 60% of any automation project. GENESIS64 utilizes 64-bit computing to reduce this effort, save on time and costs, and provide a 360-degree view of an entire enterprise.
ICONICS
Engine-driven double disc pump
The Sludge Pro® double disc pump by Wastecorp is designed for wastewater, sludge and sewage pumping for government and industry. The pump is a style of low maintenance wastewater pump with fluid handling capabilities ranging from 10 to 500 gallons per minute (GPM). The benefits of Sludge Pro engine-driven double disc pumps include no regular scheduled maintenance required, available pressure sensors to assist in detecting blockages or closed valves in the line, and an optional industry-exclusive hydraulic lift system for easy access to pump internals.
Wastecorp Pumps
High temperature & pressure conductivity sensor
Sensorex's new CS875 in-line high-pressure and high-temperature conductivity sensor has been designed especially for use in industrial boilers. This rugged sensor provides accurate, repeatable conductivity measurements at saturated steam conditions up to 600 psig (41.4 bar) and temperatures up to 486°F (252°C) without cooling the process sample. The sensor enables continuous automatic blowdown control, minimizing corrosion and scaling. Sensors have 3/4" male NPT mounting threads with a 1" insertion depth for easy installation. Both the body and the measuring pin are constructed of 316 stainless steel. A special thermally resistant PEEK insert and high-temperature perfluoroelastomer o-rings ensure reliability at extreme boiler temperatures.
Sensorex
ZLD solution
ClearFlo Complete extends Oasys Water's family of ClearFlo Water Transformation Solutions, which are specifically designed to tackle a diverse set of wastewater challenges. Oasys' ClearFlo Membrane Brine Concentrator (MBC)™ technology recovers more than 90% of fresh water in a simple and reliable membrane process, leaving a greatly reduced water volume to be recovered by the more costly and energy-intensive crystallization process. The ClearFlo Complete is an integrated end-to-end solution combining a pretreatment step with the ClearFlo MBC and adding a greatly reduced capacity crystallizer that together provide a complete liquid recovery solution. This product gives industrial customers a cost-effective solution for avoiding the discharge of challenging waste streams while providing a reliable source of freshwater for continual reuse.
Oasys
Mixing application solutions
NORD gearboxes are oil-tight, hygienic, and non-contaminating, which makes them ideal for mixing applications. Extremely rugged, the drives use heavy-duty bearings supported in NORD's one-piece UNICASE™ housing to handle substantial shaft loads. NORD gearboxes have high overload capacity to accept torques that can be especially high during the initial start-up period. Additionally, NORD provides an economical, compact drive solution for dual agitation systems.
NORD
Valve positioner
Badger Meter's Research Control® SRD991 top-mount valve positioner mounts directly to the top of a control valve with a rugged linear potentiometer. The positioner uses a linear connection which mitigates hysteresis between the positioner and actuator by feeding back the actual position of a valve actuator, providing significantly improved flow control. The SRD991 top-mount positioner is available with an LCD screen, protocols (HART, PROFIBUS-PA and FOUNDATION Fieldbus H1) and two levels of diagnostics. All the diagnostics features can be easily configured and displayed by the positioner Device Type Manager. Moreover, the Positioner DTM enables a complete health report of the valve with full configuration and diagnostics data.
Badger Meter
Benchtop pipe fitting
McElroy's SmartFab™ 125 is the first benchtop machine that offers a smarter way to socket fuse pipe and fittings for polypropylene piping systems. Advanced features of the SmartFab 125 include its innovative inserts, which have the ability to reduce ovality in pipe and fittings. It also has the added convenience of a pivoting heater so that it can easily accommodate fittings located on either side of the machine. The SmartFab 125 has four jaws that adjust to any desired spacing and each jaw clamps individually, which allows for a greater combination of pipe and fitting sizes.
McElroy
Compact ultrasonic sensors
Carlo Gavazzi's range of compact ultrasonic sensors comes in M18 housings constructed of either thermoplastic (UA18CSD series) or stainless steel (UA18ESD series). Despite their compact 53 to 61 mm overall housing length, these new sensors provide long sensing distances up to 800 mm. Both digital output and analog output versions are available. Digital NPN or PNP versions can be either NO or NC, and support two different set-points, providing a detection "window." The analog output versions include 4-20 mA or 0-10 VDC, with positive or negative slope. A simple "teach-by-wire" function provides an easy means to set up the sensor parameters. Standard connection options include either a two meter PVC cable or M12 connector.
Carlo Gavazzi