Products & Services: Valves & Fluid Control
Collection of valves & fluid control related products and services.
Apr 2nd, 2017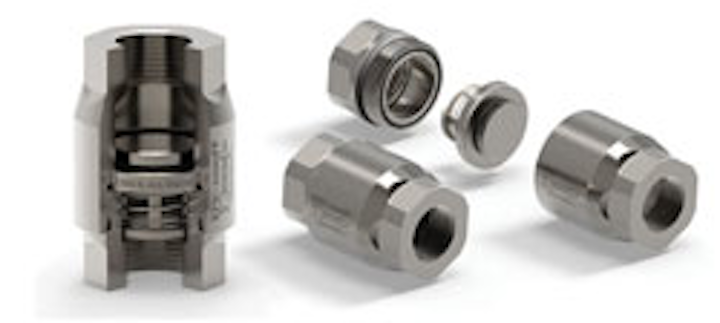 Check valves

The EPIC™ series of check valves from Check-All Valve Manufacturing are in-line, spring-loaded, poppet-type check valves that are designed to be cost effective, simple, rugged and efficient while operating in any flow orientation. The valves are machined from 300 series stainless steel bar stock with Aflas® seat/seals and a 1/2-PSI stainless steel spring (cracking pressure). It is streamlined so that media flows through the valve over smooth, contoured surfaces with a minimum change in direction. The check valve also achieves a high flow capacity and reduced pressure loss compared to other poppet-style check valves of similar sized connections.
Check-All Valve Mfg. Co.
Directional control valves
Hunt Valve's directional control valves offer the hydraulic directional control and long-term dependability required for steel and aluminum production. From pump unloading to coil handling, these valves are ideal for a variety of low-viscosity applications due to their zero-leakage design and ease of maintenance. Combo Directional Control Valves are designed for 95/5 water/oil service and are rated for up to 5,000 psig and flow rates up to 400 GPM. All valves offer four-way operation and two- or three-position configuration.
Hunt Valve
Wastewater air valves
Val-Matic's full line of Wastewater Air Valves perform two important functions in a piping system: they maintain system design efficiency and provide system protection. Exhausting and admitting air keeps the system from restricted flow, reducing pumping costs and the potential for destructive surges and water hammer that can collapse a pipeline. Wastewater Air Valves have unconditionally guaranteed 316 stainless steel floats and internal trim, fusion-bonded epoxy coating to minimize the buildup of sewage, and a non-clog design with a 2" clean out connection to facilitate the passage of solids for reduced maintenance.
Val-Matic
Valve selection guide
DeZURIK's newly revised Valve Selection Guide for the Mining Industry is designed to assist users in navigating the valve selection process and features information on DeZURIK's complete line of valves for mining applications, including slurry, gate, plug, butterfly, check, air, and rotary control valves. The updated guide is available online and includes a detailed valve selection chart, which uses color-coded ratings to categorize each valve style's usage based on function, type of media, and individual characteristics ranging from flow capacity to pressure ratings and shutoff class.
DeZURIK Inc.
Deluge fire valves
Singer's three new fire valves include: Electronic Operated Deluge Valve, Pneumatic Operated Remote Control Deluge Valve and the Electric Pneumatic Operated Deluge Valve. These valves are built to last with stainless-steel seats and fasteners and are heat-fused with a red epoxy coating. Coupled with Singer's SRD technology, these valves last longer than flat diaphragm valves and have more flexibility in sizing. Deluge Valves are available in globe style 3"-8" (80-200 mm) and are ANSI class 150 with 300 flanges and grooved ends. These deluge valves automatically open to fill the fire protection system very quickly.
Singer Valve
Valve island
The Type 8647 AirLINE SP valve island from Bürkert is compatible with the Siemens I/O system SIMATIC ET 200SP for maximum process reliability. It can be mounted in the control cabinet together with different Siemens modules for controlling up to 64 valve functions. It features pressure sensors and an LCD display shows detailed status information directly at the device. Maximum system availability is achieved by means of the pneumatic valves in the supply channel: they are hot-swap capable, so they can be replaced during operation. Check valves in the exhaust duct ensure that pilot valves and actuators operate reliably by preventing pressure peaks.
Bürkert Fluid Control Systems