Product Showcase
Collection of new products of special interest to the industrial water and wastewater markets.
Aug 27th, 2014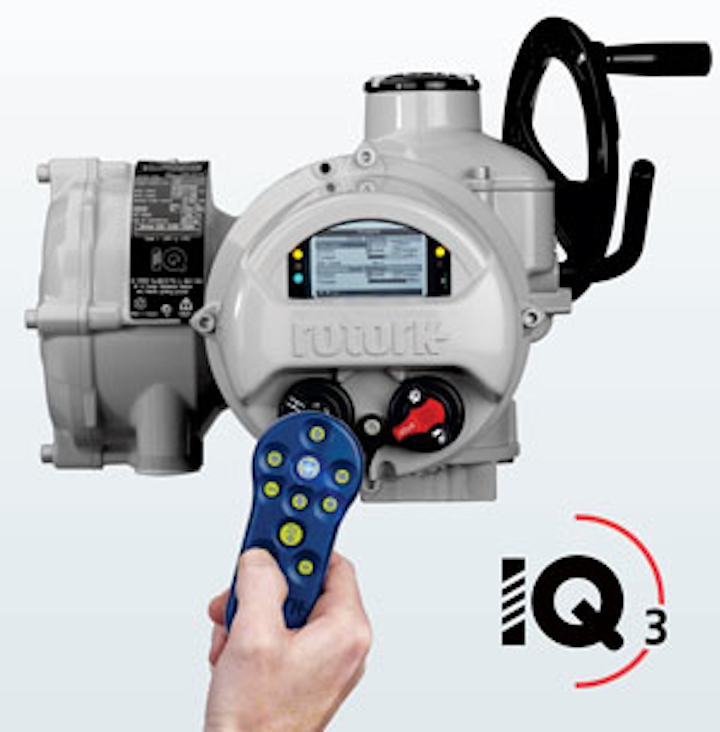 Electric valve actuators
Rotork's third generation of intelligent, non-intrusive, heavy-duty IQ electric valve actuators provides advanced operational, asset management, data logging, and ease-of-access features. IQ3 actuators have a large, wide-angle local display that provides user-friendly displays and real time asset management data; a Bluetooth hand-setting tool for secure, convenient set-up, configuration and commissioning, as well as real-time data access; and several mechanical enhancements, such as separately-removable thrust bases that allow actuators to be safely removed from the valve without altering valve position.
Rotork
www.iqactuator.com
Visit Rotork at WEFTEC.14 - Booth 1613
Drive units
Clarifier and thickener drive units from WesTech provide the rotational force necessary to turn rake arms in a circular basin, which transport settled solids to the center of the tank for removal. WesTech has developed a premium drive unit for industrial as well as municipal applications. The units can be designed for torque requirements from 1,000 ft-lbs to 6,000,000 ft-lbs.
WesTech Engineering Inc.
www.westech-inc.com
Visit WesTech at WEFTEC.14 - Booth 5828
Grit classifier
Kusters Water has announced the new ProTechtor series for headworks equipment. Kusters Water Grit Classifiers utilize carefully-sized settling hoppers to provide accurate surface settling rates. The hopper is attached to a discharge screw assembly to remove the settled and washed grit. All ProTechtor series products are manufactured to the highest quality standards at Kusters Zima's factory in Spartanburg, S.C. (ISO 2001:9008 certified) and include a three-year factory warranty.
Kusters Water
www.kusterswater.com
Visit Kusters at WEFTEC.14 - Booth 6136
Ball valve
Val-Matic's QuadroSphere® Trunnion Ball Valve is able to handle the demands of the oil & gas industry in areas such as tank farms, meter stations, pumps isolation, offshore platforms, fracking water treatment systems, heat exchanger water, compressor stations, and pig launchers & receivers. The multiple flow paths through the valve and the contoured recessed surfaces of the ball provide self-flushing to prevent clogging by avoiding high scale and solids build up. The valve has lipped edges that clean the seat surface, which make it ideal in various applications specific to the oil & gas industry.
Val-Matic Valve & Manufacturing Corp.
www.valmatic.com
Visit Val-Matic at WEFTEC.14 - Booth 7029
Pump line
Gorman-Rupp's complete line of pumps can be packaged for industrial applications to provide a total pumping solution that meets industrial fluid-handling needs. Pump packages are designed, constructed and tested for maximum compatibility and performance while offering superior serviceability. Gorman-Rupp's self-priming centrifugal solids-handling Super T Series pumps, for example, are specifically designed for sewage and industrial wastewater handling applications.
Gorman-Rupp Company
www.GRpumps.com
Visit Gorman-Rupp at WEFTEC.14 - Booth 2528
Treatment controller
Walchem has announced the release of its new W100W Controller. The W100W features a large ion-based display and multiple-language support to allow simple setup; a universal sensor input that provides flexibility for almost any type of sensor needed; and a relay that allows the controller to be used in more places than the average low-end model. The cooling tower/boiler model has an optional analog (4-20 mA) output for recording, data-logging or connection to energy management systems.
Walchem, an Iwaki America Co.
www.walchem.com
Visit Walchem at WEFTEC.14 - Booth 1031
Leak detector
The C16 PortaSens II portable leak detector from Analytical Technology is used to check for gas leaks in storage areas, around process equipment and piping, and in confined spaces prior to entry. The detector contains an internal sample pump and a flexible sampling wand to allow pinpoint location of the source of leakage. A unique feature of the C16 detector is its ability to measure over 30 different gases by simply inserting the appropriate sensor into the detector.
Analytical Technology Inc.
www.analyticaltechnology.com
Visit ATI at WEFTEC.14 - Booth 7729
Ball valve assembly program
Festo now assembles, warrants and supports ready-to-install ball valve assemblies that can include the ball valve, Namur solenoid, actuator, positioner, and sensor. Until now, most ball valve assemblies have been locally-sourced and built for each plant. This leads to variations in part numbers, components, quality, support, and higher-than-needed inventory levels. Consistency plant-to-plant is an issue for large multinational corporations and major OEMs. The new Festo program ensures consistency, especially for the components, that allow precise control of the ball valve.
Festo Corp.
www.festo.com/us