Products & Services: Valves
Collection of sludge handling and processing products and services
Apr 23rd, 2014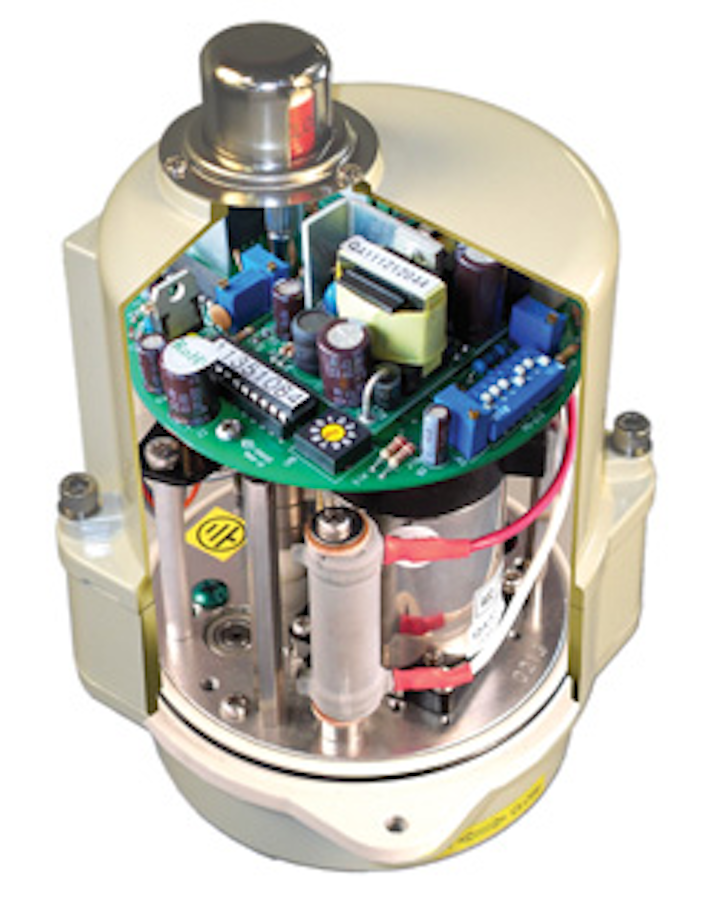 Electric actuators
ProMation Engineering released a series of actuators for applications where modulating (or proportional) control of valves and air dampers is required. ProMation used its in-house engineering resources, with electronic technologies and efficient contract manufacturing, to develop and produce the AdVanced Proportional Controller with many features at a low price, reducing acquisition and operational costs. Further, the controller comes with 4-20 mA input and feedback signals and features AutoCalibration and onboard diagnostics.
ProMation Engineering
www.promationei.com

Check valves
Check-All Valve manufactures a complete line of in-line spring-loaded piston-type check valves. Many series are available, which provide check valves for practically every service application. The valves are offered with metal-to-metal or soft seats in sizes ranging from 1/8" NPT to 20" flanged connections. Pressure ratings are available from full vacuum to 10,000 PSI. Standard or exotic materials are available, and you can choose from a wide variety of spring settings for any valve. Most options are available with fast delivery.
Check-All Valve Mfg. Co.
www.checkall.com

Pressure control valve
WesTech's exclusive Haymore back pressure control valve is uniquely designed to optimize the release of dissolved air concentric to the influent stream at the center of a dissolved air flotation (DAF) mechanism, rather than at the perimeter. This maximizes the benefit of a circular DAF design by allowing proportional distribution of microscopic air bubbles over a larger surface area, increasing the effectiveness of the flotation process. An adjustable hand wheel allows the operator to control the pressure in the system, which is indicated by an integral gauge complete with a diaphragm seal.
WesTech Engineering Inc.
www.westech-inc.com

Ball valves
Val-Matic's newly-acquired QuadroSphere® Ball Valve line is applied where typical trunnion ball valves experience problems. The unique contoured ball features four recessed surfaces that create additional flow paths, allowing the flow and particulates to move freely above, below and around the sides of the ball when moving from closed to open position. Seat ring contact to the ball has minimal contact area, which reduces wear and operating torques. With a fraction of the resistance across the seating surfaces when cycling, wear is reduced up to 70%, improving the performance life of the ball and seats. The QuadroSphere® is available in sizes 2 to 24 NPS and in ASME pressure classes 150 to 2500 with a variety of body, seat and seal materials to meet specific application requirements.
Val-Matic Valve & Manufacturing Corp.
www.valmatic.com

Throttling valves
Conval offers Clampseal Throttling Valves for severe service applications that require repeatable flow control and dependable shutoff. Both the seat and the stem assembly are easily changed in-line should a change in flow characteristics be required or replacement necessary from excessive corrosion or erosion. The orifice is sized to keep fluid velocity across the seat below damaging levels, and the exit orifice angle is designed to minimize downstream piping erosion and noise. The simple and effective pressure seal bonnet provides ready access for servicing with no welds to cut or seal rings or gaskets to replace. The body-to-bonnet joint integrity is maintained through countless thermal cycles, and the durable single-piece stainless steel gland contributes to the longevity of the valvepacking.
Conval Inc.
www.conval.com

Check valve
Flomatic Corporation introduced the new 316 Stainless Steel, Wafer-Style Check Valve Model 888S6 and Model 888S6R. This new wafer check valve is available in 2" to 8" with metal-to-metal seating (888S6) or with a Buna-N option (888S6R) for a drip-tight sealing. The Model 888 valve is designed for simple-flange-supported installation, will operate equally well in any position, and is suitable for ANSI 125# or 250# mounting. The double-guided, spring-loaded poppet system maximizes efficiency and minimizes water hammer with an easy field- exchangeable internal system. The Model 888 is recommended for booster pump systems, mechanical contractors, general utilities, irrigation systems, and HVAC liquid service.
Flomatic Corporation
www.flomatic.com