Resource Spotlight
Compilation of print and digital information resources for the municipal water and wastewater markets.
Oct 1st, 2015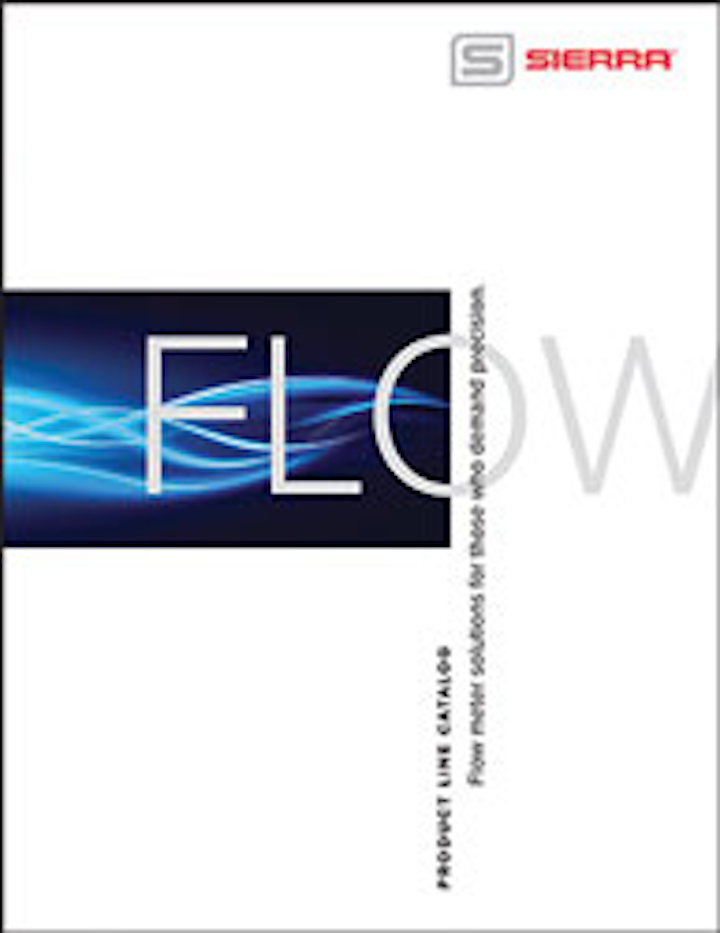 New catalog
Sierra Instruments has released its new Full Line Catalog. The new catalog is a comprehensive flow meter selection guide that makes specifying the best flow instrumentation for any gas, liquid or steam application simple. All Sierra's products, key specifications and application benefits are in one, easy-to-use brochure that gives customers the tools to find the right flow meter for their application instantly. View all flow measurement and control products and specifications and keep as a resource for future projects.
Sierra Instruments
White paper
Help for engineers with selecting the right valve types to help improve process cooling throughout a range of industries is available in a new white paper from ASCO that uses winemaking to illustrate the suggested tradeoffs and advantages involved in optimum valve selection. "Great Wine Coolers: Selecting valves to improve process cooling in winemaking and other industries" explains that while the cooling process in industrial winemaking is fairly straightforward, it can highlight how valves can function as important ingredients in improving various process cooling applications.
ASCO Numatics
E-newsletter
Dow has released a new e-newsletter for personnel challenged with treating dirty, high-solids water in their operations. Called "Dirty Water Talk," it features information about the company's TEQUATIC™ PLUS Filters and is designed to keep staff informed about this reliable, affordable and sustainable solution for tackling tough water while driving down costs. Likewise, Dow's advanced self-cleaning filters reduce high TSS in industrial applications. Operators can use the subscriber options to provide feedback, sign up or share.
The Dow Chemical Company
New guide
The use of sample preparation has been on the increase in recent years. As such, Phenomenex has published a new sample preparation guide and selection tool to help scientists produce cleaner samples for more efficient chromatographic analysis. The new 50-page guide is available to download, or researchers may request the print version. The new guide includes useful tools and resources to help select the most appropriate technique for any sample type. It also provides specific product recommendations, general methods and protocols for easy method development.
Phenomenex Inc.
White paper
Antaira has released a new white paper that provides information about redundancy in serial-to-Ethernet communications. It describes the company's redundancy serial-to-Ethernet device servers and how they can eliminate single points of failure for networked devices while also assuring data redundancy to support data transmission with dual independent host connections simultaneously.
Antaira
New website
TechCorr has announced the launch of its new website, with a bold new look and responsive design. TechCorr is a provider of industrial services around the world. The company brings together advanced technology with qualified, trained and certified personnel to solve the toughest industry problems. Services include: non-destructive testing, advanced services, tank inspections, inspection personnel, tubular testing, and shutdowns and turnarounds.
TechCorr
New literature
Schaffner EMC introduces new literature detailing the company's passive harmonic filters for use within a wide variety of industries and settings. High-power AC and DC drives for automation tasks, variable frequency drives and other non-linear loads draw non-sinusoidal current from the grid, creating harmful harmonics. These ever-present harmonics can manifest themselves in a host of ways, from nuisance issues to catastrophic problems. This 28-page, full-color brochure details ECOsine® Passive Harmonic Filters, which mitigate the harmful effects of harmonics.
Schaffner
Product guide
DeZURIK's new Knife Gate Valve Selection Guide is designed to assist users with the valve selection process. The guide helps users navigate DeZURIK's broad knife gate valve product range based on general specification requirements, common media and applications by industry. Within the selection chart, the guide uses five color-coded ratings to categorize each valve style's general usage in a particular application: Not Used, Limited Application, May Be Used, Typical Application, and Maximum Performance. The chart considers both cost and performance factors for a specific application when determining its rating.
DeZURIK