PRODUCTS & SERVICES PIPE & RELATED PRODUCTS
The Riser-Wrap™ seal is a two-layer system designed for corrosion and sealing protection on pipelines...
Jul 1st, 2005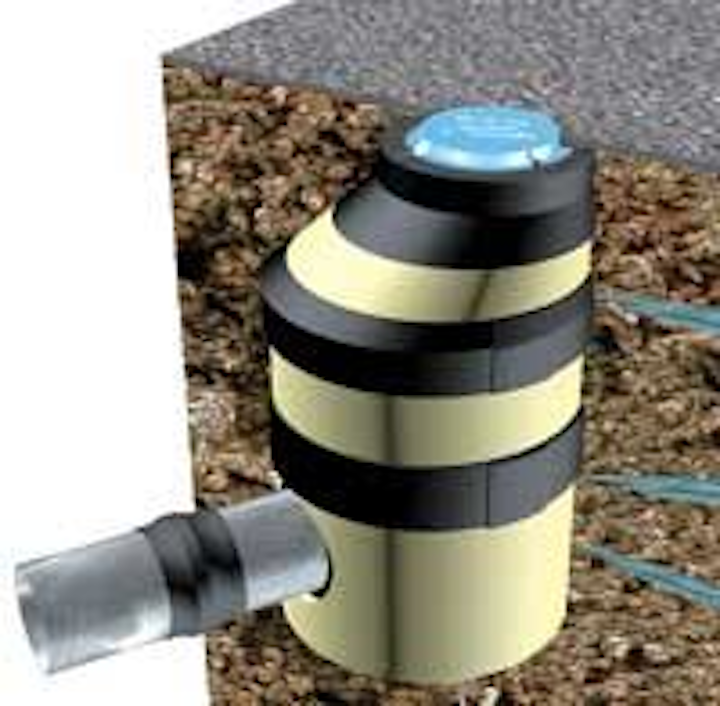 Pipeline sealing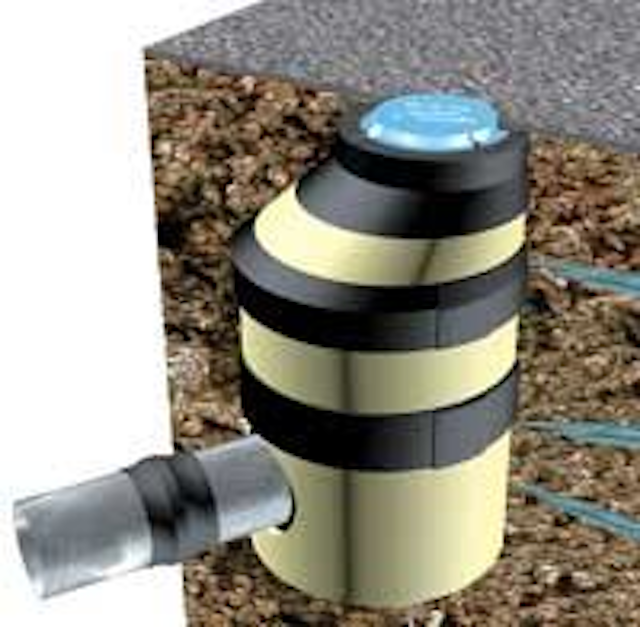 Click here to enlarge image
The Riser-Wrap™ seal is a two-layer system designed for corrosion and sealing protection on pipelines and encapsulating manholes to seal joints against ground water infiltration. The first layer is a liquid sealant covered by heat shrink sleeve. (2.5mm cross-linked, high density polyethylene membrane.) Applications are for pipelines, manhole encapsulation, repair and step-down joints.
Pipeline Seal & Insulator Inc.
Houston, TX
Tel: 800-423-2410
Website: www.riserwrap.com
Liquid filtration tubes
Click here to enlarge image
Custom machined plastic and stainless steel tubular components with precisely drilled holes and precision O.D and I.D. features for use in water and other liquid filtration and RO systems are available to OEMs from Marshall Manufacturing Co. Applications for this machined tubing include separation, filtration and purification in systems for drinking water, beverages and food as well as industrial applications such as filtration devices for hydraulic liquids, coolants and cutting oils.
Marshall Manufacturing
Minneapolis, MN
Tel: 800-321-6727
Web: www.marshallmfg.com
Leak detection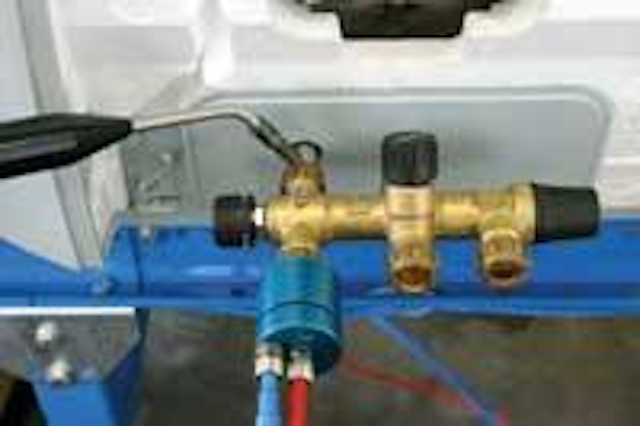 Click here to enlarge image
Leak detection is no longer limited to a choice between a water bath, pressure decay or a mass spectrometer. Sensistor Technologies introduces the H2000™ which uses hydrogen as a tracer gas to detect leaks as small as a single bacerium. This industrial leak detection instrument offers advanced leak testing capabilities in industries such as aerospace, automotive, fuel cell, HVAC systems, medical implants, and water systems.
Sensistor Technologies Inc.
North Billerica, MA
Tel: 978-439-9200
Web: www.sensistor.com
Water level probe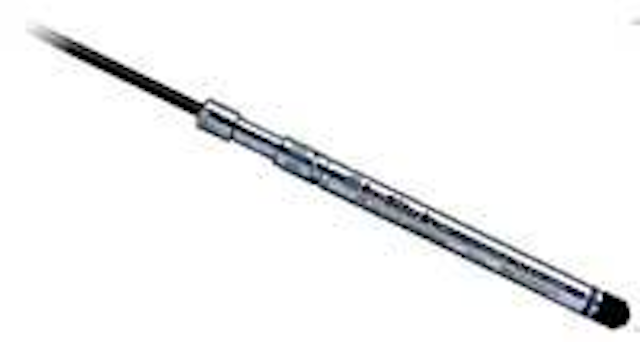 Click here to enlarge image
The titanium Level TROLL 500 is a compact 18.3mm (.72 inch) diameter water level probe, which internally records temperature, pressure, level and depth. The unit's interfaces with a PC, the RuggedReader, a waterproof (IP-67) personal digital assistant (PDA), SDI-12 loggers, all common PLCs and any device capable of 4-20mA or Modbus interface.
In-Situ Inc.
Fort Collins, CO
Tel: 800-446-7488
Web: www.in-situ.com
Backflow prevention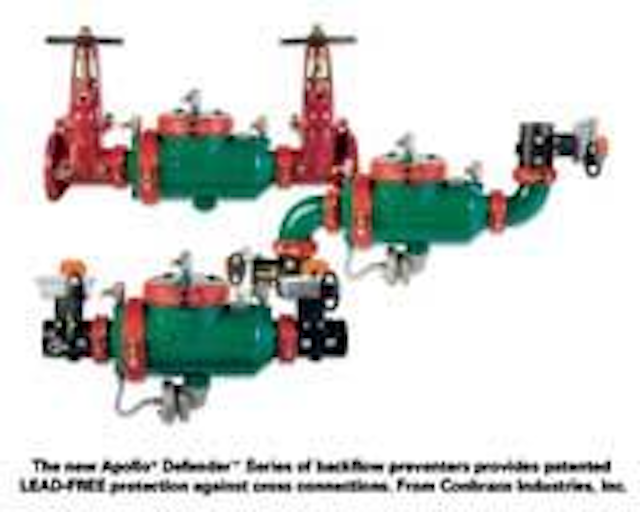 Click here to enlarge image
The new lineup of Apollo® Series 4D Defender™ backflow prevention products are completely lead-free. Sized from 2-½" to 10", the new series features a patented all-stainless steel check valve design in a ductile iron body. Defender products include 4D-100 Series double check valve assemblies, 4D-200 Series reduced pressure zone assemblies, 4D-600 Series double check detector assemblies and 4D-700 Series reduced pressure detector assemblies.
Conbraco Industries
Matthews, NC
Tel: 704-841-6000
Web: www.conbraco.com.
Epoxy coating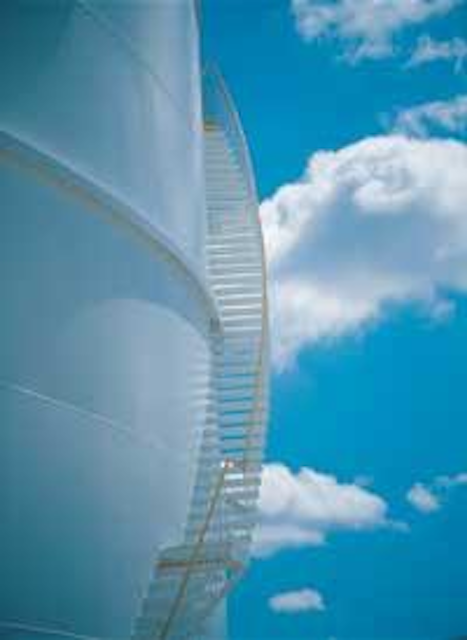 Click here to enlarge image
Sherwin-Williams Industrial and Marine Coatings group has many product offerings for the water/wastewater treatment industry. Among the useful protective coatings is Tank Clad™ HS, which is specifically formulated as an interior lining for pipes and tanks containing potable water, fresh water and salt water, and may also be used as part of a system for tank exteriors.
Sherwin-Williams
Berea, OH
Tel: 800-524-5979
Web: www.sherwin-williams.com/im
Portable conductivity meter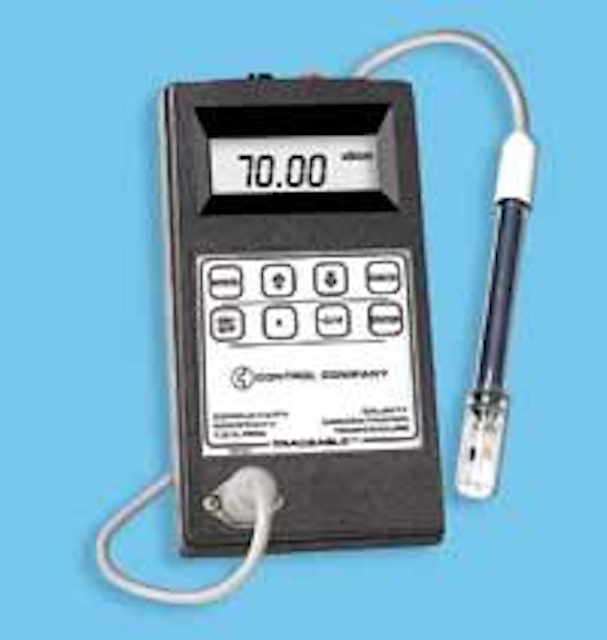 Click here to enlarge image
Control Company's new Traceable® portable conductivity meter instantly and automatically measures conductivity for product purity with accurate results. In an instant, the meter selects the proper range and displays the exact answer without hassles. This auto-ranging feature may be turned off to accommodate user-entered ranges. All special calibration data is saved even when turned off. It fulfills all government measurement requirements plus CAP, ASTM, NCCLS, and ACS.
Control Company
Friendswood, TX
Tel: 281-482-1714
Web: www.control3.com
Solids handling pumps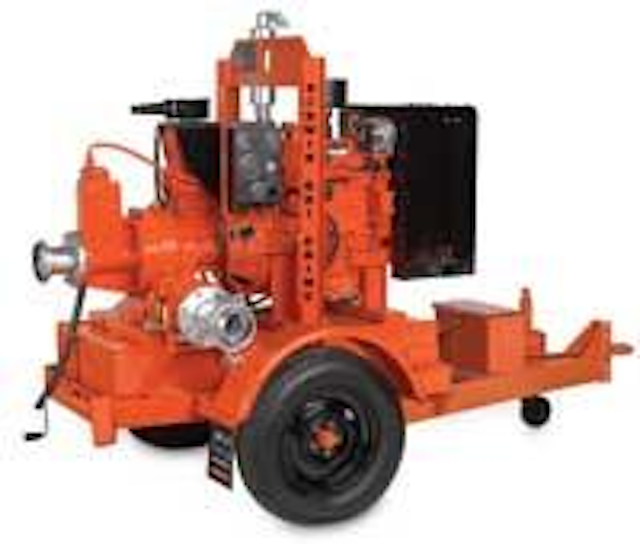 Click here to enlarge image
This year, Godwin Dri-Prime pump newcomers include a generation of pumps that has evolved from Godwin's high volume CD series of Dri-Prime models. Four pumps specifically are offered to provide elevated heads with solids handling capabilities without sacrificing high volume pumping capacity: the 4-inch CD103M, the 6-inch CD160M, the 8-inch CD225M, and the 12-inch CD300M.
Godwin Pumps
Bridgeport, NJ
Tel: 856-467-3636.
Web: www.godwinpumps.com
Worm gears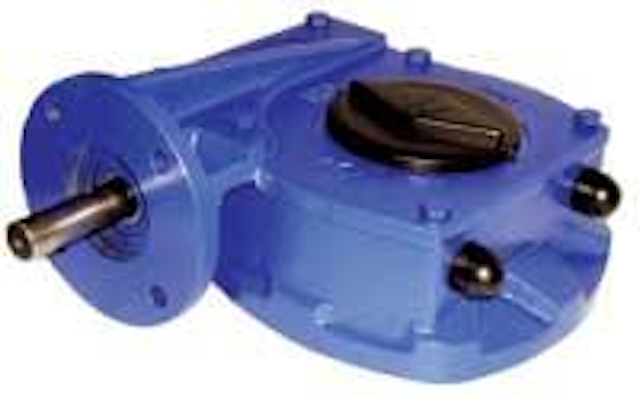 Click here to enlarge image
Flowserve Corp. adds two new sizes to the Flowserve Limitorque PT series of worm gear operators. The PT series is built to provide the torque needed for operation of quarter-turn valves used in water and wastewater treatment, petroleum refining and distribution, and other industries. The new PT-12 and PT-14 models, rated at 880 ft-lb and 1,600 ft-lb respectively, are designed to provide added versatility for torque and operating time requirements.
Flowserve Flow Control
Dallas, TX
Tel: 434-845-9711
Web: www.flowserve.com
Online monitoring
ADS Environmental Services introduces FlowView Portal, the newest web-hosted system for the delivery of Underground Intelligence by ADS. This is an easy-to-use, innovative report delivery tool. Flow monitoring data is more valuable with this tool as it provides the user with a virtually unlimited database to store and access decades of historical data, and the ability to share the information electronically.
ADS Environmental Services
Huntsville, AL
Tel: 800-633-7246
Web: www.adsenv.com/flowviewportal
Modeling software
Advantica releases SynerGEE® Water 4.1, featuring spatial tool enhancements for water distribution network simulation. Advancements allow users to import external GIS source data, building on functionalities introduced in version 4.0 with a basemap conversion tool that lets users view the basemap behind the model as well as convert multiple pipe and facility layers into a model simultaneously, integrate external source data into the software, and save basemap attributes with existing names and settings. valves, regulators and pumps.
Advantica Inc.
Carlisle, PA
Tel: 717-243-1900
Web: www.advantica.biz
Non-contact thermometer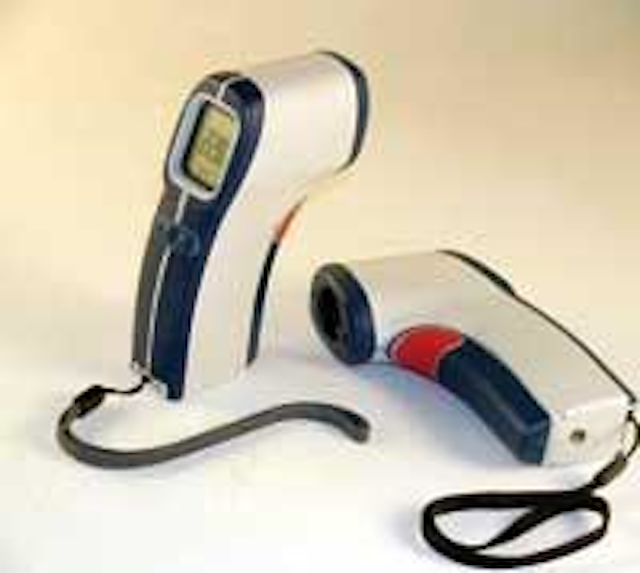 Click here to enlarge image
E Instruments now offers the newly released MicroRay Pro, a user friendly portable infrared thermometer for numerous applications and uses in different industries. The thermometer is an ideal tool for HVAC monitoring and maintenance to measure temperature easily and quickly. With specifications of 12:1 (D:S), it provides laser pinpointing, easily identifying the measured surface area. This tool can easily prevent temperature related malfunctions before serious damage occurs such as bearings, motors, valves, electrical switches, hot spots, engine performances, floor heating systems, piping, and much more.
E Instruments Group
Langhorne, PA
Tel: 215-750-1212
Web: www.einstrumentsgroup.com
Failproof check valve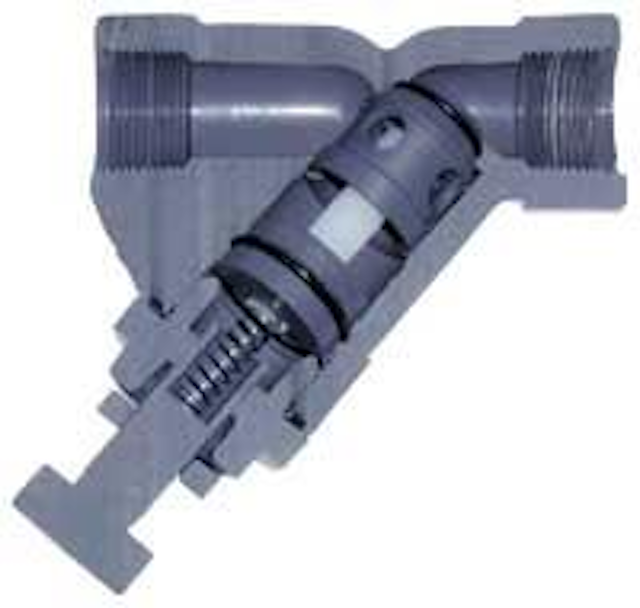 Click here to enlarge image
Unlike metal versions, Hayward's new thermoplastic spring-loaded check valves never fail, stick or jam due to rust or corrosion. Opening pressure is hand adjustable, without tools, over a range of 2-15 psi. This represents a distinct improvement over other spring check valves that require tools or a different spring installed for a specific set opening pressure. Available in PVC in sizes up to 4" with socket, threaded, or flanged connections rated to 150 psi @ 70°F.
Hayward Flow Control Systems
Clemmons, NC
Tel: 888-429-4635
Web: www.haywardindustrial.com
Molded piping endcaps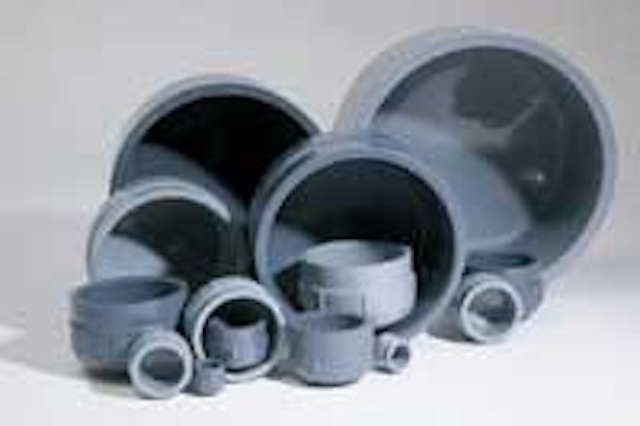 Click here to enlarge image
George Fischer Sloane Inc. expands its Schedule 80 PVC and CPVC Piping Systems with the addition of molded endcaps in 10" and 12" sizes for a comprehensive size range from ¼" to 16". The expanded range features molded flush-style reducer bushings through 12-inch, as well as fabricated fittings through 16-inch. A full range of complementary PVC and CPVC pipe, valve and fittings offer good flow characteristics and corrosion resistance, making them well-suited for both corrosive and non-corrosive applications in a variety of industries.
George Fischer Sloane Inc.
Little Rock, AR
Tel: 800-423-2686
Web: www.sloane.georgefischer.com.
Flowmeter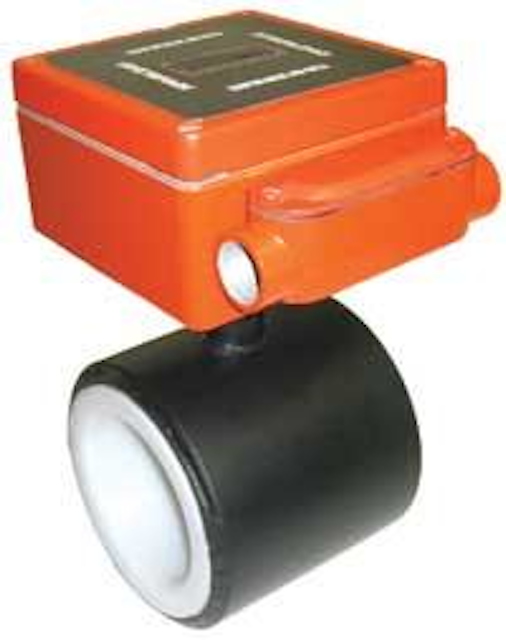 Click here to enlarge image
The new FM618 ECONOMAG meter is Sparling's new low cost electromagnetic flowmeter with superior performance and reliability. Standard features include a Tefzel liner, stainless steel electrodes, NEMA-4X transmitter with 4-20mA output, ±.75% accuracy, low flow cutoff, positive zero return, adjustable damping, no moving parts and 2 year warranty. Options include 4-digit flow rate indicator, 8-digit totalizer with 4-20mA & 24 Vdc scaled pulse and Hastelloy C electrodes.
Sparling Instruments Inc.
El Monte, CA
Tel: 800-800-3569
Web: www.sparlinginstruments.com
Failsafe valve shutdown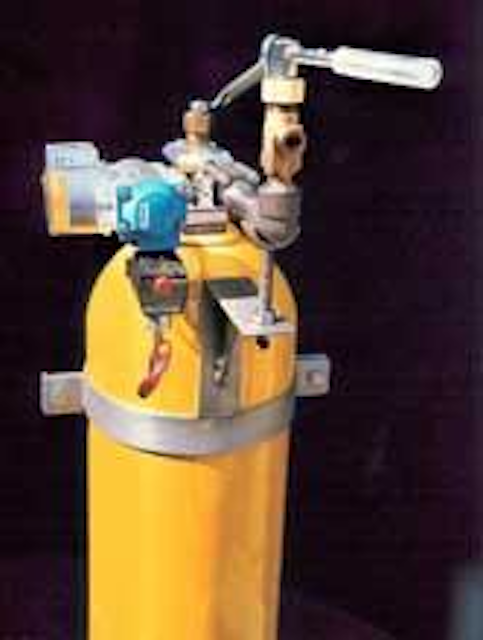 Click here to enlarge image
TGO Technologies now offers an Automatic Failsafe Shutdown Valve System. This valve assembly attaches directly onto the chlorine valve of a 150 lb. cylinder or ton container using only a standard chlorine wrench. A true failsafe valve, it always fails to a closed position, doesn't rely upon electrical or back-up power, and complies with the new Uniform Fire Code, International Fire Code and National Fire Protection Agency standards.
TGO Technologies Inc.
Santa Rosa, CA
Tel: 800-543-6603
Web: www.tgotech.com
Inline flow switch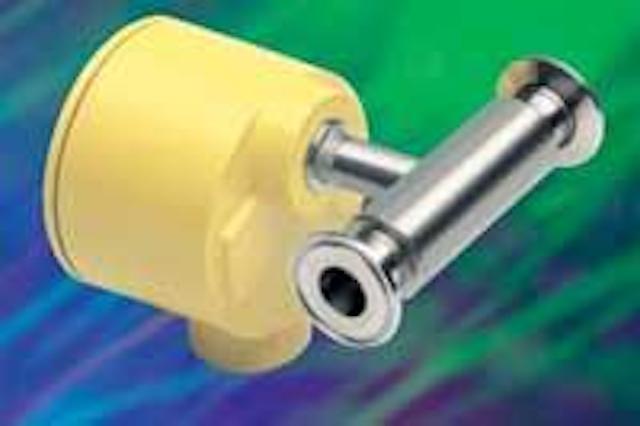 Click here to enlarge image
Process engineers looking for a flow switch with a wide flow range, superior accuracy and the industry's fastest response time in its class can look to the NuTec FS2000L Inline Flow Switch from Fluid Components International. The switch's non-intrusive thermal mass flow sensor design is constructed of 316L stainless steel, which isolates it from the process media.
Fluid Components International
San Marcos, CA
Tel: 800-854-1993
Web: www.fluidcomponents.com
Shutoff valves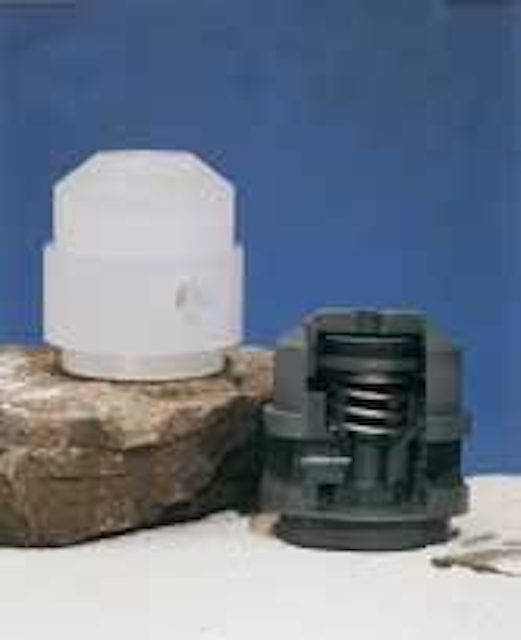 Click here to enlarge image
Plast-O-Matic Valves brings to market a ½" size air-operated shutoff valve with no wetted metals or external fasteners for high-purity or corrosive environments. These "balanced," compact valves are designed for liquid service ranging from full vacuum to pressures up to 150 psi. Valve outlet pressure (backpressure) can be as high as the inlet pressure without affecting performance.
Plast-O-Matic Valves Inc.
Cedar Grove, NJ
Tel: 973-256-3000
Web: www.plastomatic.com
Sealless diaphragm valves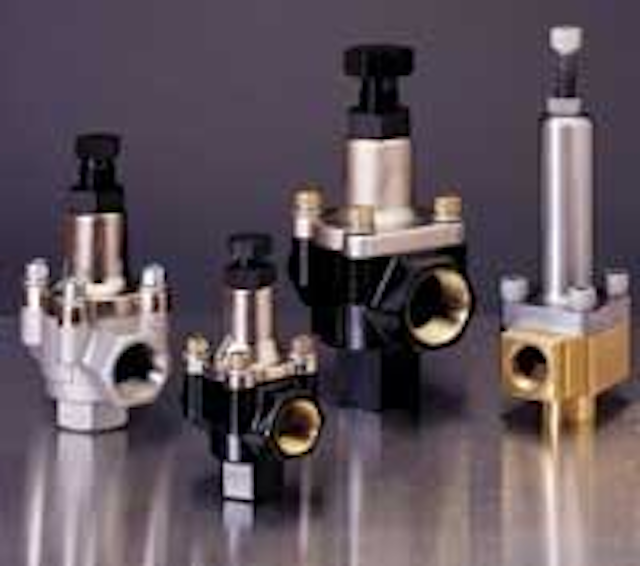 Click here to enlarge image
Hydra-Cell Industrial Pumps, a unit of Wanner Engineering Inc., introduces its C60 Series regulating valves. These valves are available in stainless steel, nickel alloy or solid brass and accommodate 0.75 in. to 1.25 in. NPT/BSPT plumbing. They provide flow from 0 to 40 gpm and can handle pressures from 75 to 2,500 psi, with fluid temperatures up to 200°F. C60 series valves bypass system fluid to prevent excess system pressure.
Wanner Engineering Inc.
Minneapolis, MN
Tel: 612-332-5681
Web: www.hydra-cell.com.
Check valve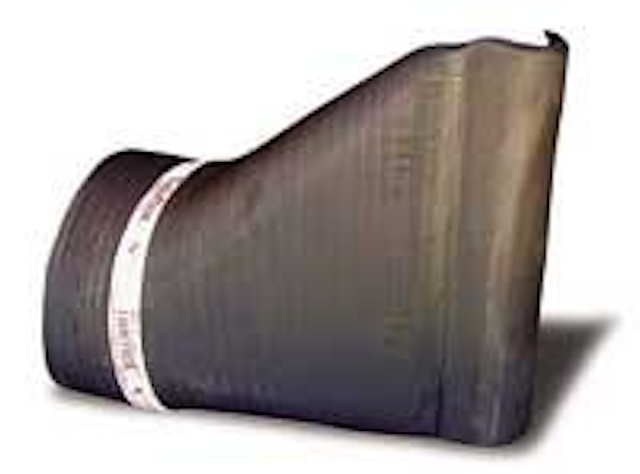 Click here to enlarge image
The new TF-1 Curved Bill Tideflex® Check Valve is designed to enhance sealing, especially in low-lying areas with little backpressure. The TF-1 design requires less bottom clearance and can hold greater water weight than the TF-2. The valve is constructed entirely of rubber, making it virtually immune to rust, corrosion and weathering. The curved bill offers increased flexibility to better seal around entrapped debris, and the headloss of the valve remains exceptionally low. Sizes are available to 96".
Tideflex Technologies Inc.
Pittsburgh, PA
Tel: 412-919-0919
Web: www.tideflex.com
Pinch valve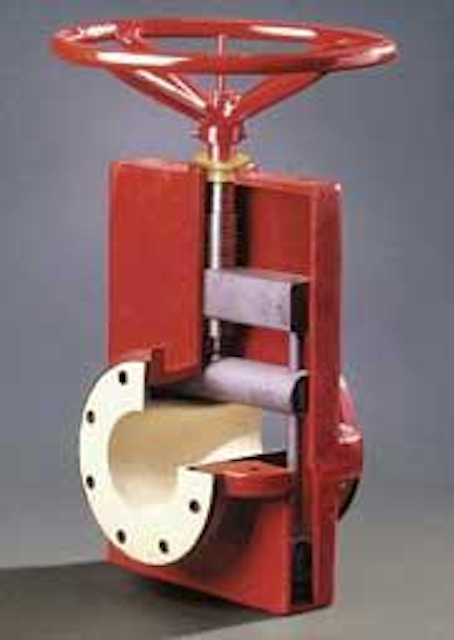 Click here to enlarge image
The Red Valve Series 75 Pinch Valve is designed to eliminate the problems associated with ball and plug valves in tough slurries, abrasives and corrosive chemical applications. The full port design eliminates any dead spots or crevices, seats or bearings. The self-cleaning, flexing action of the elastomer sleeve eliminates any clogging. The pinch valve has the same face-to-face dimensions as plug or ball valves up to 12".
Red Valve Co. Inc.
Carnegie, PA
Tel: 412 279-0044
Web: www.redvalve.com
Backflow prevention
Ames Fire and Waterworks has introduced the new Colt™ line of backflow prevention devices in sizes 2 ½"-10". The valves are light and compact. Included in this series are the Ames Series C200 Double Check Valve Assemblies, C300 Double Check Detector Assemblies, C400 Reduced Pressure Zone Assemblies and C500 Reduced Pressure Detector Assemblies. All the valves feature an entire valve body and sleeve manufactured from 300 series stainless steel and grooved connections for ease of installation and pipe alignment.
Watts Water Technologies Inc.
North Andover, MA
Tel: 978-689-6256
Web: www.amesfirewater.com.
Water level control
Water level control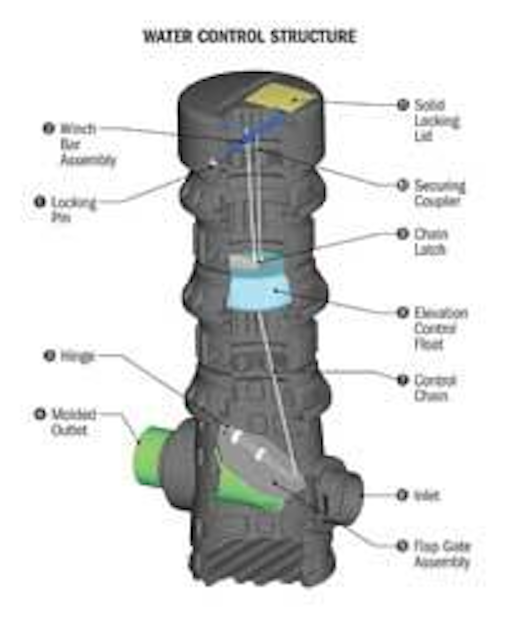 Click here to enlarge image
Hancor has introduced a new patent pending water control structure for lowering and raising water in wetland conservation applications and pond equalization. This watertight structure is easy to operate, install and maintain. Officially licensed by Ducks Unlimited, the Water Control Structure provides flood control, assists with erosion control, ground water recharge, and provides a habitat and food source for wildlife. Water levels are adjustable in 1" increments.
Hancor Inc.
Findlay, OH
Tel: 888-367-7473
Web: www.hancor.com
Solenoid valves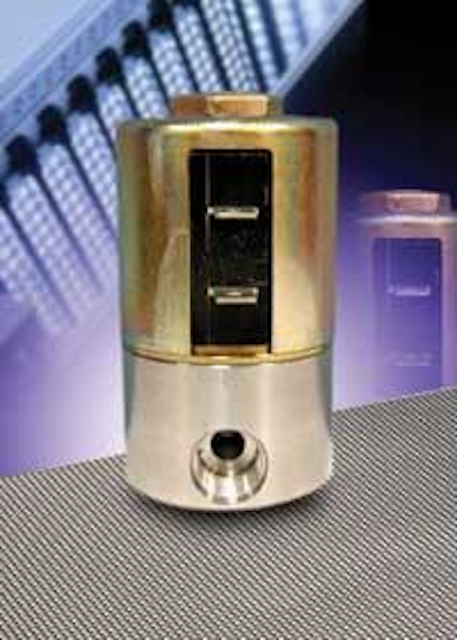 Click here to enlarge image
Norgren offers the ability to extend the pressure rating of its KIP series of solenoid valves. The service allows customers to specify a custom range not featured in the standard ranges. The solenoid valves are used in a wide variety of applications and are available in various operations such as direct acting, pilot actuated and proportional.
Norgren
Farmington, CT
Tel: 860-677-0272
Web: www.norgren.com