NEW PRODUCTS
Aluma Systems unveiled its new Aluma Sure Lock Accessory Portfolio at EXFOR® 2005, the world's largest annual exhibition of technology for the pulp and paper products manufacturing in Montreal.
Mar 1st, 2005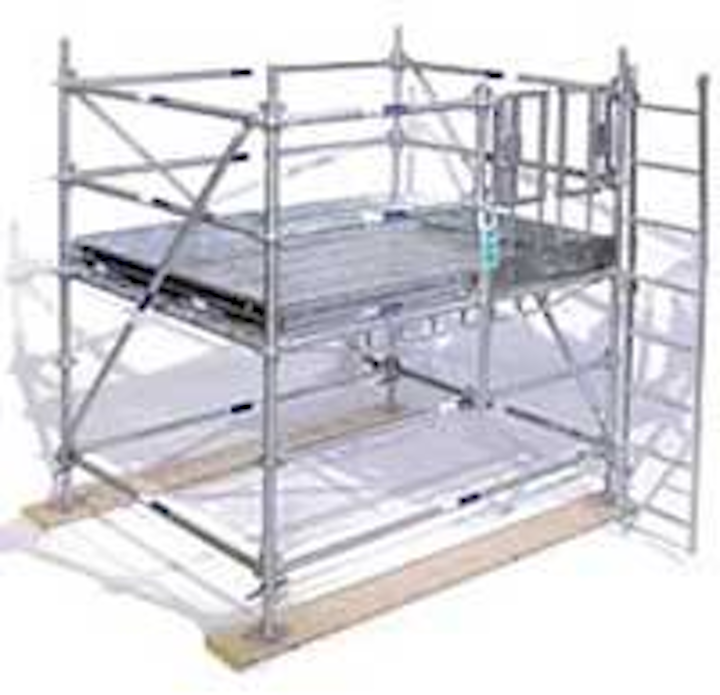 Modular scaffolding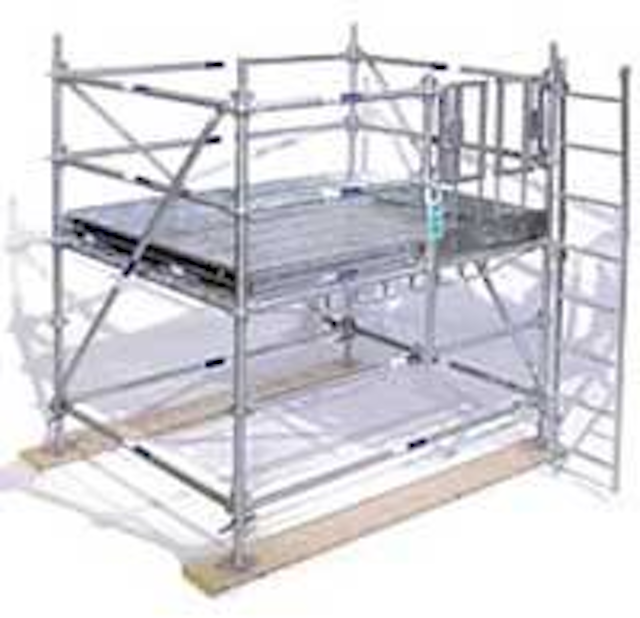 Click here to enlarge image
Aluma Systems unveiled its new Aluma Sure Lock Accessory Portfolio at EXFOR® 2005, the world's largest annual exhibition of technology for the pulp and paper products manufacturing in Montreal. The 16 newly designed accessories enhance the lightweight, modular scaffolding system by shortening erection and dismantling time, and reducing labor costs.
Aluma Sys., Ind. Scaffolding Services Division
Las Vegas, NV
Tel 702-866-6513
Web: www.aluma.com
Mass flow meters
RCT Series Thermal Mass Flow Meters, available from Badger Meter, are designed for flow range measurements of gases with full-scale flow rate down to 3 sccm and up to 9000 slpm. The meters offer a stable zero and wide rangeability along with accuracy of ± 0.7% of rate and ± 0.2% of full scale. The meters are available in three sizes, all with a variety of end connections ranging from1⁄8" compression fittings to 4" flanges.
Badger Meter Inc.
Milwaukee, WI
Tel: 800-876-3837
Valve/curb key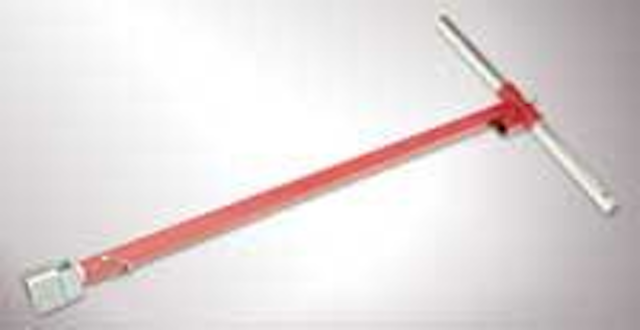 Click here to enlarge image
Reed's valve & curb keys telescope down and fit well inside today's smaller utility trucks, behind pickup seats, or in car trunks. The VKA45 is an adjustable valve key for mains with the curb key at a 45-degree angle. This angle provides a visual indication of the valve's open or closed status. The handle will line up with the pipe with the valve in the open position. The handle crosses (appears perpendicular to) the pipe with the valve in the closed position. Reed's extensive line of valve keys is made from heavy gauge steel mechanical tubing with select keys according to the needs of your systems.
Reed Manufacturing Co.
Erie, PA
Tel: 800-666-3691
Web: www.reedmfgco.com
Chemical dispensing hose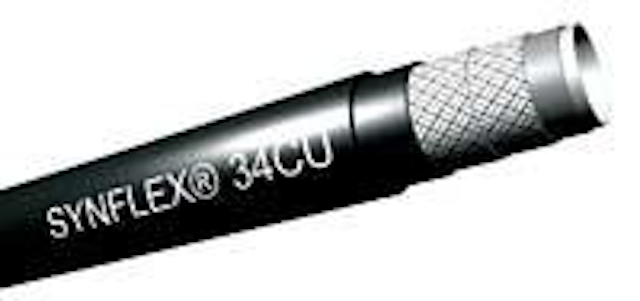 Click here to enlarge image
Saint-Gobain Performance Plastics announces the introduction of Synflex®34CU chemical dispensing hose. The hose is specifically developed for water treatment applications and conveyance of sanitizing chemicals. The new rugged hose can be used in applications up to 212°F (100°C) and 4,000 psi. A special fluoropolymer core makes it compatible with most chemicals, while the urethane cover is abrasion and UV resistant.
Synflex Saint-Gobain
Aurora, OH
Tel: 330-995-1661
Web: www.synflexhose.com
Ultrapure water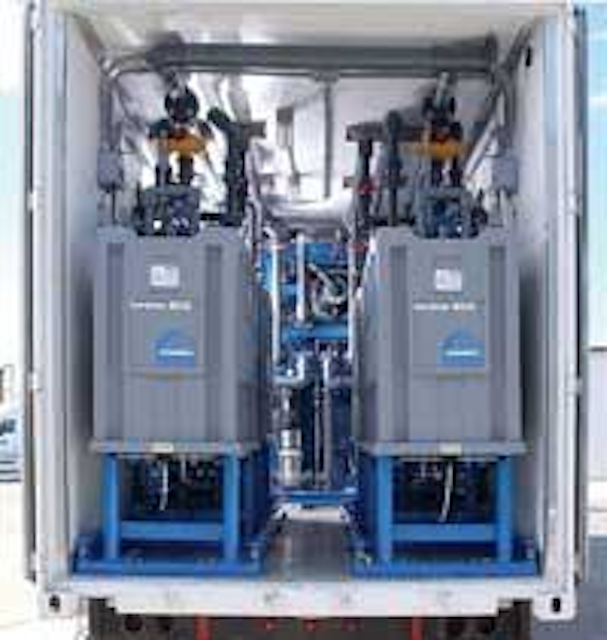 Click here to enlarge image
Ionics new DeltaFlow® 2.0 system produces ultrapure water without use of hazardous ion exchange regeneration chemicals. This unique system combines three membrane technologies - RO, a GTM® membrane degasification unit and EDI - in a space-efficient design for continuous production of ultrapure water. It offers significant improvements over the original DeltaFlow system introduced in 1997 and is now operating in over 40 water plants worldwide.
Ionics Inc.
Watertown, MA
Tel: 617-673-4317
Web: www.ionics.com
RO membranes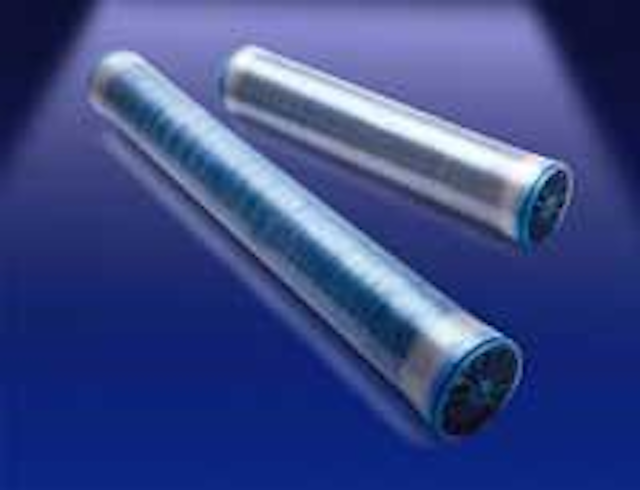 Click here to enlarge image
Koch Membrane Systems, a member of Koch Chemical Technology Group LLC, offers its Fluid Systems line of RO membrane elements. The membranes are ideal for a variety of commercial and industrial brackish water treatment and seawater desalination applications. This brand features unique thin film composite TFC® membranes specifically designed to increase efficiency and reduce costs by providing high rejection at low pressure. The membranes last up to 12 years - on average 4-8 years.
Koch Membrane Systems Inc.
Wilmington, MA
Tel: 888-677-5624
Web: www.kochmembrane.com
Wastewater treatment
MEP Enviro Systems, a subsidiary of Marine Environmental Partners Inc., which focuses on marine wastewater systems, has introduced the TerraSan™ Wastewater Treatment System for land applications. TerraSan utilizes physics and electro-chemistry for disinfection. Equipped with a PLC system that automatically monitors and adjusts the level of treatment to changes in water chemistry, it produces virtually odorless effluent that can meet stringent re-use standards.
MEP Enviro Systems Inc.
West Palm Beach, FL
Tel: 561-842-9900.
Web: www.mepi.net
Gas chlorinator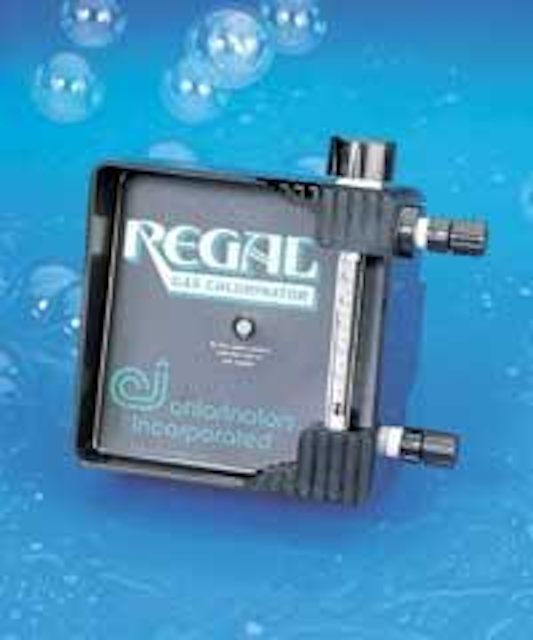 Click here to enlarge image
Chlorinators Inc. is the manufacturer of the Regal gas chlorinator. Safe and strong, the all-vacuum system virtually eliminates the possibility of gas leaks. The unit is directly mounted with the strongest yoke in industry. It has an extremely tough, resilient diaphragm and is made with corrosion-resistant materials. With only 68 parts, it's easy to maintain and clean.
Chlorinators Inc.
Stuart, FL
Tel: 772-288-4854
Web: www.regalchlorinators.com
Swing check valves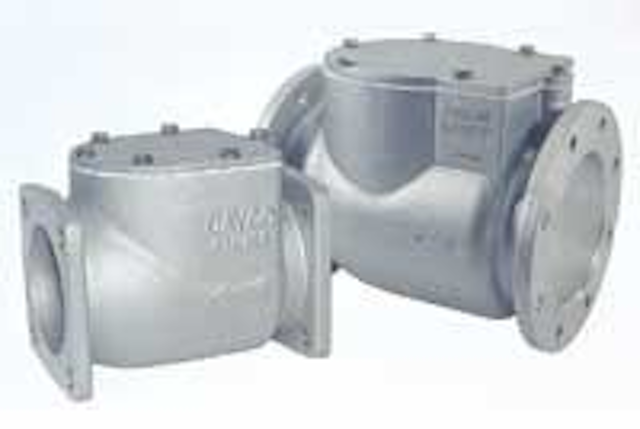 Click here to enlarge image
Dixon Bayco introduces a new, expanded line of 3" and 4" swing check valves for complete flow reversal prevention in dry bulk transfer carriers. These valves are designed to protect food-grade and sensitive dry bulk containers at temperatures up to 350°F. They provide low-resistance and true full-flow performance. A computer-generated design eliminates flow restrictions through the body by allowing the flapper to swing completely out of the airflow, thus providing a true full-port flow path. Cast-aluminum construction includes having the elastomer permanently bonded to the drop-in metal flapper assembly, complemented by all SS hardware.
Dixon Valve & Coupling Co.
Chestertown, MD
Tel: 800-355-1991
Web: www.dixonvalve.com
Grinder pumps
Zoeller Submersible Solids Handling and Grinder Pumps include features such as finned castings, oil filled housings and non-overloading windings to minimize the heat rise of the motor, which allows the unit to operate at a low stabilization temperature. These features also minimize the wear on the bearings and mechanical seals, which eliminate the need for premature replacement. The solids handling pumps have a 3'' spherical solid capacity. The grinder pumps feature a reversible "star cutter", which assures the user of a clog free pumping unit that will not jam.
Zoeller
Louisville, KY
Tel: 800-928-7867
Web: www.zoeller.com
Chemical feed pump skids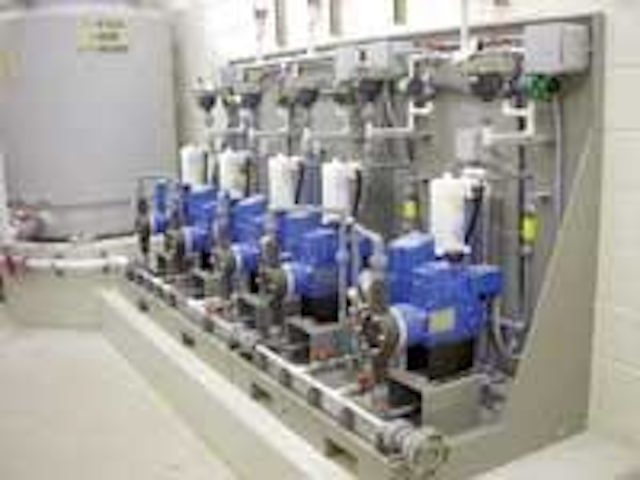 Click here to enlarge image
New pre-assembled chemical feed pump skids, equipped with any make or style of pumps, have been introduced by Jacobs Air Water Systems. Designed to consolidate and ease chemical feed pump installation for water and wastewater applications, the skids are manufactured to uniform sizes and layouts whenever possible to speed placement of multiple pumps. Each is equipped with process components that typically include calibration columns, back-pressure valves, pressure-relief valves, pulsation dampeners, and gauges.
Jacobs Air Water Systems
Tampa, FL
Tel: 813-901-8825
Web: www.jacobsairwater.com
Submersible level transducer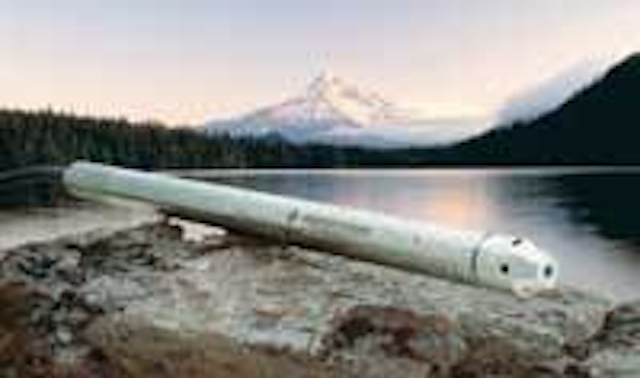 Click here to enlarge image
Pressure Systems has introduced a new submersible KPSI™ level transducer that includes internal data logging functionality. The Series 550 waterMONITOR is specifically designed for measuring water levels with +0.05% FS Total Error Band (TEB) accuracy in environmental and land management applications such as ground water, surface water, and open channel level measurement. The waterMonitor has an RS-485 electrical interface using SDI-12 protocol with selectable baud rates up to 19,200.
Pressure Systems Inc.
Hampton, VA
Tel: 800-328-3665
Email: sales@pressuresystems.com
Web: www.pressuresystems.com
Clarifier/thickener drive units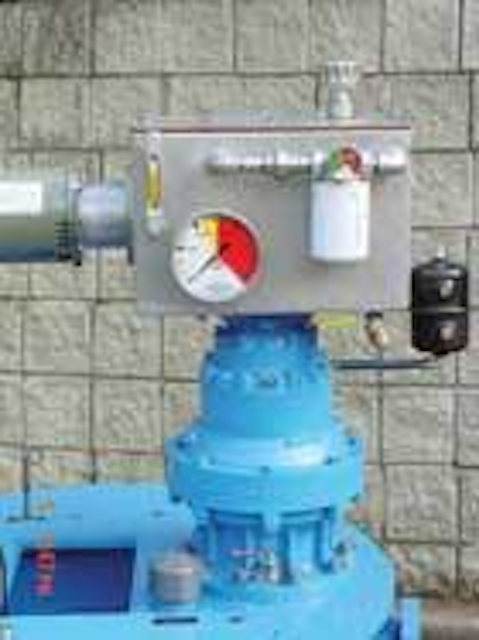 Click here to enlarge image
Type H clarifier and thickener drive units, available from Hi-Tech Environmental, offer advanced drive technology. Hydraulic overloads provide precise torque monitoring and overload protection. Gauge readings are displayed in actual operating torque (ft-lbs).
Hi-Tech Environmental Inc.
Birmingham, AL
Tel: 800-264-7005
Web: www.hi-techenv.com
Real-time water analysis
HydroFlo Inc., which focuses on treatment and testing of water and wastewater, has acquired Safety Scan Technology Inc. from UTEK Corp. along with SSTI's exclusive license to a patented technology for analysis of water to rapidly detect the presence of potentially harmful compounds using ultrasonic interferometry. Developed by researchers at the Los Alamos National Laboratory, the lightweight and portable system utilizes resonance of high frequency sound waves to detect compounds of interest.
HydroFlo Inc.
Raleigh, NC
Tel: 919-772-9925
Web: www.hydroflo.us
Butterfly valves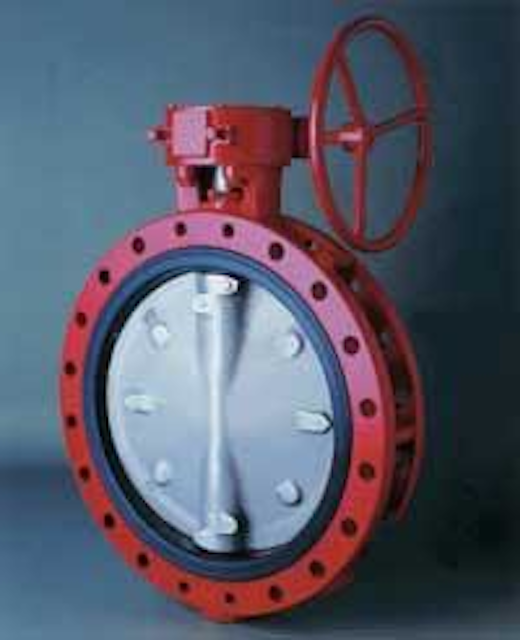 Click here to enlarge image
Ultraflo's new 410/412 Series large diameter, resilient seated butterfly valves offer low torque and complete isolation of the line media from the valve body. The tongue-and-groove seat retention system ensures positive alignment and ease of assembly. Its many unique advantages include: a bidirectional, bubble tight shutoff pressure rating of 150 psi, high Cv ratings, full isolation of body parts from line media, heavy duty construction, and reliability with long service life.
Ultraflo Corp., Div. of Bray Int'l Inc.
Ste. Genevieve, MO
Tel: 800-950-1762
Web: www.ultraflovalve.com
Arsenic removal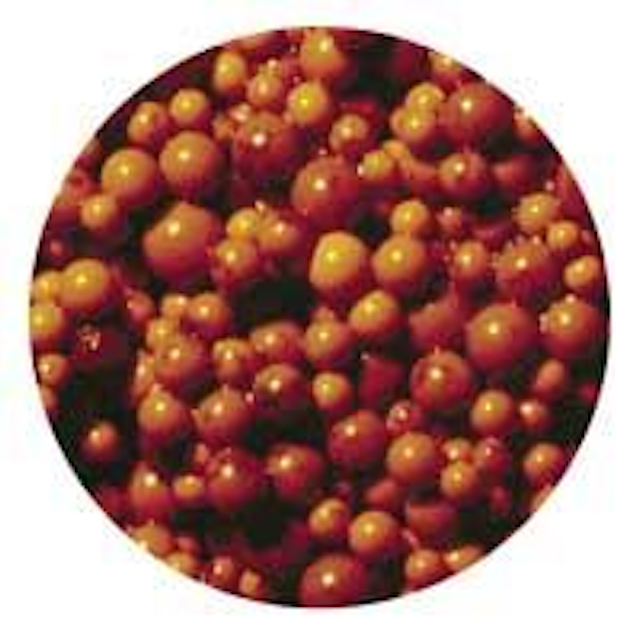 Click here to enlarge image
One of the toughest public health challenges, the removal of arsenic from drinking water, is being successfully addressed by a breakthrough in nanotechnology. ArsenXnp® has demonstrated its capacity and effectiveness in extensive field trials. Purolite and SolmeteX have signed distribution and manufacturing agreements to commercialize the new patent-pending technology. Remember, new arsenic rules to take effect in January 2006 also apply to industrial plants that provide drinking water to employees.
Purolite
Bala Cynwyd, PA
Tel: 800-343-1500
Web: www.puroliteusa.com
Insulation, continuity tester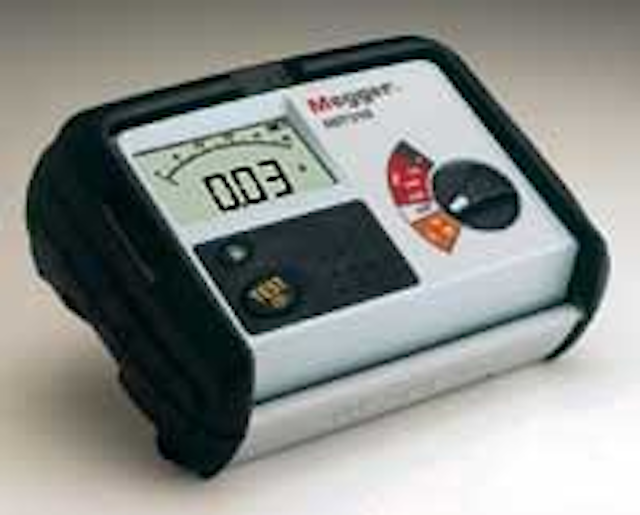 Click here to enlarge image
Designed to be safer, smarter and stronger than traditional insulation and continuity testers, the Megger MIT300 series of testers - like LT300 (loop) and RCDT300 range - is diverse, easy to use and ideal for all aspects of fixed wiring installations. Each instrument in the series is suited to handle a range of projects including domestic, commercial and industrial electrical contracting, building maintenance, testing, inspection and servicing.
Megger
Dallas, TX
Tel: 800-723-2861
Web: www.megger.com
Immersible motor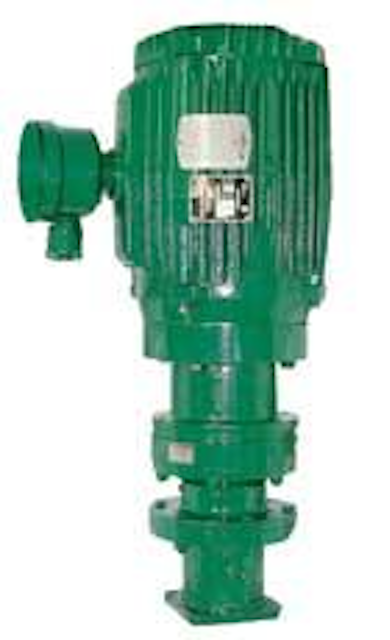 Click here to enlarge image
The new immersible motors developed exclusively for JWC Environmental by Baldor are specifically designed for flood prone applications, and operate efficiently in ambient air - unlike submersible motors, and are ideally suited for JWC products. They operate at a cooler temperature and less cost than typical submersible motors used for applications with occasional flooding. The motor has a U.L. NEMA 6P (IP67) approval rating allowing it to withstand watertight submergence of up to 6 feet. The units have been designed to withstand 30 feet of water and JWC warranties such submergence.
JWC Environmental
Costa Mesa, CA
Tel: 800-331-2277
Web: www.jwce.com
Environmental pump

Click here to enlarge image
QED Environmental Systems introduces its new Iron Horse™ lineup of air-driven piston pumps for landfill leachate, methane condensate, and groundwater cleanup pumping. These piston pumps are the first piston pumps engineered for extreme durability, low maintenance and safety in the challenging conditions found at landfills and environmental cleanup project sites.
QED Environmental/Severn Trent Laboratories
Ann Arbor, MI
Tel: 734-995-2547
Web: www.qedenv.com
Ultrasonic water treatment
Drew Industrial, a business group of Ashland Specialty Chemical, has commercially released its patented Sonoxide™ water treatment system for treating bacteria, algae and biofilm in industrial water systems - the vast majority of which use chemical microbiocides. Water passes through the chamber, where bacterial cells are exposed to low-power, high-frequency ultrasonic energy that causes a series of fatal alterations within bacterial and algae cells, resulting in cell death.
Ashland Specialty Chemical/Drew Industrial
Boonton, NJ
Tel: 800-526-1015
Web: www.ashland.com
Valve ID system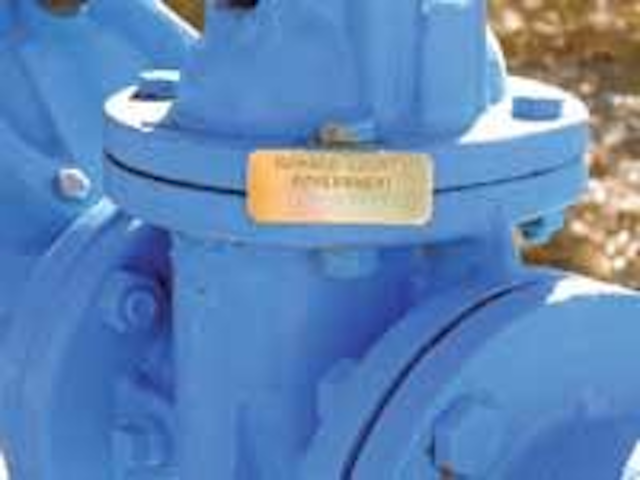 Click here to enlarge image
Assured Flow's Hydra-Tag is a custom tagging system for valves. This durable identification system is made from corrosion resistant brass. Stamps are available for custom numbering or lettering. The tag attaches securely to the bolts on valves for a virtually tamper proof installation. They can be used on all types of valves, backflow preventers, pumps and other equipment. Identification systems are important for emergency locations, maintenance and repairs, security, mapping and performance evaluations.
Assured Flow Sales Inc.
Sarasota, FL
Tel: 800-388-0678
Web: www.gradekok.com
DP gauge & switch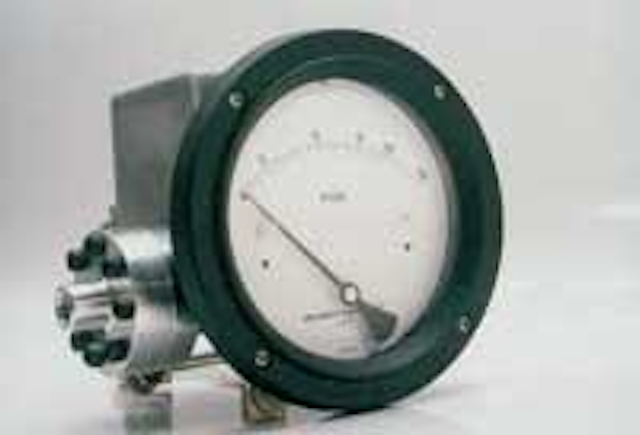 Click here to enlarge image
The new Model 240 (CSA-certified to both Canadian and U.S. Standards) from Mid-West Instrument is a breakthrough design for explosion-proof applications, including hydrogen (Group B). It features a lightweight, compact design and is available with pressure-containing elements in aluminum or 316/316L SS. Differential pressure ranges from 1-20" H2O to 0-100 PSID with a safe working pressure up to 1,500 PSID.
Mid-West Instrument
Sterling Heights, MI
Tel: 586-254-6500
Web: www.midwestinstrument.com
Sanitary temp sensor
Love Controls, a division of Dwyer Instruments Inc., introduces the new Series D Sanitary Temperature Probes for the food, beverage, dairy, pharmaceutical and chemical industries. It offers a variety of CIP sanitary connections most commonly used in processes where corrosion or contamination is of concern.
Dwyer Instruments Inc.
Michigan City, IN
Tel: 800-872-9141
Web: www.dwyer-inst.com
Corrosion detection
Click here to enlarge image
Pepperl+Fuchs' innovative CorrTran corrosion detection transmitters are now available to satisfy Class I, Division 2 hazardous location applications. These transmitters allow users to monitor online the effectiveness of corrosion inhibitors, and to detect and correct corrosion issues through upkeep and preventive maintenance. A low-power design allows mounting directly within a Division 2 hazardous location. The control signal (4-20 mA circuit) must be connected in accordance with the National Electrical Code according to Division 2 wiring methods.
Pepperl+Fuchs
Twinsburg, OH
tel: 330-486-0002
Email: sales@us.pepperl-fuchs.com
Web: www.am.pepperl-fuchs.com.
Peristaltic pumps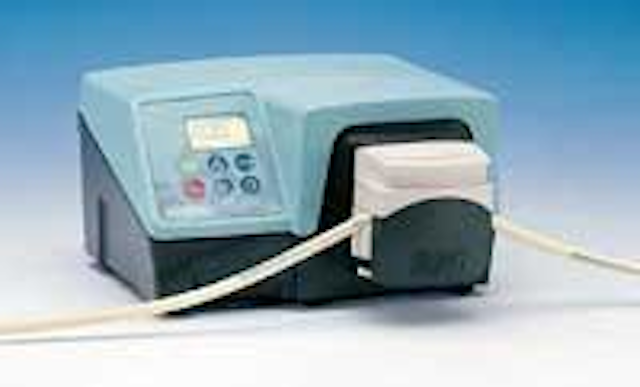 Click here to enlarge image
New from Watson-Marlow Bredel comes the 323 peristaltic pump. Ideal for chemical metering, it's designed to provide high performance pumping for environmental applications. The low-maintenance, low-cost pump outperforms traditional "throw-away" solenoid diaphragm pumps and reliably pumps harsh chemicals such as sodium hypochlorite, ferric chloride, alum, sodium bi-sulfite, caustic, aqueous ammonia, polymer, etc.
Watson-Marlow Bredel Inc.
Wilmington, MA Tel: 800-282-8823 Web: www.wmbpumps.net
Turbine agitator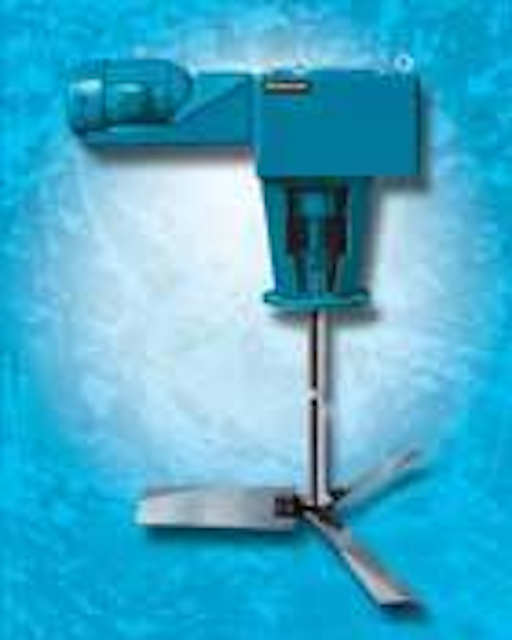 Click here to enlarge image
Chemineer offers the versatile HT Turbine Agitator, capable of handling almost any process from aeration and sludge conditioning to chemical makeup and disinfection. These agitators are ideal in critical applications where reliability is a key consideration. They're available with output speeds from 5-350 rpm and drive sizes from 1-1,000 hp. Designed for high strength, low wear, quiet operation, and minimal maintenance, they've earned a reputation for toughness and long life.
Chemineer Inc.
Dayton, OH
Tel: 800-643-0641 Web: www.chemineer.com
Zebra mussel control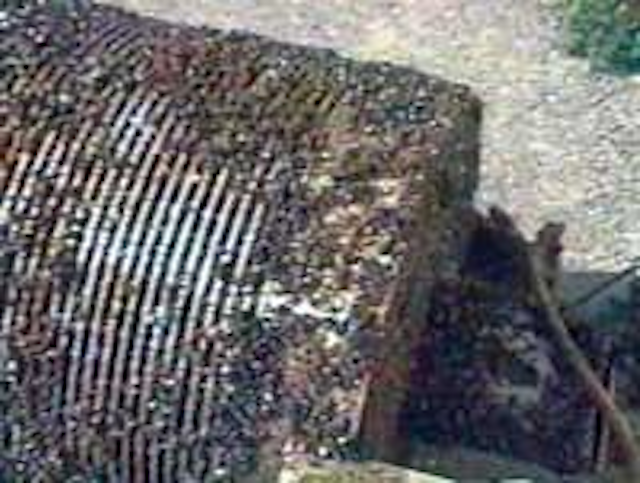 Click here to enlarge image
Cook Legacy Coating Company is celebrating an anniversary. Five years ago it installed a Jacquelyn™ coated screen in the zebra mussel infested water at Vergennes-Panton Water District in Vermont. According to site operators, zebra mussels have not attached to the screen since.
Cook Legacy Coating Co.
Canal Winchester, OH
Tel: 614-833-4745
Web: www.waterscreen.com
High-capacity filter
Argonide Corp. will showcase its line of high performance "Superfilters" at the WQA Aquatech International Exhibition, Booth #1402. NanoCeram® is an electropositive filter media with a nominal 2-um pore size permitting high flow rates, but is highly efficient in removing particles as small as a few nanometers.
Argonide Corp.
Sanford, FL
Tel: 407-322-2500
Web: www.argonide.com
Multifunction calibrator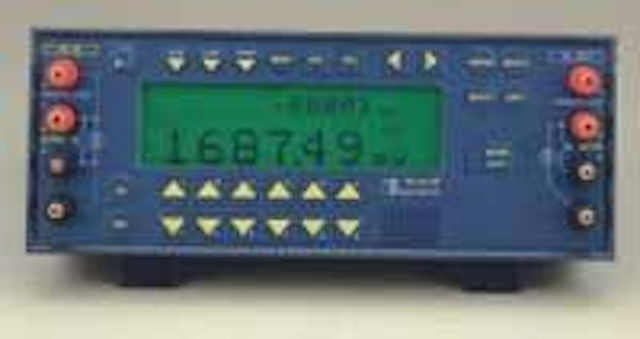 Click here to enlarge image
The new MicroCal 2000+ from E Instruments Group is the perfect secondary standard calibrator with two-channel, high-accuracy performance (0.0035% rdg). This unit was developed to meet the needs of instrumentation engineers and quality managers in lab and field work. Some of the features include: CalpMan Plus Software for automatic calibration and documenting in compliance with ISO 9000; MicroCal PM200 Module to generate/measure pressure; capabilities for MV, V, mA (active & passive loop), ohms, temp with Tc, temp with resistance thermometers, frequency, pulse; calculated readings; programmable signal converter; remote temperature probe and it measures 14 different thermocouples.
E Instruments Group
Langhorne, PA
Tel: 215-750-1212
Web: www.einstrumentsgroup.com
Mining gas monitor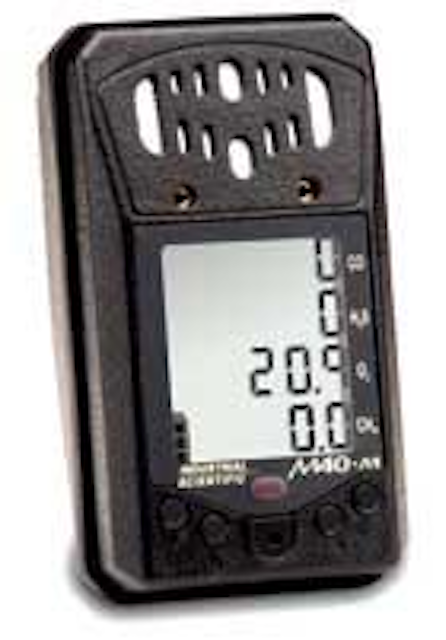 Click here to enlarge image
Industrial Scientific is pleased to offer the M40•M, a multi-gas monitor designed to provide optimum personal protection in mines and other work environments where hazardous levels of oxygen, methane, carbon monoxide and/or hydrogen sulfide may be present.
Industrial Scientific Corp.
Oakdale, PA
Tel: 800-338-3287
Web: www.indsci.com
Plant production software
GE Fanuc's new Proficy™ Plant Applications Version 4.1 is a major new version of its efficiency, quality, production and batch analysis software application that enables managers across process, discrete and hybrid industries to more efficiently manage to peak performance.
GE Fanuc Automation Americas Inc.
Charlottesville, VA
Tel: 800-433-2682
Web: www.gefanuc.com
Predictive condition monitoring
ITT Industries introduces PROsmart™, a new multi-patented, state-of-the-art predictive condition monitoring system. Helping to reduce downtime, avoid catastrophic failures and assure plant profitability, the system provides cost-effective protection for all types of rotating equipment, tracking data on bearing vibration, temperature, speed, seal leaks, lubrication, cavitation, etc.
ITT Industrial Products Group
Seneca Falls, NY
Tel: 800-734-7867
Web: www.ittprosmart.com
Stormwater separator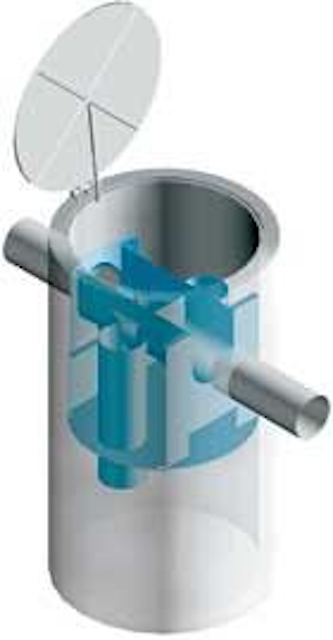 Click here to enlarge image
KriStar Enterprises introduces the FloGard® Dual-Vortex Hydrodynamic Separator, its latest addition to an ever-expanding line of stormwater treatment products. This separator is an effective treatment system to remove suspended solids, hydrocarbons, and floatable trash and debris with a relatively small unit footprint. Internal components are designed to fit into any industry standard manhole, eliminating the need for special or custom structures.
KriStar Enterprises Inc.
Santa Rosa, CA
Tel: 800-579-8819
Web: www.kristar.com
Pipe fusion heater
McElroy Manufacturing announces availability of a new heater for use with its polyethylene pipe fusion machines. It incorporates customer-requested features such as a shorter handle and enhanced diagnostic capabilities. A microprocessor controlled temperature set point can be adjusted using an easy-to-read dial and control knob. For fusion machines that fuse pipe up to 4", the heater handle has been shortened for easier operations, such as while working in-ditch. All models feature an ergonomic handle with diamond grip.
McElroy Manufacturing Inc.
Tulsa, OK
Tel: 918-836-8611
Web: www.mcelroy.com
Real-time SCADA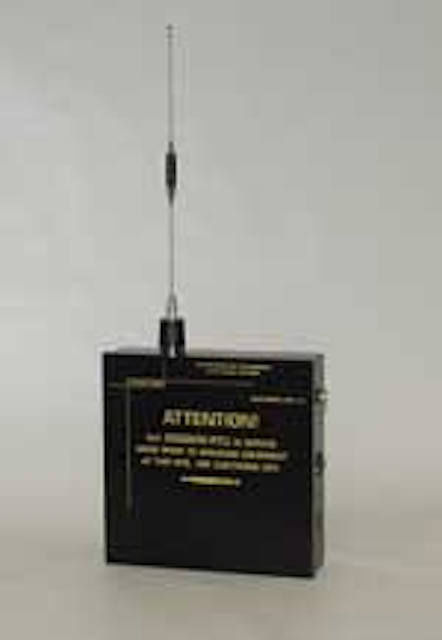 Click here to enlarge image
Fundamental changes in data communications technology allow Mission Communications to provide a real-time SCADA system for less than the price of many auto-dialers. No site survey, no phone lines, no FCC license issues. Connection to sites to monitor and control pumps, levels, pressures or water quality sensors is always on. The basic package includes alarms to phones, pagers, e-mail, faxes, an HMI software package, etc. Integration into existing SCADA system also is available.
Mission Communications
Atlanta, GA
Tel: 877-993-1911
Web: www.123mc.com
EC washwater treatment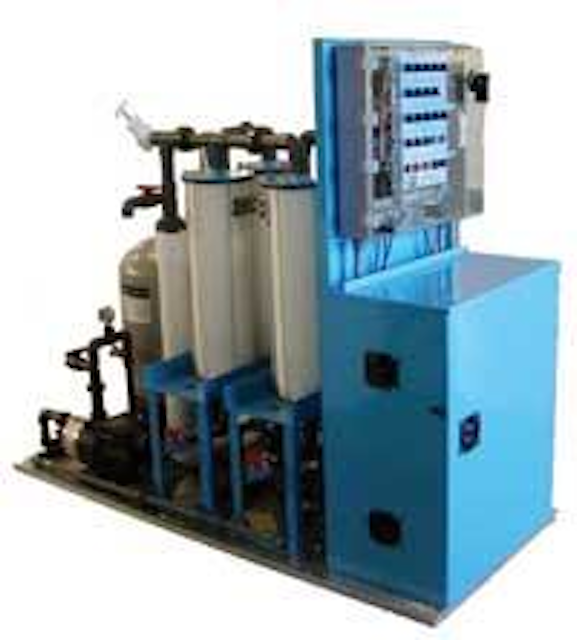 Click here to enlarge image
OilTrap Environmental, a manufacturer of electrocoagulation (EC) wastewater treatment systems, has introduced a new generation of electrocoagulation water treatment systems designed for wash water generated from washing vehicles and equipment. The new ElectroPulse EP-SD3 is economically priced and simple to operate and maintain. This compact treatment system can treat wastewater at a flow rate of 3-750 gpm/day such that it's acceptable for discharge to a sanitary sewer. Average treatment cost is only $3.00 per 1,000 gallons.
OilTrap Environmental
Tumwater, WA
Tel: 503-524-9393
Web: www.oiltrap.com
Medical filtration
Pall Corp. introduces the Pall-Aquasafe™ AQF1C water filter, the latest addition to its line of point-of-use water filters for hospitals and other healthcare facilities. The in-line disposable filter is designed to prevent microbial contamination of heat-sensitive medical devices as well as machines that dispense ice and water. It's also a CE-marked medical device for the European market. It contains a 0.2-um bacterial retention membrane validated to produce bacteria-free water.
Pall Life Sciences
East Hills, NY
Tel: 516-801-9100
Web: www.pall.com/biopharm
High-flow filter cartridges
Click here to enlarge image
The new MaxGuard™ high-capacity cartridge product line from the Parker Process Filtration Division provides a cost-effective alternative to bag media or standard 2.5" cartridges for high-flow applications. Each cartridge handles flows to 90 gpm, reducing the number needed for large flow installations. They're designed for use in refinery and drilling industries. Applications include deep well injection, amines, commercial water, and food and beverage markets. Availablein polypropylene, cellulose and Nomex™ media.
Parker Hannifin Corp.
Indianapolis, IN
Tel: 888-238-5356
Web: www.parker.com/processfiltration/
Allen-Bradley webservers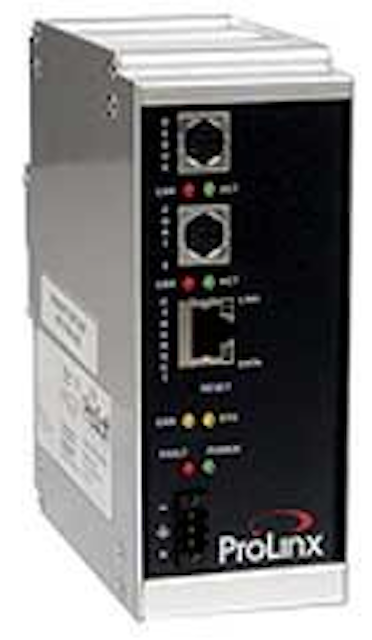 Click here to enlarge image
ProLinx Communication Gateways, a unit of ProSoft Technology Inc., unveils its ProLinx Ethernet Web Server (4201-WEB-DFM) for Allen-Bradley processors and other DF1 compatible devices. This unit increases connectivity options available between Schneider Electric, Rockwell Automation, Siemens and other industrial control devices. Benefits of such connectivity provide a powerful browser/HTML view of data from virtually anywhere in the world. It's comparable to a low-cost view HMI or very low-cost DCS view node.
ProSoft Technology Inc.
Bakersfield, CA
Tel: 661-716-5100
Web: www.prosoft-technology.com.
Pressure washers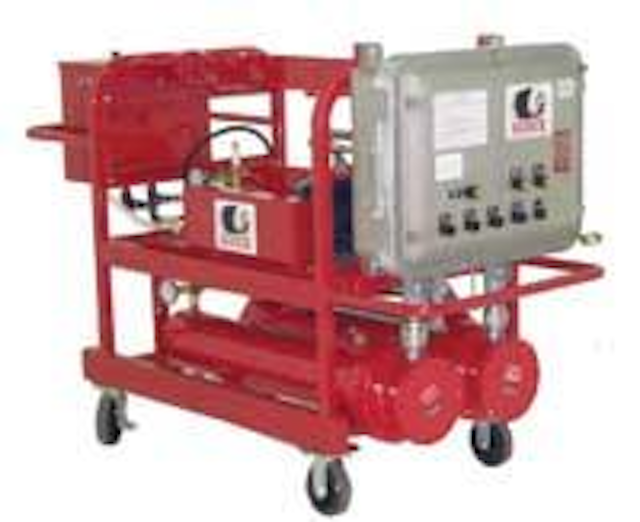 Click here to enlarge image
Sioux Steam Cleaner offers over 45 models of all-electric steam cleaners, pressure washers and combination units with ratings of 0.6-5.75 gpm and 100-3,000 psi. All-electric pressure washers and steam cleaners are third party certified to UL-1776 and CSA C-22.2 No. 68-92. Explosion-proof models are available and are additionally certified to UL-1203 and CSA 22.2 No. 30-92. Sioux all-electric explosion proof models can be built to Class I Division 1 & 2 (Group D) or Class II Division 1 & 2 (Groups E & F) specifications.
Sioux Steam Cleaner Corp.
Beresford, SD
Tel: 888-763-8833
Web: www.sioux.com
Pump replacement parts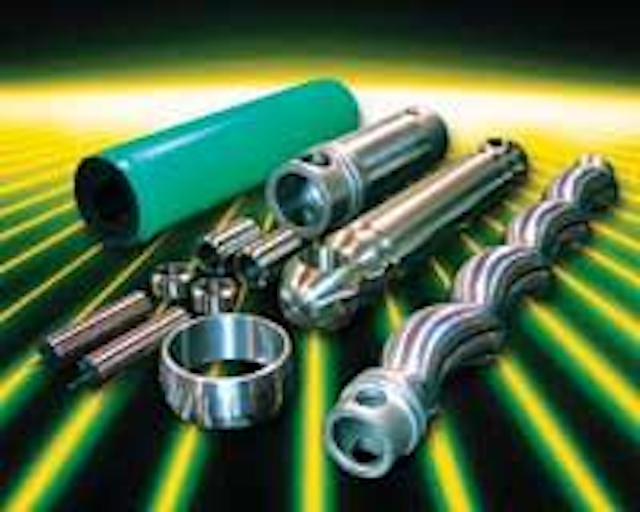 Click here to enlarge image
Tarby now offers high quality Tarby® Titan C22 replacement parts that are interchangeable with seepex BN series pumps from seepex GmbH, offering an easy, economical drop-in alternative. All Tarby Titan C22 replacement parts endure intense and thorough product testing by in-house technical staff as well as certified independent technicians to ensure parts extend service life and minimize maintenance and downtime. Replacement rotors are available in conventional configurations as well as long lead configurations to satisfy a range of application requirements.
Tarby Inc.
Claremore, OK
Tel: 800-854-1879
Web: www.tarby.com.
Ozonation systems
Spartan Environmental Technologies has signed a sole distribution agreement for the U.S. and Canada with Ozono Elettronica Internazionale (OEI) covering its entire line of ozone generating systems for water and air purification, including industrial and municipal applications - water treatment, wastewater treatment and odor control. OEI, of Milan, Italy, has been manufacturing ozone generators and engineering turnkey ozonation systems for over 30 years.
Spartan Environmental Technologies LLC
Mentor, OH
Tel: 440-368-3563
Web: www.spartanwatertreatment.com
Centrifugal pumps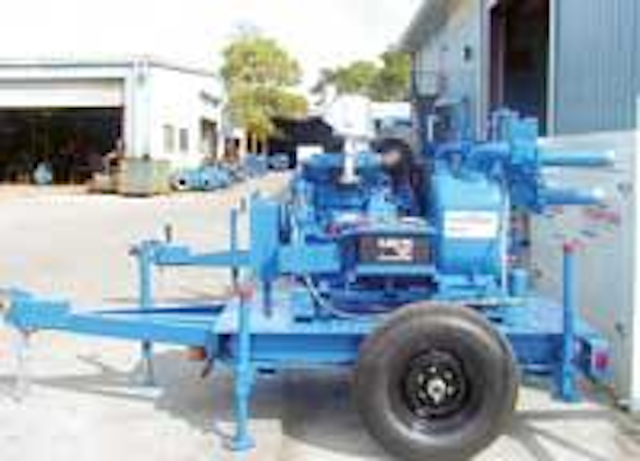 Click here to enlarge image
Thompson Pump has added a new series of pumps to its already broad line of construction and public works pumps. The ST Series is a new line of self-priming centrifugal sewage pumps from Varisco Pumps which have been specifically designed for use in sewage applications. Available in 3", 4", 6" and 8", the ST series can handle up to three-inch solids. The pumps will discharge in flows of up to 1,500 gallons per minute, and at heads of up to 120'.
Thompson Pump & Manufacturing
Port Orange, FL
Tel: 800-767-7310
Web: www.thompsonpump.com.
Hot water sanitizable EDI
To be on exhibit at INTERPHEX, Christ Water Technology's new Septron SMH 3000 module, which can be sanitized with hot water, is an EDI unit used as a component part of the compact Osmotron system. Clamp connections (DN 32) comply with all pharmaceutical requirements. Applicable for larger pure water volumes up to 3,300 L/h, its specific hydrodynamic design ensures high volume-flow rates at low pressure losses during the sanitization phase. And in normal operation, high flow speeds provide efficient protection against microbiological contamination.
Christ AG/Christ Water Technology
Aesch, Switzerland
Tel: +41-61-755 83 64 Web: www.christwater.com
High-head pumpset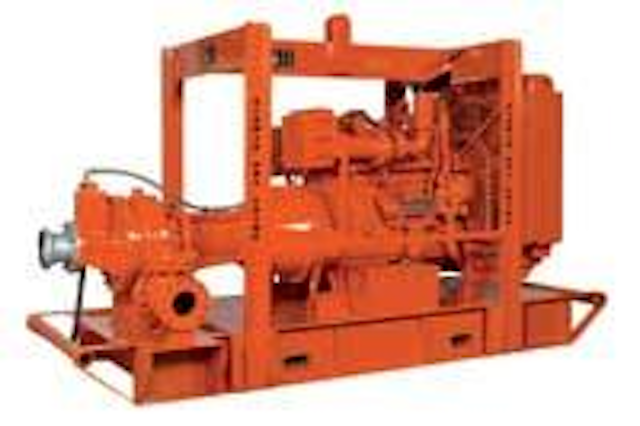 Click here to enlarge image
The latest addition to the Godwin Dri-Prime® pump range - the HL160M - is a single stage pumpset capable of heads to 600 feet. This 8"x6" unit pumps maximum flows to 2,000 gpm and passes solids up to 1-3⁄8" in diameter. Some applications include temporary pump station bypass pumping on high head force mains, pigging pipelines, potable water boosting/pumping, or any job requiring high head capabilities.
Godwin Pumps of America Inc.
Bridgeport, NJ
Tel: 856-467-3636 Web: www.godwinpumps.com
Removable cutter cartridge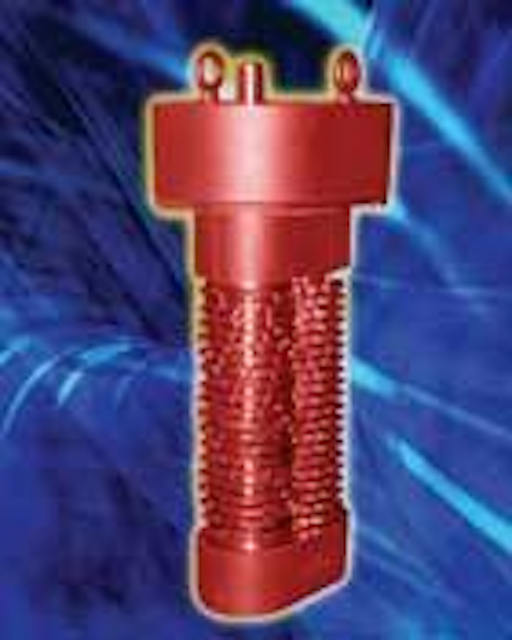 Click here to enlarge image
The new Moyno® Series 4 Annihilator™ Grinder, a twin-shaft, solids-reduction unit designed for trouble-free performance in industrial and municipal applications, incorporates a removable quick change cutter cartridge. The drive components and cutter cartridge can both be removed from the flange housing as one assembly, which allows for quick replacement and minimal downtime.
Moyno Inc., A Unit of Robbins & Myers Inc.
Springfield, OH
Tel: 877-486-6966
Web: www.moyno.com
Toxic gas shutoff
Fire code approved as an emergency toxic gas shutoff system, Eclipse Actuators quickly close toxic gas valves on 150 lb. and ton cylinders in less than a second when activated by remote sensors.
Halogen Co.
Irvine, CA
Tel: 877-476-4222
Web: www.halogenvalve.com
Rapid toxicity test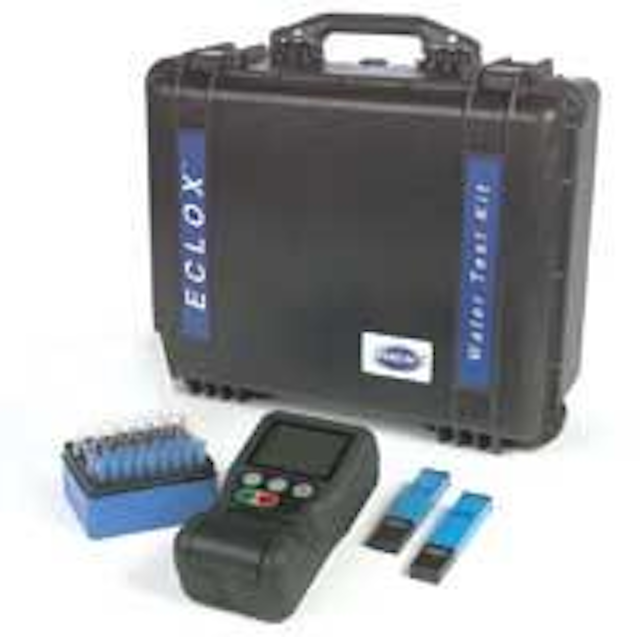 Click here to enlarge image
With Severn Trent Services, Hach Homeland Security Technologies makes STS' Eclox™ chemiluminescence toxicity test available as part of a new, multi-parameter Hach Eclox Water Test Kit. Hach now combines this toxicity method - the same as that validated by the EPA Environmental Technology Verification (ETV) program to yield reliable detection of heavy metals, poisons, and chemical warfare agents on site - with streamlined Hach water quality tests (pH, total dissolved solids (TDS), free and total chlorine, and color), creating a new field test kit that targets EPA emergency response protocol recommendations.
Hach Company
Loveland, CO
Tel: 800-604-3493
Web: www.hach.com