PRODUCTS & SERVICES PUMPS, MOTORS & DRIVE SYSTEMS
Walchem announces the Digital EZB Series of Metering Pumps. These pumps are designed to operate in most metering applications with a wide variety of chemicals.
May 1st, 2005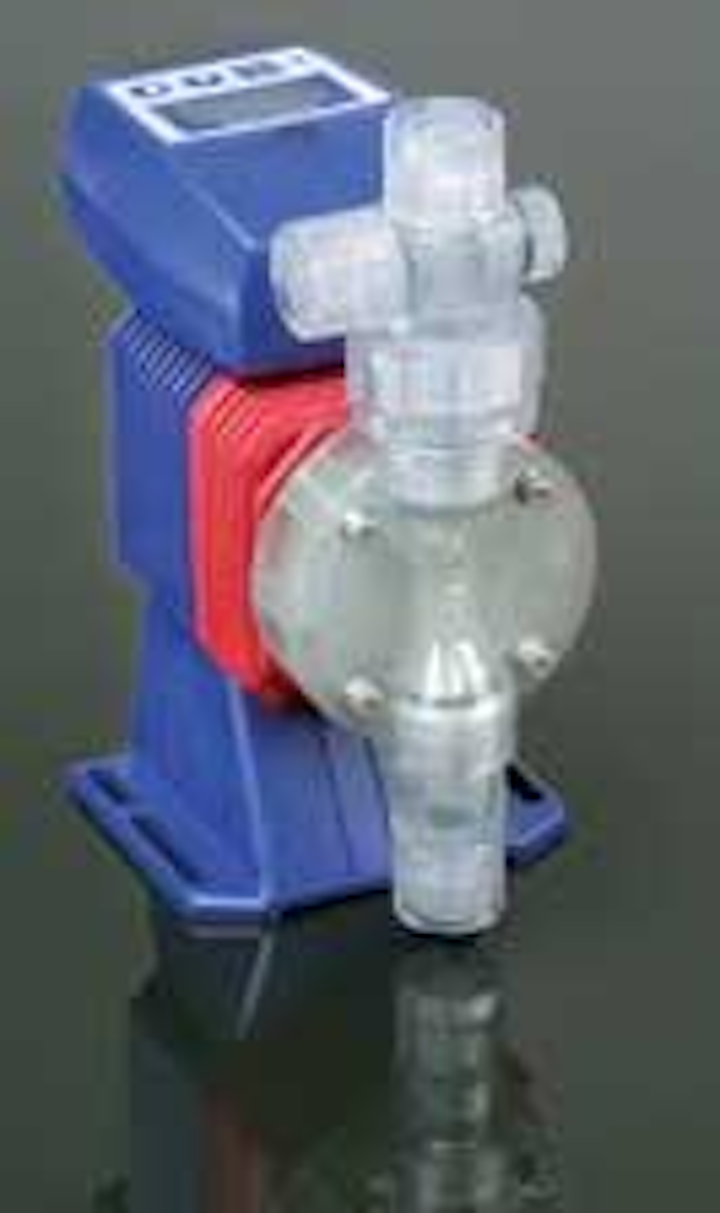 Metering pump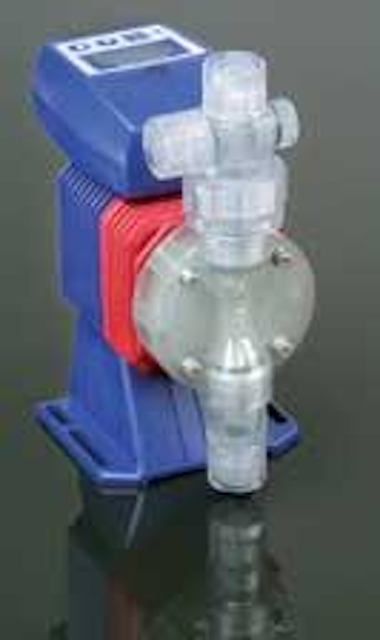 Click here to enlarge image
Walchem announces the Digital EZB Series of Metering Pumps. These pumps are designed to operate in most metering applications with a wide variety of chemicals. The digital control enables quick adjustments and easy operation. The clear resolution of the LCD aids programming. Combining low cost, a 360:1 turndown ratio and high-speed operation, the pump is the practical solution to cost-sensitive applications requiring high turndown capabilities. They're solenoid-driven diaphragm metering pumps with output capacities up to 3.2 gph (12.1 L/h) and pressure capabilities to 150 psi (10 bar). By pumping at 360 strokes-per-minute, they minimize chemical slug feeding commonly found in slower pumps. With a fixed stroke length and sealed digital control panel, they provide an IP65 solution fit for harsh environments. When tight or limited-access applications are an issue, the digital control module can be mounted remotely from the pump end.
Walchem Corp.
Holliston, MA
Tel: 508-429-1110
Web: www.walchem.com
Pocket laser tachometer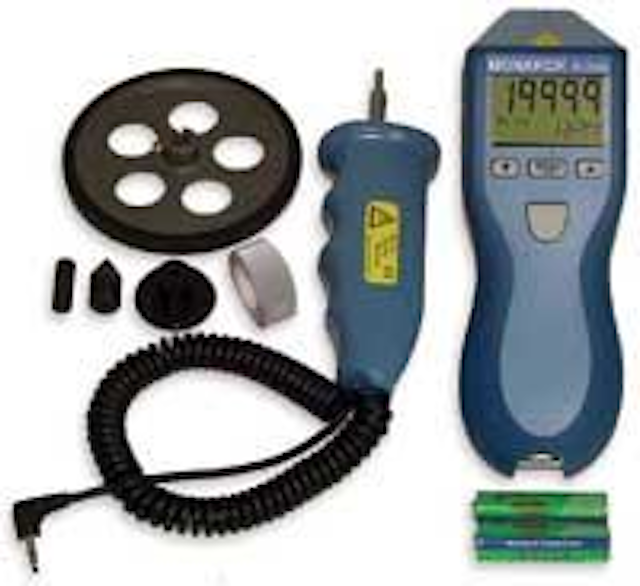 Click here to enlarge image
Monarch Instrument announces the all new PLT200, its most powerful portable tachometer. It's a battery-powered portable optical tachometer that operates up to 25 feet from a reflective target using a laser light source. It offers remote sensor and remote contact capabilities. The ergonomic design allows safe, direct line-of-sight viewing of both the target and the display as the same time. A TTL output is provided to interface with portable vibration data collectors and balancers or any device, which can accept a TTL trigger.
Monarch Instrument
Amherst, NH
Tel: 800-999-3390
Web: www.monarchinstrument.com
AOD bolted drum pump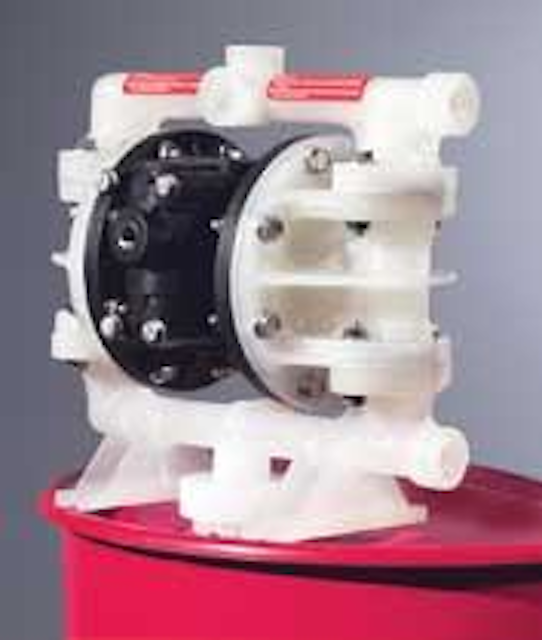 Click here to enlarge image
All-Flo Pump Co. introduces the 1/2" bolted plastic air-operated double diaphragm drum pump. The drum pump kit, which includes a bung adapter and suction tube, is available for purchase with the pump or for ordering separately. Manifold positioning on the pump provides easy, immediate assembly of the drum pump kit.
All-Flo
Mentor, OH
Tel: 440-354-1700
Web: www.all-flo.com
Worm gear operators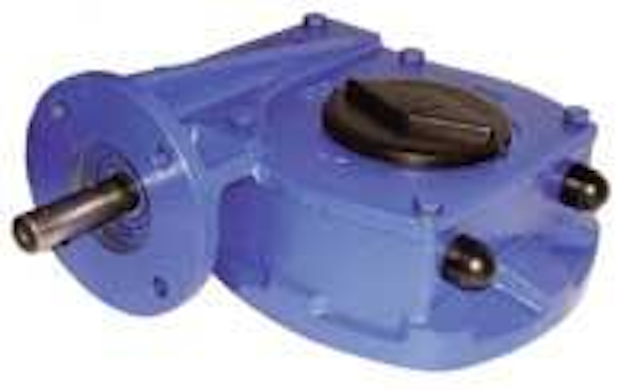 Click here to enlarge image
Flowserve Corp. adds two new sizes to the Flowserve Limitorque PT series of worm gear operators. The PT series is built to provide the torque needed for operation of quarter-turn valves used in water and wastewater treatment, petroleum refining and distribution, and other industries. The new PT-12 and PT-14 models, rated at 880 ft-lb and 1,600 ft-lb respectively, are designed to provide added versatility for torque and operating time requirements. Like the larger worm gear operators in the PT product line, they're made with a rugged cast-iron housing for weatherproof, submersible or buried service applications. While the PT can be used for manual valve operation, motorized valve control using the PT offers superior process control.
Flowserve Flow Control
Dallas, TX
Tel: 434-845-9711
Web: www.flowserve.com
Non-motorized pumps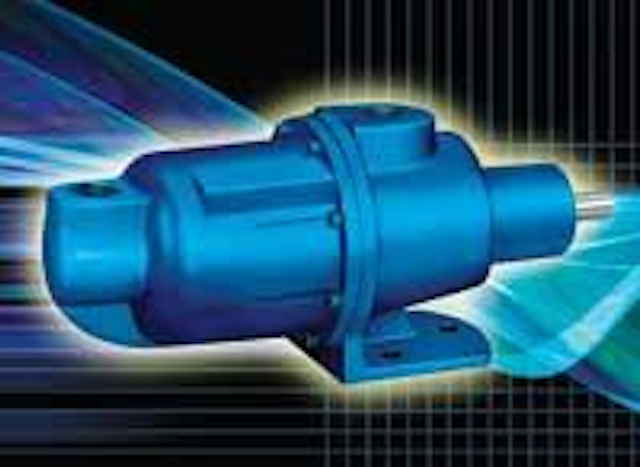 Click here to enlarge image
The Moyno® 300 Series non-motorized pump is a cost-effective, compact sized unit that offers significant application versatility. These general utility, progressing cavity pumps, also available in motorized versions, provide dependable performance and long life in handling a wide variety of fluids from glue to jet fuel and swimming pool drainage. They handle clear liquids as well as viscous, corrosive fluids. The non-motorized model allows the end user to choose the means by which the pump is powered, whether with a gear motor or a belt drive configuration. Featuring a fully-molded "wobble" stator, this design increases compression fit during operation between rotor and stator, resulting in improved pumping performance. All 300 Series pumps are self-priming with a non-pulsating, low-shear flow which remains steady even under wide variations in suction head.
Moyno Inc.
Springfield, OH
Tel: 877-486-6966
Web: www.moyno.com
Valveless piston pump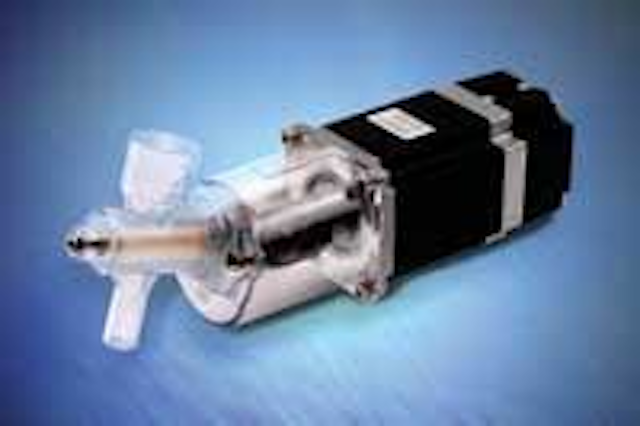 Click here to enlarge image
Micropump® unveils its new Series PF piston pump. The pump's innovative valveless design virtually eliminates clogging and allows for highly consistent metering and dosing of even soft-solid containing fluids. It features a reciprocating and rotating piston, which depending on the stroke volume and rotation speed, allows for smooth, accurate, and repeatable delivery. With flow rates to 1 L/min (.26 gpm) and pressures to 6.89 bar (100 psi), the series maintains accurate flow throughout the entire pressure range. It comes with a standard stepper motor, that when used with an electronic controller, offers easy programmability with reproducible results. Offering a small package size, numerous mounting options and exceptional chemical compatibility, this pump is an excellent choice for many OEM applications.
Micropump Inc., An IDEX Company
Vancouver, WA
Web: www.micropump.com/pr.
New generator line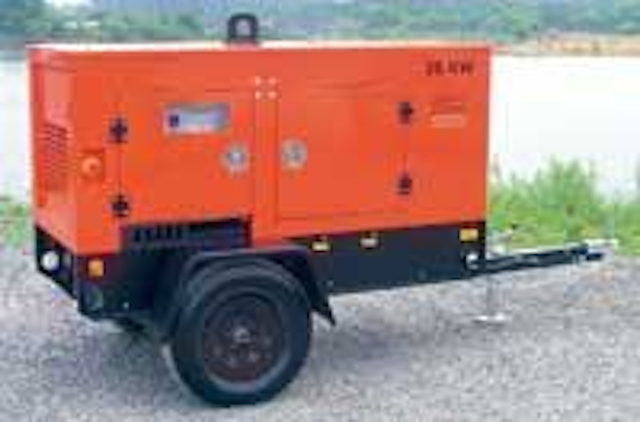 Click here to enlarge image
With the introduction of a generator line, Godwin's offerings meet a variety of job site needs. Godwin Generators come with the same commitment to quality and around-the-clock service customers expect from the company. From 20 kW to 350 kW, the diesel-powered portable generators include a programmable microprocessor control panel with remote starting capabilities and automatic warning and shutdown features to monitor, protect and control engine and generator operations. An oversize generator provides maximum power for single motor starting kVA and longer bearing and insulation life. A voltage padlocked selector switch allows power to lugs to be set in single phase or various three phase settings. The aluminum/SS enclosure achieves sound levels of 68 dBA at 23 feet and provides rust-free weather protection as well. On site, a single point lifting bale provides for easy rigging.
Godwin Pumps of America Inc.
Elizabeth, NJ
Tel: 856-467-3636
Web: www.godwinpumps.com
Non-hazardous pumps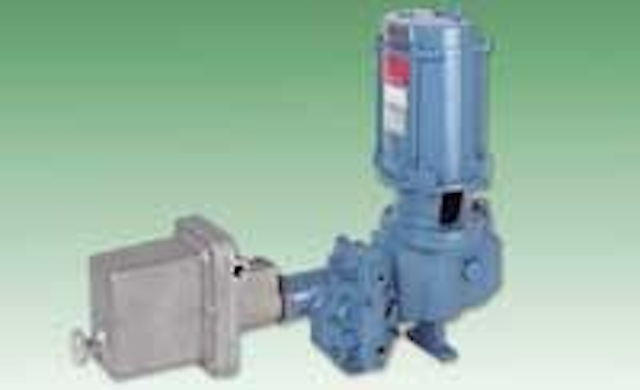 Click here to enlarge image
Neptune Chemical Pump expands its range of Series 500 "dia-PUMPs" with explosion-proof motors and NEMA 7 stroke positioners for use in hazardous environments. These pumps are hydraulically-actuated diaphragm units offering leak-free metering of a variety of corrosive, flammable or hazardous liquids. The explosion-proof model is ideal for use in oil-and-gas, CPI, and a range of other extreme environments.
Neptune Chemical Pump Co. Inc.
Lansdale, PA
Tel: 888-363-7886
Web: www.neptune1.com
Dewatering pumps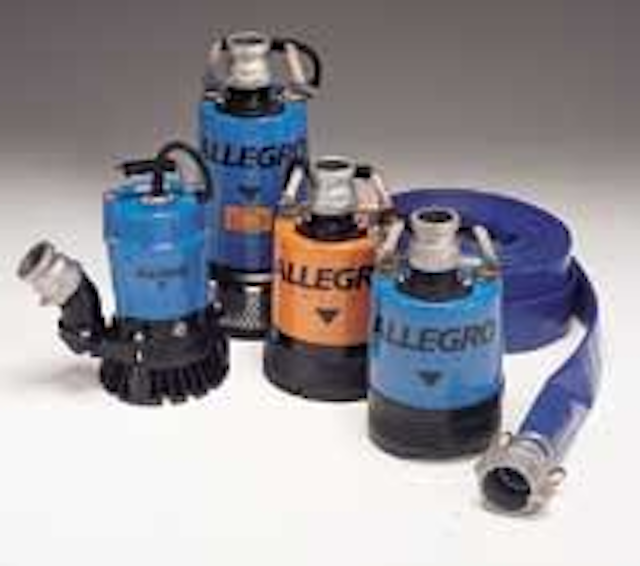 Click here to enlarge image
Included in Allegro Industries' new line of safety products and work equipment for use in confined spaces are four models of Dewatering Pumps. The pumps offer continuous operation at low water levels and extended dry runs without overheating the motor. The Low Water model pumps down to 3/16".
Allegro Industries
Garden Grove, CA
Tel: 800-622-3530 Web: www.allegrosafety.com
Actuator/positioner
USFilter Wallace & Tiernan Products has announced a new direct mA arrangement of the automatic V-notch positioner used with its gas feed systems and automatic stroke length actuator for its metering pumps. The actuator/positioner accepts a 4-20 mA input signal directly from a remote manual control station, SCADA, or other centralized control system. No intermediate controller or signal conditioner is required. In addition, an integral, fixed dosing function provides for direct input from a flow transmitter.
USFilter Wallace & Tiernan
Warrendale, PA
Tel: 856-507-9000 Web: www.usfwt.com
Motor Control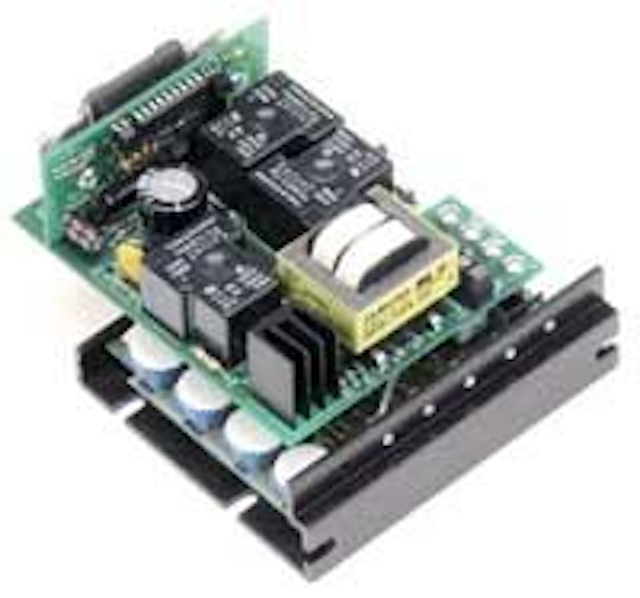 Click here to enlarge image
The 130 Series reversing control from Dart Controls uses the company's zero-speed detect and solid state dynamic braking circuits. These circuits eliminate the contact arcing and failed braking problems associated with other reversing and dynamic braking controls. Its zero-speed detect circuit also eliminates motor plug reversing problems. In the event of a power loss or emergency stop condition, the 130 Series control will drop into a dynamic brake condition to safely bring the motor to a stop and remain there until power is reapplied and a run condition is recognized.
Dart Controls Inc.
Zionsville, IN
Tel: 317-873-5211
Web: www.dartcontrols.com
Water pump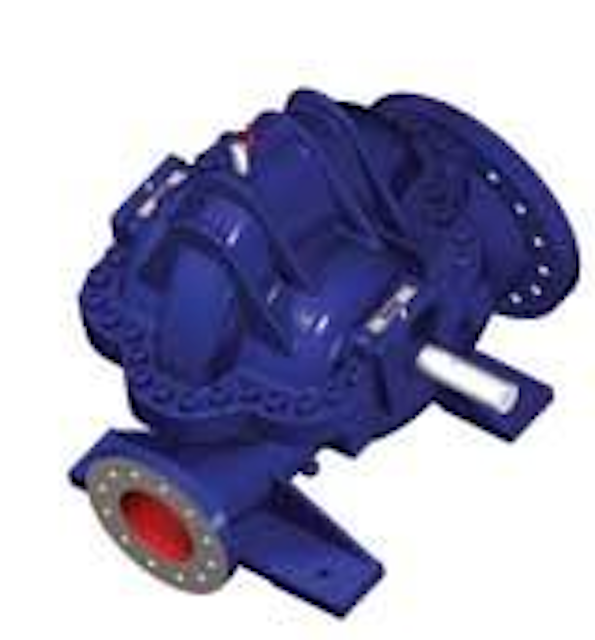 Click here to enlarge image
The Weir Uniglide-e is a new generation of axial split, double entry pumps. Designed to reduce life-cycle costs, this new pump will be easier to maintain, have a longer service life with lower operating costs. Applications for this pump include water supply and distribution, water treatment, and process duties in utilities, power and oil industries. The new water pump offers pump users up to a 10% reduction in life cycle costs and 70% reduction in bearing and seal replacement time.
Weir Specialty Pumps
Salt Lake City, UT
Tel: 801-530-7864
Web: www.weirsp.com
Submersible pumps
Click here to enlarge image
The operational and economic advantage of the Wilo EMU Thermo-Centric™ engineering approach has been proven in both the laboratory and in decades of operational experience. It ensures these submersible and dry-pit pumps operate at or near ambient temperatures, even in long-term, continuous operation. This ability to remain cool, even in harsh operating conditions, is the reason behind the long life of Wilo EMU products.
Wilo EMU USA LLC
Thomasville, GA
Tel: 866-476-0323 Web: www.emu.de
Pre-assembled blower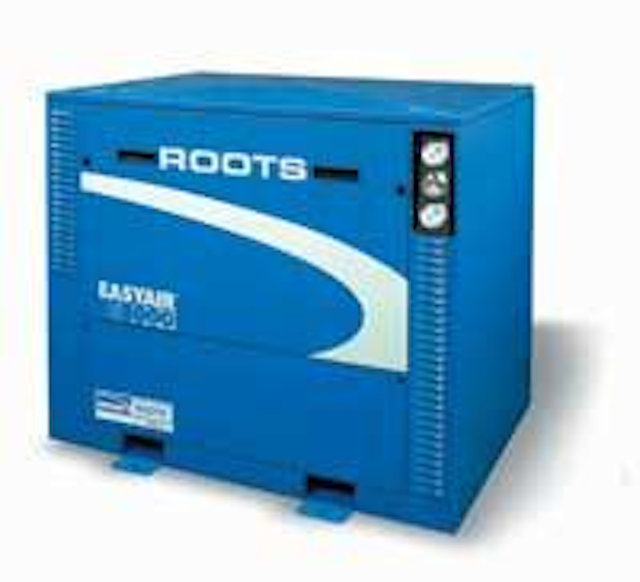 Click here to enlarge image
A new factory-engineered blower package, designed to operate 8,000 hours or more between scheduled maintenance, has been introduced by Dresser ROOTS. The EasyAir™ 8000 is a compact, pre-assembled, skid-mounted blower unit with all piping, valves, and instrumentation in place. Produced for both vacuum and pressure applications, the new package features a powder-coated noise enclosure for durability and quiet operation plus easy access for service/maintenance.
Dresser ROOTS
Houston, TX Tel: 877-363-7668 Web: www.rootsblower.com
Pump control valves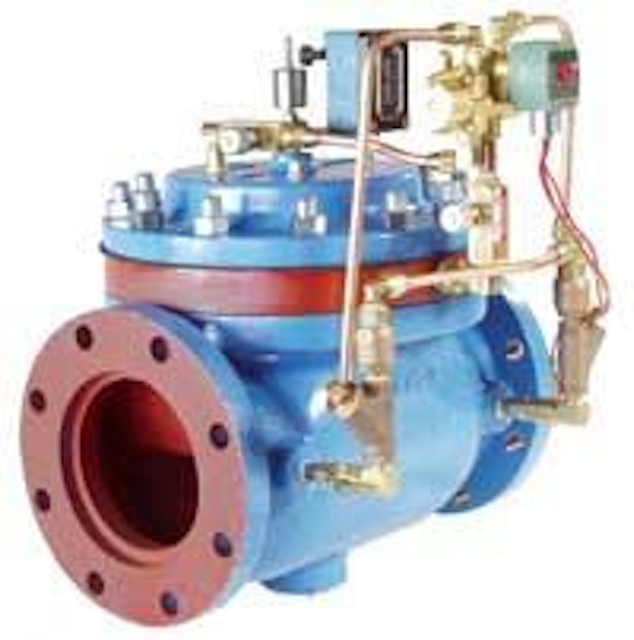 Click here to enlarge image
OCV Control Valves manufactures a variety of pump control valves and designed its Series 125 specifically to eliminate surges associated with starting and stopping a pump. Smooth discharge and volume are produced by electrically interfacing the valve with a pump motor that opens and closes the system at an adjustable speed. The valve has a built-in flow check feature to prevent back flow and automatically shuts the pump motor off on loss of pump discharge pressure. The rectangular-shaped, soft seat seal provides drip-tight Class VI closure while the throttling seat retainer generates flow and pressure stability. The 125 is equipped with a replaceable seat ring, alignment pins for proper reassembly after maintenance and can be serviced without removal from the line.
OCV Control Valves
Tulsa, OK
Tel: 888-628-8258
Web: www.controlvalves.com
Thermoplastic pumps
Vanton offers a wide range of thermoplastic pump designs, sizes and materials of construction. The company offers technical data on comparative material selection for difficult applications and specific information on hundreds of actual installations. Its thermoplastic pumps are engineered for flows to 1450 gpm and heads to 400 feet, and for use in sumps as deep as 50 feet.
Vanton Pump & Equipment Corp.
Hillside, NJ
Tel: 908-688-4216
Web: www.vanton.com
Wobble stator pumps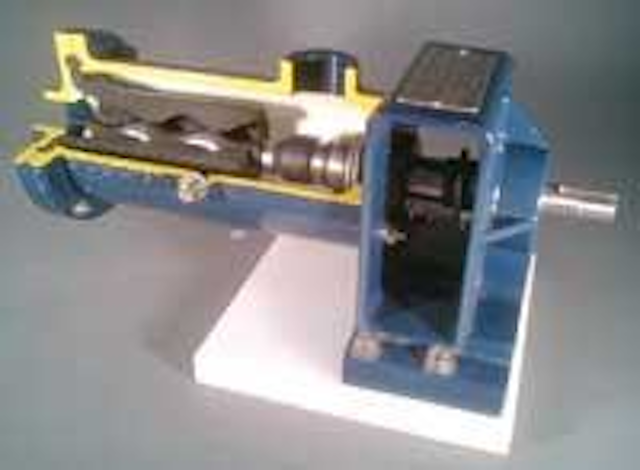 Click here to enlarge image
seepex introduces a line of "wobble-stator" pumps for general and commercial pumping applications. This design significantly reduces the price of progressive cavity pumps and repair parts. Special elastomers and the unique design of the stator dramatically increase both performance and longevity. The new design has higher volumetric efficiencies than previous designs.
seepex Inc.
Enon, OH
Tel: 937-864-7150
Web: www.seepex.com
Peristalic pump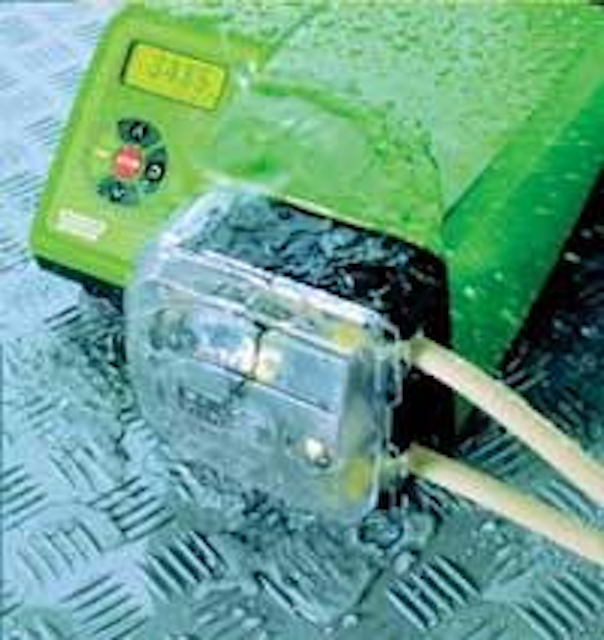 Click here to enlarge image
Watson-Marlow Bredel introduces the 520Du peristaltic pump at AWWA (Booth #525). Designed to handle the most corrosive fluids with reliable, accurate metering performance, the unit is ideal for environmental processing applications. It's equipped with a high-torque microprocessor-controlled drive ensuring a higher range of flow rates up to 875,000:1 turn down ratio. The pumphead's large swept volume provides greater volumetric displacement per revolution, resulting in longer tube life. Its aluminum die-cast body with polyester finish offers optimal impact and corrosion resistance in the harshest environments. It has no valves or seals and is self-priming. With a NEMA 4X self-contained drive, the pump can be controlled directly from a DCS/SCADA system. And a menu-driven keypad and LCD display offers local control and process monitoring.
Watson-Marlow Bredel
Wilmington, MA
Tel: 800-282-8823
Web: www.wmbpumps.com
New pump factory
Click here to enlarge image
Saer announces the construction of a new factory for submersible motors. With this new investment the Italian pump maker expands its manufacturing of high quality submersible motors, with current offerings in the 4", 6", 8", 10", 12" range. Additional units at 14" and 16" will be added in the near future. Voltages range up to 1000V with various certifications under severe testing regimens.
Saer Submotor Division
Guastalla, Italy Tel: +39-0522-830941 Web: www.saersubmotor.com
Booster pump systems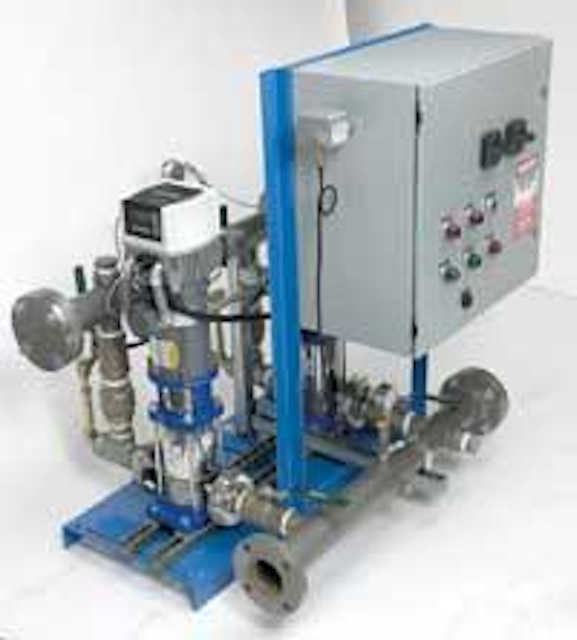 Click here to enlarge image
Goulds Pumps' G&L Series AquaForce™ is a standard line of pre-fabricated variable speed pressure booster systems (pump stations) that couples the company's G&L Series stainless steel pumps with the Aquavar® pump controller for use in constant pressure boosting applications. These systems are pre-configured in a fully integrated package designed to handle 2 through 4 pumps with optional peripheral devices, such as alarm packages and thermal purge to ensure optimum pump station performance, simple start-up, operation and installation. Designed to meet the needs of the municipal, commercial and irrigation markets, these pre-engineered systems are designed to provide pressure boosting for a wide range of service conditions.
Goulds Pumps, ITT Industries
Seneca Falls, NY
Tel: 315-568-7123
Web: www.goulds.com
Optical encoder
Click here to enlarge image
The Mercury™ encoder family from MicroE Systems will be on display at LASER 2005-Munich and Semicon West-San Francisco. With the world's smallest high performance sensor, these encoder can fit where others can't. Programmable resolution, 30-second alignment and SmartSignal™ setup and monitoring software make it ideal for all OEM applications. The heart of today's high performance servo-positioning systems is the position feedback encoder used to control the motion loop in closed loop or servo systems. Whether rotary or linear motion, it provides the electronic signals needed to accurately position the motion system's mechanism or the servo motor (rotary) or stage (linear).
MicroE Systems
Natick, MA
Tel: 800-355-4047
Web: www.microesys.com
Frequency inverter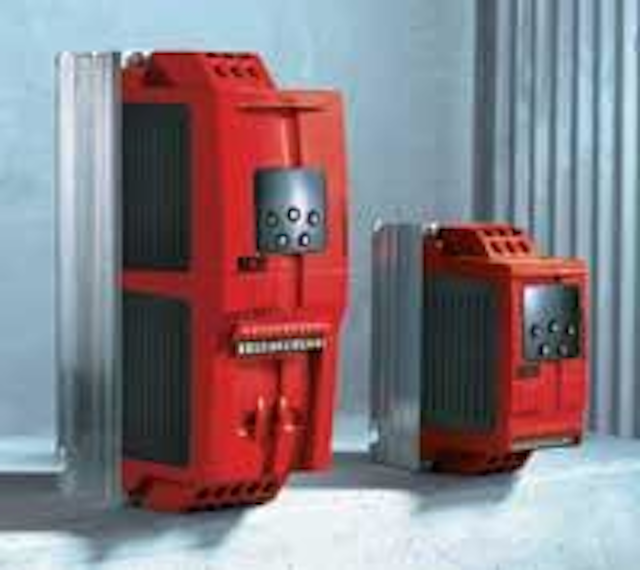 Click here to enlarge image
SEW-Eurodrive introduces the Movitrac® LTE frequency inverter, a system designed to meet the size and startup constraints that industrial applications typically place on frequency inverters. It's ideally suited for applications that include fan and ventilation systems (HVAC), pumps, as well as motor control in tool manufacturing and metalworking, conveying, machining and materials handling systems. The exceptionally compact inverter comes equipped with predefined parameter settings and a user-friendly integrated control unit for standard applications. This means quick, easy startup on-site for plug-and-play operation.
SEW-Eurodrive
Lyman, SC Tel: 864-661-1263 Web: www.seweurodrive.com