NEW PRODUCTS
Ecosorb® Natural Organic Odor Neutralizer removes a wide spectrum of odors from the air without using fragrances or harsh chemicals.
Jan 1st, 2005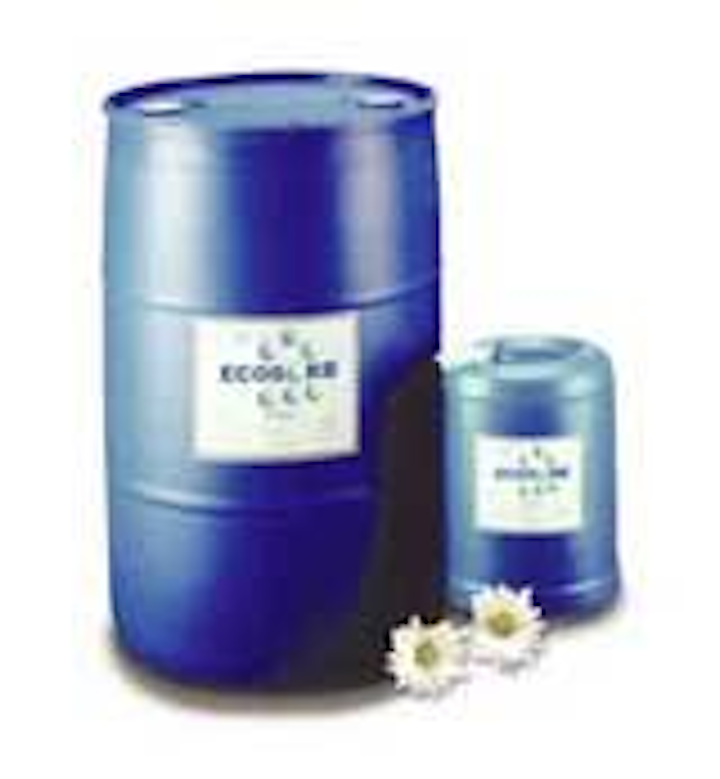 Natural odor neutralizer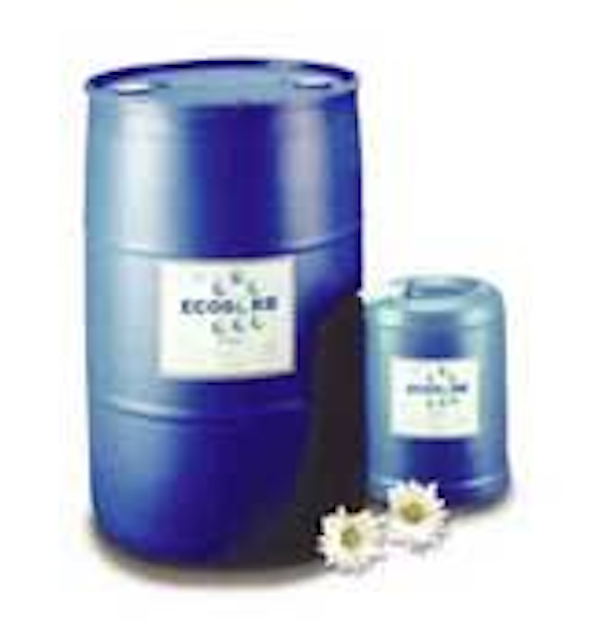 Click here to enlarge image
Ecosorb® Natural Organic Odor Neutralizer removes a wide spectrum of odors from the air without using fragrances or harsh chemicals. Instead, it uses patent pending technology to eliminate unwanted odors by neutralizing them, rather than simply masking them. The product is typically diluted with water and sprayed into odorous areas in an atomized mist.
Odor Management Inc.
Barrington, IL
Tel: 800-662-6367
Web: www.odormanagement.com
Odor, VOC control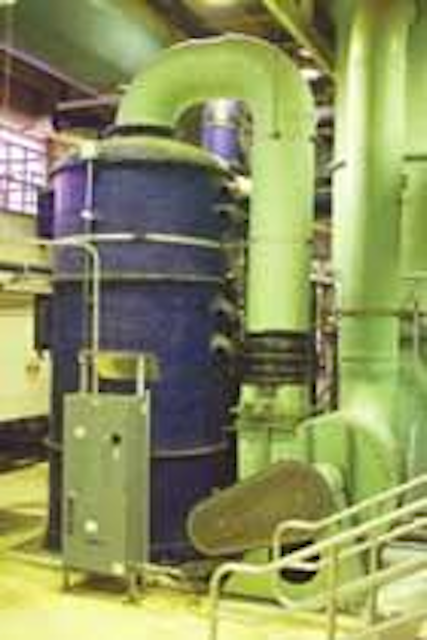 Click here to enlarge image
New from PRD Tech Inc. are Biotrickling Filters for the control of odors and VOCs. These custom-engineered biofiltration systems provide an economic and environmentally friendly method of treatment for a wide range of organic and inorganic air emissions. The filters are ideal for wastewater treatment and sludge processing; retrofit conversion of chemical scrubbers; lift station/pump station odors, and industrial odors and VOC emissions.
North East Aquastore Inc.
New York, NY
Tel: 212-627-8939
Web: www.prdtechinc.com
Valve and curb keys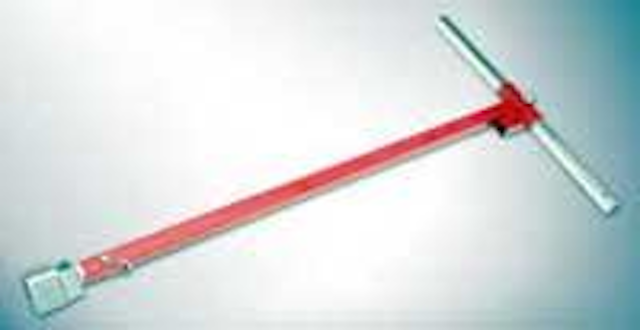 Click here to enlarge image
Reed's valve & curb keys telescope down and fit well inside today's smaller utility trucks, behind pickup seats, or in car trunks. The VKA45 is an adjustable valve key for mains with the curb key at a 45-degree angle. This angle provides a visual indication of the valve's open or closed status. The handle will line up with the pipe with the valve in the open position. The handle crosses (appears perpendicular to) the pipe with the valve in the closed position.
Reed Mfg. Company
Erie, PA
Tel: 800-666-3691
Web: www.reedmfgco.com
High head pump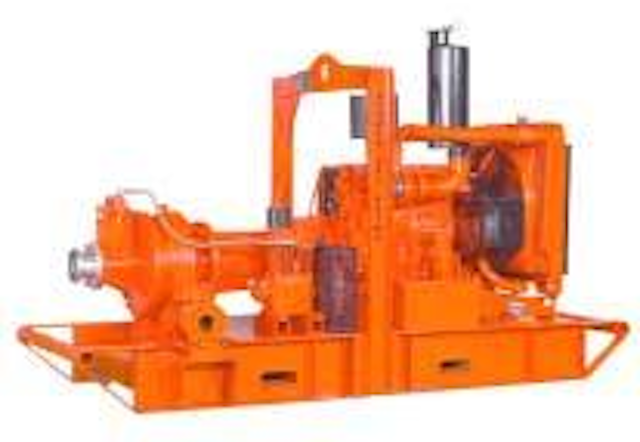 Click here to enlarge image
The latest addition to the Godwin Dri-Prime family of portable rental pumps is the 6" x 4" HL130M pump capable of handling heads to 600 feet. The unit handles flows to 1,300 gpm and solids to 1-3/8 inches in diameter. A single-stage design helps to reduce maintenance costs. Applications include temporary municipal lift station bypass pumping on high head force mains, pigging pipelines, high pressure potable water boosting/pumping, hydro testing, temporary fire systems, and other applications requiring extra high head capabilities.
Godwin Pumps
Bridgeport, NJ
Tel: 856-467-3636
Web: www.godwinpumps.com
In-pipe monitoring probe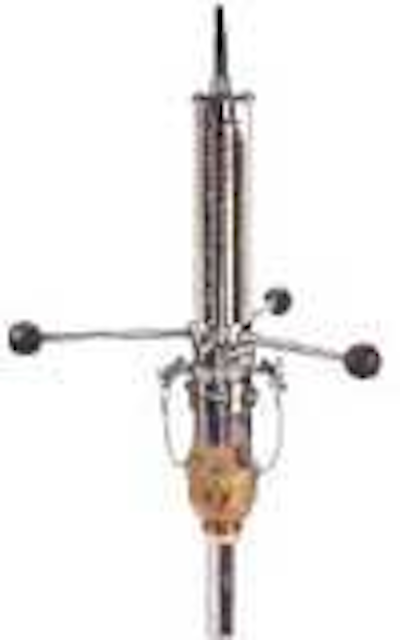 Click here to enlarge image
New from Hach, the PipeSonde In-Pipe Probe is the only sonde-type, multi-parameter system applying established technology to long-term monitoring of finished water in distribution systems. Complements the Hach Water Distribution Monitoring Panel (WDMP) and extends the distribution network surveillance strategy of any water system. Field-proven Hydrolab® technology continuously measures pH, conductivity, turbidity, temperature, ORP, dissolved oxygen (DO) and line pressure, and digital output in several protocols seams with typical data communication systems.
Hach Company
Loveland, CO
Tel: 800-227-4224
Web: www.hach.com
Toxic gas shutoff system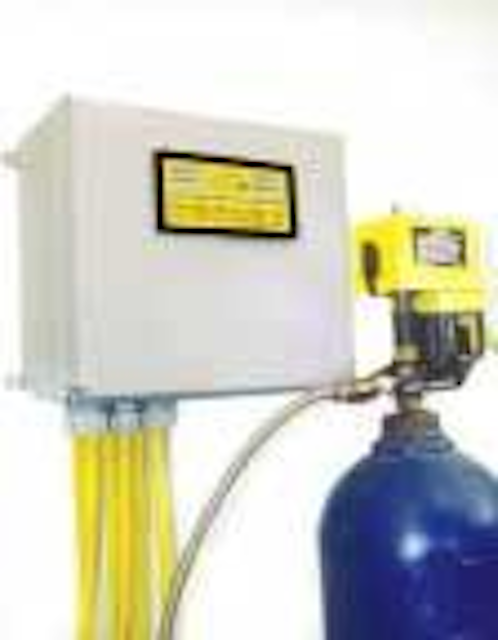 Click here to enlarge image
The Hexacon™ Model II control system quickly closes up to six EclipseTM actuators on toxic gas cylinder and ton container valves when activated by panic buttons or remote gas sensors. The newly designed Model II computer system applies 30 foot-pounds of torque for test closures and 50 foot-pounds of torque for emergency closures of the cylinder valve. All fire codes recognize and approve the "automatic-closing fail-safe shutoff valve" system in lieu of a scrubber treatment system. With this model, operators can be provided with status codes to quickly analyze any problems with the system to take appropriate corrective action.
Halogen Valve Systems
Irvine, CA
Tel: 877-476-4222
Web: www.halogenvalve.com
Aeration systems
Click here to enlarge image
The patented Mazzei AirJection® System delivers dissolved oxygen economically to any depth in water bodies needing complete aeration. The system is SOTR tested and certified and Alpha values have been independently tested to 1.0. It produces predictable, thorough aeration without the use of blowers and diffusers. Key applications are for odor control, activated sludge treatment, and BOD/COD reduction. The four step recirculating process uses patented, Mazzei® Injectors to dynamically infuse the affected pressurized water with oxygen.
Mazzei Injector Corp.
Bakersfield, CA
Tel: 661-363-6500
Web: www.mazzei.net
Eat away trace oils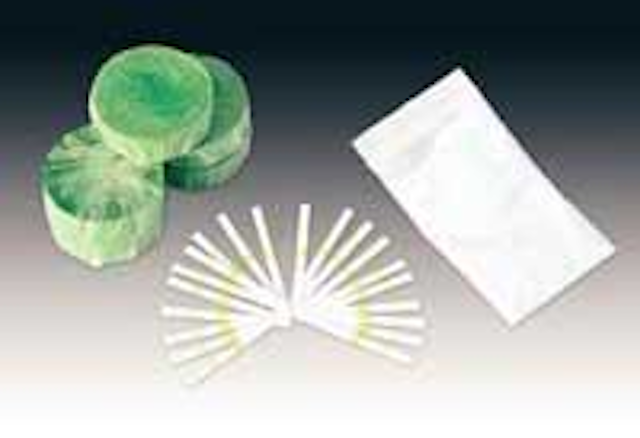 Click here to enlarge image
Abanaki Corp. extends its line of oil removal skimmers and filtering machinery with the new PetroPuck™. As the tablet dissolves, an innovative biotechnology process attacks the fluid and consumes residual oils in solution left in tanks after skimming. A single puck treats 1,000 gallons of fluid, often bringing oil levels down to those acceptable for discharge. Simply add one puck with a teaspoon of nutrient at the beginning of each month to tanks with a constant flow.
Abanaki Corporation
Cleveland, OH
Tel: 800-358-7546
Web: www.abanaki.com
Ultrapure lab water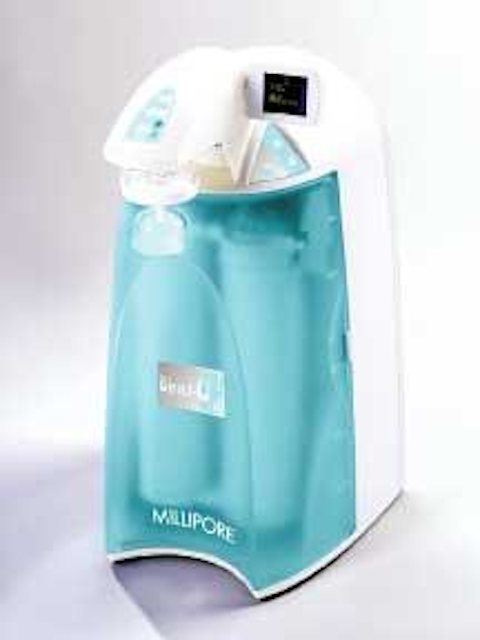 Click here to enlarge image
Millipore Corp. announces an innovative laboratory water system for small volume users requiring pure and ultrapure water. The compact Direct-Q® 3 system supplies both pure (Type 3) water for basic applications such as final glassware rinsing and ultrapure (Type 1) water for critical applications such as HPLC mobile-phase preparation. Reverse osmosis produces pure water stored in a 6-L reservoir that's integrated into the system. Ultrapure water is generated on demand at a flow rate of 1 L/min.
Millipore Corp.
Billerica, MA
Tel: 800-645-5476
Web: www.millipore/H2O
Low energy desalination
Dow Chemical subsidiary FilmTec Corp. introduces the Filmtec™ SW30XLE-400i element, an RO membrane with the lowest energy requirement in the industry to deliver the lowest total cost of water across a range of seawater desalination applications. This unit delivers the highest actual active area of any seawater RO membrane and sets a new benchmark in the trade-off between high rejection and low energy use. Its permeate flow rate of 9,000 gpd and stabilized salt rejection of 99.7% meet a variety of water quality requirements.
Dow Chemical/FilmTec Corp.
Midland, MI
Tel: 800-447-4369
Web: www.filmtec.com
Arsenic, mercury removal
The Adventus Group of companies – Adventus Americas Inc. (AAI), Adventus Remediation Technologies Inc. (ART), and EnviroMetal Technologies Inc. (ETI) – launched their patented EHC-M™ product, proven to be highly successful in removing mercury and arsenic contaminants from both soil and groundwater environments. EHC-M is a specially formulated carbon-zero valent iron media for in situ immobilization of soluble metals via enhanced precipitation and adsorption reactions.
Adventus Group/Adventus Americas Inc.
Bloomingdale, IL
Tel: 888-295-8661
Web: www.adventus.us
Hydraulic control valve
Through its distributor Amiad Filtration Systems, Raphael Valve Industries Ltd., a Tyco company, introduces a new and improved high-performance hydraulic control valve called "RAY." Like Raphael's RAF line, this no-spring control valve has a double-chamber rubber fabric diaphragm. The new design consists of one universal plug in each size – which suits all applications – and the system is easy to maintain and produces very low pressure drop.
Amiad Filtration Systems
Oxnard, CA
Tel: 800-969-4055
Web: www.amiadusa.com