WATER BRIEFS
Now part of CDR Systems Group, engineered enclosure maker Hot Box® of Jacksonville, FL, celebrated 20 years in business...
Jul 1st, 2006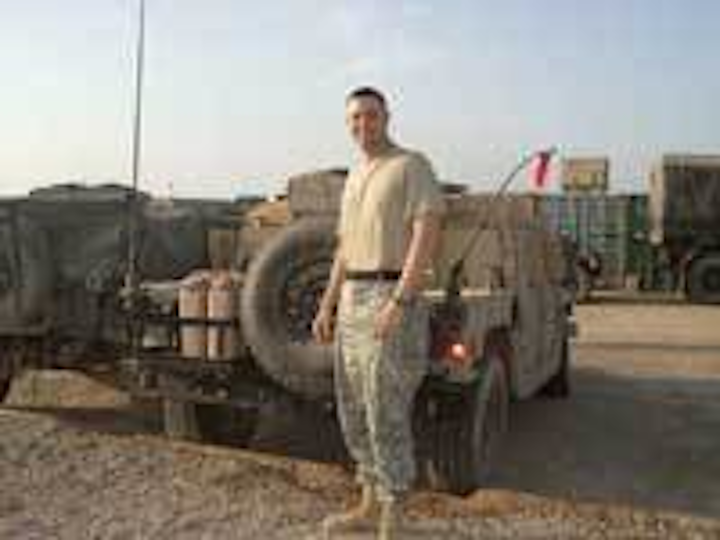 Hot Box has 20th birthday
Now part of CDR Systems Group, engineered enclosure maker Hot Box® of Jacksonville, FL, celebrated 20 years in business and welcomed home Staff Sgt. SSG/E-6 Brian Devine, aka its Southeast regional sales manager - an Army reservist called up to active duty in Iraq. Devine made it back in time for the AWWA ACE.06 event in San Antonio, TX. Hot Box was founded by Mike Devine and sold to Ormond Beach, FL's CDR in 2004.
ABB AUTOMATION names two vice presidents
Daniel Beaudet was named vice president for quality systems at ABB Automation Products' Low Voltage Drives unit in New Berlin, WI. Bob Hausler left also was appointed vice president of marketing and strategic planning for its Instrumentation unit in Warminster, PA.
Onset computer ships millionth unit
Onset Computer Corp. marked shipment of its one-millionth datalogger with a special delivery to Ameresco Inc. Onset president Jack Sample presented the HOBO unit to George P. Sakellaris, president and CEO of Ameresco. In other news, Gregg Daly was promoted to sales director from sales manager. With 20 years of sales management experience, he joined Onset in 1997.
RECIRCULATION TECHNOLOGIES appoints sales director
Recirculation Technologies Inc. appointed Mike Kearney as new sales director for North America. Joining RTI in April, Kearney has seven years of experience as a process engineer designing water treatment systems. He'll be based in Chapel Hill, NC. The company recently introduced the ReStore+ onsite ion exchange resin restoration system.
GEI Consultants adds metallurgist
Jody Kelso joined the GEI Consultants Inc.'s Rocky Mountain region as a senior metallurgical engineer specializing in mineral processing and environmental remediation. Based in Centennial, CO, Kelso has over 26 years of mineral industry experience. He was principal at JRKelso & Associates and, before that, vice president of technical development for Water Remediation Technology and corporate metallurgist with Cambior USA.
Severn Trent exec authors chapter IN MARKETING BOOK
Thomas Mills, Severn Trent Services marketing and business development vice president, wrote a chapter in the book, "Inside the Minds: Improving Marketing ROI - Leading CMOs on Adding Value, Calculating Return on Investments, and Creating a Financial Impact," published recently by Aspatore Books. Marketing executives from some of the nation's top companies contributed to the book. Mills' chapter is titled "Maximizing Your B2B Marketing Program."
GE WATER RO SYSTEM helps Unilever save energy
Energy at Unilever's Rexdale, ON, Canada, plant, which produces 185 million pounds a year of margarine and other vegetable-oil products, accounts for 15% of all production costs. With high energy prices, the plant had to improve energy efficiency to remain competitive. Working with GE Water & Process Technologies to analyze the cost of purchasing and treating water to produce the 218 million pounds of steam the plant uses a year, it employed an RO system in place of softeners and chloride anion dealkalizers to cut water, natural gas and chemical usage.
EPCOR AIDS CANADA MINE
EPCOR and the British Columbia government opened the Britannia Mine Water Treatment Facility north of Vancouver, which is ending contamination from one of North America's largest sources of heavy metal pollution. The new Britannia Beach Mine plant will prevent thousands of tons of heavy metal contaminants from entering Howe Sound, including 166,000 kg of copper a year - equal to 70 million pennies.
Aquionics' chief to head Halma UV firms
Jon McClean, president of UV disinfection company Aquionics Inc., was promoted to Divisional Managing Director-UV Companies, taking overall control of all three Halma UV companies: Aquionics in Erlanger, KY, Berson UV-techniek in The Netherlands, and Hanovia Ltd. in Great Britain.
Pellegrin joins HDR to lead MBR effort
Marie-Laure Pellegrin, Ph.D., is now HDR's membrane bioreactor (MBR) technical team leader based in its Kansas City office. Pellegrin had been MBR process engineer expert for USFilter Memcor. She has more than eight years of experience in design, construction, operation, optimization and product development of MBR plants.
Flowserve expands training labs
Flowserve Corp. has launched new training labs at the Learning Resource Center, a hands-on technical training facility for pump, valve and seal system optimization and maintenance education that's part of Flowserve Educational Services. Located in Irving, TX, three of the center's training labs, totaling 4,300 square feet, enable participants to analyze equipment failures and determine their causes, learning first-hand how to prevent pump, seal and control valve failure. Four 900-square-foot power labs feature 26 operational pumping systems.
Pacific Ozone ships 5,000th generator
On April 28, Pacific Ozone Technology shipped out its 5,000th installation, a 6M24 Ozone Generation System imprinted with a special gold-colored tag that displayed the serial number 5000. The 10-year old Benicia, CA, company, with over 100 standard products, is a specialist in air-cooled corona discharge ozone generators.
---
PIPE NEWS
ISCO adds distribution in Neb., Canada
ISCO Industries, a distributor and supplier of polyethylene (HDPE) piping products, opened a new stocking distribution site in Lincoln, NE, to serve a growing customer base in the northern Plains states. It also opened its first international location in Crossfield, Alberta, north of Calgary.
PMC, STS unite on pressure sensors
Danbury, CT's Process Measurement & Controls Inc. (PMC) and Sensor Technik Sirnach AG (STS), of Sirnach, Switzerland, will combine to offer a range of high performance pressure transmitters and transducers for the North American market. PMC, founded in 1963, targets pulp & paper, food & beverage, petrochemical, pharmaceutical and wastewater management.
Plastics Pipe Institute names director
The Plastics Pipe Institute (PPI) appointed 25-year industry veteran Tony Radoszewski as executive director. In other news, Plastics Pipes XIII, hosted by the Plastics Pipe Conference Association (of which PPI is a member), will be held Oct. 2-5 in Washington, DC. Over 500 delegates from 40 countries are expected. See plasticspipes.com
---
OTHER NEWS
Industrial valve sales to hit record
New requirements in LNG, ethanol, tar sands, nanotechnology, FGD and biotechnology will boost the industrial valve market to a record $52 billion in annual sales by 2010, according to an update of the online, "Industrial Valves: World Markets," published by The McIlvaine Company. Control valves will account for 25% of the total, followed by ball, gates and globes, butterfly and plug types. Separately, McIlvaine forecast the world pump market would reach $49 billion a year by 2016, from just under $30 billion this year. This is included in the latest update online of "Pumps: World Markets."