Product Showcase
Walchem announces the release of its new W100W Controller. The W100W features a large icon-based display and multiple-language support to allow simple setup ...

Dec 30th, 2013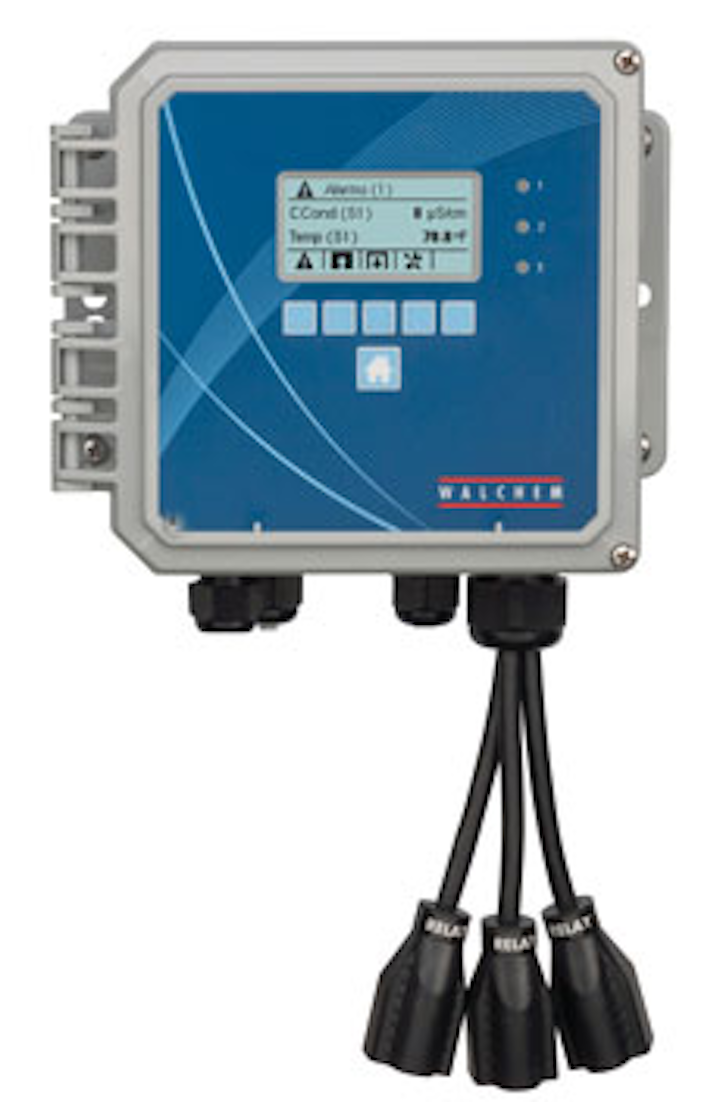 Treatment controller
Walchem announces the release of its new W100W Controller. The W100W features a large icon-based display and multiple-language support to allow simple setup; a universal sensor input that provides flexibility for almost any type of sensor needed; and a relay that allows the controller to be used in more places than the average low-end model. The cooling tower/boiler model has an optional analog (4-20 mA) output for recording, data-logging or connection to energy management systems. The conductivity, pH/ORP and Disinfection W100W has three pH/ORP models available for use with amplified electrodes, non-amplified electrodes with a BNC connector or non-amplified electrodes without a connector.
Walchem, an Iwaki America Co.
www.walchem.com
Sensor cleaning
Analytical Technology's Q-Blast Auto-Clean provides the ideal answer for automatic sensor cleaning. Employing a unique air-blast cleaning function, sensors can be cleaned as often as necessary without operator attention. Pulses of pressurized air remove accumulated solids from the critical sensing areas, resulting in a reliable signal for aeration control. The Q-Blast Auto-Clean package includes the monitor and the cleaner air supply in one convenient package for easy installation. This Auto-Clean system is available to fit the new Q46D Dissolved Oxygen Monitor and the new Q46PR pH / ORP Monitors.
Analytical Technology Inc.
www.analyticaltechnology.com
Pressure transducers
The MAD4520 Flush Submersible pressure level sensor is designed for monitoring viscous material and/or turbulent conditions within a vessel. There are four pressure ranges available, and the cage design allows for proper media flow while keeping the sensor at the bottom of the vessel or well. The 316L and PVDF construction and compact, non-clogging design will withstand the toughest environments including waste, salt, brackish or freshwater systems and a wide range of chemicals. The MAD4520 is ideal for sewage lift stations, food tanks and viscous media applications. Other typical uses include: grease and lubrication tanks; drilling mud pits; vegetable and animal oil tanks; and storm and industrial holding tanks.
Madison Company
www.madisonco.com
Check valves
New 3" and 4" pipe-size thermoplastic check valves are normally-closed and require no reverse flow to seal bubble-tight. The design features no wetted metals, and the valves are ideal for use with highly-aggressive chemicals in a variety of wastewater treatment applications. Closure is provided by an isolated, Teflon-encapsulated spring. Leak-free sealing protects against the potential hazards created by reverse-flow corrosive liquids such as acids, caustics and chlorine solutions. The valves offer positive repetitive sealing where the poppet automatically positions itself against seat in the identical location each time for long cycle life dependability.
Plast-O-Matic Valves Inc.
www.plastomatic.com
Pressure seals
Ashcroft pressure instruments can be configured with media isolators specifically engineered for harsh or corrosive process liquids and gases. Whether the measuring device is a dial gauge, switch, digital gauge, or transmitter, there is an Ashcroft® diaphragm seal or other isolation device that can be mated for complete media protection. Ashcroft seals are available in a wide variety of sizes, wetted materials and configurations, including capsule type, welded or bonded and clamped designs with threaded, flanged and flushing connections. Pre-assembled, filled and ready for installation, these isolated instruments provide the right combination of measurement performance and media protection in any demanding severe-service application.
Ashcroft Inc.
www.ashcroft.com
Piping systems
Corzan® Industrial Systems from the Lubrizol Corporation are built to take on the pressure of industrial environments by providing superior mechanical strength and high impact resistance. Made from non-corrosive, high-performance chlorinated polyvinyl chloride (CPVC), Corzan systems are ideal for water treatment, chemical processing, semiconductor and electronics, industrial manufacturing, mining, and power generation. They are also field-proven to provide an excellent balance of properties that improve reliability and confidence, while reducing capital and lifecycle costs.
Corzan Industrial Systems, of Lubrizol Corporation
www.lubrizol.com