WEFTEC Preview
Water and wastewater professionals across the nation and around the globe are gearing up to attend the Water Environment Federation's Annual Technical Exhibition and Conference (WEFTEC)
Aug 28th, 2013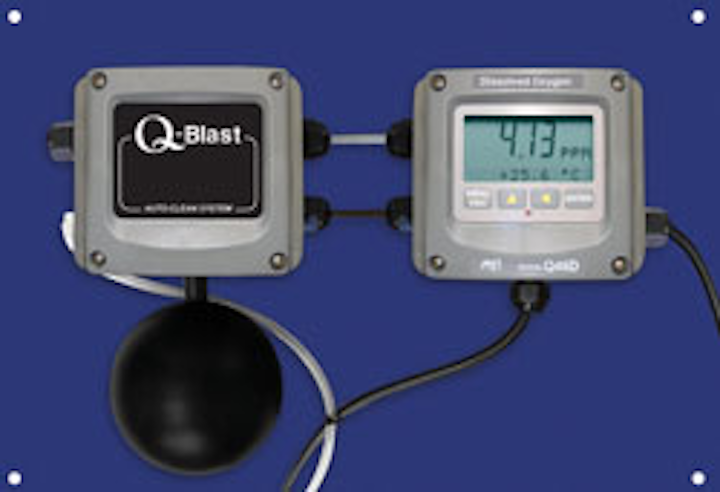 WEFTEC® 2013 | Oct. 5-9 | Chicago, Ill.
Water and wastewater professionals across the nation and around the globe are gearing up to attend the Water Environment Federation's Annual Technical Exhibition and Conference (WEFTEC) taking place on Oct. 5-9 at the McCormick Place in Chicago, Ill.
This year, industry experts will return to the windy city, where WEFTEC held its first event in 1928, and convene to exhibit their latest products, learn new solutions, engage with other experts, and experience a wealth of valuable information through a wide variety of educational programs.
Considered one of the largest annual water quality exhibitions and conferences in the world, WEFTEC 2013 will feature 27 interactive workshops, 12 mobile sessions, 10 local facility tours, 144 technical sessions -- 24 of which will be featured in the exhibit hall. Sessions will comprise more than 1,000 presentations over three days, and more than 1,000 companies will showcase their products throughout over 30,000 square feet of exhibit space.
"The fact that it's got something for everyone, and with all these moving pieces and so many of them, it comes together as one huge event," said Pam Henry, WEFTEC senior director. "With many other conferences or exhibitions in the industry, the trade show is more the focus, but WEFTEC has both: you have the education on the exhibit floor, but you also have the workshops and technical sessions and other meetings."
October's WEFTEC will feature a wide range of workshops focused on the industrial and manufacturing sectors such as oil and gas, food and beverage, agriculture, mining and mineral processing, automotive, and power generation. Topics that will be covered include nutrient removal, energy conservation and recovery, wastewater treatment plant operations and cost reduction, and biological (aerobic, anoxic, and anaerobic) and physical/chemical treatment processes. Further, the symposium will feature plant histories, successful case studies and modeling evaluations, as well as a number of engaging industrial exhibits.
Founded over 85 years ago, WEFTEC has been providing its thousands of attendees with domestic and international peer-to-peer business networking opportunities ever since.
"I think based on our priorities and what we see down the line, it's increasingly [becoming] a place where global water sector leaders are coming to make connections and do business," said Henry. "Our international pavilions continue to grow, a lot of the international organizations that we partner with increase, it seems, each year, and we foresee that continuing."
Introduced last year, the WEF Utility Partnership Program (UPP) is another component of this year's conference that gives utilities an opportunity to consolidate all their members into one account that designates value packages to certain employees based on their individual needs through collaboration with WEF and its Member Association (MA).
---
Sensor cleaning
Analytical Technology's Q-Blast Auto-Clean D.O. System provides an ideal answer for automatic sensor cleaning. Employing a unique "air-blast" cleaning function, sensors can be cleaned as often as necessary without operator attention. Pulses of pressurized air remove accumulated solids from the critical sensing areas, resulting in a reliable D.O. signal for aeration control. There is a dedicated trouble alarm to alert operators should a problem develop in the air blast system.
Analytical Technology Inc.
www.analyticaltechnology.comBooth 2267

Valves
Onyx Pinch Valves are available with handwheel, pneumatic or electric actuators. They are ideal for on-off or throttling applications including sewerage, sludge and lime slurry. Onyx Isolator Rings reliably measure pressure or level on slurries and other hard-to-handle fluids and are ideal for pump protection applications. Guaranteed to never clog or plug, they are compatible with a wide array of gauges, switches and transmitters.
Onyx Valve Company
www.onyxvalve.comBooth 3275

Flow switches
The New Series FSA NEMA 4 Flow Switches from Plast-O-Matic are adjustable for sensing flow from 8 to 1,900 GPM. Offered in PVC or CPVC, they have no wetted metals, and the switch mechanism is isolated from liquid by corrosion-resistant EPOCAP® epoxy.
Plast-O-Matic Valves Inc.
www.plastomatic.comBooth 3048

Multi-parameter controller
ProMinent introduces its latest multi-parameter controller, the Dialog DACa. Built on a new platform, the DAC offers a single or dual channel controller for the continuous measurement and control of process variables in water and wastewater applications. The large screen HMI allows for easy viewing of process events and changes color when faults occur. Data-logging and SD card storage allows the operator to keep valuable information for over a year.
ProMinent Fluid Controls Inc.
www.prominent.usBooth 3612

Pump range
Watson-Marlow will showcase its turnkey peristaltic chemical metering systems and Qdos30 pump range. Building on over 50 years of experience, its turnkey systems combine pumps, gauges, columns, and other system accessories into a complete, robust metering solution. The Qdos30 pump range was developed in response to extensive industrial customer feedback for improved chemical metering.
Watson-Marlow Pumps Group
www.watson-marlow.comBooth 2416

Flow meters
With the recent addition of two new ultrasonic sensors, the Hach US9001 In-Pipe and Hach US9003 Down-Looking, the Hach FL900 system offers level-only alarming and redundant-level functionality. In addition to the ultrasonic level sensor technology, the radar, electromagnetic and acoustic Doppler velocity technologies are also available. The plug-and-play design of the Hach FL900 system allows for up to four sensor connections with auto-detection of sensor type, allowing users maximum flexibility for their Hach flow meter inventories.
Hach Company
www.hach.comBooth 1626

Water optimizer
The RYDALL WO Water Optimizer from Apex Engineering is an environmentally beneficial solution for companies facing industrial wastewater treatment/pretreatment and odor problems. RYDALL WO is a biocatalyst that contains a complex mixture of nutrients, vitamins and trace elements that reduce H2S, COD, BOD, FOG, TDS, and TSS. With no active bacteria or enzymes, this unique formula stimulates existing bacteria already prevalent in wastewater, enhancing the natural biological process.
Apex Engineering Products Corporation
www.apexengineeringproducts.comBooth 5238

Impeller-shaft assembly
SPX announces a complete solution to a "dirty, rag-full problem" in industrial treatment services. SPX introduces the Lightnin Clean Edge Impeller-Shaft assembly for use in all services where a non-ragging mixer impeller is either indicated or needed. Specifically designed for this critical and rigorous service, the assembly sheds all fibrous debris while delivering superior hydrofoil impeller performance. Lightnin includes the additional, patent pending,
SPX Corporation
www.spx.comBooth 4344

Double-wall tanks
Assmann Corporation's cylindrical double-wall tanks provide a heavier-top sidewall and dome to prevent dome collapse, while a primary inner tank and secondary outer tank ensure against chemical spills. Constructed of molded high-density cross-linked polyethylene, the tank's outer shell containment equals 120% of primary tank capacities. The inner tank dome interlocks with the outer tank's sidewall, sealing the secondary containment area and preventing debris from entering, making it ideal for outdoor storage.
Assmann Corporation of America
www.assmann-usa.comBooth 2891

Odor control
For controlling all odors common to industrial wastewater treatment plants, collection systems and processing, OMI Industries' Ecosorb® odor control solutions offer a non-toxic, biodegradable option for completely removing malodors. Natural Ecosorb odor control products can be delivered via methods including atomization and vapor phase, using existing hardware (e.g., scrubbers) or a custom solution designed to suit specific needs.
OMI Industries
www.omi-industries.comBooth 2439

Rotary fan press
Serving many industrial processes, the Prime Solution Rotary Fan Press® is an enclosed, continuous, slow moving (<1 rpm), low maintenance, semi-automatic operating dewatering process utilizing low pressure differentials to separate the liquids from the solids. Further, it produces high cake solids and capture rates while using very little space/energy and operator time to complete the task. Various models are available to accommodate flow rates for all size plants, with each RFP Skid System pre-wired and pre-plumbed, ensuring a simple and successful installation.
Prime Solution Inc.
www.psirotary.comBooth 1845

Bypass station
Gorman-Rupp's new emergency bypass station ReliaPrime® operates on natural gas, offering a quiet, efficient and environmentally friendly solution. This unit features a 6" Super T Series® pump capable of passing a 3" spherical solid and offers a sound-proof, lightweight, aluminum enclosure. The enclosure has padlockable door panels and can be removed for maintenance of the pump or engine. This unit is a complete back-up package, ready for hook-up.
The Gorman-Rupp Company
www.grpumps.comBooth 4231

Compressible media filer
Schreiber's Fuzzy Filter is an innovative and cost-effective compressible media filter for water and wastewater treatment systems in industrial processes. Operating in an up-flow or down-flow design, the Fuzzy Filter achieves an exceptionally high rate of solids removal through the use of synthetic fiber spheres. With loading rates of 40+ gpm/ft2, the filter requires 20% of the space for sand filters.
Schreiber LLC
www.schreiberwater.comBooth 2453

Advanced metering pumps
The IX Series from Iwaki America are direct-drive, digitally-controlled metering pumps combining both accuracy and flexibility into an energy-efficient design. Precise control is maintained over a wide output range, enabling one pump to satisfy a broad range of application flow rate requirements. The IX Series meets today's demands for automated chemical delivery in industries from wastewater treatment to chemical process. Average power consumption is only 62 watts.
Iwaki America Inc.
www.iwakiamerica.comBooth 5251

Multi-channel controller
Bürkert has developed the MultiCELL Type 8619 multi-channel controller for water treatment, food and pharmaceutical applications. In reverse osmosis systems, the controller can be used for monitoring functions as a flow indicator, to measure the ORP value or percentage retention value. The controller can also be used for regulation of the pH value and the dosing of chemicals and ratio control. The standard version includes the user interface, the mainboard and AC adapter, two analog and digital outputs, and two digital inputs.
Bürkert Fluid Control Systems
www.burkert-usa.comBooth 3416

Digital pressure gauges
Keller digital pressure gauges are cost-effective solutions in any pressure monitoring applications where a local display is required. Several ver-sions are available to ensure that your needs are met. Available features include min. & max. display, selectable units, 5 kHz scan rate for transient capture, oxygen use, and data recording.
Keller America Inc.
www.kelleramerica.comBooth 402

Electric mixers
GridBee® GF Series electric mixers from Medora Corporation can each displace 30 to 50 horsepower of surface aerator mixing (run-time) in industrial wastewater applications, including activated sludge system basins, lagoon systems and water reuse ponds. With the GF Series performing the mixing, the aeration system can be dialed back to provide just the needed DO. At electric rates near $0.10 per kwh, savings per mixer is approximately $750,000 over 25 years.
GridBee, a brand of Medora Corporation
www.medoraco.comBooth 4041

Level indicator
As a leading manufacturer of Magnetic Level Indicators (MLIs), Orion Instruments offers a cost-effective level gauge solution for the industrial pre-treatment, water and wastewater markets. The Vector Magnetic Level Indicator is rugged, reliable and suitable for a wide variety of liquid level applications. Vector is built to the highest quality standards and is equipped with a high-visibility visual indicator, which has a shatter-resistant viewing window. The Vector MLI virtually eliminates maintenance and is a great replacement for hard-to-see, leaky, sight and gauge glass indicators.
Orion Instruments
www.orioninstruments.comBooth 1640

Self-aspirating aerators
Kusters Zima offers a complete line of Fuchs self-aspirating aerators, which are used in industrial applications including lagoons, aeration basins, and oxidation ditches, and they can be retrofitted to existing systems. The precision shaft design uses extremely tight tolerances and eliminates the need for a lower guide or bearing. The result is a lubrication-free system with very low maintenance requirements. Each aerator can be installed on steel walkways, concrete walls, lagoon shores, or provided with pontoons as required to accommodate the aerator. The mounting design allows for easy retrieval of the aerator for maintenance and inspection.
Kusters Zima Corporation
www.kusterszima.comBooth 2060

Self-cleaning water filters
Forsta Filters offers self-cleaning water filters that utilize system pressure for operation. A rigid cylinder screen strains particles from a water source, trapping debris on the inside. A controller monitors the filter and opens a flush valve when it senses adequate differential pressure. This creates rapid flow through the internal cleaning apparatus, which vacuums buildup from the screen and expels it. Forsta self-cleaning water filters are reliable, require low maintenance, have a short cleaning cycle, waste very little flush water, and do not interrupt main flow during the backwash cycle. The 180 Series offers a unique configuration with a parallel flange to accommodate simple installation. Forsta 180 Series filters provide solutions in a wide variety of industrial, irrigation and municipal applications.
Forsta Filters Inc.
www.forstafilters.comBooth 872

Check valves
The PROCO Series 700 ProFlex™ Rubber Check Valve is a cost-effective way to control back pressures from sewage treatment plants, outfalls and tidal operations. The check valves are offered as direct replacements for ineffective and maintenance-ridden flap-type check valves, commonly known to seize, rust and bind in unwanted positions. The PROCO Series 700 ProFlex™ rubber check valves provide backflow protection from sewage slurries; outfalls to oceanfronts from heavy rainfall activity; prevention from land erosion due to back flow conditions; and protection from saltwater to fresh water ponds, catch basins and numerous other water based applications.
PROCO Products Inc.
www.procoproducts.comBooth 3945

Polymer blending systems
Fluid Dynamics miniBLEND™ liquid polymer blending systems produce six times the mixing energy per unit volume than a comparable-sized mechanical mixer. The patented non-mechanical HydroAction technology renders mechanical mixing obsolete for high flow or difficult-to-blend applications. Fluid Dynamics offers multiple liquid polymer blending systems with easy-to-use controls. This and other Fluid Dynamics/Neptune products are available on AquaOnDemand.com -- Your Online Source for All Things Water.
AquaOnDemand.com
www.AquaOnDemand.comBooth 3608

Centrifugal blower
The Hoffman Revolution by Hoffman and Lamson delivers up to 45% energy savings, provides increased reliability with little or no maintenance, and is factory prewired and tested in an ergonomically-designed sound enclosure for plug-and-play operation. Technology improvements allow the footprint of the Revolution to be significantly smaller than traditional blowers, which reduces installation costs and enables the Revolution to function in places traditional blowers cannot. It is the quietest turbo blower in its class with a one-meter certified sound rating at below 80 dBa.
Hoffman and Lamson, a brand of Gardner Denver Inc.
www.gardnerdenver.comBooth 1412

Valve actuators
Rotork has introduced the third generation of its IQ range of intelligent, non-intrusive, heavy-duty electric valve actuators, ideal for use in many applications found throughout water and wastewater treatment plants. The new IQ3 actuators are designed to provide technologically advanced levels of functionality and asset management. Specifically, they provide enhanced operational, data-logging and ease-of-access capabilities. Features include a large, wide-angle local display that provides user-friendly displays and real-time asset management data, as well as a new secure Bluetooth hand-setting tool for convenient setup, configuration and commissioning.
Rotork Controls Inc.
www.rotork.com
Booth 4618

Ultrasonic flowmeters
GPI has released two new QStar ultrasonic flowmeters, both fixed and portable models, using transit-time technology. These clamp-on flowmeters include a large, backlit LCD and provide accurate and drift-free measurement. Both models include integrated heat quantity measurement. Three sets of transducers are available covering pipe sizes from 1/2" to 240".
Great Plains Industries Inc.
www.gpimeters.net
Booth 3403

Grit removal system
The Smith & Loveless Pista® 360™ grit removal system with patented V-Force Baffle™ captures 95% of grit particles down to 140 mesh/105 microns. The system design increases velocity during low-flow periods while maintaining consistent grit capture during surges. Its baffle, uniquely positioned within a 360-degree, flat-floor grit chamber, helps comprise a patented hydraulic design within the chamber.
Smith & Loveless Inc.
www.smithandloveless.com
Booth 2654

Polymer mortar pipe
Industrial plants can use HOBAS' centrifugally-cast, fiberglass-reinforced, polymer mortar pipe for new construction and rehab for critical installations. Its non-metallic construction provides inherent corrosion resistance without linings or coatings. It is widely used in corrosive environments such as industrial effluents, contaminated drainage and foul air, as well as cooling and circulating water lines. It is also approved for potable water. It can be installed in methods such as open cut, slip lining, jacking, micro tunneling, two-pass tunnel, casing carrier, and above ground.
HOBAS Pipe USA
www.hobas.com
Booth 863

Multi-channel transmitters
Endress+Hauser's Liquiline cm44x multi-channel transmitters can accept inputs from up to eight Memosens digital sensors including nitrate, spectral absorption coefficient (SAC), pH, ORP, conductivity, dissolved oxygen, turbidity, free-chlorine, and ion-selective electrode sensors, making it an ideal solution for monitoring and controlling processes in water and wastewater applications. Easily swap or mix-and-match any combination of sensors, and the cm44x transmitter recognizes the sensor and will begin operating immediately.
Endress+Hauser Inc.
www.us.endress.com
Booth 3246

Cyber security
Phoenix Contact has introduced several new versions of its FL mGuard industrial security devices. With upgraded hardware and advanced configuration options, the mGuard RS2000 and RS4000 can provide defense-in-depth cyber security in more critical applications. Like the original mGuard products, the RS2000 and the RS4000 variants feature all-in-one firewall, virtual private network (VPN) and routing capabilities.
Phoenix Contact Inc.
www.phoenixcontact.com
Booth 3819