Valve & Fluid Control
Bingham & Taylor has introduced the Buffalo brand "No Vac" Valve Box Sealed System.
Mar 1st, 2013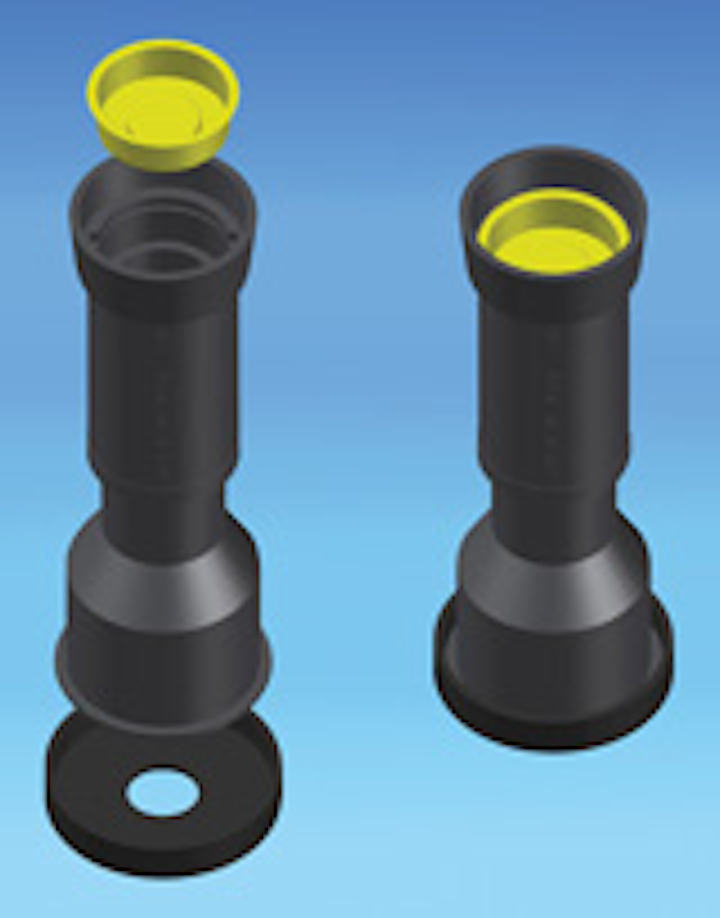 Valve box
Bingham & Taylor has introduced the Buffalo brand "No Vac" Valve Box Sealed System. It consists of a Valve Box Stabilizer and a Debris Trap, which are available together or separately. The stabilizer fits all round valve box bells and bases and is designed for use with either cast iron or plastic valve boxes. It prevents the intrusion of dirt, backfill, or sand from below. The debris trap component was engineered to eliminate maintenance and service issues caused by debris intrusion through and around the valve box top over time.
Bingham & Taylor
Check valves
Check-All Valve offers a complete line of in-line, spring-loaded, piston-type check valves. Many series are available which provide check valves for practically every service application. Valves are offered with metal-to-metal or soft seats in sizes ranging from 1/8" NPT to 20" flanged connections. Pressure ratings are available from full vacuum to 10,000 psi. Standard or exotic materials are available and customers can choose from a wide variety of spring settings for any valve.
Check-All Valve Mfg. Co.
Control valve
A low-cost, 2" flanged plastic control valve, designed to handle corrosive fluids, is now available from Collins Instrument Co. The 2" valve, Model 2060, is the latest addition to the company's family of plastic valves. It features a body of either PVDF or polypropylene and an actuator/yoke of glass-filled polypropylene, making it suitable for harsh fluids and/or corrosive environments. Depending on the application, the 2060 can be equipped with either a pneumatic positioner, a positioner with integral I/P, or an electric actuator.
Collins Instrument Co.
Blowdown service valves
Conval offers Clampseal® Blowdown Service Valves to provide necessary control for continuous or tandem boiler or turbine blowdown and bottom blow-off service. For continuous service, blowdown valves are available in ¾" through 3" sizes with butt or socket weld ends, in ASME through 4500. Standard material is Low Alloy SA 182-F22 and F91.
Conval
Butterfly valves
As a complement to its complete line of fiberglass (FRP) centrifugal pumps, Fybroc® offers a new line of non-metallic, corrosion resistant butterfly valves. Ideal for handling corrosives, seawater, solvents and other difficult liquids, the standard model valve (1.5"-12") has a black polypropylene (PP) body, a polyvinylidene fluoride (PVDF) disc and a fluorocarbon (Viton®) seat for superior chemical resistance and temperature capability.
Met-Pro Global Pump Solutions-Fybroc
Metering ball valve
GF Piping Systems has introduced the new Metering Ball Valve Type 523, completing the company's 5 Series Generation of Ball Valves. The new series incorporates a number of unique features that include improved flow control, easy actuation, new scale and display, and large material range for application versatility. The 523's design makes it especially suitable for metering tiny media quantities and sampling.
GF Piping Systems
Valve actuators
Large valves used in the water and wastewater industries can be safely operated with Smith Flow Control's Easi-Drive portable valve operating system. The drive uses a reaction device that transmits torque onto the valve body and away from the operator, making it one of the safest valve operating systems available. One user can easily operate multiple high-torque or high-turn valves with a single torque driver while reducing risk of injury caused by fatigue or valves located in hard-to-reach areas.
Smith Flow Control
Air valves
Val-Matic offers all-stainless steel wastewater air valves in sizes 1"- 4" for single housing and sizes 1"- 8" for dual housing. The thinner valve wall allows for lightweight design and a reduced weight of 20-25% from standard cast iron bodies. The stainless steel wastewater air valve is provided with Buna-N resilient seating and Type 316 stainless steel body, trim, and float for protection against corrosion.
Val-Matic Valve & Manufacturing Corp.
Back pressure valve
WesTech's exclusive Haymore Back Pressure Control Valve is uniquely designed to optimize the release of dissolved air concentric to the influent stream at the center of a Dissolved Air Flotation (DAF) mechanism, rather than at the perimeter. This maximizes the benefit of a circular DAF design by allowing proportional distribution of microscopic air bubbles over a larger surface area, increasing the effectiveness of the flotation process.
WesTech Engineering
Pressure reducing valves
Watts has released its new Lead Free LFX65B Cartridge-Style Water Pressure-Reducing Valves. The new valves are designed to reduce incoming water pressure to protect plumbing system components and reduce water consumption. Lead Free construction ensures compliance with the new national Lead Free law, which takes effect January 4, 2014. The cartridge-style LFX65B is available in three configurations: As a complete, ready-to-install regulator, as a separate rough-in kit consisting of a Lead Free brass body with integral strainer, or as a separate cartridge assembly.
Watts Water Technologies
Solenoid valve
Parker Fluid Control Division offers the high flow direct mount NAMUR solenoid valve. The product line provides cost-effective solutions for general-purpose valve actuator applications, including water and sewage, pulp and paper, food and beverage, pharmaceutical, powder-dosing machines, powder transportation, process industry, and twin-tower air dryers. Compact in its design, the valve features a NAMUR mounting pattern and high-flow rates from 1.2 to 3.0 Cv. Parker Fluid Control Division
Solenoid valve
The new Festo solenoid valve VZWP, which features a piston seal instead of a diaphragm seal and a maximum operation pressure of 40 bar, is an ideal universal process valve for water, air, and neutral media. The use of a sealing piston instead of a diaphragm means that even high pressures can be controlled with a large nominal diameter. The valve closes automatically if power is lost.
Festo
Check valve
The CheckMate® Inline Check Valve is ideal for backflow prevention and odor mitigation. In outfalls, stormwater, CSO and SSO applications, the check valve's custom-engineered, all-rubber unibody design eliminates backflow from oceans, rivers and interceptors. Its elastomer fabric-reinforced design provides a proven record of maintenance-free performance and extremely low headloss.
Red Valve Co.
Surge protection
The OCV Model 118-4 control valve protects systems against power surges and pump failures. It operates in conjunction with the Surge Commander III, which functions via solid state circuitry. The valve offers a charged battery backup, multiple control options and indicator lights that monitor and communicate the valve's activity at all times. The efficient design also saves space and operates on a lower electrical usage. Adding extra protection, the Model 170 High Pressure Filter guards the pilot system in applications where the fluid being controlled has a relatively high percentage of suspended solids in a high pressure or corrosive environment.
OCV Control Valves
Insertable valve
Team's InsertValve™ installs under pressure, eliminating the need for line shut downs for valve cut-ins. Designed for a wide range of line sizes and types, the valve's wedge gate seats on the valve body, not the pipe bottom. This unique feature prevents the seat from coming into contact with the cut pipe edges.
Team Industrial Services
www.teamindustrialservices.com
Valve systems
Onyx pinch valves are ideal for on/off and throttling applications including raw sewerage (equalization basin flow), sludge (centrifuge feed) and lime slurry (pH control). The company's Isolator Rings are a convenient way to reliably measure pressure on sewerage, slurries and other hard-to-handle fluids.
Onyx Valve Co.
Valve strainers
The Singer Valve Strainer ZS is designed to protect control valves and pipelines from foreign matter such as twigs, leaves and rocks that get caught in the flow and can cause blocks or equipment failure. The strainer has a Z plate design that provides a smooth laminar flow which reduces downstream disturbance making it ideal for locations ahead of automatic control valves. The corrosion resistant stainless steel screen allows for a large flow area and is easily removed by removing the top cover plate.
Singer Valve
Valve actuators
Rotork has introduced the third generation of its IQ range of intelligent, non-intrusive, electric valve actuators, which have widespread application throughout water and wastewater treatment plants. The new IQ3 actuators provide enhanced operational, data logging, and asset management capabilities. Features include a new secure Bluetooth™ hand-setting tool for convenient set-up, configuration, and commissioning, as well as real-time data access; a large, wide-angle local display that provides user-friendly displays and real time asset management data; and several mechanical enhancements such as separately removable thrust bases across the entire range.
Rotork Controls Inc.