Product Focus: Valve Makeover
Critical to reliable water softener functionality, Minnesota Rubber and Plastic's dual tank water treatment control valve regulates flow rates for resin regeneration, rinsing and flushing of the water in the softener.
Oct 29th, 2013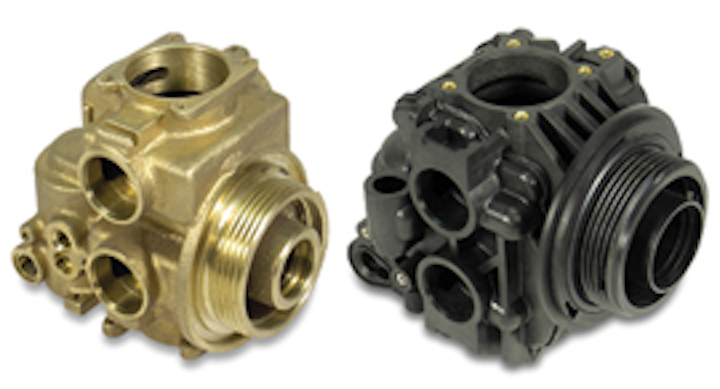 Molded Assembly Provides Lighter-Weight, Total Sealing Solution for Water Control Valves
Converting a precision- machined brass casting into a molded assembly designed complete with threaded inserts proved challenging for Minnesota Rubber and Plastics' design engineers.
The company's focus was to construct a dual tank water treatment control valve that provides a continuous supply of softened water from one tank while a second tank is simultaneously regenerated. Critical to reliable water softener functionality, the control valve regulates flow rates for resin regeneration, rinsing and flushing of the water in the softener.
Before (left) - Water control valve for water softeners is cast from heavy brass and required multiple precision machining operations. After (right) - New molded assembly provides a lighter weight, total sealing solution from Minnesota Rubber and Plastics.
Measuring 5" x 3-3/4" x 5", the valve services both resin tanks of the water softener system through a series of complex internal flow paths. Further, the current brass valve requires costly secondary machining to create all the flow paths, which are now molded complete. The valve also required 15 threaded brass inserts on four sides where incoming and outgoing connections are made.
The design challenge for Minnesota Rubber and Plastics was to provide a molded water control valve equal to or better than the existing brass water control valve without sacrificing water flow rates while meeting regulatory requirements for structural performance and water purity. Price targets along with just-in-time delivery were also key requirements of the project.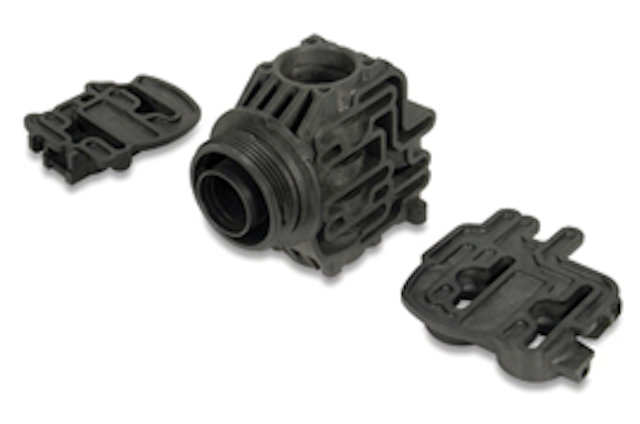 Three-piece molded assembly is hot-plate welded together for a watertight seal of the valve body. Many machining operations were eliminated by going to a molded valve design.
"Together we met these design requirements," said Ted Ahrenholtz, technical support manager with Minnesota Rubber and Plastics. "We knew from the start that we would be able to reduce material weight and cost. Precision machined brass is expensive and heavy. We began with a list of objectives that included meeting flow requirements, better-appearing surface finish, weight and cost reduction, and faster turnaround time. We worked together to design an assembly to replace the solid, one-piece brass casting using computer aided design (CAD), finite element analysis and stereo lithograph simulation (SLS)."
Minnesota Rubber and Plastics has a 65-plus year history of developing sealing solutions for complex applications. For this project, a three-part valve body configuration was established with the three components hot-plate welded together.
"Together, we insured that rubber and plastic materials complemented each other's tolerance capabilities and that there was a careful balance between the torque value and contact of the seals," said Ahrenholtz. "We used thermoplastic injection molding on the three plastic valve body components and transfer molding on the NSF 61 compliant, chloramine resistant rubber seals and O-rings. Through the use of finite element analysis, the wall thickness was optimized, conserving plastic material while increasing overall valve strength with less weight and reduced total cost."
Advantages of the new water control valve include a 75-percent weight reduction, non-corrosive reinforced thermoplastic body, identical inlet and outlet plumbing connections as on the brass valve, and leak and pressure testing of each welded valve prior to shipping.
"By partnering with our customer in co-designing effort, we were able to design, produce and help our customer with a high-performance water valve that exceeded expectations using the latest design technology and our many years of sealing experience," Ahrenholtz added.
---
For additional information on this and similar applications, contact Minnesota Rubber and Plastics at 952-927-1400.