INDUSTRIAL WATER EXHIBITORS
Cat Pumps' custom-designed Power Units continue to expand with new options and expanded performances.
Sep 1st, 2003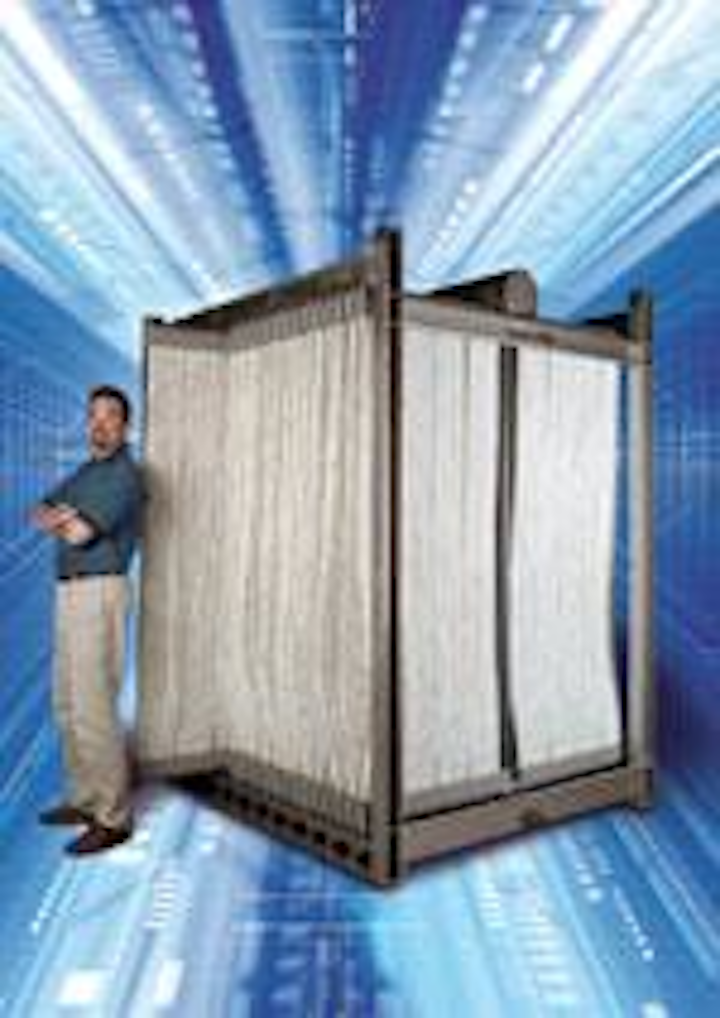 Membrane treatment systems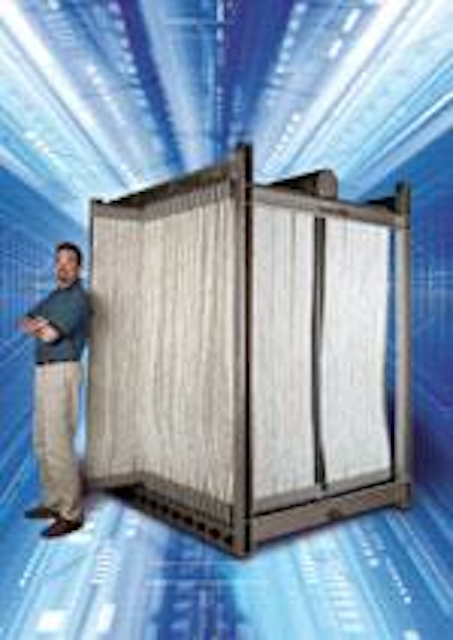 Click here to enlarge image
Zenon Environmental is a provider of membrane technology and ancillary systems for water and wastewater treatment. The company's patented membrane systems specialize in purifying drinking water and RO pre-treatment, treating wastewater for safe discharge into the environment, and recycling wastewater for reuse. It also supplies high purity water treatment systems employing ultrafiltration, reverse osmosis, ion exchange, EDI and other technologies. With hundreds of installations in nearly 40 countries, the company's customers include municipalities, industries, government agencies, land developers and ship owners.
Zenon Environmental Inc.
Oakville, ON
Tel: 905-465-3030
Web: www.zenon.com
Water, process systems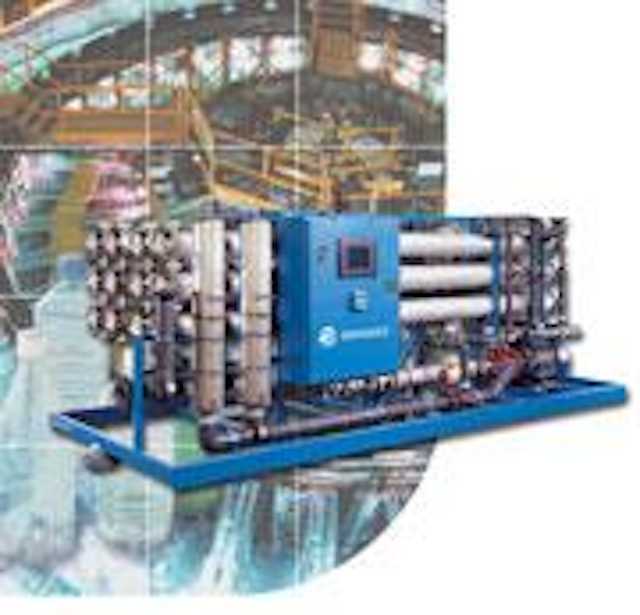 Click here to enlarge image
General Electric Company recently announced a new platform for growth centered on water and process solutions. GE Water Technologies (GEWT) is the new global platform that brings together GE Betz, GE Osmonics and GE Glegg into a single source for a comprehensive selection of process and water systems, products and services. GE Betz specializes in developing custom engineered solutions for water and process treatment needs. GE Osmonics manufactures equipment and components that purify water, separate and handle fluids, recover valuable products, remove impurities, concentrate wastes, enable fluids to be recycled and clean water discharged to the environment. GE Glegg offers a complete range of custom and standard systems using electrodeionization (EDI) to provide pure water solutions needed anywhere in the world.
GE Water Technologies
Tel: 952-988-6186
Web: www.gewater.com
Ultrasonic level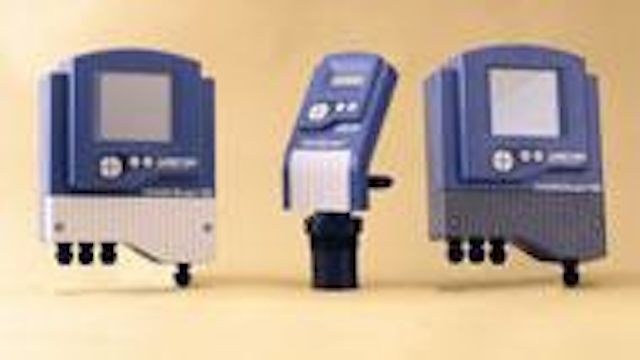 Click here to enlarge image
Ametek Drexelbrook has launched a new family of ultrasonic devices -- the IntelliScan™ and UniScan™ non-contact, ultrasonic level measurement instruments. The units deliver radar-like performance at an ultrasonic price and have the flexibility to measure liquids, solids and open channel flow. The UniScan also has the added benefit of being a 2-wire, intrinsically safe design. The instruments self adjust to virtually all types of conditions and environments and feature automatic ambient temperature adjustment. The same instrument can be used to measure liquids, solids, granular, slurry or open channel flow without needing to change the lightweight transducer. The units can provide accurate measurements (0.25% of measured distance) while automatically compensating for changes in ambient temperature and other variable environmental conditions.
Ametek Drexelbrook
Horsham, PA
Tel: 215-674-1234
Web: www.drexelbrook.com
Electrodeionization system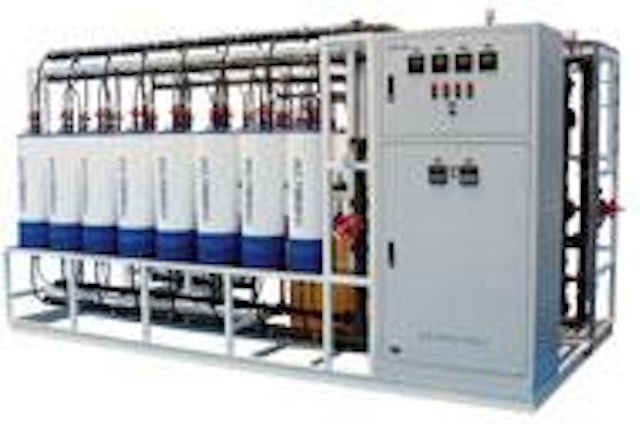 Click here to enlarge image
The Omexell™ EDI system uses a spiral-wound membrane that is sealed in a high strength FRP pressure vessel to optimize performance and maintain continuous product quality while eliminating the need for chemical regeneration. EDI is typically used to polish RO permeate and the module can produce up to 18+ MW-cm high-purity water with high silica and boron rejection. The modules are leak-free, fully serviceable, more resistant to hardness scaling, and require less energy consumption than conventional EDI devices.
Omexell, Inc.
Houston, TX
Tel: 713-973-9731
Web: www.omexell.com
Centrifugal pump sets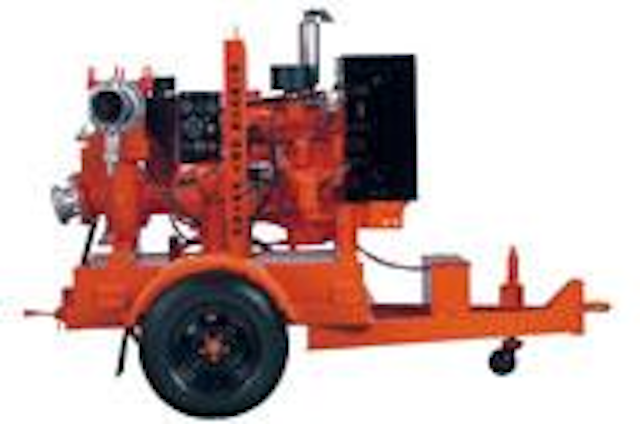 Click here to enlarge image
Godwin Pumps, manufacturer of Dri-Prime portable rental pumps, will promote its full line of pumps and accessories at Power-Gen International. The Dri-Prime – an automatic self-priming centrifugal pumpset available in sizes from 2" to 16" – has been proven in applications such as water intake structure cleaning; process and storm water bypass; dust control for coal piles, turbine flush, and temporary plant and fire water service. With maximum flows to 10,000 gpm, heads to 600 feet and solids handling to 5" in diameter, the pumps are capable of handling industrial sludges, oil, sewage, and storm water.
Godwin Pumps
Bridgeport, NJ
Tel: 856-467-3636
Web: www.godwinpumps.com
Heat tracing systems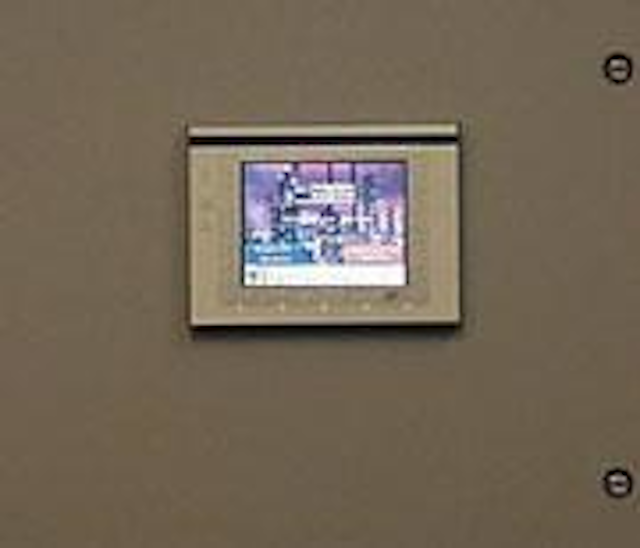 Click here to enlarge image
Nelson Heat Tracing Systems introduces the newest addition to its CM line of heat trace control and monitoring systems. The CM-3 Circuit Management System is PLC based and assembled from standard industrial automation products. By using standard automation platforms in its design, issues around equipment reliability, support and maintenance are greatly reduced over custom electronics and proprietary components. This system monitors electrical heat tracing systems for temperature, load current and ground fault currents with alarm functions for high and low temperature, high and low current, ground fault levels, ground fault trip, loss of supply voltage, sensor failure and processor/communications failures. All system information is available to the user through the standard color LCD touch-sensitive graphical interface.
Nelson Heat Tracing Systems
East Granby, CT
Tel: 800-406-9618
Web: www.nelsonheaters.com
System fabrication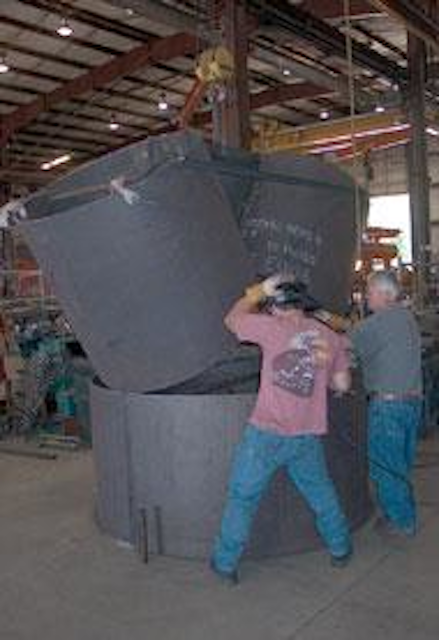 Click here to enlarge image
Azco provides shop fabricated piping assemblies for power projects located throughout the United States and Canada. With over 60,000 square feet of shop floor space, the company can provide a variety of fabricated power plant water systems. The fabrication division offers services in pipe fabrication, tank fabrication and custom plate assemblies. The company also fabricates circulating water piping, de-mineralized water piping and tanks, condensate systems spray headers, feed water systems and boiler blow down tanks.
Azco Inc.
Appleton, WI
Tel: 920-734-5791
Web: www.azco-inc.com
Mag-drive plastic pumps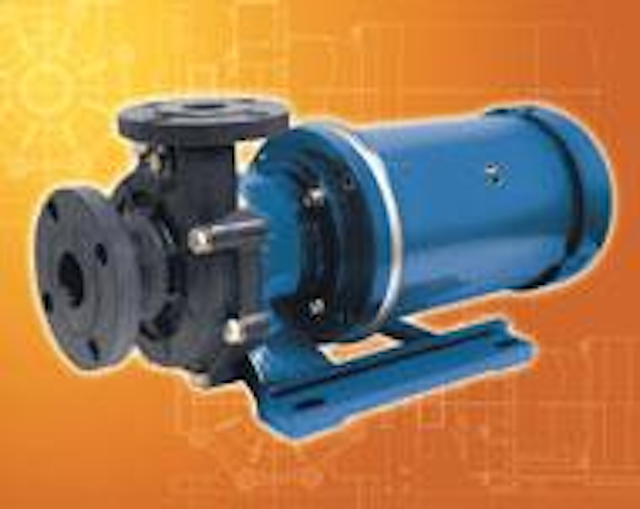 Click here to enlarge image
Immune to failure due to rust or corrosion, a new line of all-plastic magnetic drive pumps from Hayward Industrial are warranted against failure for two years of service. The new Webster Series R Mag Drive Pumps are designed to stand up to aggressive applications, such as corrosive and ultra-pure services found in the water industry. The pump has a sealless design that results in zero emissions and no leakage due to seal failure. The pumps are available single or three phase motors with horsepower ratings from 1/2 hp to 5 hp. Flow rates range from 5 to 140 gpm with maximum total dynamic head discharges up to 141 feet.
Hayward Industrial Products Inc.
Elizabeth, NJ
Tel: 908-351-5400
Web: www.haywardindustrial.com
Industrial radio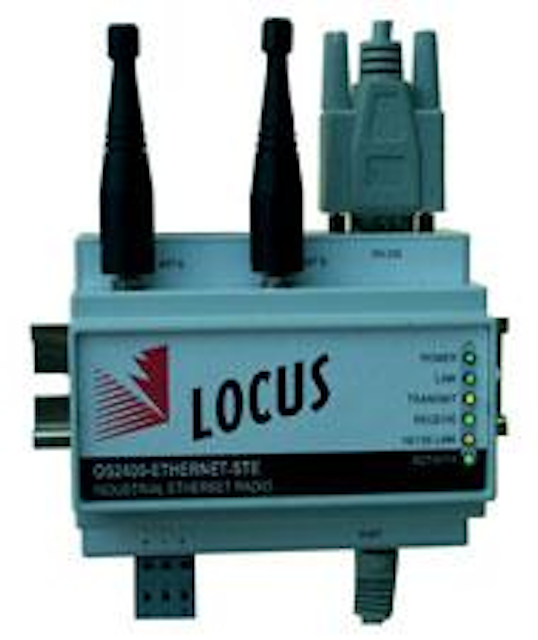 Click here to enlarge image
Locus, Inc. announces the development of new Serial-to-Ethernet functionality in its OS2400-Ethernet-STE industrial radio, which will allow the radio to communicate with legacy serial devices as well as allowing remote configuration of the radio. This new industrial radio contains a serial device server which establishes a transparent connection between a serial device and an Ethernet host. The STE radio processes data on its serial port, and redirects the data through the radio's Ethernet card. Water customers needn't rewrite or purchase new serial communication software for their applications.
Locus, Inc.
Madison, WI
Tel: 608-270-0500
Web: www.locusinc.com
Check valves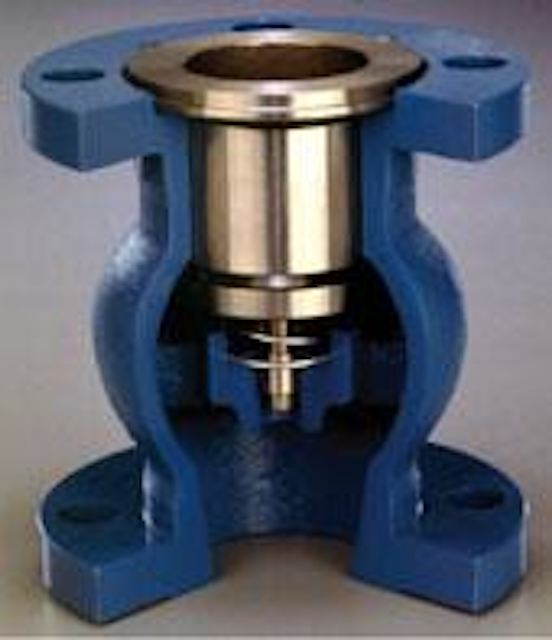 Click here to enlarge image
DFT in-line, spring assisted silent check valves can prevent water hammer and reverse flow, common problems for water-processing applications involving horizontal or vertical piping. The Check Valve Doctor™ provides three designs to meet power plant needs, the GLC, SCV and WLC. The GLC is a compact flange design for lines up to 24", the SCV handles threaded and socket weld lines 3" and under, while the WLC wafer design installs between flanges to 10".
DFT® Inc.
Exton, PA
Tel: 800-206-4013
Web: www.dft-valves.com
Pipe welding system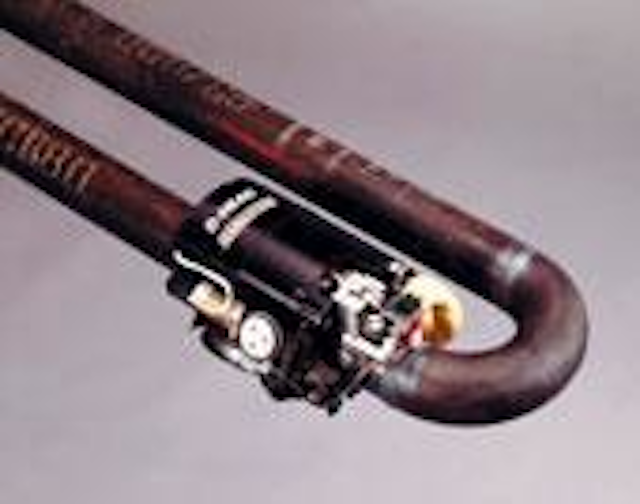 Click here to enlarge image
The Pipemaster Pipe Welding System, offered by Magnatech, is used for automation of pipe welding for pipe 1" and larger. The compact, GTAW process weld heads are designed for making multiple pass welds where the pipe cannot be rotated. The system incorporates a 300-amp power source with digital programming capability. Controls are provided for weld head rotation, arc voltage control, torch oscillation, and filler wire feed. The system is used for welding inlet water and steam piping. It has also been used for fabrication and field erection of desalinization facilities serving power plants.
Magnatech Limited Partnership
East Granby, CT
Tel: 860-653-2573
Web: www.magnatech-lp.com
Disinfection equipment
Chlorinators Inc. is the manufacturer of Regal Gas Chlorinators, sulphonators, ammoniators, dual cylinder scales, gas detectors, vacuum monitors and the SmartValves™ flow pacing valve for chlorine and sulphur dioxide. The equipment can be used in drinking water, process water and wastewater disinfection systems.
Chlorinators Inc.
Stuart, FL
Tel: 772-288-4854
Communication system
Elpro Technologies has released its 905U-G Ethernet Wireless Gateway product. This wireless product combines with the company's existing 905U Wireless I/O and Gateway products as part of its Wireless Instrumentation Backbone (WIB). The 905U wireless products enable wireless connectivity for I&C and automation signals using the 900MHz license-free spread spectrum radio band. The radio data protocol uses exception reporting, peer-to-peer addressing, forward error correction with ARQ handshaking, multi-path routing and security encryption. The 905U-G products interface to a range of data bus protocols - Modbus, DF1, Profibus, and now Modbus TCP, Ethernet IP, and TCP/IP including Internet and email functionality.
Elpro Technologies
Brisbane, Australia
Tel: 866-713-4409
Web: www.elprotech.com
Multi-parameter analyzer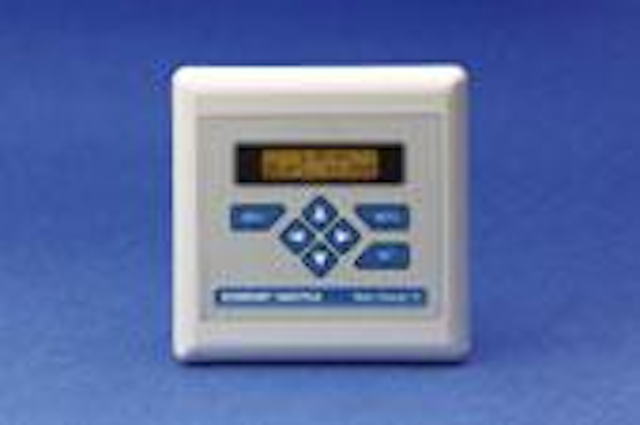 Click here to enlarge image
The Solu Comp II Model 1055 dual-channel, multi-parameter analyzer can be programmed to measure most combinations of two parameters in one economical instrument. The dual-input 1055 measures parameters such as pH, ORP, chlorine, dissolved oxygen, temperature, flow, ozone and conductivity. This mix and match capability reduces the cost per loop as well as the panel space requirement. The analyzer also includes three fully programmable alarms and a choice of enclosures for pipe, surface and panel mounting that meet NEMA 4X/CSA 4 (IP65) requirements.
Emerson Process Management
Irvine, CA
Tel: 800-854-8257
Web: www.raihome.com
Valve supplier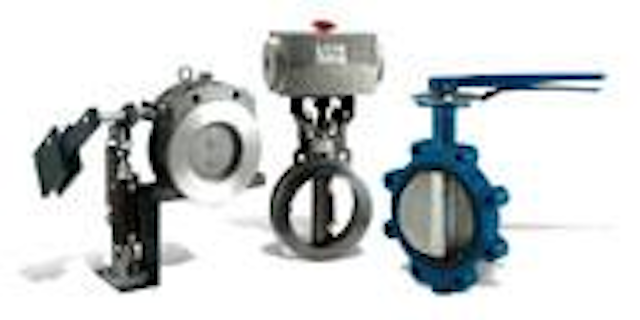 Click here to enlarge image
KF Contromatics offers a variety of valves, ranging from fully automated to hand operated. Products include butterfly valves from 2 1/2"-35"; rubber lined resilient valves from 2"-48", check valves from 2"-60" and a complete line of ball valves. Packages include a selection of operating choices from hand to pneumatic and electric systems. KF provides diverse materials of construction from standard to severe. Its swing style check valves are used in suction discharge pumping systems or wherever critical control of water or wastewater is required. They can be installed horizontal or vertical with media flow up. Its butterfly valves can be used in dead end service, liquids, gases, and slurries wherever positive shut-off is required.
KF Contromatics Industrial Products
Oklahoma City, OK
Tel: 800-654-4842
Web: www.contromatics.com
Scale control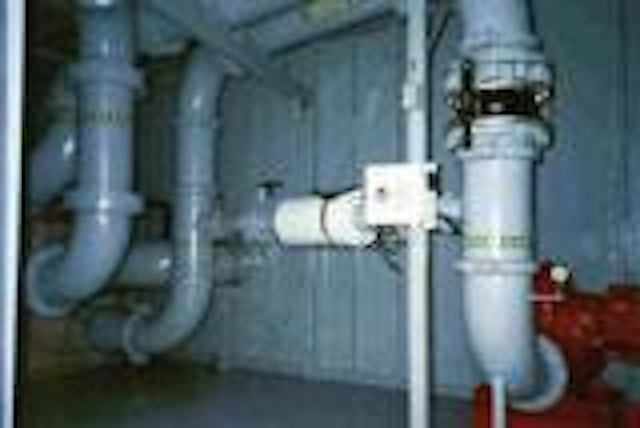 Click here to enlarge image
HRT Power provides a pulsed-power system for biological and scaling control. It is well established in water treatment that coagulation and calcium carbonate precipitation will result in microbial reduction. Under pulsed-power treatment, precipitation occurs in the bulk solution as a powder. These growing particles incorporate microbes and limit their growth. The cooling tower device uses coils to induce pulsed electric fields in the recirculating water. An adaptation of this technique, The Dolphin System™, which is being used on the open loop of cooling towers in many parts of the country, is offered as an integral part of the company's combustion turbine performance enhancement system.
HRT-Power
Houston, TX
Tel: 713-827-0001
Web: www.hrtpower.com
Water treatment system
USFilter is now offering the PowerMax Series, a complete line of equipment designed to convert surface, well or gray water into high-quality water suitable for use as boiler feed, NOx control or turbine fogging. The series also includes proprietary systems for steam condensate polishing. USFilter provides these systems on an equipment supply basis, as a complete turnkey project, or as a build-own-operate contract. Specifically designed for the power industry, the PowerMax Series consists of pre-engineered equipment to meet customers' pretreatment, demineralization and condensate polishing needs.
USFilter
Plainfield, IL
Tel: 866-953-4636
Web: www.usfilter.com
Storage tanks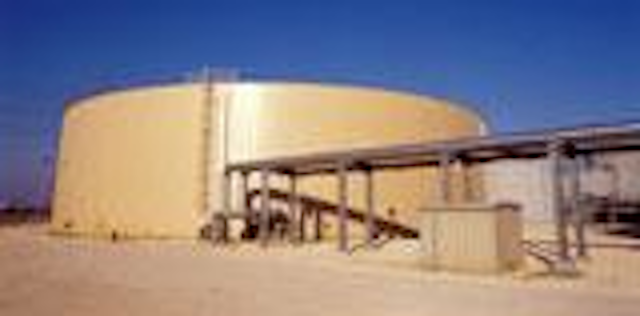 Click here to enlarge image
CB&I provides turnkey engineering, procurement/fabrication and construction of flat bottom tanks at power plants to store potable water, demineralized water, fuel oil and other fluids. The company's Strata-Therm® flat bottom tanks store stratified chilled water for Thermal Energy Storage (TES). When applied to power plant Turbine Inlet Cooling systems, the tanks reduce the capital costs and on-peak operating costs of mechanical water chillers. When applied to Combined Heat and Power (CHP) plants, they recover otherwise-wasted thermal energy for later use (e.g. via absorption chillers). The company has designed and built more than 160 chilled water storage tanks, and its optional SoCool® low temperature aqueous fluid allows stratified TES below 39°F.
CB&I (Chicago Bridge & Iron Co.)
The Woodlands, TX
Tel: 832-513-1000
Web: www.CBIepc.com
Rental containers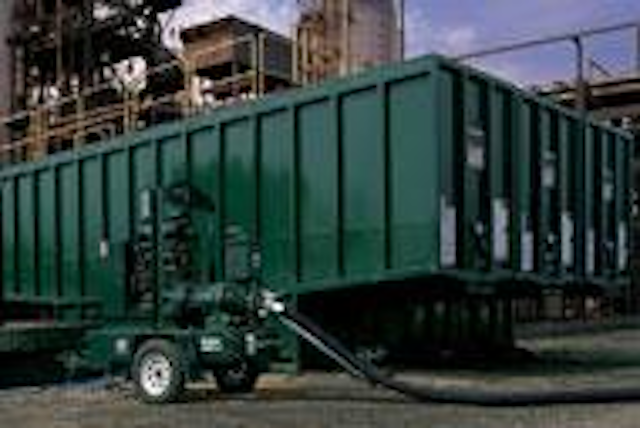 Click here to enlarge image
Baker Tanks is a rental company providing liquid and solids containment systems. Founded in 1942, the company inventories over 15,000 pieces of equipment with more than 17 varieties of tanks, roll off boxes, pumps, filtration and specialty equipment. The company provides solutions to an ever-expanding number of markets that including temporary onsite containment of waste streams during boiler chemical cleanings, plant sewer cleanouts and cooling tower maintenance projects.
Baker Tanks
Seal Beach, CA
Tel: 562-430-6262
Pumps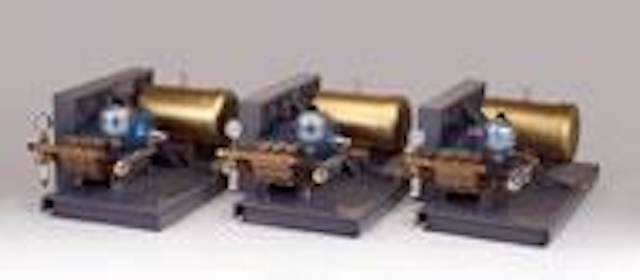 Click here to enlarge image
Cat Pumps' custom-designed Power Units continue to expand with new options and expanded performances. All sizes are available from portable units up to 200 horsepower, 320 gpm and pressure capabilities up to 7000 psi. Each Power Unit includes base, belt guard, electric motor, pump and accessories individually selected for the specific application. Optional gas, diesel, hydraulic drives, stacked bases or handle and wheels are also available.
Cat Pumps
Minneapolis, MN
Tel: 763-780-5440
Web: www.catpumps.com
Fluid flow measurement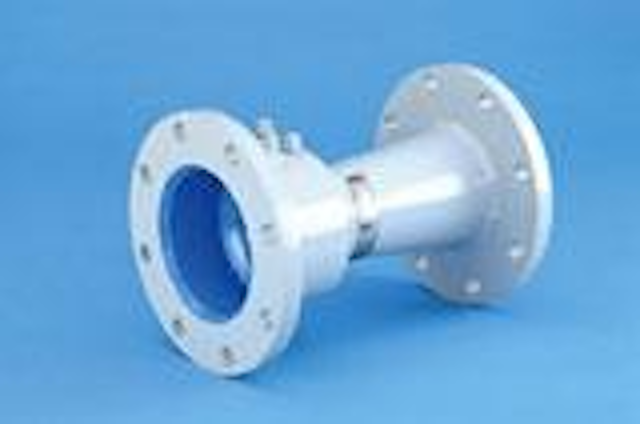 Click here to enlarge image
Wyatt Engineering designs and manufactures differential-producing flow elements such as venturi tubes, flow nozzles, orifice plates, and pitot tubes. These meters are used throughout industry for many fluid flow measurement applications. With both ISO 9001:2000 and PED/97/23/EC certifications, the company can supply these meters to a worldwide market. The highlighted product at PowerGen will be the BVT-U venturi tube, which offers a combination of high accuracy, rangeability, and high differential with low head-loss, for both liquid and gaseous flows. The meters are suited for use in cooling water, seal water, utility water, and wastewater flows as well as many other process applications.
Wyatt Engineering LLC
Lincoln, RI
Tel: 401-334-1170
Web: www.wyattflow.com
Collector wells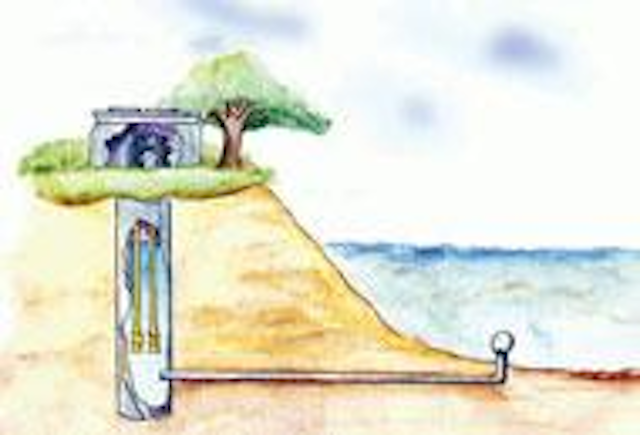 Click here to enlarge image
Collector Wells International develops water supplies from groundwater, surface water and infiltrated sources. The company constructs radial collector wells, infiltration galleries, recharge wells, outfalls, seawater collectors, surface water intakes and high capacity wells to develop cooling water for power plants. Its worldwide services include hydrogeologic investigations and design support. Intake yields per unit run from 1000 to over 100,000 gpm, with low screen entrance velocities to minimize screen plugging and impingement.
Collector Wells International, Inc.
Columbus OH
Tel: 614-888-6263
Web: www.collectorwellsint.com
Cooling tower supplies
Cooling Tower Depot (CTD) is a full service cooling tower supplier, providing a broad range of new and replacement cooling towers designed to meet the specific requirements of each project. The company also provides repairs, upgrades and replacement parts for all makes and models of existing cooling towers.
Cooling Tower Depot, Inc.
Golden, CO
Tel: 720-746-1234
Web: www.ctdepotinc.com
Web: www.ctdepotinc.com
Insertable magmeter
Marsh-McBirney's Multi-Mag insertable multi-electrode sensor is ideal for pipe sizes 4" - 120". An array of electromagnetic sensors are strategically located on the insertable probe that spans the entire pipe diameter. The insertable probe detects and compensates for shifting flow profiles. The streamlined sensor shape minimizes flow disturbances, thus providing minimal pressure drop. Ideal applications include potable water, raw water, water containing sand and grit or other debris-free applications.
Marsh-McBirney Inc.
Frederick, MD
Tel: 800-368-2723
Web: www.marsh-mcbirney.com
Sodium hypochlorite systems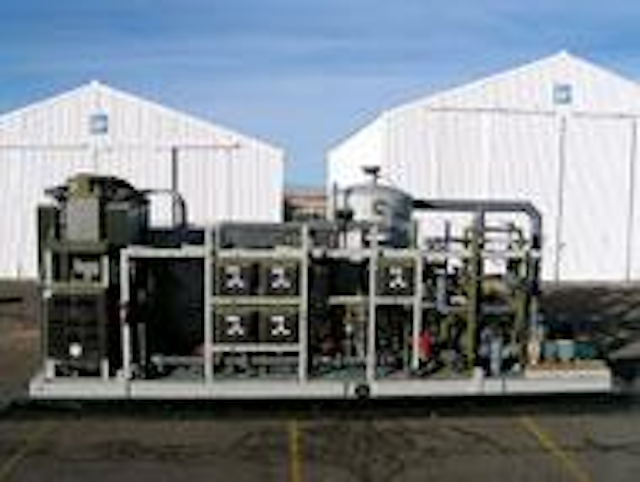 Click here to enlarge image
Pepcon Systems has been designing and manufacturing on-site sodium hypochlorite generators for over 30 years. Its electrolytic cells are installed worldwide for use in both onshore and offshore oil production facilities, power plants, desalination plants, and chemical plants for marine organism control, and wastewater disinfection. Systems are also available for potable water chlorination and odor control. Technological improvements to the company's electrolytic cell designs have culminated in the Pepcon Bipolar Model Cell.
Pepcon Systems Inc.
Cedar City, UT
Tel: 435-865-5045
Web: www.pepconsystems.com
Strainers, mufflers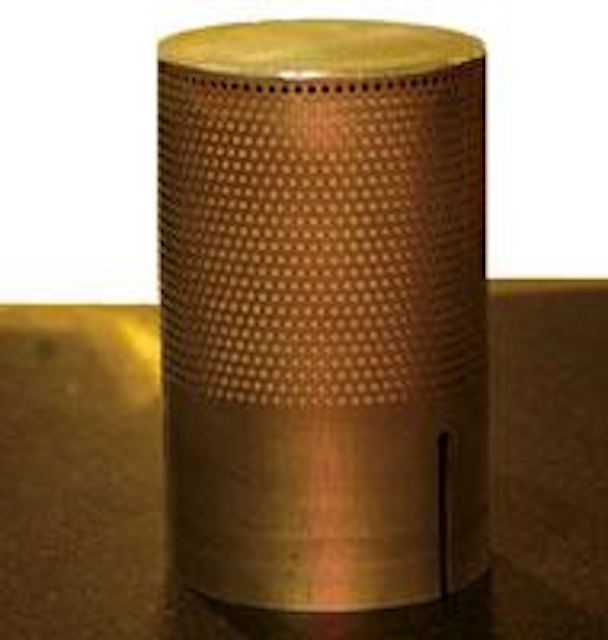 Click here to enlarge image
Federal Metals makes strainers, mufflers and other parts for the power generation industry. The strainers and mufflers are manufactured on a 40-spindle horizontal drilling machine, built in 1978 by the Moline Tool Division of Swan Engineering & Machine Co. It is the only drilling machine of its kind in North America, specifically built to manufacture strainers and mufflers.
Federal Metals, Inc.
Charlotte, NC
Tel: 704-588-7791
Web: www.federalmetals.us
Control valves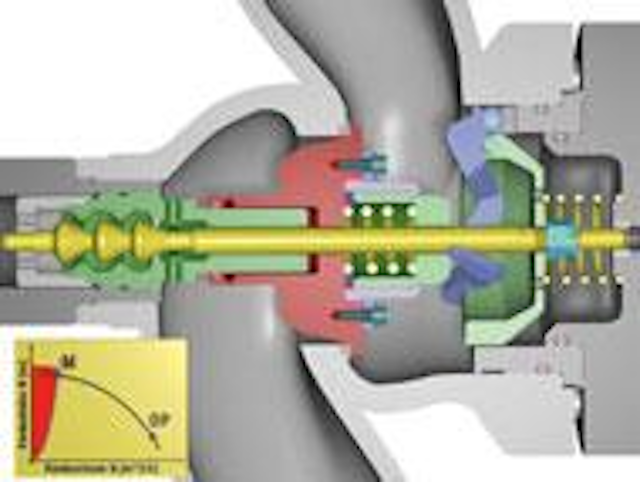 Click here to enlarge image
Holter Regelarmaturen GmbH (HORA) is one of Germany's leading manufacturers of control valves with more than 35 years of experience. The independent company specializes in the design and manufacturing of severe service valves in power plants, e.g turbine bypass stations, desuperheaters, pump protection valves and feedwater control valves. The company's minimum flow valves protect centrifugal pumps from possible damages caused by thermal and hydraulic overloads at low load operations.
HORA Holter Regelarmaturen GmbH & Co. KG
Tel: +49 (0) 52 07-89 03-0
Web: www.hora.de
Deaerators
Kansas City Deaerator Co. is a supplier of deaerators worldwide. Founded in 1989, the staff has over 100 years of combined experience. The company pioneered the integral deaerator design used on HRSGs industry-wide and has implemented numerous updates to the traditional deaerator design to meet the rigors of the current power market. KCD was also instrumental in re-establishing the HEI Deaerator Section and remains an active member today.
Kansas City Deaerator Co.
Overland Park, KS
Tel: 913-338-2111
Web: www.deaerator.com
Oil/water separators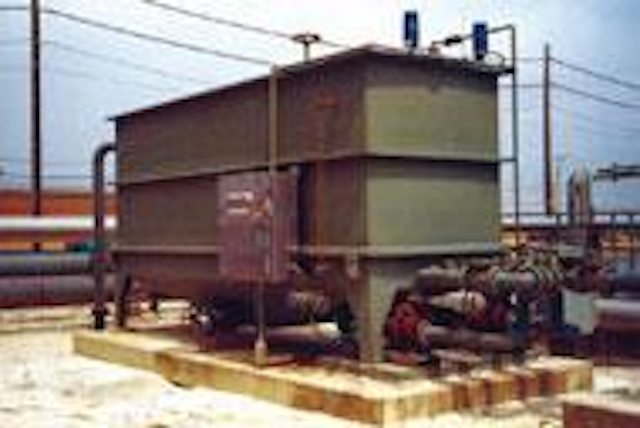 Click here to enlarge image
Hudson Industries designs and builds small to large volume atmospheric and pressurized coalescing oil/water separators for the treatment of low volume cooling and condensate water streams from power generation facilities. Using a unique coalescing material, the separators reduce free oil content to as low as 10 mg/l and can handle operating temperatures to 200°F and operating pressures to 350 psi. A wide range of options such as feed pumps and controls are available, as are materials of construction.
Hudson Industries
Akron, OH
Tel: 800-487-9668
Web: www.hudsonind.com
Level measurement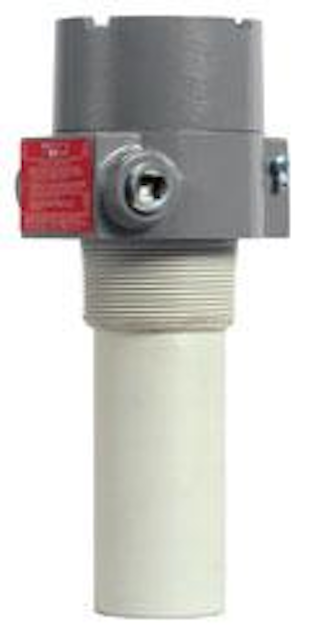 Click here to enlarge image
SOR offers a new two-wire non-contact ultrasonic transmitter, model U11. This product provides all the features of its four-wire ULT line in a low-cost two-wire version. The transmitter uses low frequency sound and a high power sensing signal with adaptive gain. It can be used in applications with steam, condensate, foam or dust. The transmitter features push-button programming, plain English menus, echo elimination and optional 2-way communications.
SOR Inc.
Lenexa, KS
Tel: 913-888-2630
Web: www.sorinc.com
Wastewater monitoring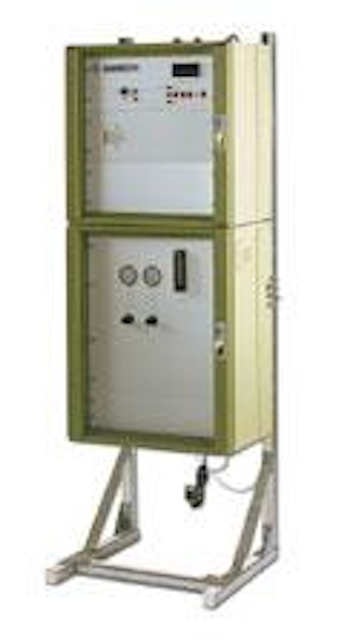 Click here to enlarge image
Ionics Instruments offers a variety of wastewater monitoring instrumentation. The company covers the on-line measurement of oxygen demand (TOD) with the 7800 TOD Analyzer, or direct measurement of organic levels (TOC) in effluents with the 6810 On-line TOC/TC Analyzer. Readings can be made to 100,000 ppm and above. For direct organics measurements, the company now offer continuous, on-line instruments for the three main types of oxidation technique - high temperature catalytic oxidation (HTCO) for the higher levels encountered in environmental work; UV and UV persulphate for pure and potable water supplies.
Ionics Instrument Business Group
Boulder, CO
Tel: 303-444-2009
Web: www.ionicsinstruments.com