Green Gardening: Program Hires Youth to Build Rain Gardens, Improve Communities' Stormwater Management
The Chesapeake Bay is expected to start seeing a reduction in pollution and an improvement in water quality thanks to a dedicated group of high school and college students who recently installed a large number of rain gardens on a variety of properties across Howard County, Md.
Nov 7th, 2013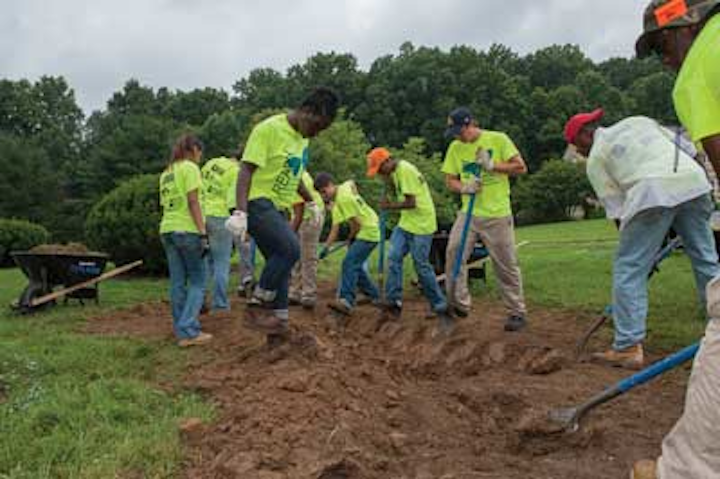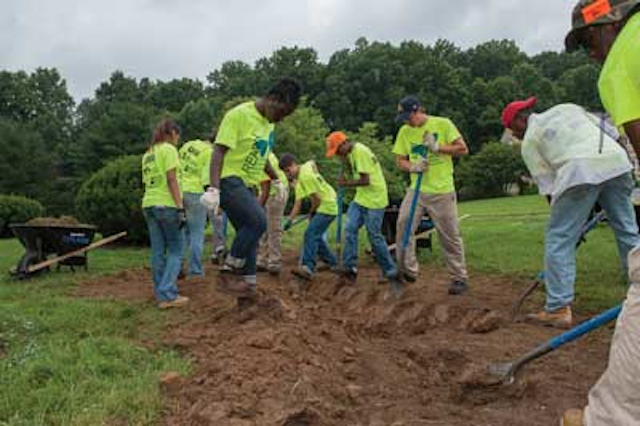 READY students constructing new rain garden at Franciscan Friars Provincial House, Ellicott City, Md.
Restoring the Environment and Developing Youth (READY) was created to help reduce discharges of polluted stormwater runoff into waterways leading to the Chesapeake Bay throughout Howard County, Md., through the use of rain gardens built by several young people employed by the program.
By Art Haddaway, WaterWorld Editor
The Chesapeake Bay is expected to start seeing a reduction in pollution and an improvement in water quality thanks to a dedicated group of high school and college students who recently installed a large number of rain gardens on a variety of properties across Howard County, Md.
The program, called Restoring the Environment and Developing Youth (READY), is a newly-launched eco-friendly endeavor that provides green jobs for young adults, aged 16 to 25, to help reduce polluted stormwater runoff from entering streams and rivers within the Chesapeake Bay watershed through the construction of rain gardens. The READY program is able to teach young adults the importance of environmental stewardship thanks to a partnership among Howard County, which provided grant funds; the Alliance for the Chesapeake Bay, which offered operational leadership; and the congregational community of People Acting Together in Howard (PATH), from which the concept stemmed.
This summer, around 45 students came together across Maryland's central county to build more than 40 rain gardens at a variety of non-profit locations, such as congregational grounds, schools and common areas of homeowner associations. The students worked up to 40 hours per week and were trained in how to design, install and maintain green infrastructure projects that help reduce stormwater runoff. Likewise, the program provided the students a unique opportunity to become more involved in their community and better the environment.
"What we'd like to do is turn out a bunch of passionate environmental stewards," said Don Tsusaki, the Alliance's project manager for the READY program. "It is possible to create meaningful green jobs for young adults who contribute actual benefits that meet the needs of protecting our environment, in particular those waters that reach the Chesapeake."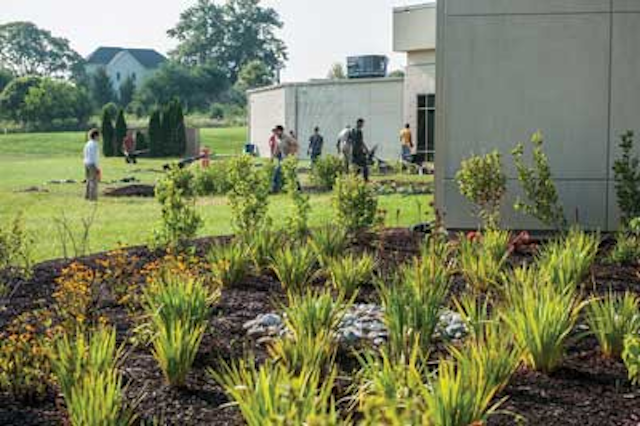 2012 READY rain garden (foreground), 2013 installation of two new gardens at Temple Isaiah, Fulton, Md.
In a video produced by the Chesapeake Bay Program discussing the details of the READY endeavor, one student shared her experiences about the project: "I learned a lot about stormwater runoff. I had no idea it was so bad and that we shouldn't be sending it to the Bay. Now I can tell other people about what I'm doing." Another student said, "I like working outside; it was something that was actually going to make a difference and more important than some of the other jobs I could have done."
Rain gardens are built in strategic locations where stormwater regularly flows, such as near a rooftop downspout, and are landscaped with scenic native plants and vegetation. During a storm, the gardens capture and redirect the first flush of rainwater runoff to be either percolated to recharge underground aquifers or filtered to feed the shrubbery on the surface. Not only do these conservational turfs help reduce the pollution of local waterbodies from these discharges, each rain garden also makes a small contribution toward minimizing the risks of flooding, improving overall public health and enriching the beauty of local communities.
"It really is a small way to recreate what was once a natural system before development of the land," said Tsusaki. "Back in the day, this whole area of Maryland was all forest, and now we've covered large parts with waterproof surfaces through urbanization. Fundamentally, stormwater is a man-made problem."
Accordingly, Howard County, along with other municipalities, is demonstrating how to care for and preserve its local communities "by capturing rainwater from roofs, driveways and parking lots then diverting that water into great-looking rain gardens where it can slowly soak into the ground, filter contaminants and keep quantities of clean water from going down the sewer system," said Sue Cubberly, program manager of Rain Garden Network. "They (rain gardens) really should be well planned and installed by a professional natural landscaper who can determine where gardens should be to solve stormwater overflow problems."
Tsusaki added, "When rain falls on, for instance, a forested area, most of the water absorbs into the soil. Rain that falls on impervious surfaces such as rooftops or parking lots cannot be absorbed. Rather, it runs off, commonly into stormwater drains, along with any fertilizer or sediment it picks up. Often the stormwater systems simply discharge into streams or rivers."
Last year, the program hired 31 young adults who installed over 30 rain gardens across Howard County and has since created more than 70 gardens treating around 300,000 square feet of impervious surfaces from roughly 750,000 square feet of drainage area. With that, Howard County and other surrounding communities have begun to better understand and experience firsthand the importance of utilizing rain gardens as well as the many benefits they provide.
"It's rewarding to be able to work with the community in that people start to see some results from what happens on their properties," said Tsusaki. "They get to see the useful work that's being done - so there's a big outreach component from this," Tsusaki said.
By coupling the demand for employment of young people with the incentive to help the community meet its stormwater management needs, the READY program has given a variety of youth the chance to not only develop green infrastructure but also to create new solutions and contribute their ideas and talents to bettering their local habitat in innovative ways. As such, this program has paved the way for them to pursue a profession in the environmental field. "I think the really neat thing here is that these young adults will start creating new kinds of career opportunities that we haven't even conceived of," said Tsusaki.
The READY program - with its dedication to help improve the welfare of Chesapeake Bay, minimize flooding and preserve public health, and involve the efforts of youth throughout Howard County - serves as an inspiring model for other localities looking to better manage their stormwater through the use of rain gardens.
"We'd like to continue creating more and more of these job opportunities for these young adults and continue increasing the size of the program," said Tsusaki, "and through this, it becomes a medium for conveying all this information out to a much larger base than just simply the people who are directly involved."
"The news about school and community gardens is growing, and funds are flowing for projects to begin," said Cubberly. "Just the fact that kids were involved, understood why they were doing it and worked hard to complete the task is a great example for thousands of municipalities."