Seeing Green: Green Infrastructure Pilot Provides Valuable Lessons for KCMO
Kansas City, MO, recently completed installation of a green infrastructure pilot project. Lessons learned during the project will help the city plan for the next phases of its program to use green infrastructure to help control stormwater overflows.
Apr 1st, 2013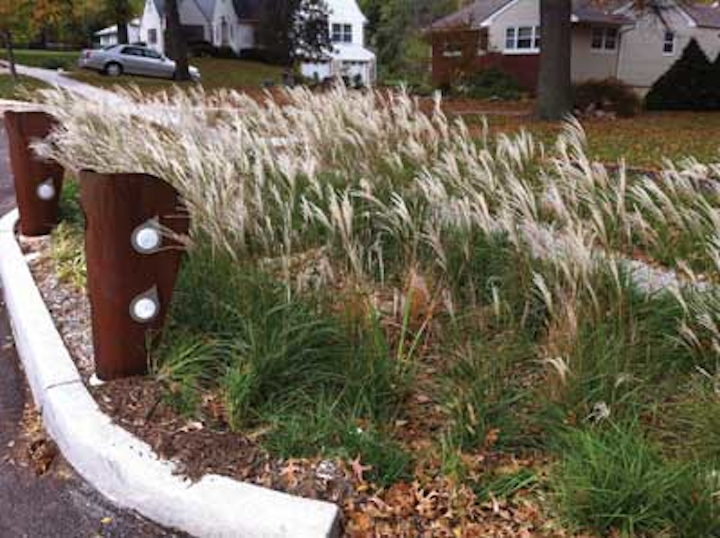 Kansas City, MO, recently completed installation of a green infrastructure pilot project. Lessons learned during the project will help the city plan for the next phases of its program to use green infrastructure to help control stormwater overflows.
By James Laughlin, WaterWorld Editor
"You can never communicate enough" was perhaps the most important lesson learned during installation of the Middle Blue River Basin Green Solutions Pilot Project in Kansas City, MO (KCMO). The pilot project includes approximately 150 individual green infrastructure units installed in the city right-of-way between the sidewalks and street in front of homes in the city's Marlborough neighborhood.
Neighborhood residents were encouraged to participate in the project from the very beginning, said Lara Isch, Education & Outreach Coordinator for the KCMO Water Services Overflow Control Program.
Before the project began, only part of the neighborhood had curbs and sidewalks. There were six linear blocks that had unimproved streets with no curbs. In some areas, there were sidewalks on one side of the street but they were below street level and carried stormwater during rain events.
Curb markers and a mix of native and ornamental plants have transformed this 75-year-old neighborhood in the heart of Kansas City, MO, into an appealing green solution for managing sewer overflows.
"There is no such thing as over communicating with your customers. The more we communicated, the better the process became," Isch said. "We tried to keep the neighborhood involved at every level, from planning through construction, and kept an open line of communication with the neighborhood and our project managers to voice opinions during the process."
Along with neighborhood residents, a variety of city departments and less obvious stakeholders were encouraged to participate. That helped streamline planning and construction.
"In one instance, with the gas utility, we were able to move up one of their projects to coincide with ours so they didn't tear up our green infrastructure a year after we got it into the ground," Isch said.
In 2010, KCMO entered into a consent decree that called for the city to spend more than $2.5 billion over 25 years to eliminate combined sewer overflows and reduce pollution in urban stormwater. The decree included provisions for the city to use natural or engineered "green infrastructure," such as green roofs, rain gardens and permeable pavement, as an alternative to traditional "gray" infrastructure to control stormwater flows.
KCMO's green infrastructure program is focused on the Middle Blue River Basin, which encompasses 744 acres and was divided into five project areas. In November, the city completed installation of the pilot project, which is located in an older, mixed-use residential and commercial neighborhood served by combined sewers.
Before installing the green infrastructure, KCMO conducted a complete rehab of the sewer system in the pilot neighborhood, cleaning and repairing as needed. A nearby neighborhood was left untouched, with no sewer rehab or green infrastructure, to serve as a control area.
"We wanted a clean slate when we started this to see how it was going to work," Isch said. "We found that we received more flow than we expected once we rehabbed the system because it wasn't going through cracks. We think this will give us a good idea of how that flow actually is occurring and how much the rain gardens are actually soaking up."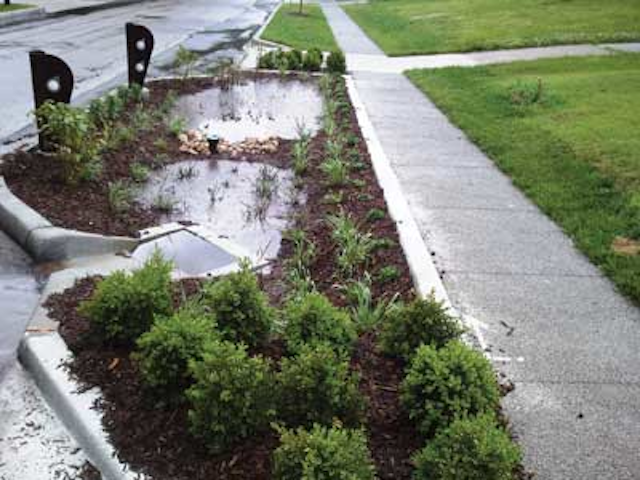 Kansas City Water Services recently constructed more than 150 green solutions, such as the curb extension rain garden and porous sidewalk pictured above, as part of a 100-acre pilot project in the Middle Blue River Basin.
The U.S. EPA and the University of Missouri–Kansas City have monitoring stations in the pilot area to track flow and the quality of the water in the gardens, Isch said.
The goal of the Middle Blue project is to replace two large storage tanks that would hold about 3 ½ million gallons of overflow with green infrastructure.
"Instead of building a storage tank at the bottom of the hill, and filling up that tank, we are going to build the storage in green infrastructure at the top of the hill, out in the neighborhood, and store that water before it ever gets into the pipes," said Ron Coker, vice president with Burns & McDonnell and manager of the Kansas City Overflow Control Program.
Green infrastructure in the first pilot includes rain gardens, bioretention gardens (some with underground storage), bioswales, rain cascades (a series of rain gardens designed to slow runoff down steeper slopes), porous pavement sidewalks and porous paver sidewalks. Street "bumpouts" help slow traffic and provide room for larger rain gardens.
Plant selection played an important role in the KCMO green infrastructure project, both from an aesthetic and functional perspective, said Terry Leeds, director of the Kansas City water services department.
Native plants, or hybrids of natives, were often selected because of their deep root systems, which help the plants survive droughts but more importantly improve infiltration when compared with shorter-root varieties.
"A bluegrass has maybe 3-4 inches of roots, while fescue may have 4-8 inches of root. But a native plant might have three feet to five feet of root structure," Leeds said. "The native plants really drive their root structure into the ground deeper, and that's what increases infiltration."
The green solutions are placed just upstream of a collection basin or inlet to collect and hold water during rain events. The fact that they needed to be installed in those specific locations was challenging at times.
"We can't pick and choose where these go based on which neighbors want them and which don't," Leeds said. And, too often, "it ends up in front of the house with five kids and six cars and then there is no street parking for them because we bumped out the street."
Maintenance Issues
Maintaining green infrastructure has been a new experience for the team involved in the Middle Blue project. Landscaping and plant growing typically fall outside the normal utility operator's experience. The pilot project is currently under warranty, so KCMO staff doesn't have to worry about plant replacement at this point, but it will eventually be the utility's responsibility.
"When you put in green infrastructure on such a broad scale it forces you think about things that may not have been apparent at the start," Coker said. "We had a very dry summer this year, which means we really had to water that green infrastructure until it could get established. These are native materials and we hope they are drought resistance and can be very self sustaining, but as this green infrastructure is newly planted and developing, we've got to make sure that it survives. It's stretching our thinking in many ways."
Aside from replacing plants, ongoing maintenance of the garden beds is a concern. Currently, a three-year maintenance contract is in place but the Water Services department expects to take over that work when the contract expires.
"We hired a landscape architect at water services to oversee the maintenance contract, and we are working with the parks department," Isch said. "They have a conservation corps that has maintained green solutions for them in the past. We are ramping up a green solutions maintenance team at this time based on the lessons the maintenance contract is teaching us."
All aspects of maintenance and upkeep are being documented to determine the time and effort involved, Coker said. His team is looking at maintenance both from a long-term cost and effort standpoint, but is also considering who might perform the maintenance.
"Is there a role for the neighborhood in green infrastructure maintenance? What's the role of the wastewater utility? How does it affect other city services that are in this neighborhood? Should we rethink how often we are collecting trash in this neighborhood?" he said.
Loose trash also becomes an issue as part of green infrastructure. All the green infrastructure units have a forebay designed to collect trash and sediment. They have to be cleaned out on a monthly basis both for performance and aesthetic reasons. As an example, in January the team collected a truck full of leaves that had accumulated in the rain gardens as a result of the large number of trees in the neighborhood.
Next Phases
For the next phases of the Middle Blue project, four design firms have been selected and tasked with providing innovative designs for green infrastructure. An independent panel will evaluate the designs with a goal of starting construction in early 2014. As part of its consent decree, KCMO is required to have all of the Middle Blue green infrastructure completed and in the ground by December 2017.
In the first phase of the Middle Blue project, KCMO restricted green infrastructure to the city right-of-way. That won't be the case in the next phases of the project, Leeds said.
"In the remaining 644 acres there are many more opportunities to use parkways, boulevards and other large green areas," he said.
"Another thing we are interested in seeing is whether there are vacant properties available. This first 100 acres was a more stable area than we first thought. As we move into the other 644 acres, the housing stock is lower quality and there are a lot more vacant houses and vacant lots," Leeds said. "Instead of building green infrastructure between the curb and sidewalk maybe we can peal it off and put it into a vacant lot and gain some economies of scale."
One of the major goals going forward is to derive multiple benefits from the investments made in green infrastructure, Leeds said.
"We sometimes focus on the problems with this type of project, but we've stabilized the neighborhood of 100 acres, and we've rebuilt the sewer system. In the long run we hope to see stabilized property values and perhaps see increased property values with this project," he said. "Being able to accomplish more than one thing with our investment to deal with the sewer overflow issue is a big positive. I think we will look at this as a success from that standpoint."
More WaterWorld Issue Articles
WaterWorld Articles Archives