Products & Services: Stormwater Treatment
Collection of stormwater treatment related equipment products and services.
Jul 1st, 2017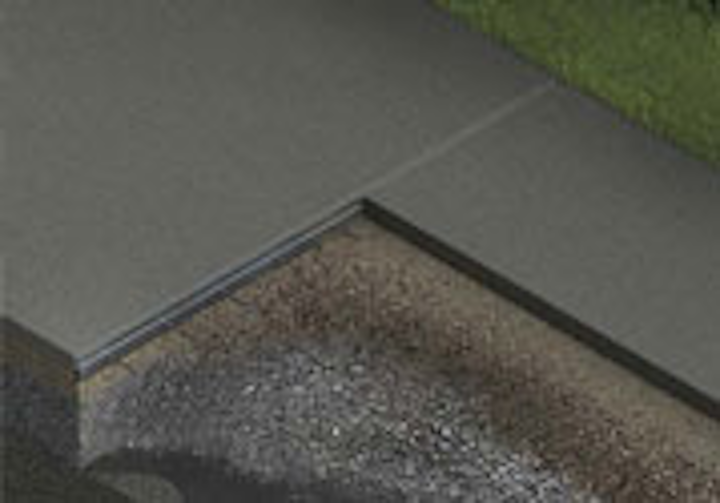 Sustainable drainage system

The d-Rain Joint Rainwater Filter Drain from Bio-Microbics installs and looks like a standard expansion joint used in concrete slabs, yet it provides a gap slightly smaller than 1" wide that allows water to flow through to subsurface drainage. Available in aluminum or in gray polypropylene, it comes in 8' lengths and can be installed in concrete or asphalt driveways, sidewalks, and other applications. The d-Rain allows drainage at 2 gallons per minute (gpm) per linear foot, up to a maximum of 5 gpm/linear foot. A replaceable filter keeps debris from entering the channel.
Bio-Microbics Inc.
Stormwater filtration
The Jellyfish® Filter is a stormwater treatment technology featuring pretreatment and membrane filtration in a compact stand-alone treatment system that removes a high level and a wide variety of stormwater pollutants. Ideal uses include commercial and residential developments; infill and redevelopment and retrofit applications; highways, airports, seaports and military installations; and pretreatment for Low Impact Development (LID), infiltration, and rainwater harvesting and reuse systems.
Imbrium Systems
Self-cleaning filtration
The Stormwater Management StormFilter® uses rechargeable, self-cleaning, media-filled cartridges to absorb and retain the most challenging pollutants from stormwater runoff including total suspended solids, hydrocarbons, nutrients, metals, and other common pollutants. The siphon-actuated, high-surface-area cartridges draw stormwater evenly through the filter media, providing efficient, effective stormwater treatment, while the self-cleaning hood prevents surface blinding, ensuring maximum media contact and prolonging cartridge life. The structures that house the StormFilter cartridges can be configured in a variety of ways to accommodate a wide range of flows, project-specific footprints, and variable hydraulic conditions.
Contech Engineered Services
Netting system
Stormwater runoff inevitably collects many pollutants and contaminants as it flows across impenetrable urbanized areas. TrashTrap Netting Systems from Storm Trap combine the natural energy of the water's flow with disposable mesh nets to capture and easily remove trash, floatables and solids from stormwater and wastewater. Three configurations are available: In-Line (structure is completely hidden from view, installed underground and upstream of the outfall); End-of-Pipe (utilized where the end of the collection system enters the water course); and Floating (performs like an End-of-Pipe system but floats in the water course).
Storm Trap
Clog-free pumping
When solid objects such as stringy fibrous material and modern waste enter the inlet of a conventional pump, they tend to get caught on the leading edges of the impeller vanes, reducing the impeller's efficiency and resulting in more unplanned callouts and increased energy consumption. Adaptive N technology, available now in Xylem pumps, overcomes this in two stages. The new Flygt 3069, equipped with this technology, is available with vortex and grinder hydraulic options, is flexible, and can be configured to be installed in four different ways to suit the application needs, including stormwater applications. This modular, adaptable design also reduces warehouse costs.
Xylem
Wet weather treatment
The AquaPrime™ cloth media filtration system from Aqua Aerobic is an effective solution for CSO, SSO and stormwater applications due to its proven removal efficiencies and high-quality effluent, even under varying influent conditions. The AquaPrime system utilizes a disk configuration with three zones of solids removal to effectively filter wet weather flows without the use of chemicals. The system is designed to handle a wide range of flows in a fraction of space compared to other treatment methods and offers simple startup/shutdown with unattended operation for remote locations. The system's flexibility also allows for dual use for tertiary and wet weather applications.
Aqua-Aerobic Systems