Stormwater Treatment Systems Help Improve Region's Water Quality
Wedged between Puget Sound and Lake Whatcom, the City of Bellingham, Wash., takes preserving its drinking water quality seriously.
Nov 1st, 2005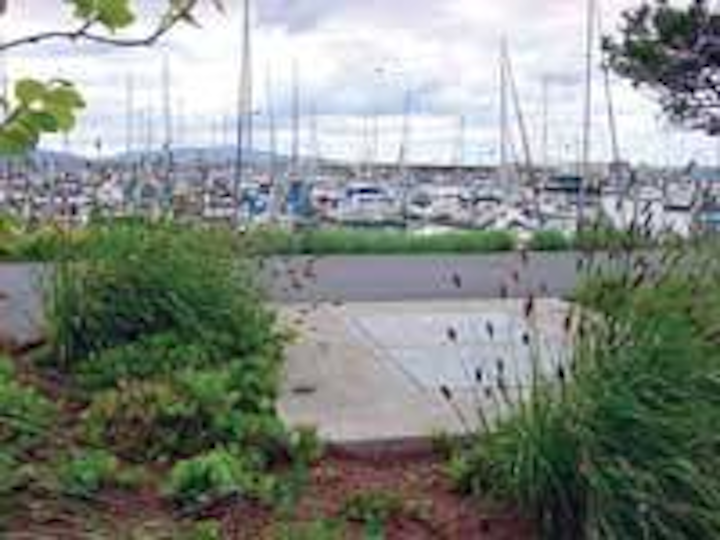 Wedged between Puget Sound and Lake Whatcom, the City of Bellingham, Wash., takes preserving its drinking water quality seriously. And it won an award for the effort. One reason for its seriousness is that the community of 90,000 depends on the 12-mile-long lake for its drinking water.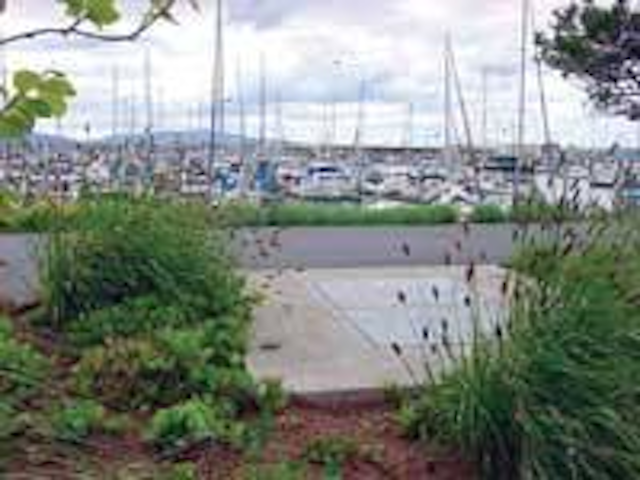 StormFilter blends into the environment at Port of Bellingham Marina.
Click here to enlarge image
Last spring, for its work on managing the stormwater runoff from a three-acre, asphalt-covered parking lot at Bloedel-Donovan Park, Bellingham won the Charles Walter Nichols Award for Environmental Excellence, a prestigious award from the American Public Works Association (APWA). The project used a novel mix of treatment methods to handle automotive runoff, contaminated bilgewater from boats and animal waste in or from the city's busiest park. This combination of pollutants posed a serious concern for water quality in the 5095-acre Lake Whatcom.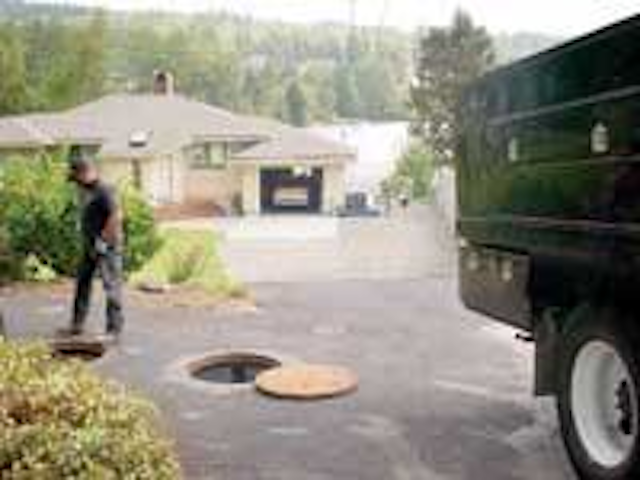 Work crew easily fits StormFilter retrofit into North Shore neighborhood in Bellingham, Wash.
Click here to enlarge image
The award-winning project used a stormwater filtration system, the Stormwater Management StormFilter®, to remove suspended solids, metals, phosphorus and entrained oils. The project also used systems that mimic nature. These "rain gardens" filter pollutant-carrying water though sand, soil and plants. In this case, pollutants are attached within the soil matrix, where plants stabilize and use components of the pollution in their growth.
Without treatment, rain washed the pollutants down the gently sloping surface directly into Lake Whatcom on the eastern border of the city. The Bloedel-Donovan Park project uses two rain gardens, two StormFilters, a sand filter and two infiltration galleries. The mixed system provides treatment for 99 percent of the parking lot surface, which serves hundreds of vehicles every day.
The $123,324 project was funded by the city's Storm and Surface Water Utility (SSWU) plus a small grant from Puget Sound Action Team. The mix of proprietary and nonproprietary stormwater solutions used at Bloedel-Donovan Park made the project more affordable.
"This project was a team effort to control pollution going into Lake Whatcom by improving the largest single parking lot in the watershed," said Kirk Christensen, Stormwater Engineering Manager for Whatcom County.
Watershed Management
Given the current and future population growth of Bellingham, the city has taken critical steps to proactively develop water management strategies that ensure economic vitality while, at the same time, protecting its water resources. The city's watershed planning long preceded the city's award.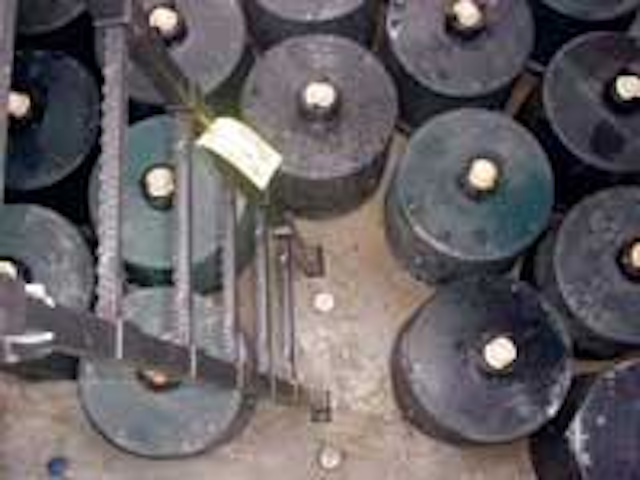 StormFilter cartridges filled with zeolite, perlite and granular activated carbon media remove total suspended solids and other pollutants.
Click here to enlarge image
According to Bill Reilly, Bellingham's surface and stormwater utility manager, in 1990 the Department of Ecology selected Bellingham as one of the cities that it wanted to work with to improve water quality. About that time, several of the outfalls from Lake Whatcom were shown to be contributing pollutants; and the lake became the primary focus for improving water quality. As a result of these concerns the city created a limited utility, the Storm and Surface Water Utility (SSWU), to collect fees from development. These fees were used to begin requirements for development controls and to fund the Watershed Master Plan for the city.
While this was a start, additional funding was necessary to meet increasing regulations and provide adequate capital and operation/maintenance plans. In 2001, the city allowed the SSWU to add a monthly fee for property owners.
Bellingham's watershed planners understood that pollution from urban areas is the most complex and difficult kind to control. They were particularly concerned with the Lake Whatcom watershed found directly east of Bellingham and covering about 37,000 acres. Forestlands cover 70 percent of the multiple use watershed. The lake provides drinking water and recreational uses, including boating, swimming, fishing and other activities. The city found that many of its existing stormwater systems around Lake Whatcom predated existing design and installation requirements and so did not meet current design standards.
Like many Washington communities, Bellingham has experience significant construction and development in the past several years. The clearing of land for buildings, parking lots, and landscaped areas has occurred at a rapid rate that forever changed drainage patterns. Rainfall from these surfaces runs quickly and directly into the areas streams, dramatically increasing their volume and peak flows.
The region's rainfall intensity varies dramatically, affecting runoff rates. Depending on pollutant concentrations, the time between storms and the volume of rain, runoff carries sediment and pollutants away at different rates. And so the pollution and sediment content of stormwater varies markedly from location to location and from storm to storm.
This makes it important to manage the stormwater runoff from both large and small storms, not only for flood control, but also to preserve a high-level of water quality. Just a small amount of stormwater runoff can carry large amounts of soil and pollutants. That's why, according to Reilly, the city looks at its projects annually to decide if any public construction work should include retrofits of its stormwater systems.
A roundabout at Kellogg Road and Cordata Parkway holds a StormFilter in the grass way.
Click here to enlarge image
By doing, so Bellingham public works has been able to include retrofits when it resurfaced roads, coordinated with private developers on subdivisions and even replaced water mains.
"Stormwater mitigation is a high priority for all public works projects," said Brian Dempsey, project engineer in Bellingham's public works department. "We're always looking at ways to improve stormwater runoff quality in affordable ways. It makes projects more cost-effective when we plan ahead yearly."
Stormwater Filtration
The city often uses a mix of natural and proprietary systems for stormwater treatment. The StormFilter system used on the Bloedel-Donovan Park project has been approved by the state's department of ecology, making it easier to design into projects. In January 2005, the StormFilter received a General Use Level Designation (GULD) for basic treatment from the State of Washington Department of Ecology. The filters are available from Stormwater360 (formerly Stormwater Management Inc.)
The system is the first and only stand-alone proprietary technology approved by the state for basic treatment. The system meets the basic treatment goals with influent particle size distribution ranging from silt to silt loam when individual cartridges perform at a flow rate of 7.5 gpm (specific flow rate of 1 gpm/ft2) using ZPG™ media. ZPG is a blend of zeolite, perlite and granular activated carbon. Before this designation, StormFilters were approved at the local level.
Regular maintenance of the StormFilter's media-filled cartridges will ensure continued effectiveness. Based on Stormwater360's experience with the 1,800 installations currently in the ground in Washington, the maintenance cycle is typically 12 to 36 months depending on site pollutant loadings and the use of preventative measures such as sweeping.
About the Author:
Michael Macnoskey, P.E., a registered civil engineer, is the Northwest Zone Manager for Stormwater360 (formerly Stormwater Management Inc.) responsible for commercial and industrial markets.