IT Factor: Managing Stormwater Runoff with Weather Forecasting and Decision Support Systems
Weather can have the single biggest impact on a utility's operations, and the increasing intensity and frequency of rainfall patterns - along with increasingly violent storms - is creating new challenges for water utility operators around the country.
Apr 1st, 2013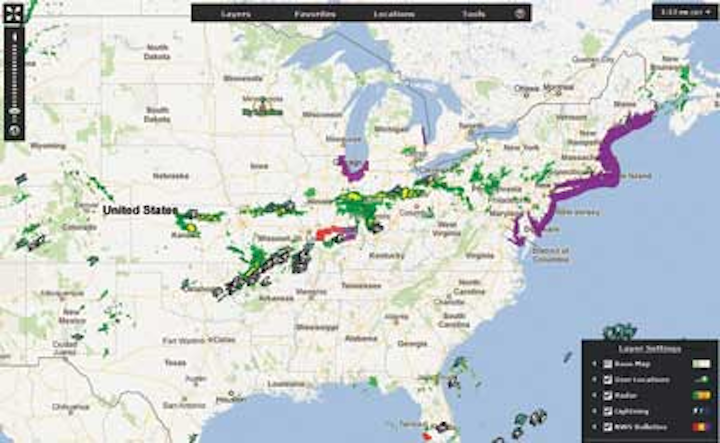 By Jim Foerster
Weather can have the single biggest impact on a utility's operations, and the increasing intensity and frequency of rainfall patterns - along with increasingly violent storms - is creating new challenges for water utility operators around the country. Since 1961, the number of extreme rainstorms producing three or more inches of rain a day has doubled in the Midwest, according to a study from the Rocky Mountain Climate Organization and the Natural Resources Defense Council.
Even after the drought of 2012, long-term changing weather patterns point toward an increase in flooding across the North American continent. Stormwater flooding is no longer a distant possibility for city managers, water utilities and public works employees. Rather, it is a distinct risk that demands preparation.
While each municipality and city must determine its own unique strategy to mitigate street flooding, optimize wastewater treatment plant operations, and reduce combined sewer overflows (CSO) based on its unique infrastructure and topography, the execution of each strategy depends on a common principle: accurate weather forecasts to aid in advance planning along with a capable monitoring system that provides instant access to critical information.
Weather Forecasting in New Orleans
The Sewerage and Water Board of New Orleans is the water utility serving every household in the New Orleans city limits. It is responsible for the typical utility operations such as water treatment, sewer operations and wastewater disposal, along with drainage operations. Due to the city's low elevations, rainwater must be pumped out through a network of drainage systems strategically placed throughout the city.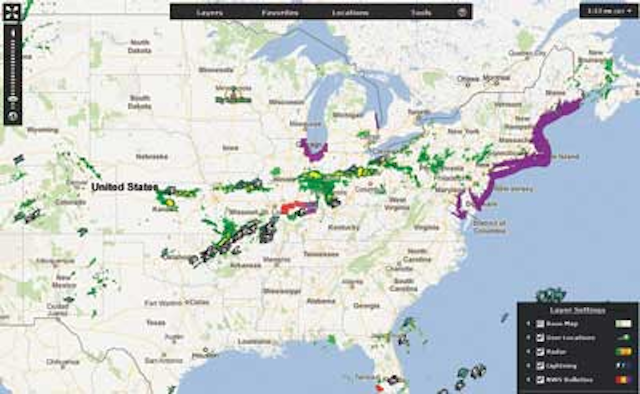 Schneider Electric offers clients an easy-to-use layered map, which allows them to conveniently add the weather layers of most importance to them.
According to Eric Labat, supervising power dispatcher for the Sewerage and Water Board, more than 90 percent of the rainfall that occurs in New Orleans requires some amount of additional pumping.
"We monitor intensity, we monitor movement, we monitor rates of rainfall, all in an effort to more accurately assess what our need will be," Labat said.
The drainage pumping system is run by power generated exclusively by the water utility, which requires an additional expense both for the operation of the equipment and additional personnel to monitor the activity. When running at full power, the city's systems have the ability to evacuate an inch of rain in the first hour and one-half of an inch for every hour thereafter. Accurate rainfall forecasts are vital to manage both costs and manpower to operate the drainage systems.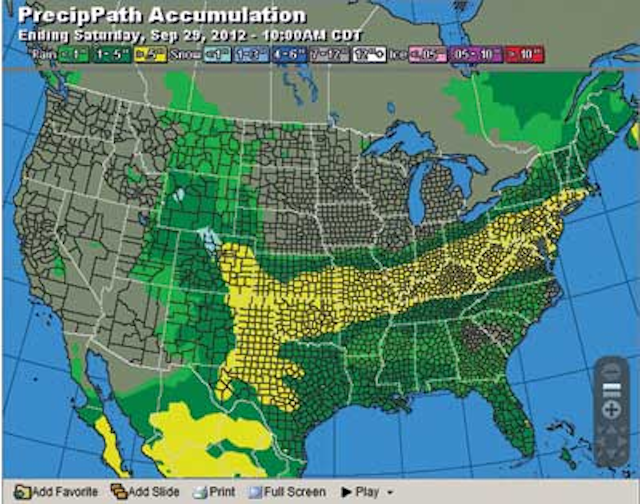 The Sewerage and Water Board of New Orleans watches radar 24/7 to track potential rainfall, which determines drainage needs and staffing.
The Sewerage and Water Board relies on weather forecasts from Schneider Electric's MxVision WeatherSentry® Water Utility Edition. Labat's team watches radar 24/7 to track potential rainfall, which determines drainage needs and staffing. Personnel remain on-call 24/7/365 to respond to weather-related emergencies - and almost any rainfall in New Orleans can trigger the need for pumping via the drainage system. Forecast accuracy is key in making the decision to bring in extra resources and start the pumping system.
"The topography is such that there is no natural runoff. Without the drainage system operating, the city would hold water," said Labat. "It's mandatory that the drainage pumping take place. The technology allows us to be much more accurate in determining additional resources that are necessary to meet our mission to the city of New Orleans."
Utilizing Decision Support Systems
Another tool used by utilities and public works employees is intelligent stormwater Decision Support Systems (DSS). The DSS helps utilities manage stormwater runoff proactively and effectively by combining multiple interconnected models to provide a complete view of the water runoff flow through the urban drainage system, accurately predicting the locations, extent and severity of flooding.
In addition to weather forecasts, a second critical component is a set of dynamic models. First, a hydrological model should reflect the land phase, or catchment, aspect of stormwater management, while accounting for the fact that saturated soils generate significantly more runoff than dry soils. This runoff model should also accurately predict the increase in flows in the storm drains based on precipitation and on the monitoring of detainment basins.
Secondly, the DSS should include a hydraulic model that not only models the connection between basins but also the potential for overflows and other predictable events when the system is operating both at capacity and over capacity. The hydraulic model simulates overflow water levels aboveground and flow rates in belowground piping systems that result from the runoff predicted by the hydrological model. This information identifies flooding and overflow locations, extent and severity.
Finally, the DSS should be complemented with real-time network measurements from field sensors located at pipes, pumps, valves, gates, weirs and other vital system operations points. When variation does occur between forecast and actual precipitation development, field sensors ensure that predictions are always adjusted immediately.
Schneider Electric's stormwater management systems are accessible through a visualization portal, where operators can choose relevant layers of data to be applied to mapping of their infrastructure. In state-of-the-art solutions, the model output, including sewer surcharge, CSO location, overflow values and other information, should be presented in a user-friendly graphical interface along with animated maps of flood-risk areas with flood extent, and alerts at locations where operational or safety limits are exceeded. The graphical interface should be designed in a way that allows operators to spot risks instantly.
The stormwater management solution should generate alarms whenever there is an impending overflow and provide guidance and recommendations for operating lift stations, retention facilities, treatment facilities and outfalls to prevent overflows. Because public works officials must be very mobile in their jobs, the most advanced industry solutions issue customized warnings and alerting services and can be accessed through both computer and smartphone web browsers.
Planning, engineering and training benefits
In addition to helping prevent and manage acute flooding, a stormwater management solution is a tool that can benefit the entire organization from operators to planners and engineers. The mathematical representations of the urban drainage network are not only useful to map severe threats but for planning and engineering organizations to properly design modifications and extensions to sewer and stormwater systems. The system is also useful in creating a cost-effective maintenance schedule for stormwater detention basins, wetwells and dry ponds.
Training and proper knowledge management are critical to the long-term success of public works organizations. Advanced stormwater management solutions support hypothetical scenario development and simulations based on historical data to prepare staff for a diverse set of possible risks and establish best practices in advance of real events.
Furthermore, using an integrated system for stormwater management and hydrology helps municipal agencies respect the strict safety and compliance regulations set by EPA, one of the main challenges facing the industry. Averting CSOs is not only a safety concern; by using these highly sophisticated tools, a utility demonstrates both to regulators and to the general public that it is proactively addressing its mandate to protect the community from CSOs.
But perhaps most importantly, flooding preparedness and stormwater management are critical elements of any community's crisis response plan. As cities prepare for changing weather patterns all over North America, they should look to leading real-time IT solutions and information providers for the necessary information to help all stormwater management divisions more efficiently plan for and accommodate stormwater runoff, helping them design a safer and more predictable future.
About the Author: Jim Foerster is the Senior Director of Product Management –Weather, Schneider Electric. Schneider Electric provides both industry-leading weather forecasting solutions as well as intelligent stormwater Decision Support Systems (DSS) to help water utilities plan for and anticipate stormwater runoff scenarios and inform city officials proactively and effectively on the impact of such events.
More WaterWorld Issue Articles
WaterWorld Articles Archives