Managing Stormwater One Parking Lot at a Time
In Western Washington, stormwater management isn't just good public policy: It's a vital component in protecting the economy and environment.
Aug 1st, 2012
By Dr. John Stark
In Western Washington, stormwater management isn't just good public policy: It's a vital component in protecting the economy and environment.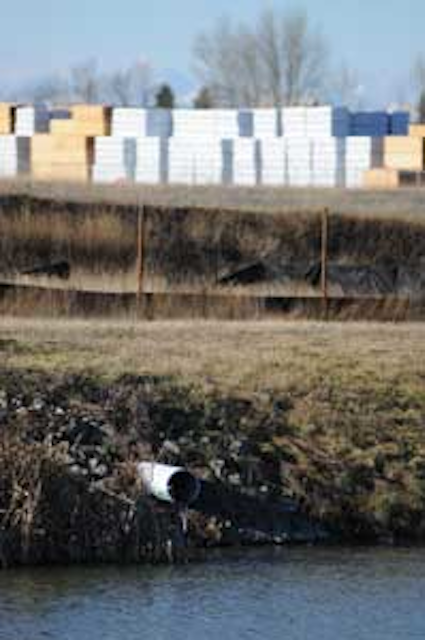 Stormwater runoff is a major cause of pollution in Puget Sound.
Over the past two decades, the region's population base has grown and moved further east into the Cascade Mountain watershed. With the subsequent housing and retail development comes a proliferation of impermeable concrete and asphalt surfaces.
Rain falling on these hard surfaces runs off into creeks, streams and rivers, all of which lead to the Puget Sound, one of the world's most beautiful — and most fragile — ecosystems. It's also an important asset to Washington State's economy. Salmon, whose life cycle is woven deep into nearly every stream and river in the state, is an engine of commerce and a marker of the health of an ecosystem.
Rivers and streams in Western Washington not only provide drinking water, nourish crops, and bring tourists to State and National Parks but also form the backbone of a multimillion-dollar sporting equipment industry headed by local companies like North Face and REI.
Because of the complex ecosystem of water, human population growth, agriculture and fishing in the state, scientists in the state of Washington are among the world's leaders in stormwater management. In Tacoma and Pierce County, universities are developing cutting edge strategies and technologies to mitigate the damaging effects of stormwater and human-created pollutants on clean water.
Washington State University
At the Washington State University (WSU) campus in Puyallup, 40 miles south of Seattle in Pierce County, our focus on stormwater wasn't just something we wanted to learn more about, it was something we had to learn more about.
The campus sits on a hilltop. In the past, rain would run off the hill over our parking lot, picking up automotive pollutants, airborne pollutants, and other waste products, and then dump them into a wetland. When that wetland flooded, it would stream into Woodland Creek, which runs near the campus at the base of the hill.
Woodland Creek runs into Clarks Creek, all the way to the Puyallup River and into Commencement Bay on Puget Sound. This tributary is a major salmon run for the Puyallup Tribe and with every drop of rain, our campus, built to aid the local agricultural community, was contributing to the decline of the entire watershed.
Trial and Success
We put our full attention to solving this problem. Quickly, we found very few off-the-shelf solutions existed to address our issue. We realized that however we decided to fix our runoff problems, it was going to have to be developed and created by us.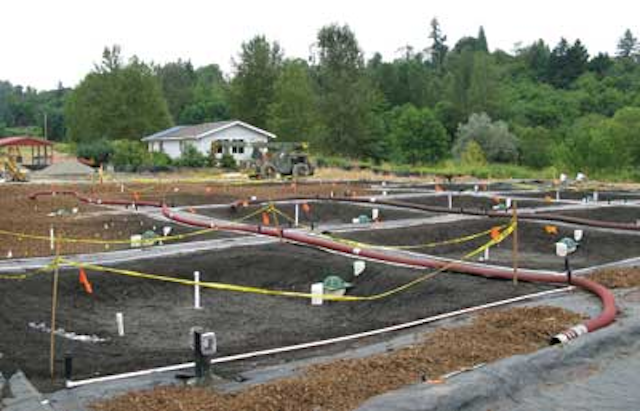 Experimental rain gardens test the effectiveness of plants and soils at removing pollutants.
First, we worked with the city of Puyallup to get a grant to stop the movement of water from our campus to the wetland. We then retrofitted our main parking lot with one section composed of porous asphalt and the other pervious concrete. We tested each material for its ability to infiltrate stormwater into the soil and reduce runoff into the wetland. Our parking lot, once the source of creek flooding below, suddenly became a valuable testing laboratory.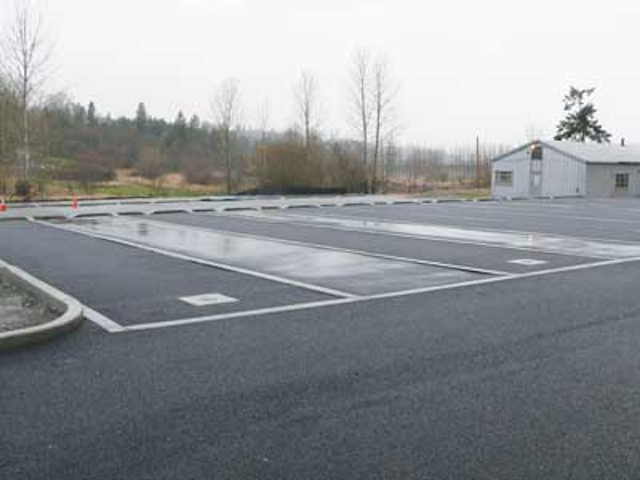 Two sections of the main parking lot were retrofitted with different types of cover: porous asphalt and pervious concrete.
It worked. Stormwater stopped running off into the adjacent wetland. We had found success dealing with runoff quantity; next we addressed quality.
Experimenting further, we built two types of raingardens, one to test the ability of different types of soil mixtures to reduce common stormwater pollutants, and the other to test the effects of different plant mixtures on pollutant removal. These raingardens are real-world sized and easily replicated to enable us to conduct valid scientific studies on these systems.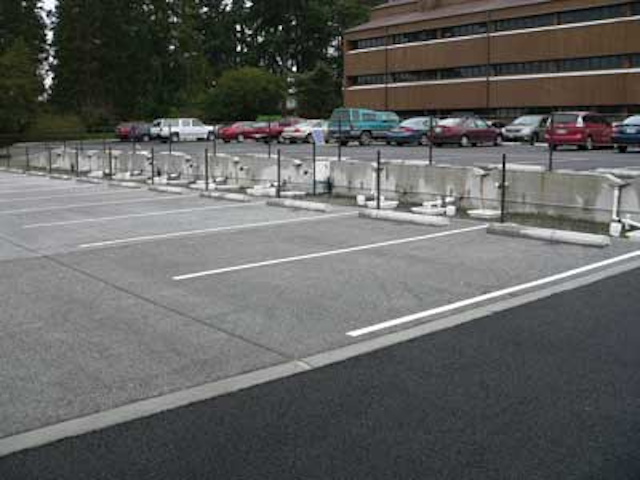 Special equipment monitors the performance of the permeable pavement.
Growing with the Times
The containment of stormwater from our campus coincided with the urbanization of our region. Puyallup was losing its agricultural heritage in favor of suburban and industrial development. So the WSU campus, which was established in 1894 to aid local farmers, shifted focus to meet a changing environment. Today, WSU Puyallup focuses on water quality and human health, with an entire program devoted solely to Low Impact Development (LID) Stormwater Research. Curtis Hinman, a WSU Professor, is the lead scientist on the LID project.
Over time, we built partnerships with the National Oceanic and Atmospheric Administration (NOAA) and the U.S. Fish and Wildlife Service. Salmon was the key.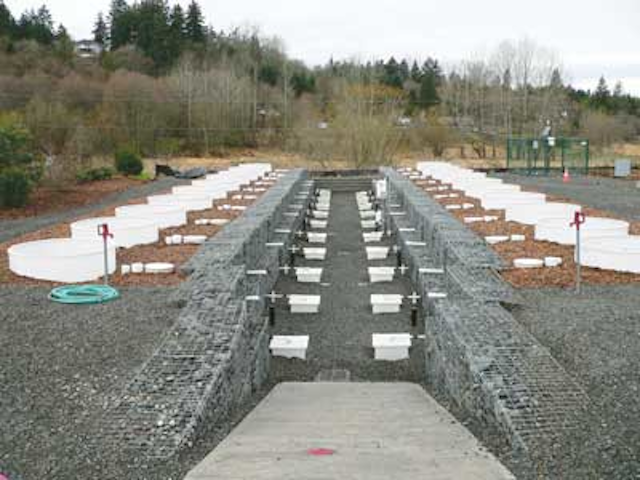 Monitoring equipment charts the pollutant removal capability of various soils.
We believe the health of this vital fish is a barometer indicating the total health of the fragile Puget Sound ecology. If we prevent the negative effects of stormwater on salmon as well as other fish species, we will improve the overall health of Puget Sound.
And because Puget Sound is, for our purposes, a complex, living laboratory, we can bank knowledge here that can be used anywhere stormwater impacts the environment.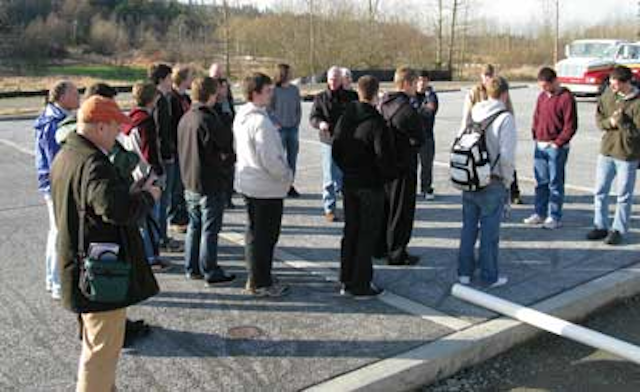 Community college engineering students learn about LID from lead scientist Curtis Hinman.
The first step was to focus on the entire watershed — from melting glaciers to Puget Sound — instead of individual streams or creeks. But WSU couldn't do it alone, so we teamed up with Western Washington University, the University of Washington–Tacoma (UWT), and the Center for Urban Waters, a collaboration of scientists, analysts, engineers and politicians from UWT, Puget Sound Partnership and the city of Tacoma.
Together, we are working on developing a watershed perspective for stormwater management.
Since no two ecological sites have the same, identical issues, we plan to develop different, personalized mixtures and plant protocols for different sites. As we continue to test stormwater runoff through our separate test systems, we will find out if the plants, porous asphalt, and soils have had an impact on removing different classes of pollutants, including metals, polyaromatic hydrocarbons (PAHs), nutrients such as nitrates and phosphorous, pesticides, and other chemicals. We will then create a set of protocols that other municipalities, states or nations can easily follow.
The results of our work thus far have been intriguing — so much so that we are seeing a significant increase in visits from representatives of foreign countries, particularly large population centers in the Far East.
The message is clear: If we look at stormwater management at the 30,000-foot level, from the perspective of the whole watershed instead of specific sites along the full continuum, then we can make impactful progress in eliminating the harmful effects of stormwater in urban environments.
Clean water is already a troubling challenge throughout the world. It will only get worse. It's far too important a resource to let run off into streams and rivers carrying harmful pollutants. In Western Washington, along a vital water corridor from the mountains to the sea, we are learning how to capture stormwater, clean it and infiltrate it into soil where it, once again, becomes an asset to our lives and world.
About the Author: Dr. John Stark is the Director of WSU Puyallup Research & Extension Center. He is also the Co-Director of the Washington Stormwater Center, and an ecotoxicologist who specializes in ecological risk assessment of threatened and endangered species.