Products & Services: Management Software & Systems
Collection of management software products and services.
Dec 1st, 2015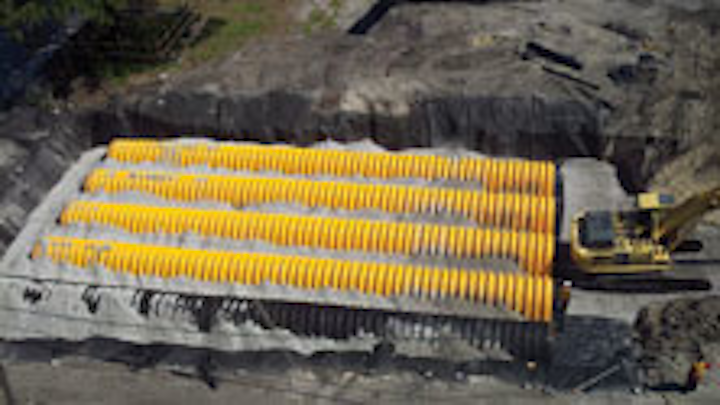 Stormwater software
Advanced Drainage Systems (ADS) has announced a new online program for designing and estimating the cost of a stormwater system constructed with its StormTech Chambers. Available for free on the company website, the ADS StormTech Design Tool enables engineers, owners and contractors to design customizable underground stormwater management systems. The flexible tool provides the ability for site-specific applications and can be accessed and used through multiple platforms, including smartphones, tablets and other mobile devices. System designs are produced in both PDF and CAD formats.
Advanced Drainage Systems Inc.
Stormwater drawing program
CULTEC has released StormGenie v.2.5, the newest version of its automated drawing program. StormGenie is a convenient AutoCAD plug-in tool used by engineers, contractors and landscape architects to quickly create preliminary stormwater system proposals and final designs and generate project-specific drawings for the company's Contactor and Recharger stormwater chambers. The generated drawing is fully functional and can be modified and incorporated into existing plans.
CULTEC Inc.
Partnership program
Through Neptune's Connected Utility Partnership Program™(CUPP), a water utility can leverage data from the N_SIGHT™ software suite, sharing critical information across several departments and systems. Using pre-authenticated application programming interfaces, Neptune and its CUPP partners make it simple to share AMR/AMI data with work order systems, customer portals, hydraulic modeling applications, and more. Learn how to increase efficiency, productivity and profitability with Neptune's CUPP offering.
Neptune Technology Group
Asset management suite
Oracle Utilities' Work and Asset Management software efficiently manages asset lifecycles, streamlines maintenance operations, maximizes supply chain performance, enhances safety, and improves regulatory compliance. The latest iteration of the solution helps water utilities better leverage assets and their data for mission-critical activities including investment planning, enterprise business management and risk reduction. Further, it includes an embedded analytics feature that helps utilities automate data-based tasks and continually improve work planning and scheduling to get more done with fewer resources.
Oracle Utilities
SCADA software
The new release of InduSoft Web Studio v8.0 offers unique, enhanced IoT and interface capabilities for use on a variety of smartphones and tablets, as well as unparalleled revision control and application lifecycle management. Studio v8.0 adds a new runtime, called IoTView®, compatible with operating systems Linux and VxWorks. Allied to the current runtime editions, such as InduSoft Web Studio, EmbeddedView, and CEView, IoTView provides even more scalability to design solutions with InduSoft Web Studio for deployment on any platform.
Wonderware, by Schneider Electric
Drives, controllers
The Drives & Motion Division of Yaskawa has announced three new motion control products - the MP3300iec machine controller, MotionWorks IEC version 3 software, and VIPA SLIO system. Each of the new devices is designed to improve the performance of automation systems and compound the improvement in system effectiveness when used together. MotionWorks now automatically configures VIPA SLIO modules that are added to the network, relieving programmers of the tedious task of manually entering a system's I/O data into operating software.
Yaskawa America Inc.
Ultrasonic water metering
AVR has unveiled its new line of flowIQ® electronic ultrasonic water metering solutions for commercial and residential measurement. The company is working in partnership with Kamstrup to introduce the technology, which guarantees pinpoint accuracy over the lifetime of the meter, ensures low lifetime costs and maintenance-free meters, identifies and reduces water losses in near real-time, and helps customers conserve water and lower their bills. AVR's Kamstrup flowIQ meters have no moving parts, so they are resistant to wear and water impurities.
AVR Utility Billing
Software
Giswater is an open-source project software created to share knowledge in the sectors related to water supply, sewerage systems, urban drainage, and the investigation of flood risks by acting like a linking platform between hydraulic simulation software, spatial database and geographic information systems (GIS) software. Giswater connects water simulation programs to a powerful GIS interface and lays the foundation for full management of water supply systems, sewerage systems, drainage networks, and rivers using web map services, SCADA or customer relationship management systems.
Giswater
More WaterWorld Current Issue Articles
More WaterWorld Archives Issue Articles