Green Infrastructure BMPs for Treating Urban Storm Runoff: Multiple-Benefit Approaches
Underground stormwater systems have long been a part of urban settlement. Out of sight and out of mind, conventional storm drainage systems have been viewed as an essential component of urban infrastructure and a necessary precondition for development.
Jul 1st, 2007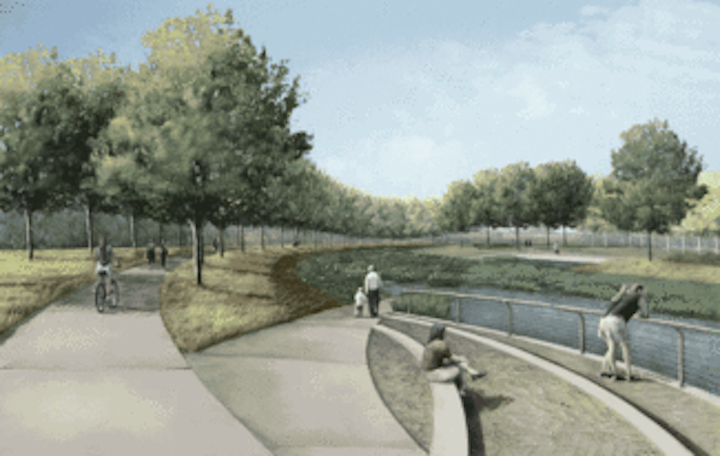 By Bill Wenk
Underground stormwater systems have long been a part of urban settlement. Out of sight and out of mind, conventional storm drainage systems have been viewed as an essential component of urban infrastructure and a necessary precondition for development. These systems have been designed to support a single function: to convey storm runoff away from developed areas as quickly as possible, minimizing the risk of flooding and property damage.
Within the past two decades, however, the increased regulation of urban stormwater quality has prompted a rethinking of conventional systems, which are designed ultimately to manage water quantity, not quality. "Green infrastructure," or landscape-based approaches to reducing runoff volume and removing certain pollutants through surface treatment and infiltration gardens, have become increasingly popular and a significant feature of the contemporary urban landscape.
In contrast to conventional storm drainage systems, these approaches, or best management practices (BMPs), often serve multiple functions and provide multiple benefits, such as improving water quality while providing recreational opportunities, improved wildlife habitat, or aesthetic value. Well-known examples of facilities that provide multiple benefits include:
stormwater gardens, which provide amenities in residential, commercial and retail settings while cleansing pollutants and reducing demands on potable water for landscape irrigation;
infiltration areas, which provide for groundwater recharge;
natural areas that can reduce runoff volume while enhancing wildlife habitat;
passive park areas, which can provide for infiltration and/or extended detention.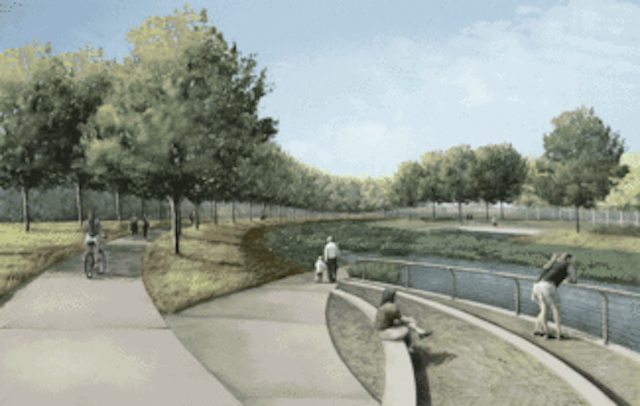 Click here to enlarge image
Communities have begun to recognize the value that these multiple-benefit BMPs can bring, such as encouraging public acceptance, adding value, and allowing an investment of public infrastructure dollars to be leveraged for additional community benefits. When BMPs are viewed as an asset beyond their functional role in cleaning stormwater, there is a greater potential for long-term success and viability because of their aesthetic, recreational, or habitat value.
Beyond BMPs
Still, some progressive communities have begun to move beyond site-specific applications to consider how multiple layers of BMPs can be combined to give form and aesthetic quality to an entire community while performing intended water quality functions. A community's "civic framework" includes elements of the public realm that serve to enhance its quality of life. For example, public spaces, plazas, parks, parkways, and streetscapes that connect, unify and enhance the image and livability of the community can be described as a civic framework.
The following examples illustrate how stormwater systems can be viewed as part of a community's civic framework. Examples include both naturalized settings and highly urbanized environments.
New Communities
At the largest, subwatershed scale, new communities have been planned and designed around the stormwater system, with a network of public parks and greenways fully integrated into that system. Existing stream corridors are often used - and "daylighted" where they had been previously buried - to define districts and neighborhoods, or to separate different land uses. To varying degrees, traditional subsurface piping is minimized.
This scale of community planning is often described as "smart growth" or "low impact development" site design, where maintaining predevelopment hydrology is a stated goal of community planning and is implemented through a hierarchy of stormwater management facilities ranging from consolidated detention to surface conveyances and on-site BMPs. Examples include: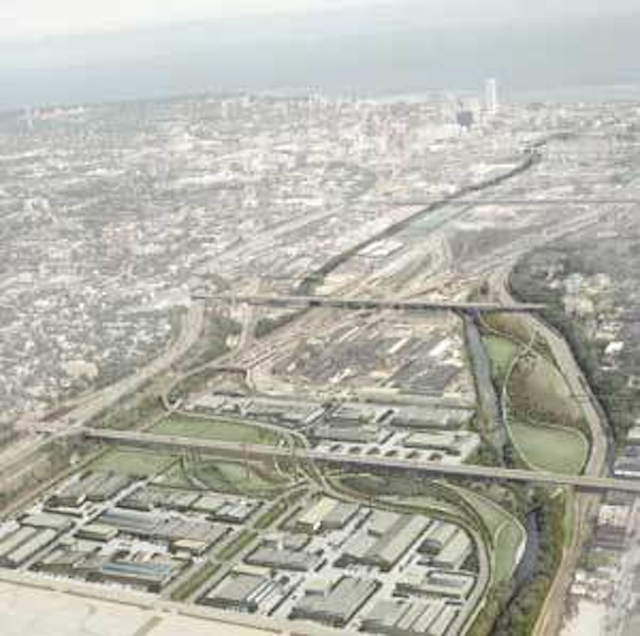 Menomonee Valley redevelopment.
Click here to enlarge image
Stapleton Airport new community: A mixed-use, mixed-density, new-urbanist community has been under development for the past 15 years on the 4,500-acre former site of the Stapleton airport in central Denver. The stormwater system emphasizes surface conveyance and treatment on individual sites as well as in consolidated regional facilities. Westerly Creek, a large urban drainageway that had previously been conveyed in a concrete culvert underneath the airport, has been daylighted as a major park amenity for the community.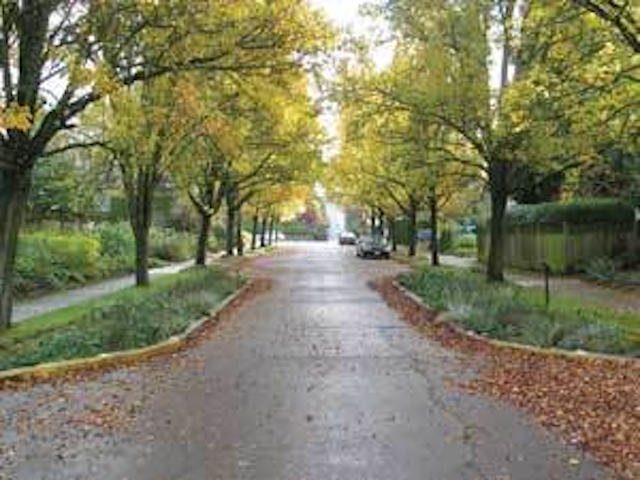 Portland's Siskiyou Street.
Click here to enlarge image
Prairie Trail new community: A new mixed-use community in Ankeny, IA, near the Quad Cities, is being planned around a park and greenway network that also treat the community's stormwater. As part of the planning effort, comprehensive design guidelines have been developed to incorporate landscape-based stormwater management into both public and private development projects.
Both projects illustrate multiple use of consolidated regional facilities to create naturalized open space and planned communities where open space areas typically include 25% or more of the community's land area. Both demonstrate effective use of surface conveyance and a range of well-known and widely used BMPs at scales ranging from regional to individual sites.
Retrofits and Infill Redevelopment
Retrofitting existing urban areas to meet water quality requirements and infill redevelopment in highly urbanized areas present special challenges. On-site, consolidated stormwater treatment facilities can compete for space with programmed recreation areas and more traditional landscapes. The following projects illustrate innovative approaches to retrofitting:
Heritage Park infill residential: In central Minneapolis, redevelopment of an 80-acre parcel as a mixed-density residential neighborhood was organized around two parks linked by a parkway that served dual functions of recreation and stormwater management. The parks and parkway link the neighborhood to the city-wide park and open space network. A hierarchy of stormwater treatment and conveyance, from privately developed and maintained stormwater gardens on individual sites to consolidated treatment BMPs, create a variety of landscape types.
Menomonee Valley redevelopment: The 140-acre redevelopment of abandoned railyards illustrates how a brownfield site within an existing floodplain can be redeveloped using on-site and consolidated treatment. Consolidated treatment is incorporated into park areas that offer recreational opportunities for adjacent neighborhoods and serve as a centerpiece for a developing light industrial area that provides jobs to surrounding neighborhoods. Treatment on individual privately owned parcels is limited to the removal of larger sediments, making more land available for development.
Portland's Siskyou Street: This retrofit project in an existing historic neighborhood in the city of Portland, OR, demonstrates how traditional stormwater systems can be adapted to provide for water quality. Existing city streets have been retrofitted to incorporate landscape infiltration areas in each block to treat runoff.
Prairie Trail new community.
Click here to enlarge image
Potsdammer Platz: This increasingly well-known project in the heart of Berlin, Germany, illustrates the potential for stormwater treatment in the densest urban environments by incorporating treatment into building systems and architectural pools that function as the centerpiece of a series of urban plazas.
Conclusion
The project examples described and illustrated here include both well-known approaches to the design of BMPs and innovative adaptations of sound engineering practice to provide for stormwater treatment in a range of urban contexts. Although the implementation of water quality facilities is important at all scales, current practice tends to emphasize on-site treatment with the implementation of individual BMPs. Although this approach may be sound science and engineering, it can result in a fragmented urban landscape with limited aesthetic appeal or civic value. An approach that integrates a linked hierarchy of BMPs that range from the tertiary to the regional, with a stronger emphasis on consolidated treatment, has a greater potential to realize the civic value of a stormwater system that is fully integrated into the city's urban fabric.
About the Author:
Bill Wenk, FASLA, is Founder and President of Wenk Associates Inc., a Denver-based landscape architectural firm. For over 30 years, he has been influential in the restoration and redevelopment of urban river and stream corridors, the transformation of derelict urban land, and the design of public parks and open spaces. He is currently serving as a member of a committee evaluating the effectiveness of stormwater quality regulations for the National Water Science and Technology Board. Since 1982, Wenk Associates has provided site planning and landscape architectural services to clients across the country. The firm is especially well known for pioneering work in integrating natural systems and processes into urban settings; in exploiting the functional and aesthetic capabilities of surface stormwater systems; and in restoration or adaptive reuse of abandoned or damaged landscapes. For more information, visit www.wenkla.com.