University of Iowa researchers design, build model storm sewer system
Model is largest of its kind in the world.
Nov 18th, 2016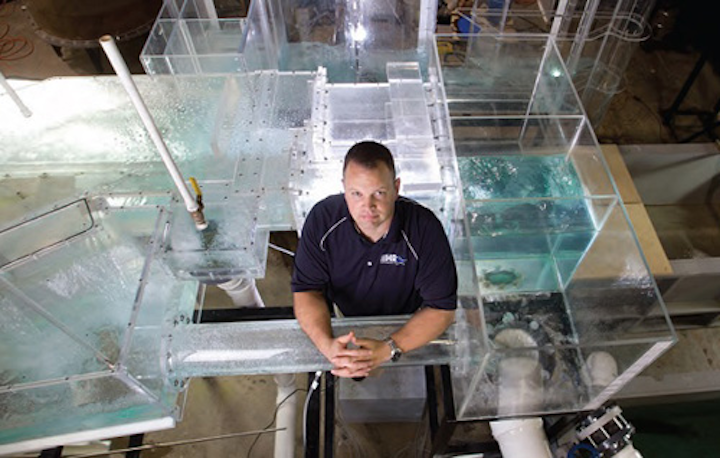 Brandon Barquist with one of the many models constructed under his supervision in the IIHR Mechanical Shop. Photo: University of Iowa/IIHR
IOWA CITY,NOVEMBER 18, 2016 -- This week,University of Iowa researchers unveiled a model of a deep sewer tunnel it constructed for the city of St. Louis. The model, planned to be the largest of its kind in the world, is constructed to hold stormwater during high flow events.
The design is part of the Project Clear sewer district improvement plan for St Louis, and the model is one-16th of the size of the planned system. The focal piece of the model is a vortex dropshaft, designed to reduce the air in sewer systems by swirling the water around a vertical tube before dropping it into another chamber. The dropshaft will be 20 feet in diameter once completed, and the system will be capable of handling about 4.4 billion gallons of water per day.
The new system is expected to significantly improve water and wastewater systems issues in the St Louis area.
Read more here.