Stormwater Management: Program Honors Past, Present
For many municipalities, chronic flooding can be a constant concern for the community, and alleviating its threats to water quality, commercial activity, and residential life is paramount.
Dec 1st, 2007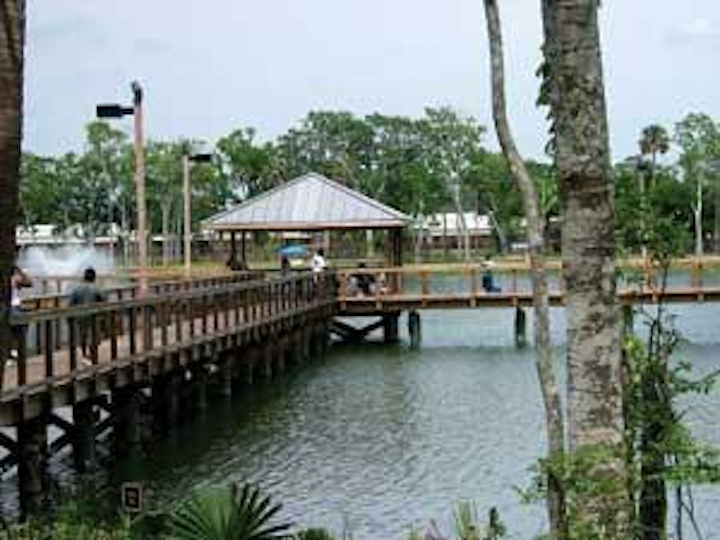 By Michael F. Schmidt
For many municipalities, chronic flooding can be a constant concern for the community, and alleviating its threats to water quality, commercial activity, and residential life is paramount. However, when a flood control initiative coincides with additional environmental and social challenges, it takes keen design and implementation to deliver an across-the-board solution.
"Improving flood management is a challenge in itself," said David Prah, a project and design manager with CDM (Denver, CO). "But for the Nova Road Canal watershed in the city of Daytona Beach, retrofit improvements were further complicated by an existing schoolyard and a newly discovered Native American archaeological site-all in the same project area."
CDM assisted the city in identifying a strategy to enhance the existing stormwater management system while beautifying the grounds it served. To reduce flooding, CDM developed a stormwater model to predict peak stages and flows that affected residential and commercial areas during severe weather and identify the flood storage, treatment, and size of stormwater pipes and control structures necessary to contain floodwaters and meet acceptable levels of service.
"Careful coordination and a big-picture perspective complemented the city's goals for an aesthetically pleasing setting," said Michael Schmidt, CDM vice president and project director.
The design incorporated a large pond that extended to the local school's property as well as to the recent historical find. Construction of the management system split the pond in two, connecting it by 2,350 feet of box culvert and a precise outfall control structure.
"For this design, we surrounded the pond with a park that includes a walking trail, an elevated boardwalk, three fountains, and a learning center for the archaeological area-all of which are now frequented by students, walking clubs, and those interested in the park's historical significance," Schmidt said.
The 25-acre pond, which serves a 640-acre residential area, proved successful during tropical storms in the recent hurricane season. In addition, wetlands around the pond's perimeter provide habitat for fish, turtles, and wading birds. As an added benefit, CDM developed a specification for the project's excavation contractor to reduce costs in exchange for pond borrow material, reducing construction costs from $7 million to $4.7 million.
"CDM has provided us with innovative engineering to address a multitude of concerns-from public amenity to educational, environmental, and social interests," said Nancy Cook, city stormwater engineer. "The city staff and our residents are extremely pleased with the lake and park."
The project recently received a Florida Institute of Consulting Engineers Award.
This project is the completion of a multiphased component of the city's Stormwater Master Plan (SWMP) program, which began in 1987. The SWMP and Stormwater Utility were developed over a two-year period, from 1987 to 1989, in order to address existing flooding and water quality problems, identify fair and equitable development criteria to avoid future problems, and provide a sustainable funding source for the planning, system operation and maintenance, and capital improvements needed to deliver the desired Levels of Service (LOS) for flood control, water quality, and aquifer recharge.
In addition to Samuel Butts pond and park, the city continues to implement projects from the SWMP including:
Exfiltration systems on the barrier peninsula to reduce stormwater discharge volume and pollutant loads;
Replacement and rehabilitation of initial phases of the Bay Street and South Street outfall systems, which consist of 50-year-old corrugated metal pipes that are experiencing structural failure, including coordination with FDOT;
Replacement of and upgrades to various culverts and bridges;
Land acquisition for the various projects in the SWMP;
Continued coordination with Volusia County for additional phases of the 11-acre North Street stormwater detention pond to increase storage for further flood stage and pollutant load reduction while developing another community park;
Design and permitting of the 9-acre North Street and Mark Avenue stormwater detention pond to reduce house flooding and coordinate with local redevelopment;
Development of Manatee Island Park as part of a Halifax River-front redevelopment.
Most recently, CDM updated the 1989 SWMP and is developing stormwater reuse options for the city to reduce demand of potable water for irrigation by augmenting the city's wastewater treatment plant reuse flows as part of a holistic water resource program for the city. uwm
About the Author:
Michael F. Schmidt, P.E., BCEE, is Vice President of CDM, a consulting, engineering, construction, and operations firm headquartered in Cambridge, MA.