Products & Technologies
Jul 1st, 2007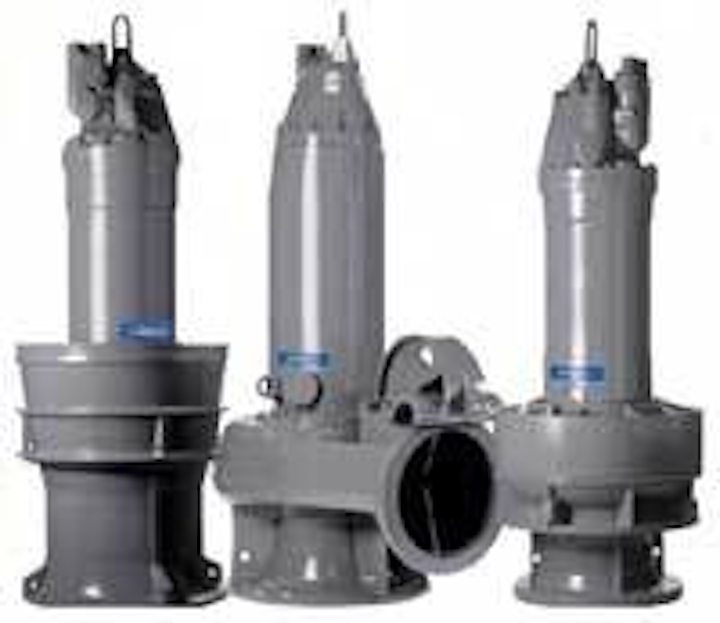 Stormwater pumps
ITT Flygt is a leading supplier of heavy-duty electric submersible pumps used for the control of stormwater, the pumping of wastewater and groundwater. The company offers a complete range of centrifugal type, propeller type and mixed-flow type pumps with motor sizes from 3 hp to beyond 1,250 hp and flow rates from 50 gpm to 100,000 gpm per pump.
ITT Flygt Corp.
Tel: 203-380-4700
Web: www.flygtus.com
Stormwater management
GEOtivity's goal is to provide urban centers with proactive stormwater management tools that allow preventative action to be taken before the storm has even arrived. To this end, the company has developed its Virtual Rain Gauges. The gauges combine live weather surveillance radar data with site rain gauges to produce predictions of storm events. Alarms can be created based on these virtual rain gauges to warn of impending storms. Sewer flow can then be diverted to other routes, thereby preventing overflows.
GEOtivity
Tel: 866-722-3261
Web: www.geotivity.net
Water level logger
The new Levelogger Gold is the next generation of Solinst water level loggers. It offers a higher resolution and accuracy of 0.05% for a reduced price. The logger has improved transducer, temperature, and clock accuracies. Altitude, water density, temperature and barometric compensations also add to the major jump in accuracy. New user-selectable recording scheduling as well as the standard event-based and linear sampling are just some of the added features. Battery life is 10 years, even with recordings every minute. Memory is 40,000 readings of pressure and temperature, displayed as temperature compensated level, with an on-board backup of the last 1,200 logs. The stainless steel housing protects against lightning and power surges and the golden zirconium nitride coating gives extra corrosion resistance.
Solinst Canada Ltd.
Tel: 905-873-2255
Web: www.solinst.com
Leaching chambers
Advanced Drainage Systems (ADS) has purchased two additional Cincinnati Milacron injection molding machines and additional tooling to support its growing sanitary leaching chamber business. These 2,300 ton injection molding machines will be used to make the company's ARC™ leaching chambers. The chambers are made from high-density polyethylene (HDPE) and have an open bottom and curved top that produces increased load-bearing capability in the trench. Leaching chambers are increasingly replacing the traditional gravel and pipe set-up in septic leach field applications because they are easier to handle, and have lower labor and materials costs. One of the additional Milacron units will be installed at ADS' dedicated injection molding facility in Winchester, KY. The other machine will be placed in one of the company's plants in the Pacific Northwest to support the growing customer base on the west coast. Both are expected to be on-line later this year.
Advanced Drainage Systems Inc.
Tel: 800-733-7473
Web: www.ads-pipe.com
Vortex separator
The Grit King energy-free vortex separator from Hydro International operates on the principle of dynamic separation. Flow is introduced tangentially, generating rotary flow. Flow spirals around and down the perimeter, then inward and upward in a continuing spiraling motion. A single centrally located discharge at the top of the vessel forces fluid to follow a long path before it is released, providing sufficient time for even finer grit to settle. A centrally directed sweeping action concentrates settleable material in a central location. Patented flow-modifying internal components are used to stabilize and enhance the effects of rotary and shear forces, reducing turbulence and maximizing performance over a wide range of flow rates.
Hydro International
Tel: 207-756-6200
Web: www.hydro-international.biz
Backup pumping system
Due to the environmental impact of CSOs and SSOs, lift station pumping must be reliable and continuous - including the ability to respond to varying flow demands regardless of time of day or availability of electricity. Godwin's Dri-Prime Backup System (DBS) provides independently powered pumping in one convenient package for emergencies including primary power, switch gear and sewage pump failure or repair; and primary pumping during routine maintenance. With available flows to 10,000 gpm and heads to 600 feet, the system provides simplicity through a stand-alone automatic self-priming pumpset independent of utility line power and lift station pump control. A pressure transducer or float switches provide start and stop controls that activate the diesel- or natural gas-driven pump when the water level rises to a predetermined height. Godwin's automatic priming feature removes air from the suction line, creating a vacuum that allows water to rise and the pump to establish prime. The pumpset continues to pump the required flow and shuts off when either the wet well is lowered or the electricity is restored, and the primary system retakes control.
Godwin Pumps
Tel: 856-467-3636
Web: www.godwinpumps.com
Aeration system
MTS/Mass Transfer Systems' MTS Multi-Aspirator™ submersible self aspirating aerator is currently finding applications in stormwater runoff basins. The system is designed for a variety of applications where oxygen transfer and mixing are required along with portability. The design also allows for easy installation into existing tanks where removing the tank contents is not feasible. The system places the aerator at the bottom of the tank and creates distinct zones of influence for aeration and mixing. During operation the aerator creates a vacuum and naturally aspirates air from above the liquid surface for aeration purposes. Air blowers are not required.
MTS/Mass Transfer Systems
Tel: 508-660-9150
Web: www.mtsjets.com
Catch basin insert
The Patent Pending "EnviroTrap" Catch Basin Insert can help meet EPA Phase II stormwater requirements by providing the Maximum Extent Practicable when trapping floatable debris, hydrocarbons, and coarse sediment at the source point. The inserts can be installed on new or existing structures and are available in a variety of sizes to meet specific needs.
Environment 21, LLC
Tel: 800-809-2801
Web: www.env21.com
Stormwater filtration
BaySaver Technologies has launched its new BayFilter stormwater filtration system. The new multilayered underground sand filtration system removes very fine sediment and nutrient pollutants from stormwater runoff at a flow rate of 30 gpm per cartridge. As stormwater makes its way through 43 square feet of surface area per cartridge, the filter removes more than 80% TSS (d50 = 23.2 microns) and greater than 50% of total phosphorous including dissolved phosphorus. It also boasts a 50% reduction of turbidity. The filter's unique hydrodynamic backwash self-cleansing component dislodges pollutants and restores the porosity of the media after every storm, contributing to efficient operation and extended maintenance intervals. The filter system can be customized to help specifying engineers, regulators, developers and contractors with regulatory compliance, limited space conditions, and installations in ecologically sensitive areas.
BaySaver Technologies®
Tel: 800-229-7283
Web: www.baysaver.com
Catch basin filter
The EnviroSafe™ Modular Stormwater Catch Basin Filter System, available from Transpo Industries, can be used to help meet EPA NPDES-II for MS4s. This lighter filter cartridge offers an even higher filtered flow rate (110 gpm) and improved antimicrobial ability. The system can be retrofitted for most existing flat-grate or combination curb-grated stormwater catch basins. The cartridge's filter targets a broad range of pollutants such as sediment, oils, metals, organics and bacteria. The new filter uses Mycelx-treated foam, a media highly effective at trapping oils and grease. In addition, the new cartridge employs even more of the Aegis® antimicrobial shield to counter mold and bacterial growth.
Transpo Industries Inc.
Tel: 800-321-7870
Web: www.transpo.com/ envirosafe.htm
Stormwater storage
Rainstore3, from Invisible Structures, is a plastic structure used to store stormwater underground. Made from injection molded plastic, a single panel contains 36 vertical columns and supports H-20 loading, allowing the construction of driving areas, parking lots, or other small structures above the system. Built-in compression fittings allow units to be stacked to a variety of depths up to 8 4". The system allows for development of valuable land resources by moving stormwater ponds below ground. The units are available pre-assembled in depths from 4" to 84" and are 94% open for water storage. The modular units are 40" × 40" × 4".
Invisible Structures Inc.
Golden, CO
Tel: 800-233-1510
Web: www.invisiblestructures.com
Flow logger
The FL16 Water Flow Logger from Global Water is suited for applications such as inflow and infiltration studies, stormwater and wastewater collection systems, open channels, and a host of other gravity flow systems. The specially engineered, non-fouling water level sensor works in depths as little as ½" and allows for deployment in manholes and other difficult to access areas without the need to enter the confined space. Its Windows-based software is tailored specifically for calculating water flows in partially filled sewer and drainage pipes using the Manning's Equation, a preprogrammed table, or custom table provided by the user. The software also has a unique calibration feature that allows users to view calculated water velocity, compare this to actual measured data, and adjust the water flow parameters to calibrate for the water flow conditions of a specific application.
Global Water Instrumentation
Tel: 800-876-1172
Web: www.globalw.com
Header systems
CULTEC Inc. offers the HVLV™ 180 and V8™ Header Systems designed to work seamlessly with the company's line of Recharger® 180, 280, 330 and V8™ plastic stormwater chambers. The HVLV™ Systems are used as replacements for conventional pipe manifold systems in stormwater applications. Both header systems are a combination of interlocking plastic chamber-type sections. As stormwater runoff travels through, side portals make the necessary tee connections and convey the water into the plastic stormwater chambers, where it's stored until it can be infiltrated or dispelled. Advantages include greater storage capacity compared to similar sized pipe systems; a patented, overlapping rib connection allowing quick installation; and a lower profile able to manage higher volumes, equating to less excavation, stone, time and labor.
CULTEC Inc.
Tel: 800-428-5832
Web: www.cultec.com
Flow monitoring
Facility and infrastructure engineers responsible for pollution and flood control will find the advanced Marsh Multi-Mag™ Flow Meter from McCrometer provides a reliable solution to measuring highly variable flows of stormwater runoff. The multipoint measurement system can be used in the most difficult flow conditions - such as low flows, wide flow ranges, and flows containing sand and grit. It measures liquid volumetric flow rates in pipes sized from 4" to 120" with a streamlined multipoint technology that creates only negligible pressure loss. Using an insertable electromagnetic averaging design, the meter measures volumetric flow with accuracy up to ±1% of reading (from 0 to +20 feet/second + zero stability) and repeatability at 0.20 percent of the flow range. In addition to stormwater management, the Multi-Mag is ideal for many other applications that include custody transfer, filter balancing, filter backwash, water treatment processes, distribution management, and well head flows.
McCrometer
Tel: 800-220-2279
Web: www.mccrometer.com
Water quality testing
Ideal for testing water in the field or lab, the Ultrameter II from Myron L precisely measures six water quality parameters: conductivity, resistivity, TDS, pH, ORP, and temperature. The instrument is lightweight, portable, buoyant, waterproof, easy to calibrate, and easy to use. Simply rinse and fill the cell cup with sample, then press a parameter button. Operators get instant, objective numerical results on a four-digit LCD screen. The instrument delivers performance of ±1% of reading achieved through advanced four-electrode conductivity cell technology, microprocessor-based circuitry, and its user-replaceable pH/ORP sensor. It has auto-shutoff, and one 9-volt battery can power over 5,000 readings/100 hours of use. The instrument stores up to 100 date-time-stamped readings in nonvolatile memory. Readings can be downloaded to a computer with the optional uDock™ for data entry, analysis, and reporting.
Myron L Co.
Tel: 760-438-2021
Web: www.myronl.com
Stormwater treatment
The Stormceptor System from Rinker Materials is a water quality treatment device used to remove total suspended solids (TSS) and free oil (TPH) from stormwater runoff. Concurrently, the system can also take the place of a conventional junction or inlet structure within a stormdrain system. The company manufactures the system with precast concrete components and a fiberglass disc insert in accordance with AASHTO and ASTM standards. The system can remove a wide range of particle sizes, as well as free oils, heavy metals and nutrients that attach to fine sediment.
Rinker Materials/Stormceptor
Tel: 832-590-5369
Web: www.rinkermaterials.com
Level data collector
Keller America has introduced the DCX-16, an autonomous, battery-powered liquid level monitor with built-in data logger. With a diameter of 0.63", the monitor is available in vented gauge (psig), sealed gauge (psis) and absolute (psia) reference pressure formats. Used in conjunction with the company's Windows- based software, Logger 4.x, the collector is suited for CSO monitoring, runoff monitoring, or well tests. It can be directly interfaced to the company's GSM-1 Remote Data Transmission Unit for wireless telemetry from the field.
Keller America Inc.
Tel: 877-253-5537
Web: www.kelleramerica.com
Permanent marking system
das Curb Markers® can be used in urban settings where conventional signage cannot be employed. The permanent markers can be affixed to just about any flat surface including concrete, asphalt and metal. Mark valves, meters, and manholes as an aid to location, routine maintenance and to promote damage prevention. New "811" national one call markers are now available. The markers are also used to mark stormwater inlets as part of the Phase II NPDES requirements for public education and outreach. Available in over 60 stock titles and custom manufactured markers, the marking system has been in use since 1983.
das Manufacturing Inc.
Tel: 800-549-6024
Web: www.dasmanufacturing.com