Urban Stormwater Management: Nowhere to Go but Down
By Fred Dotson and Phil Rentzis
Feb 1st, 2008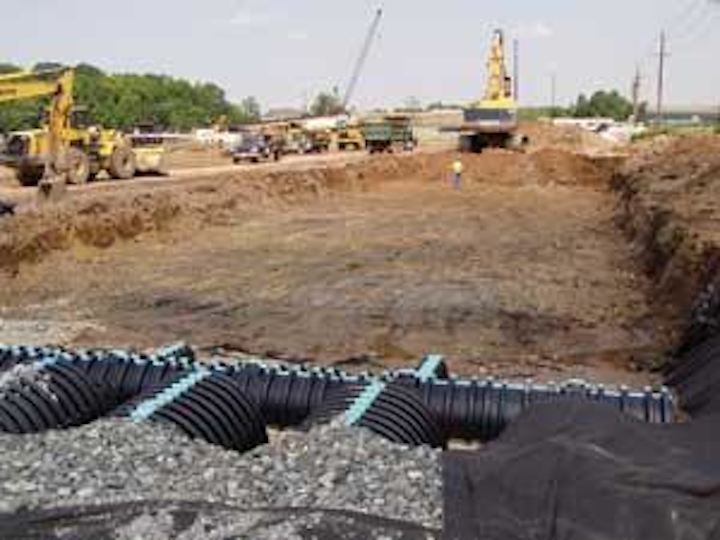 Underground System Provides Effective Solution for New Jersey Transit Project
By Fred Dotson and Phil Rentzis
Proper stormwater management design is becoming increasingly important as concern for the protection of the environment and public health issues are balanced with conscientious land development. Recognition of this balance is magnified when stormwater management must be addressed in urban, densely populated areas where land prices are at a premium and the availability of open space is minimal.
When planning began for a New Jersey Transit Park & Ride facility in Wayne, NJ, it was determined that traditional best management practices, such as ponds or swales, were not feasible. Engineers would have to design a system to capture, store and treat stormwater runoff while leaving the above surface area available for parking. A CULTEC Inc. retention system was chosen for the site and approved for use by both the New Jersey Department of Environmental Protection and New Jersey Transit for its effectiveness as a stormwater best management practice.
Urban Stormwater Management Challenges
A major problem with urban stormwater management is that there is a limited availability of "new" open space. In many areas, there is twice as much pavement as grass with minimal attention given to stormwater control. Stormwater discharges are generated by runoff from land and impervious surfaces, such as streets, parking lots and buildings, during rainfall and snow events. The discharges often contain pollutants in quantities that could adversely affect water quality. The Park & Ride lot created enough impervious surface area to impede the natural absorption of runoff and therefore required a stormwater management system.
null
Underground Stormwater Chamber Systems
The components of a typical underground stormwater system include the inlet, water quality filter, conveyance device and stormwater chambers.
The CULTEC system installed at the Park & Ride site begins with a sand filter at the front of the system. From there, the water is conveyed into a manifold system, a combination of plastic chamber-type sections that interlock. These structures are equipped with side portals to make the necessary connections for feed lines into the plastic chambers. Constructed of HDPE, the open-bottom corrugated chambers with perforated sidewalls allow stormwater to be stored until it is infiltrated back into the soil. The system is equipped with heavy-duty chambers used in commercial applications where there is substantial vehicular use and parking considerations. CULTEC's chambers are able to withstand AASHTO H20 rating (32,000 lbs/axle) to prevent structural damage to the system.
A Solution for NJ Transit
East Coast Associates Inc. worked with engineers from CULTEC Inc. to plan and implement an underground retention system that consisted of two chamber beds and five manifold systems containing almost 1,400 CULTEC Recharger 330 HD stormwater chambers. In total, the stormwater system has the capacity to capture, treat and store 98,800 gallons of runoff.
"We were looking at a piece of land almost seven acres in size that would eventually be covered by asphalt," said Mark Sisco, president of East Coast Associates Inc. "In order to maximize the amount of parking space for the facility, we had to look at underground solutions."
There are a number of benefits to using a subsurface system, not the least of which is that it allows for maximum use of the land area. Such an installation also reduces the maintenance costs and potential liabilities associated with aboveground water storage (i.e., safety/liability, mosquito breeding, etc.).
Since the components are lightweight, there is no need for heavy equipment. The chambers are durable and corrosion resistant and their interlocking connections help facilitate a fast and fairly foolproof installation. "In addition to the environmental benefits, the CULTEC system is composed of lightweight polyethylene making the installation fast and efficient," continued Sisco. "The entire system was installed in one week's time with a handful of workers."
"Another benefit of the CULTEC system is that it requires comparatively minimal maintenance," said Robert Romano, principal engineer for Ernst, Ernst and Lissenden, the consulting engineering firm for the project. "Typically, maintenance is only necessary of the preliminary collection system prior to the infiltration bed."
Conclusion
The NJ Transit Park & Ride project required a cost-effective yet environmentally friendly infiltration system. Underground stormwater chamber systems are one of the few options available to meet these needs – offering significant groundwater recharge in areas with a high percentage of impervious surface area. These systems provide a Clean Water Act-compliant stormwater management plan – conveyance, storage, and infiltration – and is now recognized and approved as a viable best management practice in New Jersey.
About the Authors:
Fred Dotson serves as vice president of CULTEC Inc. (Brookfield, CT). He has nearly a decade of experience in the stormwater industry, providing technical support to design engineers as well as performing pre-installation consultations.
Phil Rentzis is a project manager at East Coast Associates Inc., a manufacturer's representative of CULTEC Inc.'s stormwater products (Roseland, NJ).