Product Focus: Filtration
Feb 1st, 2008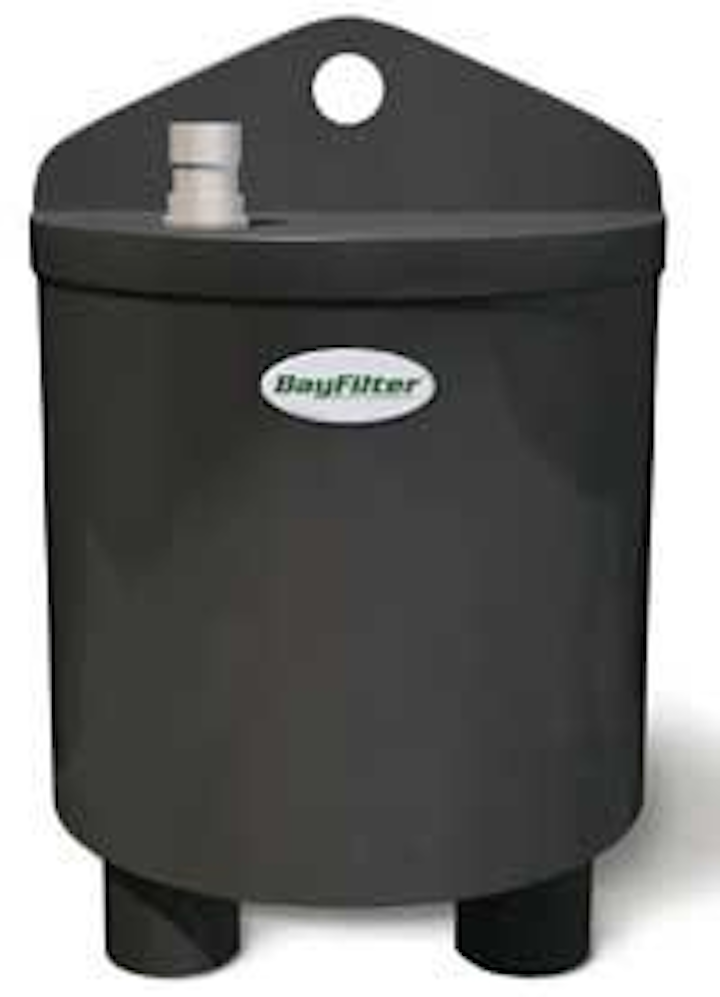 Efficient Pollutant Removal
BaySaver Technologies' multilayered underground sand filtration system removes very fine sediment and nutrient pollutants from stormwater runoff at a flow rate of 30 GPM per cartridge. As stormwater makes its way through 43 square feet of surface area per cartridge, BayFilter removes more than 80% TSS (d50=23.2 microns) and greater than 50% of total phosphorous including dissolved phosphorus. It also boasts a 50% reduction of turbidity. The filter's unique hydrodynamic backwash self-cleansing component dislodges pollutants and restores the porosity of the media after every storm, contributing to efficient operation, extended maintenance intervals, and a long product lifespan. BayFilter's patented design has no moving parts and generates a true siphon effect. Each BayFilter® system is customized to assist specifying engineers, regulators, developers and contractors with regulatory compliance, limited space conditions, and installations in ecologically sensitive areas.
BaySaver Technologies Inc.
800-229-7283
www.BaySaver.com
Stormwater Filtration
A best management practice (BMP) designed to meet stringent regulatory requirements, the Stormwater Management StormFilter® removes the most challenging target pollutants, including fine solids, soluble heavy metals, oil, and total nutrients, using a variety of sustainable media. Its patented, surface-­cleaning system prevents surface blinding, extending the cartridge life cycle. The StormFilter's proven field-tested performance has led to hundreds of stand-alone approvals by regulatory agencies nationwide, including the first proprietary BMP to receive Final Certification from the New Jersey Department of Environmental Protection as a stand-alone stormwater treatment system.
CONTECH Stormwater Solutions
800-925-5240
www.contechstormwater.com
Stormwater Quality Unit
Hancor's Stormwater Quality Unit offers excellent filtration of solids and is designed to meet the varying requirements of a municipality's EPA Phase II stormwater runoff guidelines. The 'ready-to-install' unit is manufactured with non-corrosive, lightweight, high-­density polyethylene (HDPE). Two weir plates trap oils and total suspended solids as water flows through surface drainage structures and into the water quality unit.
Hancor
888-367-7473
www.hancor.com
Granulated Media
Sorbtive™ P Engineered Media has been developed to capture and retain dissolved phosphorus from stormwater runoff through absorption and filtration. This granulated media has a high surface area, which absorbs and retains pollutants, and does not decompose or leach pollutants. As a result, Sorbtive provides between 100 and 1,000 times more soluble phosphorous removal in comparison with conventional medias in the stormwater market. Sorbtive P offers a new tool to address TMDLs and provides exceptional treatment for critical watersheds.
Imbrium Systems
Rockville, MD
800-279-8826
www.imbriumsystems.com
Catch Basin Filtration System
Transpo Industries Inc. announces the newest retrofit style employing the EnviroSafe™ Modular Stormwater Catch Basin Filtration System. The Open Curb Installation Kit is designed specifically for open curb inlets and includes a cartridge basin with passive filters or a sediment sack, four supporting cleats, two aluminum rails, two mounting flanges, and one flow collector assembly with hardware. EnviroSafe captures and filters the many pollutants common to stormwater runoff, including trash, debris, sediments, oils, and grease, as well as soluble metals. The filtering technology incorporates a potent antimicrobial treatment that inhibits bacteria, virus and mold growth.
Transpo Industries Inc.
New Rochelle, NY
www.transpo.com