Urban Water Management 2009: An Integrated Water Quality Conference & Exhibition
Overland Park Convention Center, Overland Park, KSMarch 23 – 26, 2009
Feb 1st, 2009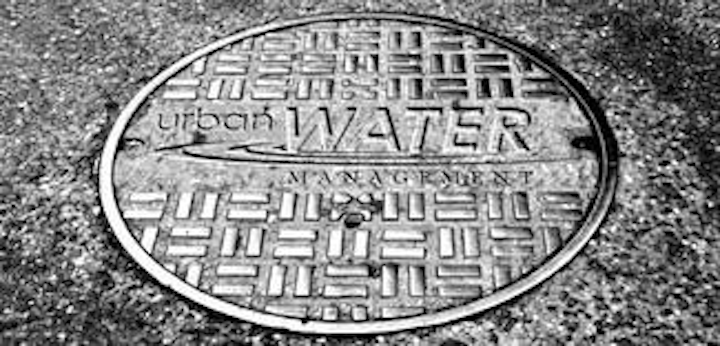 Overland Park Convention Center, Overland Park, KS
March 23 – 26, 2009
Now in its second year, Urban Water Management, sponsored by the National Association of Clean Water Agencies (NACWA), the City of Independence, MO, Water Pollution Control (WPC) Department, the Kansas City Water Services Department (KCMO), and the International Private Water Association (IPWA), will provide a venue for the discussion of the latest technologies and techniques for controlling urban water runoff, protecting urban streams and watersheds, controlling and preventing sewer overflows, and complying with environmental regulations.
The Urban Water Management conference is designed to help local, regional and state water quality officials develop an integrated approach to management of water in an urban setting. A broad range of topics will be covered, including Best Management Practices, BMP research & testing, stormwater treatment & control, watershed management, low impact development, wetland restoration, and erosion control.
Opening General Session
Tuesday, March 249:30 am – 11:00 am
Welcome Address
Dick Champion, Director, Independence Water Pollution Control Department
Dick Champion began his career in water pollution control in 1969. He has been with the City of Independence, MO, Water Pollution Control Department for over 29 years and has been Director of the department since 1983. He has been serving as vice–chairman of the Jackson County Stormwater Commission since its creation in 2001. A member of NACWA since 1992, Champion was elected to the organization's Board of Directors in 1999 and served as President from 2006 to 2007. Champion is also Chairman of the newly formed Clean Water America Alliance.
Opening Remarks
Ken Kirk, Executive Director, NACWA
Ken Kirk is the Executive Director of the National Association of Clean Water Agencies (NACWA). He has served as Executive Director of NACWA, formerly known as the Association of Metropolitan Sewerage Agencies (AMSA), since 1990. From 1978 to 1990, he worked with a Washington, DC–based private consulting firm, where he had responsibility for the management of several associations, including AMSA. From 1973 to 1975, Kirk worked in the Environmental Protection Agency's Office of Legislation and from 1975 to 1977 he served as Public Affairs Manager at the organization now known as the Water Environment Federation. Kirk recently helped found and serves as president of the Clean Water America Alliance.
Keynote Presentation
G. Tracy Mehan III, Principal, The Cadmus Group Inc., Arlington, Virginia
G. Tracy Mehan is Principal with The Cadmus Group Inc., an environmental consulting firm. Prior to joining Cadmus Group, Mehan served as Assistant Administrator for Water at the U.S. Environmental Protection Agency from 2001–2003. He also served as director of the Michigan Office of the Great Lakes (1993–2001) and as Associate Deputy Administrator of EPA in 1992. From 1989 to 1992, Mehan served as director of the Missouri Department of Natural Resources. Presently, Mehan serves on the Water Science and Technology Board and the Committee on the Mississippi River and the Clean Water Act for the National Research Council of the National Academies.
Conference Program
Designed with engineers, consultants, regulatory groups, municipal employees, watershed/stormwater program managers, and contractors in mind, Urban Water Management will feature a comprehensive conference program covering many of the issues faced by today's urban water managers. The three–day conference agenda will be packed with interesting and informative presentations from industry experts from across the country. Session topics include:
Pre–Conference Workshops
In addition to the 45 technical sessions, a pre–conference flood–modeling workshop will be available to attendees. Integrated Flood Modeling, instructed by Colby Manwaring, XP Software, will provide an overview of modeling principles and practical application of modeling to solve complex flooding problems.
A pre–conference Certified Inspector of Sediment and Erosion Control (CISEC) review course will also be offered, along with the accompanying examination. CISEC is a nationwide certification program that recognizes the abilities, skills, experience and knowledge of inspectors who have demonstrated proficiency in observing, inspecting and reporting on the implementation of Stormwater Pollution Prevention Plans (SWPPPs).
Both of these pre–conference workshops will be held on Monday, March 23, 2009, with the CISEC exam* taking place Tuesday, March 24. Space is limited, so interested attendees are encouraged to register as soon as possible.
*Written approval from CISEC is required. Applicants must register for the exam separately with CISEC by Feb. 20, 2009 (www.cisecinc.org).
Networking Events
Conference delegates are invited to attend two complimentary networking receptions at Urban Water Management. Hors d'oeuvres and drinks will be served on the exhibit floor, allowing colleagues to network while viewing exhibits from top vendors in the stormwater industry.
Exhibitor Showcase
On the exhibit floor, attendees will have an opportunity to check out some of the latest and greatest urban water technologies and network with industry peers. The following companies are exhibiting at Urban Water Management 2009.
Advanced Drainage Systems, Inc.
Hilliard, OH
800–821–6710
Municipalities and commercial developments across the country benefit from the economical and long–term performance of ADS corrugated polyethylene pipe for stormwater drainage. Polyethylene's light weight and long 20 ft. lengths cut installation time to about half that of concrete pipe and minimize the use of heavy equipment. Polyethylene withstands abrasive flows, corrosion, chemical attack, and even the most aggressive sewer cleaning tools.
AquaShield
Hixson, TN
423–870–8888
AquaShield Inc. manufactures stormwater treatment systems used worldwide to protect receiving waters from the harmful effects of stormwater. AquaShield systems are custom engineered to meet the stormwater quality standards. The company's patented Aqua–Swirl™ Concentrator (shown) provides a highly effective means for the removal of sediment, floating debris and free–oil. Other products include the Aqua–Filter™ Stormwater Filtration System; the Aqua–Guardian Catch Basin Insert; the Go–Filter™ Stormwater Filtration System; and the Pathex™ Antimicrobial Integrated System.
Bio–Microbics
Shawnee, KS
800–753–3278
Bio–Microbics manufactures proven wastewater and stormwater treatment systems to deliver consistent high performance for single–family homes, clustered subdivisions, and commercial applications. The company's FOGHOG® Fat, Oil & Grease Interceptor combines a proven grease/water–separation process with a new lightweight, non–corrosive, durable, operator–friendly interceptor design. Other products include the BioSTORM® Stormwater Treatment System; StormTEE® Litter Control Screens; BMIfill™ Media; and the FAST® wastewater treatment system.
Blocksom & Co.
Michigan City, MI
219–878–4438
Blocksom & Co. is a diversified manufacturer of a wide variety of natural fiber products. The company's Inlet Filter is a value–priced BMP for stormwater inlet protection during the construction–phase. The versatile coir–fiber mat cuts to size with a utility knife and attaches easily to hundreds of grate styles making installation quick and easy. Sweep the sides and top surface to maintain, even through standing water.
Brentwood Ind
Reading, PA
610-236-1113Brentwood is recognized as a global leader in the plastic manufacturing industry. The company's StormTank Stormwater Storage System is a high–void, strong, affordable alternative to crushed stone, concrete structures, or pipe chambers for sub–surface stormwater detention or infiltration basins.
C.I.Agent Solutions
Louisville, KY
502–267–0101
C.I.Agent Solutions® is a global provider of products using to prevent and mitigate hydrocarbon releases into the environment. The company has developed a blend of polymers, C.I.Agent®, which can instantly solidify liquid hydrocarbons such as gasoline, oil, diesel fuel, hydraulic fluid, transmission oil and other petroleum–based spills, into a cohesive rubber–like mass upon contact.
CrystalStream Technologies Inc.
Lawrenceville, GA
770–979–6576
CrystalStream Technologies is an innovator in the field of structural best management practices (BMPs). Using sound engineering principles and practical approaches to problem–solving, CrystalStream has created a cost–effective BMP that scales to virtually any site. Whether your flows are 1 CFS or 100 CFS, CrystalStream can design a solution that fits. The company's products are customized to each location to ensure your stormwater runoff is clean to the standards of the local jurisdiction.
Environment 21
East Penbroke, NY
585–815–4700
Environment 21 is a supplier and designer of Stormwater Treatment and Detention Systems worldwide. The company offers a complete line of stormwater treatment and detention products, including the EnviroTrap Catch Basin Insert (shown). Other products include hydrodynamic separators and filtration products, as well as the Triton Stormwater Solutions underground detention/retention system. All of the company's products are site–specifically designed to meet project and regulatory demands.
Howard R. Green Company
Saint Paul, MN
651–644–4389
Howard R. Green Company is a multi–discipline professional services firm offering planning, engineering, technical consulting, architecture, landscape architecture and environmental services to clients in diverse market sectors. From strategic planning through delivery of a successful project, the company offers a full range of integrated services that can address clients' needs, no matter how big or small.
HYDRO International
Portland, ME
800–848–2706
Hydro International's Up–Flo Filter is an efficient, high–rate stormwater filtration technology for the removal of trash, sediments, nutrients, metals and hydrocarbons from stormwater runoff. Other products include the Downstream Defender®; the First Defense® enhanced vortex separator; the Reg–U–Flo® Vortex Valve; and the Storm King® vortex separation chamber.
Invisible Structures
Golden, CO
303–233–8383
Invisible Structures Inc., has been in the stormwater management business since 1982 with its porous paving systems Grasspave2 and Gravelpave2, ring and grid structures for grass and gravel drivable surfaces. Large roll sizes cover areas quickly while either protecting grass roots from compaction or containing small gravel to eliminate gravel migration.
Myron L Company
Carlsbad, CA
760–438–2021
Since the 1960s, Myron L Company has established itself as a leading manufacturer of high–quality and simple–to–operate conductivity and pH instrumentation for municipal, commercial and industrial water quality control, chemical concentration testing and process control. The company's TechPro II™ (shown) provides reliable and accurate measurements of your water source. Other products include the Ultrameter II™; DS and pDS Meters™; and the 750 series II Conductivity/TDS Monitor/Controllers.
OneRain
Longmont, CO
303–774–2033
OneRain provides high quality data and professional services to customers needing accurate rainfall information for high–value decisions. From gages through remote sensing and storm analysis, the company collects and distributes the best real–time and historical data available. The company's StormLink family of real–time satellite telemetry data products enables managers of real–time environmental monitoring networks to reliably extract critical information from remote sites. The product is rugged, vandal–resistant and designed to operate for months without the need for maintenance.
StormTrap LLC
Morris, IL
815–941–4663
StormTrap is the engineering and sales company for the patented StormTrap underground detention system. The company offers customized solutions to specific stormwater problems. The DoubleTrap® system is constructed of durable, reinforced, high–strength concrete and is available in sizes that are customized from 2'4" to 10'. Its flexible design allows for the infiltration of stormwater or a completely contained system.
Stormwater Systems, Inc.
Cleveland, GA
888–730–5819
Stormwater Systems was started to preserve and protect the natural environment, with an emphasis on improving our waterways by reducing the impact of stormwater runoff. The company's Bandalong Litter Trap is designed to float in waterways, capturing litter before it flows downstream. By continuously operating 365 days a year without any mechanical assistance to capture floating litter, the Bandalong is a proven cost–effective solution to a growing litter problem. Other products include the Bandalong Boom System; the Storm–PURE Catch Basin Insert; and the Mycelx Filter.
XP Software
Portland, OR
888–554–5022
XP Software is a leading developer of software designed for hydrodynamic stormwater and wastewater modeling. The company's flagship packages, xpswmm and xpstorm, model the generation of runoff and the transport of flows and pollutants throughout drainage systems ranging from pipe drainage systems up to very large river systems. Tested and verified by the U.S. EPA for floodplain modeling, these programs assist a range of users from sole practitioners to government authorities to global engineering firms.
Urban Water Management 2009, sponsored in part by NACWA, Independence WPC, KCMO, IPWA, CI Agent Solutions, Environment 21, Myron L Company, and StormTrap, takes place March 24–26, 2009, in Overland Park, KS. For more information on Urban Water Management 2009 or to register, please visit www.urbanwatermgt.com.