Stormwater management system installed at $450M FL ultra-green development
A unique stormwater management system was installed at Tampa Bay Housing Authority's Ultra-Green Inner-City Development in Tampa, FL.

Jul 1st, 2013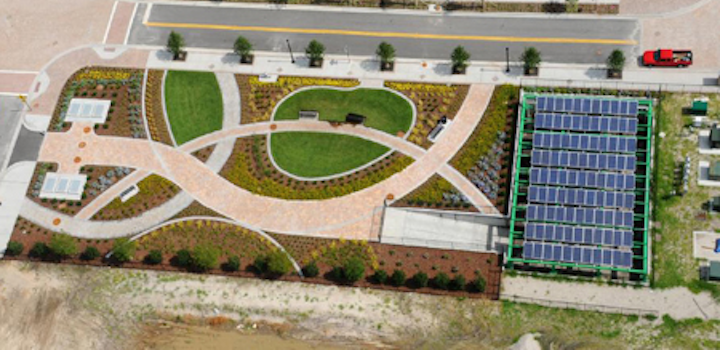 TAMPA, FL, July 1, 2013 -- A unique stormwater management-rainwater harvesting system and solar panel array was installed at Tampa Bay Housing Authority's new Ultra-Green Inner-City Development known as "Encore Tampa" in Tampa, Fla., to help create a sustainable and environmentally friendly community.

The new $450 million venture is a 28-acre sustainable, mixed-use development located under the new community park that controls and harvests stormwater runoff to irrigate the new green space park. Further, it's designed to create an environmentally sensitive ecosystem, ultimately meeting residents' needs while preserving resources for future generations.
Oldcastle Precast designed and provided the modular underground retention structure for the new stormwater management system, engineered by Clearwater, Florida-based Cardno TBE, to store, treat and harvest stormwater runoff on the 28 acre Encore site. The precast concrete Storm Capture® retention system manages and controls the volume and discharge timing of stormwater runoff. The engineered design maximizes storage volume while minimizing the project's footprint and cost, allowing for a quick and efficient installation.
The 18,000 square foot, stormwater retention-harvesting system includes a Storm Capture vault composed of (146) 10' tall Storm Capture modules that can hold up to 33,000 cubic feet of water before recycling it for irrigation use, (2) Nutrient Separating Baffle Boxes (by Suntree Technologies) with adjacent sediment chambers for pretreatment, and a harvesting & irrigation equipment assembly (by John Deere -- Green Tech). All surface stormwater is collected from the site, piped into the Nutrient Separating Baffle boxes and sediment chambers, and stored in the Storm Capture modules for irrigating the site landscape.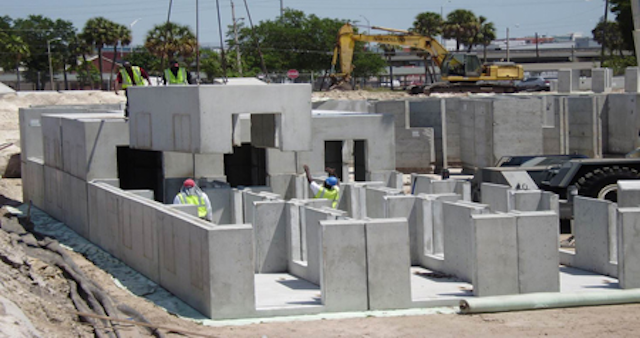 Oldcastle Precast also supplied precast perimeter walls for the sand filter assembly, precast ramp assembly for equipment access into the sand filter, sanitary manholes and inlets. Their sister company Oldcastle APG supplied 120,000 square feet of Belgard Hardscapes pavers and block for intricate hardscape paver walkways and permeable pavers for the center median of the main thoroughfare to reduce the heat island effect and aid in stormwater management
As stated on Encore Tampa's website -- Through green development and construction standards, Encore's green initiative efficiently uses energy, water, and other resources as well as reduces waste and environmental pollution. As an example, our development and building standards will effectively decrease stormwater runoff and the heat island effect. Encore's green initiative also nurtures the health of people who live and work on-site through improved indoor air quality.
This project exemplifies Ultra-Green. The entire Encore development is planning to achieve the U.S. Green Building Council LEED Gold certification. In order to achieve this, the Encore Tampa project has been designed and registered under the U.S. Green Building Council LEED 2009 New Construction and Major Renovations guidelines with the goal of receiving a LEED Gold rating for overall site development.
###