Case Study: Spiral-wound pipe rehabilitation keeps water flowing in Fort Worth, Texas
The storm drain system that serves downtown Fort Worth, Texas, recently developed voids in some locations, affectING its structural integrity. SAK Construction took on the rehabilitation challenge using a Spiral Wound Rehabilitation solution that met project goals.

Apr 7th, 2014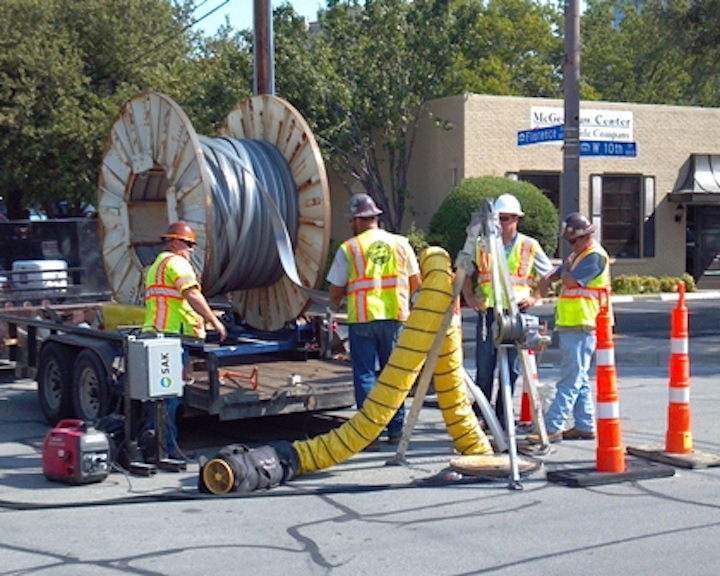 April 7, 2014

By Jim Kalishman, Chief Information Officer, SAK Construction
Established in 1849 as a U.S. Army outpost on a bluff overlooking the Trinity River, water has always played a key role in the history of the city of Fort Worth, Texas. The city continues to thrive today and, as with all cities its age, its infrastructure is showing signs of aging.

The storm drain system that serves historic downtown Fort Worth has functioned well for 100-plus years, but it recently developed voids in some locations that started to affect its structural integrity. The city of Fort Worth was proactive in addressing the issues and generated a strategy for maintaining and protecting its aging infrastructure. That plan included a commitment to renewing service without disturbing historic districts around the city that are important culturally, socially and economically.

The project required the rehabilitation of 1,000 linear feet of deteriorated storm drain. The existing host pipe was a 48"x 42" stone arch pipe -- the original pipe that had served the city well for decades. But, over time, the grout had worn away, allowing for the development of major voids and infiltration. Thus, any solution needed to fill the voids and provide significant structural support. To further complicate the job, the sewer had four small diameter (24-inch) manholes, which limited access and options for repair.

Ancillary project constraints, such as a small work window that restricted hours to 9 a.m. to 4 p.m., created additional challenges. Other limitations included a requirement that the construction zone be "reset" every night to its original condition before the start of morning traffic. Further, any manhole work in certain busy intersections could only be performed at night due to traffic volume. All of the work was in a highly-visible part of town, neighboring three large banks and city government buildings, so any interference with traffic would be apparent to all.

SAK Construction took on the rehabilitation challenge using a Spiral Wound Rehabilitation (SPR) solution that met project goals and requirements. SPR utilizes steel-reinforced, interlocking PVC profile strips that are grouted in place. The installation equipment utilizes standard access points without site excavation. SPR can also be installed in vertical applications such as wet wells, access shafts and other large diameter structures in an environmentally-friendly process for the rehabilitation of both small and large diameter pipelines -- often those with odd shapes, difficult access and live flow conditions.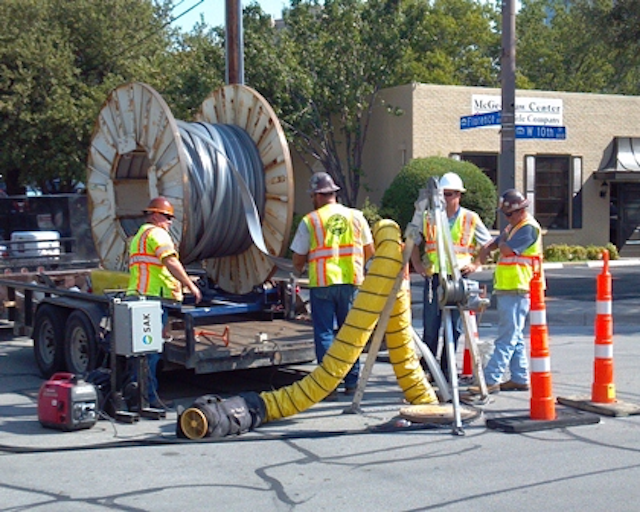 Spiral Wound Rehabilitation utilizes steel-reinforced, interlocking PVC profile strips that are grouted in place.

SPR allowed SAK to repair Fort Worth's sewer lines with little to no disruption while complying with all of the restrictions imposed by the historic location of the job. Since SPR equipment is quick and easy to set up and disconnect, SAK could pull the equipment away, remove traffic controls and replace manhole covers to leave the work zone as if it had never been touched in preparation for rush hour the following morning. Since SPR requires no trench, bypass or cure-time, SAK could disappear every afternoon without a trace.

The project proceeded with SAK installing a circular-shaped SPR solution with steel reinforcement within the profile. Adding a cementious cellular grout that filled both the annular space and any voids behind the stone host pipe produced a solid structural enhancement while shoring up voids behind the host and maintaining hydraulic requirements within the host pipe. In essence, what SAK provided Fort Worth was a concrete pipe with a PVC insert. Reinstating the services was a challenge because there were a large number of laterals (24 in total ranging from 8" to 24" in diameter). And, due to their size and distance, the laterals had to be reinstated while manually traversing the rehabilitated host pipe to reach them.

The project proceeded with SAK installing a circular-shaped SPR solution with steel reinforcement within the profile.
SAK met the 90-day installation goal and delivered the project at a cost 20 percent lower than other technologies originally bid. Strong, upfront planning meant that SAK caused no traffic disruption. The result was zero complaints to the city of Fort Worth, which was most welcome. Adilda Cazorla, Fort Worth construction inspector stated: "[W]e went through this difficult project with ZERO complaints. The location of the project, plus the working hour allowance, made it even harder, and it was done in less time than expected. This job, besides being trenchless, was also painless."
Michael Owen, P.E., the project manager for the city, said, "SPR was clearly the right choice for this project, as it allowed for minimal surface disruption and provided a 50-year solution meeting the hydraulic requirements. SAK performance was excellent, as they were able to meet all of the city's requirements and deliver the project on time and on budget. We look forward to opportunities to work with them on future rehabilitation needs."

See other projects involving SAK Construction:
"Baltimore grants $18.8M contract for wastewater pipeline rehab project"

"Anti-Microbial Additive Helps Concrete Survive in Sewer Project"



About SAK

Founded in 2006, SAK Construction makes its national headquarters in O'Fallon, Mo., and has active projects across the U.S. It operates regional headquarters in Sacramento, Calif., Tampa, Fla. and Baltimore, Md. SAK solves the challenge of maintaining and restoring aging water, sanitary, and oil and gas pipeline infrastructure for the municipal, energy and industrial markets. With industry-leading experience and a commitment to service excellence, SAK is a trusted partner helping customers worldwide meet the task of renewing, protecting and expanding their pipeline infrastructure. For more information, visit www.sakcon.com.
###