Modular pumping system moves project into fast lane
Modular pumping systems help municipalities like El Dorado, Arkansas, USA to achieve same results of traditional site-built stations in less time.
Feb 1st, 2003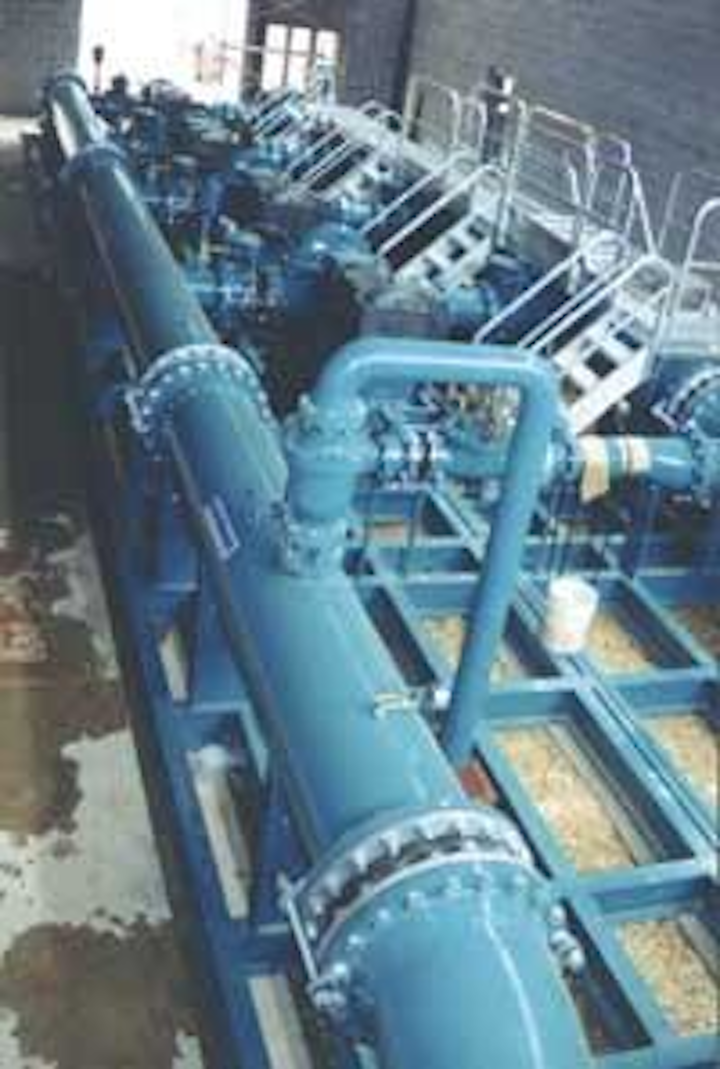 By Tom Levey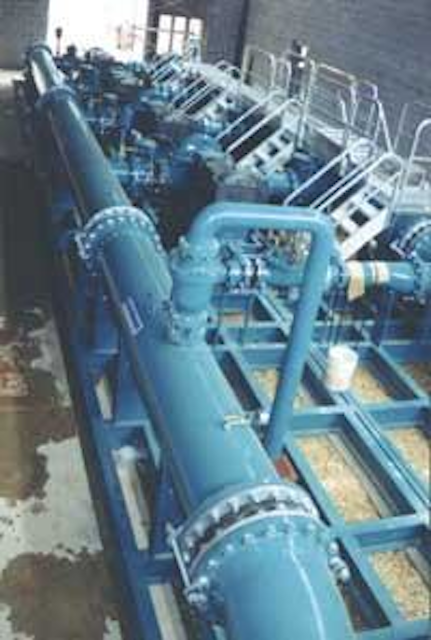 System size is limited to what can be transported on the road.
Click here to enlarge image
The municipality of El Dorado and engineering firm Carter-Burgess Inc. saved time and money by installing a modular pumping system to boost the city water supply before the hot days of summer. The system now draws water from a pair of two million-gallon ground storage tanks filled by five new wells and delivers it to the city's distribution system.
El Dorado is a picturesque city nestled among the pine trees of Arkansas, a southern US state. The forests, parks and wildlife maintained by the city makes this municipality a highly coveted place to visit and live. Increased water demand in recent years, however, has strained the water supplies of this growing city. Coupled with drought, this growth forced the municipality to take decisive action.
El Dorado obtains its municipal water sources from the El Dorado Aquifer of the Sparta Formation. Municipal and several industrial wells located in the central portion of El Dorado affected replenishment times such that demand exceeded supply.
"El Dorado's water wells in the downtown area were simply built too close together," stated Project Manager Craig Johnson, P.E. at Carter-Burgess, Inc., a US firm specialising in planning, engineering, architecture and construction management. "The aquifer could not replenish quickly enough to meet the city's water demands during peak months because of the wells' close proximity." The city of El Dorado contracted Tanner Engineering and Carter-Burgess to design five new deep wells, water transmission mains, ground storage tanks, pump station, and chlorination facilities to meet municipal water requirements.
Historically, the size and capacity we needed was met with a site-built station," Johnson commented, but the Dallas-based modular manufacturing firm, Flowtronex, was able to meet the needs, deadlines and budgeting constraints with one of their modular products. "One week after their initial contact, their reps presented a CAD drawing with a proposed layout that enabled us to lay the ground work for the design process," he added.
The assembled modular station's skid measures 16-ft x 58-ft and is open faced with 10-in channels and open I-beams. The top of the skid is placed at the finish floor elevation and the open I-beams are filled with concrete to control vibration. Flowtronex provided detailed CAD drawings in advance so the engineers were able to design around the system, which included support piping, equipment, building layout, and conduit stub-out locations. The design process allowed the contractor to prepare the building and support components while the system was manufactured at Flowtronex to save time.
The station has an outflow capacity of 8,000 gpm and its pipe system is internally lined with fusion-bonded epoxy, which meets American Water Works Association (AWWA) standards. The station also contains smart motor controllers (smc) to avoid pipe surges and water hammer at pump start-ups and shutdowns, which enhance the system's longevity. The station, which is designed for future expansion, is outfitted with a surge anticipator valve between the suction and discharge headers and was designed on the same centre lines of the existing pumps on the station. The surge valve can be re-located downstream and another pump can be moved into its place on the skid for future needs.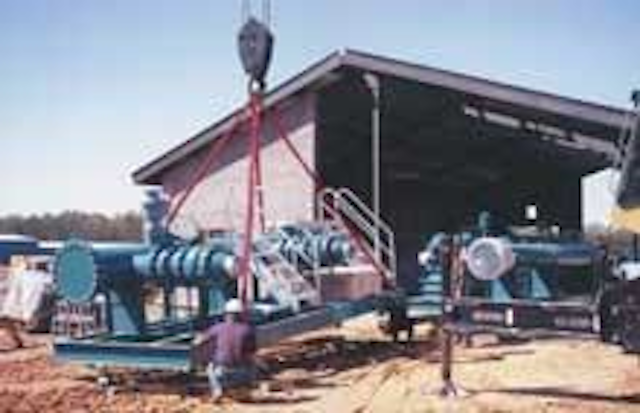 The complete 16-ft by 58-ft skid was designed and built to be broken into six sections.
Click here to enlarge image
"The station was completely fabricated, assembled, tested and disassembled to ensure that all centre lines were met and that all the proverbial 'pieces of the puzzle' formed a seamless closure and completely uninterrupted picture," added Project Manager Mark LaVarnway at Flowtronex.
---
Author's note
Tom Levey is the director of marketing at Flowtronex PSI Inc, based in Dallas, Texas, USA.