Water Connections: Improving Flow Equalization and Operations
Landis Sewerage Authority improves flow equalization and plant operations with Tideflex® aeration and mixing system.
Sep 14th, 2019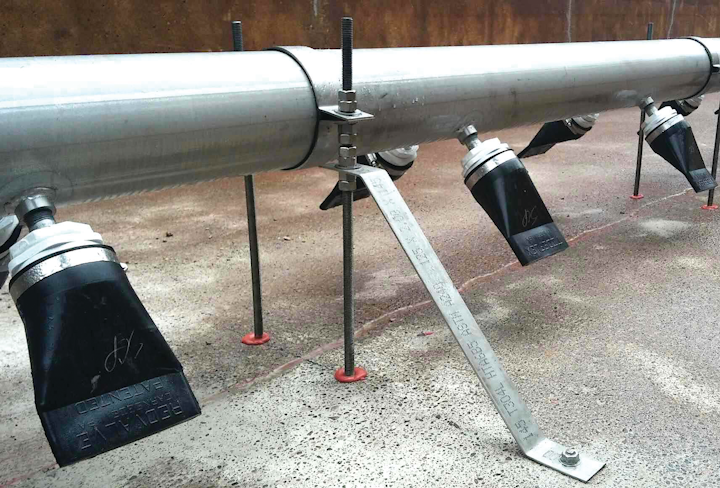 The Landis Sewerage Authority Treatment Facility serves the City of Vineland, N.J. As part of the overall treatment process, the facility has two 1-million-gallon tanks for flow equalization, with the volume in each tank varying greatly depending on flow conditions to the plant.
Multiple Problems with Outdated Aeration System
The facility's original Jet Aeration system was able to operate in various scenarios: using air only, a combination of air and tank liquid, or simply hydraulic mixing using tank liquid. The system also had its share of problems regarding performance, operation and maintenance.
Because the original jet aeration system could not provide equal distribution of aeration and mixing throughout the entire tank, the liquid in the tank would often rock and surge side to side, creating a wave movement 1.0 to 1.5 feet in height that threatened serious damage to the system components and tanks. In addition to the unequal distribution of aeration and mixing, the location of the jet nozzles caused solids and sludge to build up on the bottom of the tanks, posing ongoing odor and corrosion problems.
Another problem was that the original aeration system's piping manifolds and jet nozzles were constructed of fiberglass with an open design, offering no backflow prevention. When the system failed or had to be turned off, sludge and solids could back-feed into piping manifolds and jet nozzles, clogging the system and requiring substantial downtime and maintenance. In one instance, piping manifolds actually blew apart in the back section of one of the tanks, causing the entire system to be shut down for costly repairs.
A Single Solution with Multiple Benefits
The Landis Sewerage Authority needed to significantly improve its aeration and mixing system for its EQ tanks and also eliminate the ongoing performance and maintenance issues caused by the existing jet aeration system.
Landis Sewage Authority was able to solve the multitude of problems caused by the old system by installing the Tideflex® Air Diffuser System in both tanks. Unlike the original jet aeration system, the Tideflex® Aeration and Mixing System's non-­clogging, no-fouling design provided built-in backflow prevention and even airflow distribution control throughout the entire tanks, allowing all of the solids to become resuspended in the liquid.
Exceptional Performance after Installation
Since installing the Tideflex® Aeration System, maintenance at the facility has been greatly reduced and the heavy-duty Tideflex® nozzles' vulcanized elastomers and stainless-steel components have also significantly increased the system's life expectancy. The EQ tanks can now handle higher raw wastewater solids, from 0.10 to 0.25 percent consistently, and is able to withstand fluctuations in wastewater volume with greatly improved control and performance. The system's non-clogging, no-fouling design provides built-in backflow prevention, ensuring that diffuser nozzles do not get fouled. It also ensures complete tank aeration mixing, floor to liquid surface, effectively re­suspending all solids while providing even airflow distribution and control throughout the entire system and tanks. System blowers can be turned on-off-on with no loss in system performance and provide energy savings when required. WW
Red Valve is exhibiting at WEFTEC.19, booth 2812. To learn more visit www.redvalve.com.