Sustainability, Efficiency Lead to Peak Performance at Tulsa Plant
NPDES compliance record earns Tulsa's Lower Bird Creek Wastewater Plant top honors at NACWA's annual leadership conference.
Mar 1st, 2016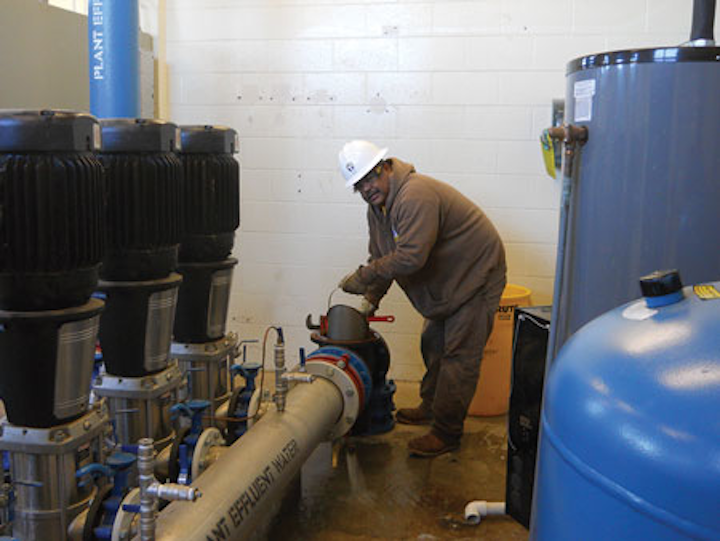 By Ann Nuttall
One of four wastewater treatment plants serving Tulsa residents, the Lower Bird Creek Wastewater Treatment Plant is located in northeast Tulsa on the south side of Bird Creek at the Port of Catoosa. Two offsite lift stations transport flow to the treatment plant. The North and South Port Lift Stations are located in the Port of Catoosa. The treatment plant and associated lift stations were constructed in 1996.
The plant recently has expanded treatment from 2 million gallons per day (MGD) to 4 MGD to serve the growing needs of the area. Wastewater enters the plant through a 24-inch force main from the South Port Lift Station. Liquid treatment facilities include an oxidation ditch aeration process, final clarification, disinfection and post aeration. Solids are transferred to Tulsa's Northside Wastewater Treatment plant for processing.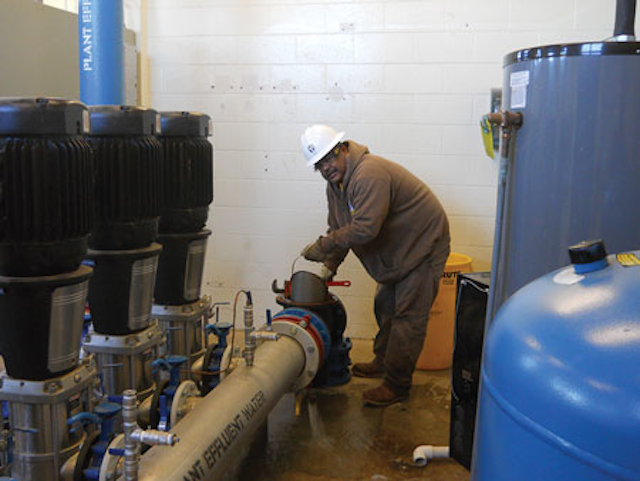 Eric DeAlba, plant mechanic, cleans the Plant Effluent Water Screen at the Lower Bird Creek Wastewater Treatment Plant.
The Lower Bird Creek Wastewater Treatment Plant operates 24 hours a day, 365 days a year, to provide an important sanitation service that protects public health and the environment. Wastewater collected through sanitary sewer main lines is treated to make it safe and clean enough to return to a water source, such as Bird Creek, where effluent from the Lower Bird Creek plant flows.
Just as streams and rivers have acted as the earth's purification system since the beginning of time, the wastewater treatment plant has borrowed nature's technology and uses concrete tanks, pipes and pumps to mimic the flow of fast moving streams and still ponds. As dirty water flows downstream, naturally occurring microorganisms in rivers feed on dissolved organic materials and breathe the oxygen caused by rapids. As the stream widens, the flow slows down and allows materials to settle to the bottom.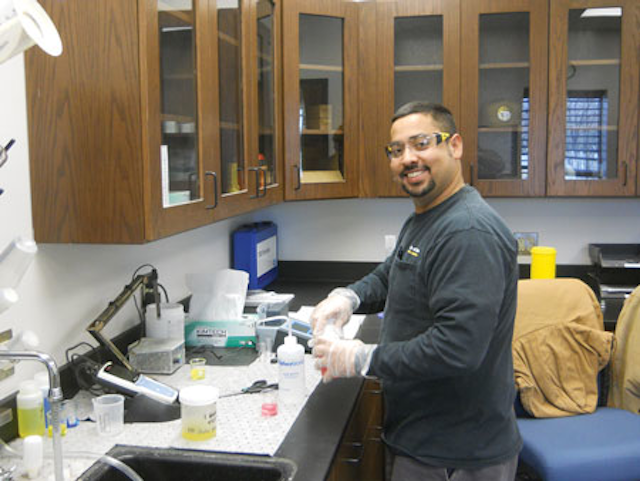 Manny Verges, plant operator, checks the calibration of equipment used to measure pH throughout the processes at the Lower Bird Creek Wastewater Treatment Plant.
At the Lower Bird Creek Wastewater plant, this cleaning process is imitated. Wastewater flow slowly enters large clarifiers, which allow heavy solids to settle and be removed. Soluble waste becomes the food for microorganisms that thrive in an oxygen rich aeration basin. The microorganisms rapidly grow and form large masses that can readily settle out in final clarifiers.
The City of Tulsa and the Tulsa Metropolitan Utility Authority (TMUA) have incorporated a Utility Enterprise Initiative (UEI). The UEI program is a cutting-edge, all-encompassing approach to analyzing significant aspects of the utility systems including governance and organizational structure, asset management, operation performance, capital needs, financial condition and legal public policy. Every aspect of the UEI is pointed toward one goal: ensuring that Tulsa has a sustainable, cost-effective and quality water system for generations to come. The Lower Bird Creek Wastewater Treatment Plant is an outstanding example of environmental efforts and incorporating the UEI.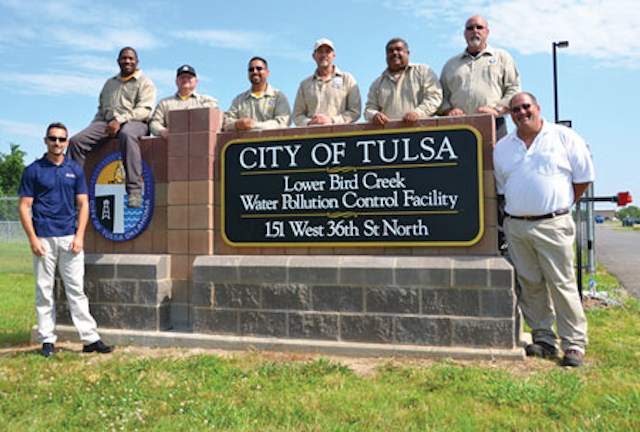 Staff members of the Lower Bird Creek Wastewater Treatment Plant (L-R): Shawn Glen, plant superintendent; John Hines, operator; Tom Collins, operator; Manny Verges, operator; Kenny Friend, operator; Eric DeAlba, mechanic; Al Parker, operator; and Zane Briggs, operations supervisor.
In 2015, the plant received a Platinum Peak Performance Award from the National Association of Clean Water Agencies (NACWA). This award recognizes 100 percent compliance with the plant's National Pollutant Discharge Elimination System permit over a consecutive five-year period, ending with the 2014 calendar year.
The Platinum Peak Performance Award is the highest performance recognition that NACWA gave to public wastewater treatment facilities at its 2015 Utility Leadership Conference last summer. Others are the Gold Award, given to facilities with no permit violations for one calendar year; and the Silver Award, given to facilities with no more than five violations per calendar year.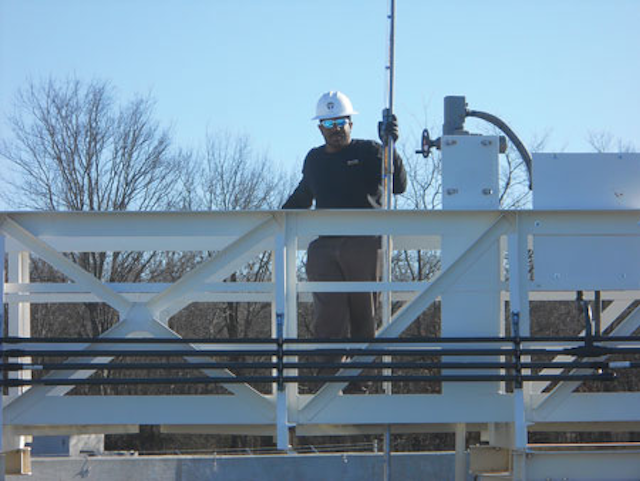 John Hines, plant operator, uses a sludge judge to measure the sludge blanket in the bottom of a clarifier at Lower Bird Creek Wastewater Treatment Plant.
NACWA recognized 482 facilities for peak performance, and 160 of those facilities received the Platinum Award. Ranking among those top 160, Tulsa's Lower Bird Creek Wastewater Treatment Plant is the first facility in the state of Oklahoma to receive this award.
"Sustainability, efficiency and quality have been the most important initiatives that have led to our award-winning performance at Lower Bird Creek," said Plant Superintendent Shawn Glen. "Asset management has led to a well-run, sustainable facility. Our emphasis on safety, efficiency and communication has helped our most important asset - our employees - to be successful and continue to provide a high quality level of service to our customers."
"To see this award given to our plant makes me proud to be on a team that takes pride in their work, is willing to do what it takes to keep the plant running smoothly, and is ensuring that we are protecting the environment," said Operations Supervisor Zane Briggs. "We earned this Platinum Performance Award by maintaining good working relationships among the crew and with our manager, and by making sure that our team has what is needed to do our jobs in a safe and efficient manner."
---
About the Author: Ann Nuttall is the utility systems operations administrator for the City of Tulsa Water and Sewer Department.
More WaterWorld Current Issue Articles
More WaterWorld Archives Issue Articles