WEFTEC.17 Show Preview
The 2017 Water Environment Federation Annual Technical Exhibition and Conference (WEFTEC.17) - considered the largest annual water quality event in the world - will take place Sept. 30-Oct. 4, 2017 at McCormick Place in Chicago, Ill.
Sep 1st, 2017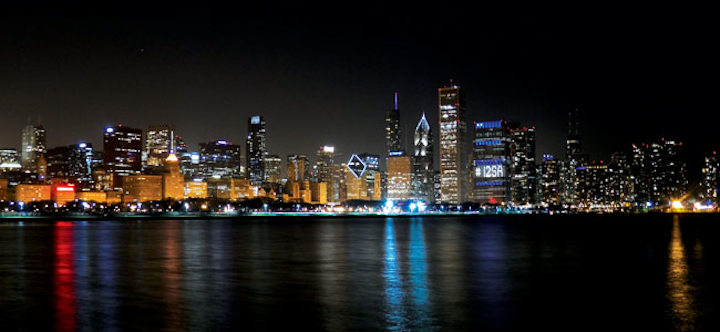 The 2017 Water Environment Federation Annual Technical Exhibition and Conference (WEFTEC.17) - considered the largest annual water quality event in the world - will take place Sept. 30-Oct. 4, 2017 at McCormick Place in Chicago, Ill. This year is the event's 90th in operation, and with a wide range of programming topics to cover and events to attend, there is something for everyone in the water business.
More than 33,000 attendees are expected at this year's event, hailing from all corners of the water sector. Festivities will kick off with the Opening General Session on Monday, Oct. 2, at 8:30 a.m., in the Grand Ballroom. A new format for the event will bring in elements of the Great Water Cities Session to the traditional kickoff.
Featuring WEF Executive Director Eileen O'Neill and 2016-17 WEF President Rick Warner, the program will include a keynote address from STEM educator Fredi Lajvardi. Lajvardi was the head of the winning university underwater robotics team that upset the top-ranked MIT team in 2004, a story that is now the subject of a bestselling book and two films. He has used his story to bring people from all walks of life into STEM fields.
Also part of the opening ceremonies, a series of informal, engaging "WEFTalks" will be moderated by Tom Ferguson, vice president of programming for Imagine H2O. Participants represent different segments of the water profession.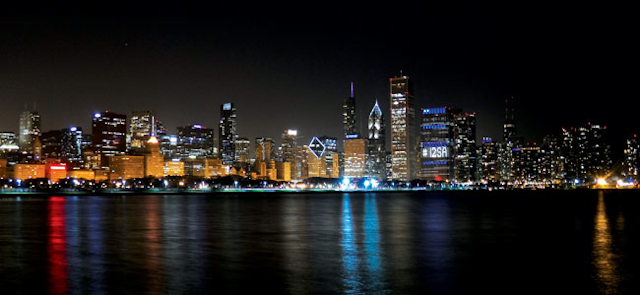 Topics for this year's event programming include something for everyone in the water industry, including: collection systems (management, operations and maintenance, infrastructure, overflow reduction, wet weather planning, watershed approaches, and regulations); energy conservation and management (resource recovery, combined heat and power, biogas optimization); membrane technologies (application in wastewater and water reuse, innovations, enhanced performance, regulatory compliance); plant operations and treatment (innovations, technologies, processes, and proven solutions in water and wastewater treatment including nutrient removal and odor control); regulations (CMOM/SSO rules, TMDL/watershed rules, nutrient trading, and NPDES Phase II); and more.
Facility tours, which require additional registration and admission fees, are an opportunity to observe active projects, construction, and/or operations at sites around Chicago. Licensed professionals may also earn contact hours for attendance at one of these off-site events. (For information on earning up to 1.2 continuing education units or 16.5 professional development hours at the show, visit www.weftec.org/program.) Participating local facilities include McCook Reservoir; Stickney Water Reclamation Plant; Kenosha Water Utility's Energy-Optimized Resource Recovery Project; Woodridge-Greene Valley Wastewater Plant, and Terrence J. O'Brien Water Reclamation Plant.
Companies from across the globe will present their technologies and services on the exhibit hall floor. This is also the ideal place to meet with vendors and other industry members to solve complex problems and troubleshoot solutions. The sixth annual Innovation Pavilion, located in booth 7739, again puts the spotlight on water sector innovation and provides access to the leaders and the technologies making it all happen.
The following pages contain a sneak peek at some of the products and services that will be on display in the exhibit hall. For more information, visit www.weftec.org.
Exhibit Floor Hours
Mon., Oct. 2 8:30 a.m. - 5:00 p.m.
Tues., Oct. 3 8:30 a.m. - 5:00 p.m.
Weds., Oct. 4 8:30 a.m. - 5:00 p.m.
WEFTEC Product Showcase
Electromagnetic flow meters
Badger Meter ModMAG® M-Series® electromagnetic flow meters are well suited for a diverse array of flow measurement applications in the water and wastewater treatment industry. With no moving parts and an open-flow design that virtually eliminates pressure loss, ModMAG meters are capable of accurately measuring flow of almost any liquid, including liquids that are highly viscous or corrosive.
Badger Meter
Booth 1025
Valve actuator
The Rotork CK range of modular electric valve actuators is designed to meet diverse actuation applications in the water industry. Maximum multi-turn output torque is 10,800 Nm (8,000 lbf. ft) and part-turn output is 205,600 Nm (151,600 lbf. ft).
Rotork
Booth 6944
Aeration system
The Aqua-Jet® aerator from Aqua-Aerobic features more than 1.5 million installed horsepower, representing 9 billion hours of run-time. Explosion-proof, high-efficiency motors capable of operating at 3-75 horsepower (2.2-56 kW) and heavy duty bearings and seals are standard.
Aqua-Aerobic Systems
Booth 3801
Industrial bearings
Thordon manufactures high-performance, long-lasting bearings that are oil- and grease-free to replace greased bronze bearings. Features include low life cycle costs, improved mean time between failure, and reduced equipment downtime.
Thordon Bearings
Booth 8407
Protective coatings
Choosing coating systems is one of the most critical phases of creating and maintaining a wastewater treatment facility. PPG's coatings are designed to withstand the abrasiveness of severe treatment processes and protect the components in a facility.
PPG Protective and Marine Coatings
Booth 5413
Wastewater treatment
ADI Systems is a world leader in industrial wastewater treatment and waste-to-energy solutions. The company's anaerobic and aerobic technologies reliably treat wastewater to help plants comply with environmental regulations and reduce costs. ADI Systems also offers technology to capture, treat, and utilize biogas as a source of renewable energy. Turnkey, design/build project delivery and technology packages are available for customers worldwide.
ADI Systems
Booth 2139
Tank covers
Geomembrane Technologies Inc. (GTI) offers customized tank and lagoon covers to help water and wastewater treatment plants control odor, algae, and temperature fluctuations, as well as protect the environment. Solutions can collect and store valuable biogas from anaerobic digestion, which can be converted into heat or electricity.
Geomembrane Technologies Inc. (GTI)
Booth 2141
Hybrid valve
Blacoh Fluid Control's Hybrid Valve™ is the world's first combination pulsation dampener and back pressure valve. This patent-pending design combines the steady flow control of a pulsation dampener and the regulation of a back-pressure valve to deliver the performance and functionality of both. As one harmonious unit, it takes up less space and has fewer leak points for improved functionality, maximum efficiency and lower maintenance costs for your metering pump system.
Blacoh
Booth 634
Total phosphorus analyzer
The Liquiline System TP analyzer offers precise online measurement of total phosphorus and ensures highest process safety. Automatic calibration and cleaning save you operating costs while advanced diagnostics with remote access support you in providing process documentation to the authorities.
Endress+Hauser
Booth 3003
Smoke generators for leak detection
Superior® Smoke Generators locate sources of surface inflow resulting in wet weather sanitary sewer overflows, providing a fast, inexpensive and easy way to find leaks and faults in collection systems. Superior Signal offers both smoke candles and blowers designed for smoke testing. Smoke candles provide the most visible smoke to detect more faults at longer distances in sizes to meet any need.
Superior Signal Company LLC
Booth 2631
Sensor controller
YSI is excited to announce a new controller for the IQ SensorNet system, the 282/284. An easily scalable solution, the YSI IQ SensorNet 282 and 284 controllers allow for connection of 1-4 sensors and can monitor up to 20 parameters. The controllers are ideal for process monitoring and control of small to mid-sized wastewater treatment facilities. Features include easy-to-read, color, digital display and a USB interface and data logging capabilities for further analysis and troubleshooting.
YSI, a Xylem brand
Booth 1248
Pumping solutions
Constructed of injection-molded, thermoplastic materials, Vanton's line of vertical and horizontal centrifugal pumps are inert to fluids across the entire pH range. The company will also feature its FLEX-I-LINER sealless, self-priming rotary pump at WEFTEC.17.
Vanton Pump and Equipment Corp.
Booth 2052
Protective lining
Sauereisen SewerGard® 210XHB is a protective lining specifically formulated for municipal wastewater environments. It provides a chemical-resistant barrier for concrete, masonry, brick, and steel substrates and installation is easily completed by plural component spray equipment. As a 100% solids epoxy polymer, 210XHB is specified to protect infrastructure throughout the wastewater industry. A fast-setting and high-strength lining that enables high build capabilities.
Sauereisen
Booth 1909
Water treatment
Ixom Watercare, the manufacturer of MIEX ion exchange resins and drinking water pretreatment systems, has expanded its water and wastewater treatment solutions offering to include filtration, advanced adsorption and membrane-based applications. Ixom's Australia-based Water Treatment Systems group has been implementing comprehensive, cost-saving treatment solutions for more than 10 years. The company is now expanding to North America.
Ixom Watercare
Booth 7751
Chemical feed station family
The compact feed stations from Assmann Corporation store small amounts of liquids and other chemicals without the handling and disposal costs of steel drums. Constructed from high-density crosslink or corrosion-resistant, FDA-compliant linear polyethylene, the feed stations are lightweight, strong and easy to handle. Available in capacities from 40 to 550 gallons with easy-to-read volume markers and a pump shelf that supports most pumps and metering devices.
Assmann Corporation of America
Booth 5041
Package filtration system
Hungerford & Terry's new H&T skid-mounted plug and play GreensandPlus System for removal of iron, manganese, arsenic, radium and hydrogen sulfide from water comes standard with electric activated butterfly valves, magnetic flow instruments, Allen Bradley PLC, touch screen controls, and genuine GreensandPlus media.
Hungerford & Terry
Booth 5634
Rotary fan screw press
The Prime Rotary Fan Screw Press combines the simple construction and pressure differential dewatering of PSI's Rotary Fan press with the addition of the company's patent-pending compression screw with fully adjustable pneumatic restrictor. Unlike other screw presses, the screens and screw do not make contact, so there is minimal wear and a longer service life.
Prime Solution Inc.
Booth 6935
Energy efficiency
Baldor Electric offers a complete portfolio of energy efficient products that reduce operating costs and maximize performance in water and wastewater facilities. When packaged together, Baldor-Reliance® motors and Dodge® mechanical power transmission products offer a less costly installation, simple operation and reduced maintenance.
Baldor Electric Company, a member of the ABB Group
Booth 2231
Water treatment system simulator
OSCAR™ is a field-based, rapidly deployable, low-cost treatment system simulator that is used for the design and validation of efficient water treatment systems for trace metal removal or corrosion inhibition (e.g., lead and iron). The real-time, high-frequency water quality data generated by OSCAR enables control of critical process parameters such as the contaminant of concern and pH. The system permits detailed cost projection and analysis of different treatment options at scale.
Aqua Metrology Systems Ltd.
Booth 6853
Chlorine emergency shutoff
The Terminator™ Actuator from Halogen Valve Systems can now be used on chlorine ton containers as well 150-lb cylinders to instantly stop the flow of chlorine in case of an emergency. Emergency chlorine shutoff is initiated when the controller receives a close contact signal from a leak detector or included emergency shutoff switch, and a relay output provides remote indication that an emergency close sequence has been performed.
Halogen Valve
Booth 2626
Check valve
The ProFlex™ 790 Low Headloss In-line Rubber Duckbill Check Valve from Proco is applicable for municipalities, airport runway runoff, railway washouts, highway flood damage prevention and odor control. The 790's unique design provides rapid dispersion of head pressures and, with its low cracking pressure, prevents upstream flooding. The unique fold-away design of the inner sleeve also allows for a near full port flow, allowing for quick drainage.
Proco Products
Booth 4327
Davit crane
The new First Mate davit crane by Thern is simple to set up, easy to use and transport and capable of lifting up to 850 lbs. Pedestal, wall and flush mount bases are installed with just four anchor bolts. Install multiple bases and the crane is even more economical, as it quickly folds down and then is easily moved from station to station. Designed for lifting pumps, mixers, gates, UV panels, manhole covers, trash baskets and more.
Thern
Booth 7724
Flexibility for your control cabinet
AirLINE Quick significantly reduces the number of components in the control cabinet. You need fewer pneumatic hoses and cables and you can integrate AirLINE Quick directly in the floor or wall of the control cabinet, eliminating the need for bulkhead connections on the cabinet. A unique feature of the Type 8640 and the Type 8644 automation system is the combination of the pneumatic connections, field bus interface and I/O modules directly on the floor or wall of the control cabinet, which means that the control cabinet can be generally smaller than in the past.
Burkert
Booth 5224
Dual solenoid electronic control valve
The Singer Model 2SC-PCO is designed for use with Singer's MCP Multi-Process Control Panel or the EPC Single-Process Control Panel. The flow into and out of the upper operating chamber is controlled by the two pilot solenoids. The electronic control determines whether the opening solenoid or the closing solenoid is operated. Virtually any hydraulic function can be achieved using the "open-close" output from the SCADA controller to the valve. This precision control valve is good for remote locations, requiring minimal power with manual controls for emergencies and the ability to service in-line.
Singer Valve
Booth 4451
Lift station
Gorman-Rupp's ReliaSource 8x9 Above-Ground Lift Station is a wastewater lift station with a smaller footprint and a budget-friendly price when compared with the larger stations in the company's line. ReliaSource lift stations not only include 100% genuine Gorman-Rupp pumps, controls, and enclosures but are also fully assembled and rigorously tested to operating conditions in Gorman-Rupp's state-of-the-art facilities.
Gorman-Rupp Pumps
Booth 2225
Manhole adjustment
PRO-RING™ from Cretex is a concrete-alternative manhole and catch basin grade adjustment system available in round, square and rectangular shapes. It is manufactured from Expanded Polypropylene and can be installed in just minutes to within a quarter inch of finished grade.
Cretex Seals
Booth 641
Steel tapping sleeve
Mueller Co.'s new H-306HP fabricated steel tapping sleeve is designed for hot tapping ductile iron pipe and thick-wall C900 plastic pipe. The H-306HP is made from A36 fabricated steel and meets the requirements of AWWA C223. It features an integral bolt flange, Rilsan nylon coating, working pressures up to 300 psi, and is available in sizes from 4" to 16".
Muller Company
Booth 1131
Stormwater management
Oldcastle Precast offers a complete line of stormwater detention, retention, infiltration, treatment and harvesting solutions. Whether your site needs a simple detention system to prevent storm drain overloading, a groundwater recharge system for Low-Impact Development (LID), a stormwater treatment system to improve water quality, or a complete stormwater harvesting system, Oldcastle Precast will provide your solution.
Oldcastle Precast
Booth 244
Wastewater treatment
With more than 40 years of experience in the wastewater treatment industry, Honeywell UOP provides total solutions that meet customers' individual needs. UOP's XCeed™ bioreactor system efficiently removes up to 90% of organic and inorganic contaminants to help facilities meet contaminant removal specifications for wastewater discharge or reuse.
Honeywell UOP
Booth 659
Chlorine ton scale
The Chlor-Scale® Ton Container Scale from Force Flow provides an accurate and reliable way to monitor the amount of chlorine used in your disinfection process. The steel rectangular tube platform is robotically welded then epoxy-powder-coated to insure maximum strength for safety and durability. Electronic and hydraulic versions available.
Force Flow
Booth 2627
Pump automation
The SEL-2411P Pump Automation Controller is a SCADA-ready system for control and monitoring of water and wastewater pump-up and pump-down applications. The SEL-2411P is UL-listed and specifically designed to withstand harsh water and wastewater environments. Backed with a ten-year warranty and free technical support, it is easy to install in new or retrofit pump applications.
Schweitzer Engineering Laboratories Inc.
Booth 8410
Wafer style check valve
Flomatic Corporation's new Model 888VFD wafer style check valve is available from 2" to 4" with a 316-stainless steel guide and seat with EPDM elastomer disc standard, patent pending. The valve is designed for simple flange supported installation and will operate in any position. It is suitable for ANSI 150# or 300# mounting. The double-guided, spring-loaded poppet system maximizes efficiency and minimizes water hammer with an easy field-exchangeable internal system.
Flomatic Corporation
Booth 5215
Remote water quality monitoring
MetriNet, derived from Network Metrics, is a low-power, modular system for monitoring water quality at remote locations. The company's new series of smart digital sensors, M-Nodes, are a complete sensor and transmitter housed in a miniaturized body. Data transmission is accomplished via cellular modem, Wi-Fi, or wired Modbus, Ethernet, or Profibus.
Analytical Technology Inc.
Booth 2643
Forced vortex grit removal
PISTA® Forced Vortex Grit Removal Systems utilize advanced hydraulic control to provide up to 95% removal efficiency for grit down to 100 microns. System innovations include a unit permitting design layouts beyond conventional arrangements, and a retrofit system improving performance for 270-degree chambers.
Smith & Loveless Inc.
Booth 2017
All-bolted AODD pumps
IWAKI Air offers a full portfolio of all-bolted air-operated double diaphragm pumps in sizes from 1/4" to 3" in multiple configurations of metallic and non-metallic wetted materials including stainless steel, aluminum, cast iron, PVDF, polypropylene and acetal. The new Pure Polypropylene pump, available up to 1/2", is an extremely cost-effective material when compared to PVDF.
IWAKI America
Booth 1263
Pumps and systems
With the recent acquisition of two highly-respected American brands, Scot Pump and Weil Pump, Wilo USA is excited to exhibit with all three brands at WEFTEC this year in Chicago. On display will be 2"-24" submersible sewage pumps, gear-driven submersible mixers with a high-efficiency motor, vertical multistage pressure boosting systems with a user-friendly PLC, and industrial pumps for a variety of applications.
Wilo USA
Booth 4612
Diaphragm metering pumps
Chem-Pro® C2 and C3 chemical metering pumps from Blue-White provide excellent chemical resistance and precision chemical metering capabilities in a wide range of applications. The rugged Chem-Pro® diaphragm pump can handle high-pressure applications, up to 175 PSI for C2 and 150 PSI for C3. It has a smooth chemical feed with none of the hammering problems often seen with solenoid pumps. Chem-Pro® pumps provide a full stroke every time to avoid vapor-lock.
Blue-White Industries
Booth 3425
Water quality analysis
For 70 years, Hach has been an innovator in water quality analysis, providing tools that are accurate, simple to use, and informative. Eliminate uncertainty and boost efficiency and compliance with smart sensors, real-time control, and predictive diagnostic software designed specifically for wastewater treatment.
Hach
Booth 1308
Mixing equipment
GridBee® and SolarBee® mixers from Medora Corporation help solve problems in activated sludge ponds, wastewater lagoons, equalization ponds and wet wells for lift/pump stations. We tailor our equipment to meet your exact needs. Pilot and rental programs available. Industry-leading parts and labor warranties.
Medora Corporation
Booth 1055
Non-fouling level transmitter
The Keller LevelRat is built to provide reliable, low-maintenance service in wastewater level measurements. It offers 0.5% FS TEB accuracy, dual outputs (one analog and one RS485 digital), and models equipped with a 4-20 mA analog output that include Keller's guaranteed lightning protection at no additional cost.
Keller America
Booth 639
Flowmeters
KROHNE will showcase a wide range of its industry-leading water and wastewater products, including the brand new biogas version of the OPTISONIC 7300 ultrasonic flowmeter at WEFTEC.17. Also to be showcased are TIDALFLUX 2300, KROHNE's flow meter for partially filled pipes; WATERFLUX 3070 water counter with flexible power concept; and a new generation of liquid and solids level measurement products featuring better measurement performance, enhanced software and an improved and more powerful signal processor.
KROHNE Inc.
Booth 916
Weights, measurements
Scaletron is a leading manufacturer of corrosion-resistant scales designed for weighing and monitoring the usage of corrosive chemicals and/or materials in water treatment, wastewater treatment and industrial applications. The complete line of scales includes 150 lb. cylinder and ton cylinder scales; drum scales; tank and platform scales; IBC tote scales and spill containment scales. Scales feature a low-profile platform design, capacities from 30 lbs. to 30,000 lbs., and a five-year warranty.
Scaletron
Booth 6731
Grinder pumps
The enhanced FPS PowerSewer® System from Franklin Electric is a flexible, service friendly, and efficient system for residential and commercial applications. The basin's internal C-Channel assembly releases from the top of the unit, simplifying accessibility to and maintenance of its components. The updated tank design provides for easy access and replacement of all other internal components. The float tree is spring loaded and easily removable, with a lift handle to simplify pump removal. Isolated pump support accommodates heavier pumps for expanded applications.
Franklin Electric
Booth 3643
Metering pump technology
Since 1936, Milton Roy has concentrated its resources on the development and manufacture of equipment that accurately controls fluids ranging from water to high-viscosity polymers, corrosive or abrasive chemicals, toxic substances, and other difficult pumping media.
Milton Roy
Booth 4448
Collection system monitoring
SmartCover Systems has introduced the SmartLevel™ level monitoring system with trend analysis to give users visibility into the collection system. It detects day-to-day level changes with its automated SmartTrend analytical tool, alerting users to subtle changes in their system. This visibility enables users to determine when to clean, days to weeks ahead of any issue. Its real-time feedback frees utilities from overcleaning.
SmartCover Systems
Booth 2625
Screening and pretreatment
Enviro-Care's SPECO®, SAVI® and FSM® equipment will be on display at WEFTEC.17. The new SAVI Beast 800 septage receiving screening system with innovative pivoting design will be featured as well as a full-scale production unit of the SPECO Combined Pre-Treatment Plant. In addition, the FSM Perforated Plate Filter screen with the new design will be shown for the first time.
Enviro-Care
Booth 1342
Wastewater combination air valves
A.R.I. USA is proud to introduce the D-26 family of wastewater combination air valves. The MaxFlow line is available in a variety of sizes, body materials, and connection types. A.R.I.'s 40 years of air valve design experience culminate in this new full-flow line of products for use in all types of municipal, industrial, and package systems applications.
A.R.I. USA
Booth 4238
Control valves
OCV's control valves are designed to get the most out of resources without wasting a drop. Standard design advantages create drip-tight Class VI closure, flow and pressure stability, preventing water loss and system damaging surges. Valves meet or exceed industry standards, including the most comprehensive NSF/ANSI 61-G listing in control valves, 5-year warranty, and ARRA/AIS compliance.
OCV Control Valves
Booth 4757
Biosolids reduction
Drylet's dry-to-the-touch product, Aqua Assist, has been specifically formulated as a biocatalyst loaded with beneficial bacteria for wastewater treatment plant operations. At 1011 cfu per gram, Aqua Assist provides more than 100 times the microbial concentration of any liquid bioaugmentation product. It enhances the power of nature to transform biosolids into water and gas without requiring any commitment to new or expensive equipment.
Drylet
Booth 8336
Ductile iron pipe protection
VB3 Enhanced Polyethylene is an advanced form of polywrap protection on ductile iron pipe. It not only creates a barrier between the corrosive soil and the surface of the pipe but it also works to fight corrosion in other ways. This three-layer, co-extruded film is infused with a volatile corrosion inhibitor (VCI) as well as an antimicrobial additive. The VCI neutralizes any corrosive liquids that may seep between the wrap and the pipe while the antimicrobial additive fights anaerobic corrosion caused by sulfate reducing bacteria.
AA Thread Seal Tape Inc.
Booth 5412
Valves, rings
Onyx Pinch Valves are available with hand wheel, pneumatic, or electric actuators. They are ideal for controlling raw sewerage, sludge and lime slurry. Isolator Rings reliably measure pressure or level on slurries and other hard-to-handle fluids and are ideal for pump protection. Guaranteed to never clog or plug, they are compatible with a wide array of gauges, switches, and transmitters.
Onyx Valve Co.
Booth 4623
Eco-friendly odor control
OMI Industries' innovative Ecosorb® technology eliminates odors without the use of harsh or hazardous chemicals, expensive emission control systems or masking fragrances. Developed from a proprietary blend of plant extracts, food-grade surfactant and water, Ecosorb is engineered to seek out and destroy organic and inorganic odors on a molecular level - allowing wastewater treatment facilities to be good neighbors.
OMI Industries
https://ecosorbindustrial.com/
Booth 1021
Dry polymer preparation system
Acrison has upgraded Model 500 Dry Polymer Preparation System. The Model 500 now comes with a state-of-the-art controls package including a color touchscreen operator interface with graphic displays, automatic batch calculations, and extensive control and monitoring capabilities. The Model 500 also has a variety of additional sensors throughout the system to more closely monitor its operation in real time, and an upgraded air dryer for conveying polymer into the unit's cyclone wetting chamber.
Acrison Inc.
Booth 4025
Replacement grinder pump
Replace troublesome, maintenance-intensive residential grinder pumps with the progressing cavity Upgrade from E/One. For the longest mean time between service calls and the lowest operation and maintenance costs, the Upgrade is designed to fit into almost any other grinder pump wet well. The changeover from old pumps to new pumps is quick and easy - virtually a drop-in replacement.
Environment One Corporation
Booth 826
Pumps and flow meters
Flomotion Systems designs and manufactures positive displacement peristaltic pumps and accessories and magnetic flow meters. Products are used in a wide variety of demanding liquid dispensing and measurement applications. Industries served include municipal water and wastewater, food and beverage, concrete, CPI, power and HVAC.
Flomotion Systems Inc.
Booth 3402
Composite manhole cover
Composite material from Trumbull can pass a 50,000-lb. proof load test per AASHTO M-306, H-25, yet weighs only one-third of a comparable cast iron frame and lid. Due to its resistance to hydrogen sulfide, composite material is a great solution for manholes where H2S gas has caused deterioration to cast iron manhole covers. Now available in 30" size.
Trumbull Industries Inc.
Booth 4350
Powerful pump monitoring
The Trimble Telog solution provides a GIS-centric cloud and mobile platform for monitoring lift station pump on/off cycles along with sump levels. This data can then be used to produce pump run-time and energy efficiency reports as well as flow history. Data is wirelessly transmitted on a defined schedule or in response to alarms, providing a powerful solution for improving pump performance and optimizing system operations.
Trimble Water and Telog, A Trimble Company
Booth 1814
Moisture-tolerant epoxy systems
The new Dura-Plate® 301 Series of moisture-tolerant epoxy systems from Sherwin-Williams Protective and Marine Coatings can be applied over damp and medium flash-rusted metal substrates without dew point restrictions, giving contractors wider application windows for protecting assets in harsh environments. The low-temperature cure formulation allows for application at just a few degrees above freezing, driving coating schedule efficiencies for both new construction and maintenance projects.
Sherwin-Williams Protective & Marine Coatings
http://protective.sherwin-williams.com
Booth 7731
Remote monitoring over private cellular network
Phoenix Contact's new EAGLEi remote monitoring solution delivers easy and secure access to remote data. Phoenix Contact provides the remote terminal unit (RTU) with complete hardware, while EAGLEi Data LLC hosts the web-based data at a secure data center. EAGLEi provides real-time information about levels, flow, temperatures, pump starts, run times, faults, and process values.
Phoenix Contact
Booth 7918
Equalization, SSO, and CSO tanks
DN Tanks offers durable, prestressed concrete tanks that can withstand the demanding and fluctuating cycles of flow equalization and can accommodate: covered or open-top roof configurations, various floor slopes, flood drains and troughs, cleaning equipment, fast fills and drains, and easy cleaning processes. Our prestressed concrete tanks are not affected by harsh conditions including extreme fluctuations in temperatures and do not require internal coatings, even when used in an aggressive wastewater environment. Shown is a 1.0 MG equalization basin and lift station in Branson, Mo.
DN Tanks
Booth 1920
GIS systems
Since 1969, ESRI has helped customers unlock the full potential of data to improve operational and business results. ESRI engineers advanced solutions for digital transformation, IoT, and location analytics to create the maps that run the world.
ESRI
Booth 4048
Membrane technology
Layne offers POREFLON™ PTFE UF/MF membranes for durability and performance. Polytetrafluoroethylene (PTFE) hollow-fiber membranes offer higher porosity, and lower trans-membrane pressure than traditional PVDF materials. Succeeds in harsh applications and withstands aggressive chemical cleanings.
Layne
Booth 2904
Odor control
Jerome®, by Arizona Instrument offers both portable and stationary H2S analyzers that are accurate, reliable and rugged enough for nearly any environment. The handheld J605 can detect H2S as low as 3 ppb and can store up to 10,000 data points. It boasts a battery life of 18 hours and is equipped with an intuitive menu-driven interface. The 651 is a monitoring system with a removable portable unit for detecting hydrogen sulfide hot spots.
Arizona Instrument
Booth 1820
Double containment piping system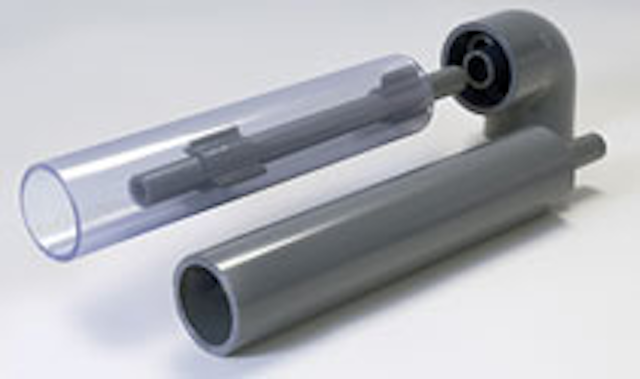 GF Piping Systems' Double-See® Vinyl Double Containment Piping System is an easy-to-install pressure-rated system with a primary (inner) and secondary (outer) pipe designed for safely transporting hazardous liquids. Double-See is available in sizes from ½" x 2" to 6" x 10" in both PVC and CPVC; either material may be primary or secondary (PVC × PVC, CPVC × PVC, CPVC × CPVC) with Clear PVC always an option for the containment pipe.
GF Piping Systems
Booth 4052