Tank and Lagoon Covers Provide Long-Lasting Odor Control
Foul odors are commonplace at many wastewater treatment plants and can be detected even at extremely low concentrations - but that's not to say they can't be controlled.
Jun 1st, 2017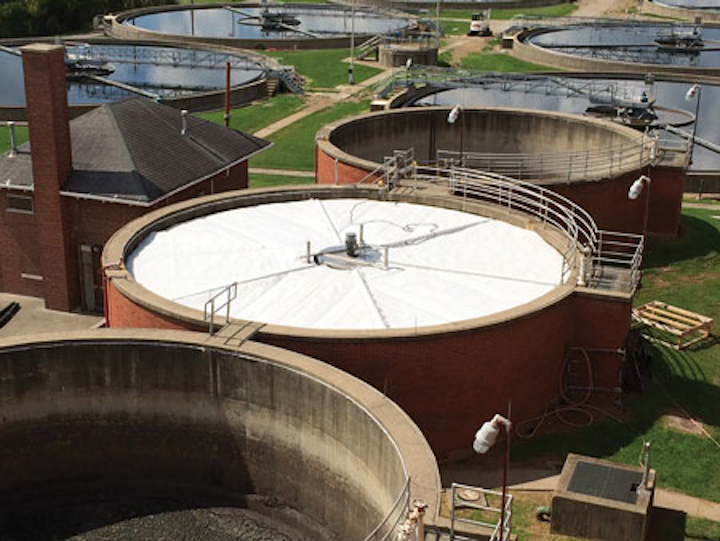 By Victor Cormier
Foul odors are commonplace at many wastewater treatment plants. The odors originate as the organics in the wastewater break down, releasing odors that smell like rotten eggs, ammonia, or garlic. These odors can be detected even at extremely low concentrations, but that's not to say they can't be controlled.
Treatment plants regularly combat the repercussions of odors lingering in and around the facility. Employees' overall job satisfaction may suffer from being exposed to nuisance odors, and neighbors, fed up from having to live close to such an unpleasant environment, complain. It is difficult to get the public to accept that the treatment plant has limited resources and competing demands for budget allocations. Their complaints may escalate, gaining traction with the media, city officials, and other people in the community. Ultimately, the plant's reputation can be negatively impacted.
The community wants the odors gone. The plant wants the complaints to stop. Something must be done - but what?
There are many different approaches to controlling odor. Some options, such as adding chemicals to the water or using deodorizing misting systems, reportedly work well - until they don't. Odors may be controlled most of the time, but a sudden change in wastewater composition or weather can cause odors to intensify. As luck would have it, this often happens at inopportune times, like when the plant's most vocal critic is outside on his patio. This leads to people thinking that the plant has done nothing to combat the problem, frustrating everyone involved. When plant management is taking action to solve the issue, a flood of odor complaints is discouraging.
How to Control Nuisance Odors at Wastewater Treatment Plants
Covering tanks, basins, and/or lagoons with high-quality covers is often the best solution for reliable odor control. The cover should be airtight to reliably capture and contain odors - while still allowing safe, easy access for inspection and maintenance purposes. The right cover system can withstand tough weather conditions, resisting tears, punctures, chemicals, and UV rays. Ideally, the cover can be customized to the plant's unique requirements.
Odor control is the most common reason wastewater treatment plants cover tanks.
Below are some examples of when covers were the solution to pesky odor problems at wastewater treatment plants.
Plant Expansion Threatens to Bring More Odors - But Not with the Right Cover
A large wastewater treatment plant in the United States was embarking on a $353 million project to expand treatment capability and replace aging infrastructure. More treatment capacity introduced the threat of more odors. In response to concerns from neighboring properties, the expansion project included upgrading the plant's odor control measures. The plant wanted to a cover solution that would address odors without hindering access for maintenance and sampling.
The plant covered 24 of its primary clarifiers, nine of its launder tanks, and 16 of its equalization tanks with structurally supported covers designed and supplied by Geomembrane Technologies Inc. (GTI). These tanks are all part of the early stages of wastewater treatment when odors are at their most intense, so it is crucial that the tanks be securely covered. The retractable covers are tensioned across a low-profile aluminum arched frame spanning the tank opening but can easily be rolled open.
The retractable covers have helped minimize odors as intended. Odor from wastewater treatment is reliably contained within the tanks so that it can be removed and treated, helping reduce complaints and maintain a positive perception of the plant in the community. Those who work at the plant can still perform their regular duties and access the tanks' internals by simply retracting the covers. As an added benefit, the removable guardrail system provides safety without monopolizing space on the walkways.
Modular Tank Covers Cost-Effectively Minimize Odors
The Town Branch Wastewater Treatment Plant treats almost 11 billion gallons of wastewater annually. The plant was converting four existing tanks, including a blending tank, two secondary digesters, and a side-stream holding tank. To minimize odors, the plant needed to replace failing steel-dome gas collecting covers, and intended to recover the tanks with a more economical product.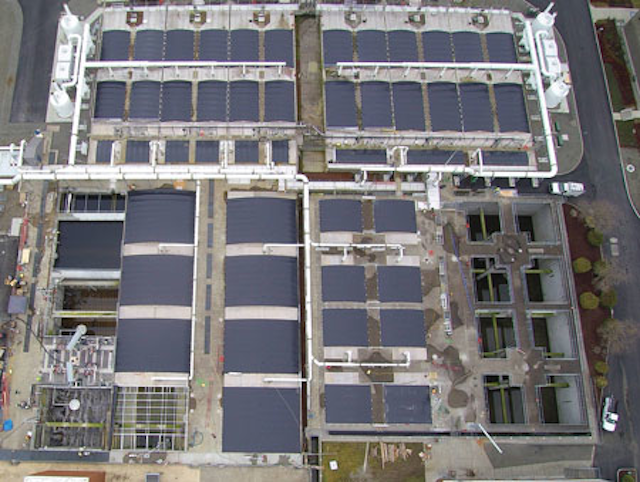 Covering tanks is often the best solution for reliable odor control.
The four tanks at the Town Branch Wastewater Treatment Plant were covered with insulated modular covers from GTI. The durable design allows individual panels, also known as modules, to be removed and replaced for routine maintenance. Each panel has additional support along the edges, meaning the covers are safe to walk on in any location - even when panels are removed.
The custom-fabricated tank covers function very well, and plant operators and management are pleased with the results. Odors are effectively controlled at the facility, thus maintaining community relations and worker satisfaction.
Covers Help Control Odors and Rising Energy Costs
The Milton Regional Sewer Authority (MRSA) in Pennsylvania serves both residential and industrial customers. Like most plants, naturally-occurring foul odors from wastewater treatment were a concern. Moreover, the MRSA was spending over $360,000 a year on electricity, and that price was expected to rise by 20-40 percent when Pennsylvania deregulated the energy industry. The municipality needed a solution that would help control odors and combat rising energy costs.
By investing in a plant upgrade dubbed the "Wastewater to Energy (Ww2E)" project, the MRSA was able to simultaneously address both issues. GTI custom-designed and installed gas collection covers on two large digester tanks, which reliably capture the biogas produced from anaerobic digestion.
The tank covers control the "rotten egg" smell of biogas, while helping the MRSA consume less energy and save more money. The upgrade has reduced overall energy consumption at the plant by approximately 30 percent, and it will eliminate more than $300,000 in annual electricity costs.
More than Just Odor Control
As the MRSA case study demonstrates, the benefits of solving an odor problem with a tank or lagoon cover system extend beyond odor control. In addition to minimizing off-putting smells and making the surrounding community happier, the right cover can also help improve the treatment process itself.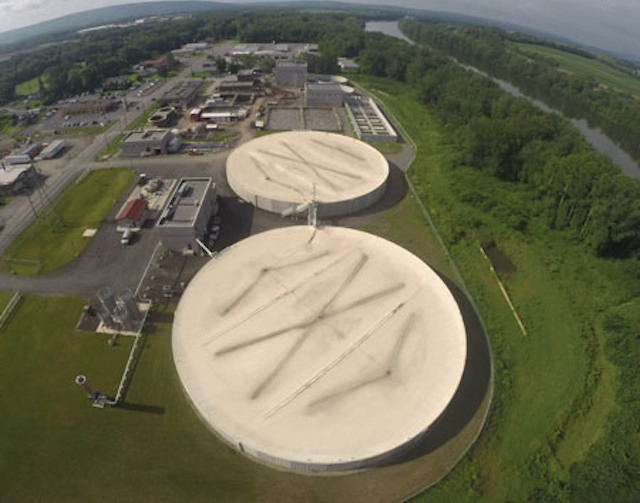 Odor control covers can also collect biogas and reduce greenhouse gas emissions.
A custom-fitted cover helps maintain consistent temperatures throughout the wastewater treatment process, which is especially important in anaerobic digestion (AD). A gastight tank cover can effectively minimize odors while capturing valuable biogas from the AD process. This biogas can be used to generate process heat or electricity, helping offset rising energy costs.
A cover also prevents harmful greenhouse gas emissions from escaping into the atmosphere and damaging the ozone layer. Moreover, secure covers prevent precipitation and debris from entering tanks and minimize evaporation, thereby conserving water.
When Covering a Problem Makes Sense
No matter where your plant is located or what type of wastewater it treats, the right cover solution can successfully reduce odors and the reputation-impacting complaints that come along with them. Ultimately, covering the problem area of tanks and lagoons is often the most economical and practical solution for effective odor control.
---
About the Author: Victor Cormier is president of Geomembrane Technologies Inc. For over 30 years, GTI has been designing innovative tank and lagoon covers for water and wastewater applications worldwide. For more information about our odor control covers, visit GTI's website at gticovers.com call (855) 484-4630.