Elastomer Valves Provide Solutions in Backflow, Slurry Applications
The most critical part of any valve is its engineering and construction. Elastomer valves are built to specifically provide low maintenance and long life span in the toughest applications.
Sep 2nd, 2012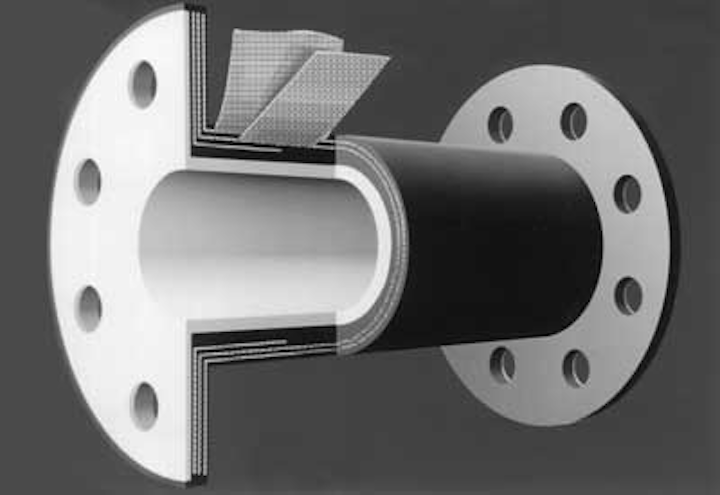 By Chris Raftis
The most critical part of any valve is its engineering and construction. Elastomer valves are built to specifically provide low maintenance and long life span in the toughest applications. The design of an elastomer valve provides trouble-free, high wear-resistance that outperforms and outlasts many other valve styles.
A cutaway drawing of a elastomer pinch valve sleeve, showing the plies.
Elastomer valves are ply reinforced, much like an automotive tire. Special plies of nylon, polyester and Kevlar fabrics provide the structural support within an elastomer valve and form the pressure-containing vessel. The wear surface of an elastomer pinch valve is vulcanized to the ply and is chosen on the basis of compatibility with the process fluid. Elastomer valves can be built to suit almost any process condition. Large-diameter and high-pressure designs are available, as are variations in elastomer thickness for severe conditions.
Year after year, millions of dollars are spent in the United States when CSO systems allow receiving waters to enter into sewage treatment plants and collection systems. The unique characteristics of elastomer valves make them ideal for backflow prevention in these applications.
Developed specifically for CSO and diversion chamber applications, elastomer valves such as the Tideflex® Check Valve and Tideflex® CheckMate® Inline Check Valve can eliminate backflow from oceans, rivers and interceptors.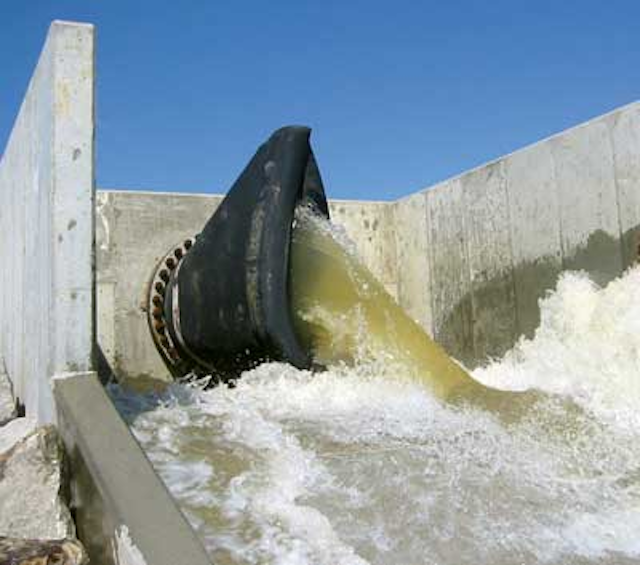 With a maximized bill height that increases the open area, headloss in elastomer check valves is significantly reduced.
Elastomer check valves are designed to be installed in the upstream or downstream end of a diversion chamber or pipeline. Simply insert the valve inside or onto any size pipe and clamp it into position. No modification to the pipe or structure is required.
The all-rubber construction of elastomer check valves provides trouble-free service because there are no mechanical parts to fail or corrode. Their unique design allows for near 100% flow and a tight seal to eliminate backflow. These valves even seal on entrapped solids. Their construction also gives the valves extremely low headloss.
Elastomer check valves completely drain the pipeline and are sensitive enough to open with as little as one inch of water.
Pinch valves are another type of valve that use engineered elastomer technology. At the heart of every pinch valve is an elastomer sleeve that can manage the toughest flow applications in sludge - specifically return and waste activated sludge, grit and lime slurry. The sleeve provides excellent corrosion resistance, abrasion resistance and pressure containment. Pinch valves are ideal for both isolation and flow control applications and can be optioned with customized "cone sleeve" trim.

The flexing action of an elastomer pinch valve sleeve breaks away any solid or dewatered slurry build up, even lime. The sleeve has no pockets for slurry to plug in or erode.
When abrasive particles strike the hard surface of traditional metal valves, the energy of impact is absorbed by the metal surface prematurely wearing seats, weirs, rotating discs, plugs and balls. Additionally, these abrasive particles pack behind the ball and plug, scoring the sealing surface and creating leaks.
When abrasive particles strike the elastomer surface of a pinch valve, the impact is absorbed and deflected back into the particle. Extremely resistant elastomers wear at a far slower rate than ceramics or metal alloy valve trims. Pinch valves are full-ported with no crevices or seats to foul valve operation.
Another major benefit of pinch valves is that there is no packing to maintain. Pinch valves provide double containment without the need for packing. Therefore, they are often installed in buried service applications and if fugitive emissions are a concern.
Accurate, repeatable linear flow control and drop-tight, bi-directional shutoff make elastomer valves such as Red Valve Company's pinch valves ideal for influent flow control and during pretreatment as wastewater is passed through a screen to remove grit.
Caustic and chemical solutions, such as lime are used to equalize wastewater. These materials present tough problems for metal valves, but the elastomer sleeve within a pinch valve resists abrasion and corrosion. The flexing action of an elastomer sleeve breaks apart dewatered solids each time the valve is actuated, even after long periods of inactivity. In sludge, waste activated and return activated applications where the percent solids is greatest, pinch valves can outperform all other valves.
About the Author: Chris Raftis is President of Red Valve Company and Tideflex® Technologies. For more information on elastomer valves and their applications, visit www.redvalve.com.
Red Valve is an exhibitor at the WEFTEC.12 event and can be found at Booth No. 1733