POTW uses Advanced Technologies to Address Multiple Needs
The Town of Sturbridge in Worcester County, MA, operates a publicly owned treatment works that serves more than 9,000 residents and local businesses.
Sep 2nd, 2012
The Town of Sturbridge in Worcester County, MA, operates a publicly owned treatment works that serves more than 9,000 residents and local businesses. The treatment plant has experienced steadily increasing flows over the last 25 years due to significant population growth in the community. Plant loading rates eventually increased above design levels, and NPDES permit requirements were becoming more stringent for both nitrogen and phosphorous. Furthermore, a limited footprint was available for expansion.
The town and its consulting engineer, Tighe & Bond, considered many potential solutions to address these issues, including a system upgrade using Membrane Bioreactor (MBR) technology. During an evaluation of treatment alternatives it was recognized that, while MBRs can provide high-level treatment in a small footprint they can also be energy-intensive and relatively expensive to own and operate.
Taking this information into consideration, the town decided to explore the BioMag™ ballasted biological treatment system, an emerging new technology from Siemens Water Technologies.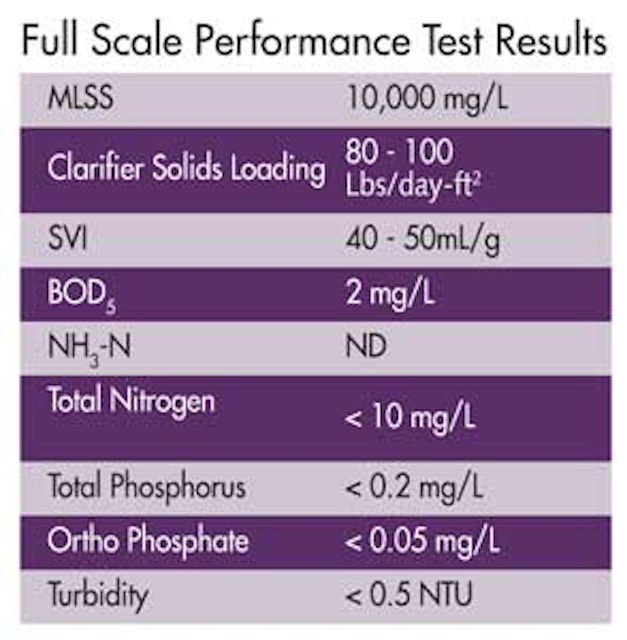 The BioMag system enhances biological wastewater treatment processes by using magnetite to ballast biological floc. With a specific gravity of 5.2 and a strong affinity for biological solids, magnetite substantially increases the settling rate of the biomass. This provides the opportunity to increase mixed liquor suspended solids (MLSS) concentration. Higher MLSS concentration enables the treatment of increased hydraulic flows or surges and loadings, all within the same tankage.
The town agreed to first pilot this innovative technology on one of the facility's three activated sludge trains.
Plant operators set several objectives for the trial: demonstrate that the new system was a cost-effective alternative to MBRs; identify whether converting the existing activated sludge system to the BioMag system could increase overall plant capacity from 0.75 mgd to 1.6 mgd without adding additional bioreactor or clarifier capacity; and determine whether the system would enable the plant to meet all permit limits, achieving < 10 mg/L total nitrogen and < 0.2 mg/L total phosphorus.
Filtration Upgrade
Concern regarding future tightening of phosphorus limits, along with a desire to have a reliable tertiary treatment process to work in conjunction with the BioMag system, the Sturbridge plant then turned its attention to expanding the existing conventional media filtration system. A demonstration showed that the installed cost of an expanded sand filter would be greater than that of a smaller and higher-performing CoMag™ system, also from Siemens Water Technologies.
The CoMag system is a solids and particulate removal process that produces effluent equivalent to ultrafiltration, at lower capital and operating costs than conventional alternatives. It competes effectively with all forms of media and membrane filtration and conventional clarification. These benefits, along with the advantages of a smaller footprint, no loss of productivity to clogging, plugging or backwashing, and a process guarantee of < 0.05 mg/L of effluent phosphorus, convinced plant operators to try the system.
The trial period for the BioMag system alone ran from November 2007 through May 2008. The total solution, with the addition of the CoMag system, has been fully operational since January 2012. Overall plant capacity was increased from 0.75 mgd to 1.6 mgd and effluent concentrations were substantially reduced, with all results achieved in the existing space with no added footprint.
Siemens is an exhibitor at the WEFTEC.12 event and can be found at Booth No. 4027