Benefits of Biosolids: How Water Utilities are Turning Waste into Resource
Some 16,500 municipal wastewater treatment plants across the United States produce a staggering eight million dry tons of biosolids every year.
Jul 1st, 2012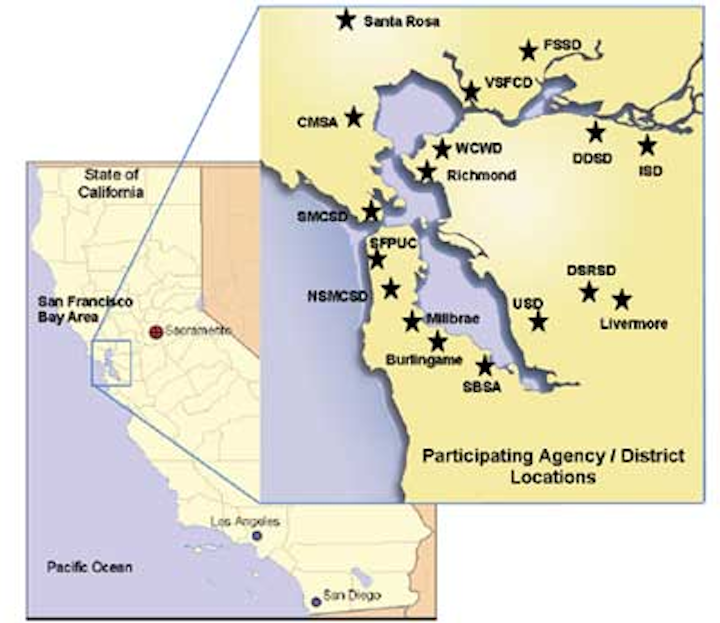 By Angela Godwin
Some 16,500 municipal wastewater treatment plants across the United States produce a staggering eight million dry tons of biosolids every year. Traditionally, the options for managing that waste have been limited, centering primarily around disposal in the form of incineration, landfilling, or the production of fertilizer for land application.
In recent years, however, driven by more stringent federal and state regulations, landfill closures, and rising disposal costs, wastewater utilities have begun to diversify their biosolids management portfolios.
"The wastewater industry has really undergone a huge shift away from a treatment-and-disposal approach toward one of recovering resources," said Caroline Quinn, Director of Engineering at Delta Diablo Sanitation District in Antioch, CA.
In northern California, she explained, there aren't a lot of options for managing the biosolids that are left at the end of the wastewater treatment process. Agencies typically apply the biosolids on agricultural land as a nutrient, send it to landfills where it can be used as an alternative daily cover, or send it to composting facilities.
"But all of these types of practices for managing biosolids require a lot of hauling of material," she said, "particularly if you're in a more urbanized area as many of the Bay Area agencies are."
In addition to the expense and environmental impact of long-distance hauling, biosolids disposal is also subject to influences beyond the control of the wastewater utility, such as restrictive county ordinances.
With a vision of diversifying their options for managing biosolids, 17 Bay Area wastewater agencies came together to form the Bay Area Biosolids to Energy (BAB2E) Coalition. Together, the agencies represent close to 4 million people in the Bay Area.
"We produce a lot of biosolids," said Quinn, who serves as the Coalition's project manager, "and we're very interested in diversifying our options through the deployment of innovative technologies and approaches."
To reach its goal of creating a sustainable biosolids management solution, the Coalition uses a multipronged approach comprising advocacy and evaluation. The advocacy strategy, Quinn explained, is aimed at informing people — including state and federal regulatory agencies and decision-makers — of the issues related to generating renewable energy from biosolids.
"This concept of using our biosolids and recovering the energy from them is strongly aligned with state and federal goals for renewable fuels and for reducing greenhouse gas emissions," Quinn said. "We see a project like ours as something that could be a component in those programs that the state and federal agencies are establishing to promote their goals of greenhouse gas reduction and renewable energy production."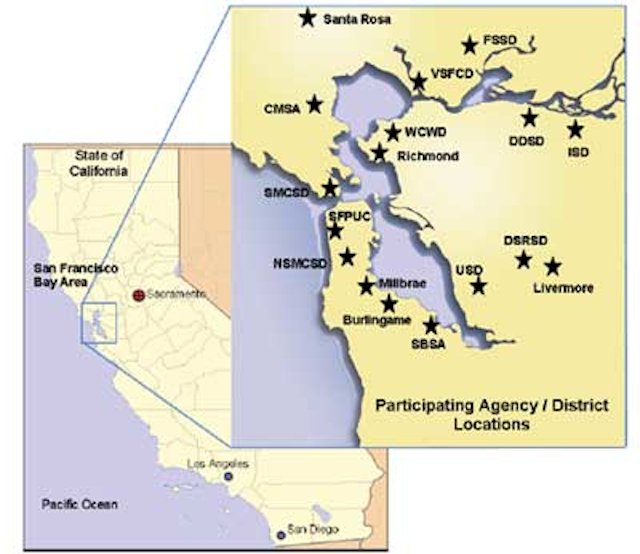 Seventeen Agencies Participate in the BAB2E Coalition.
At the same time, BAB2E is going through a process of identifying consultant teams and contractors experienced in biosolids management and in biosolids-to-energy technologies to understand what technologies they would propose to use.
"The approach that we're taking is very open-minded," she said. "It's based more on performance measures." The goal, she explained, is to identify and implement technologies that can produce a "net energy" from the biosolids— that is, energy above and beyond what it takes to process and dry the biosolids.
One technology that caught the Coalition's attention is a "Steam/CO2 Reforming" technology from Intellergy (Richmond, CA). The combustion-free system converts biosolids into hydrogen, electricity, or other fuels such as syngas (synthetic gas).
One aspect of the technology that was particularly appealing to the Coalition is its ability to process biosolids with high water content.
"The steam part of that process requires moisture," explained Quinn. "So it doesn't require the biosolids to be dried to as great an extent as other technologies." In fact, the system is most efficient at a moisture content of 55% — other biosolids-to-energy technologies require drying to around 10% moisture content. That's important when you consider the amount of energy typically required for the drying process.
Another compelling feature was the scalability — the ability to deploy the technology at smaller scales — making it possible to test the technology through a pilot installation.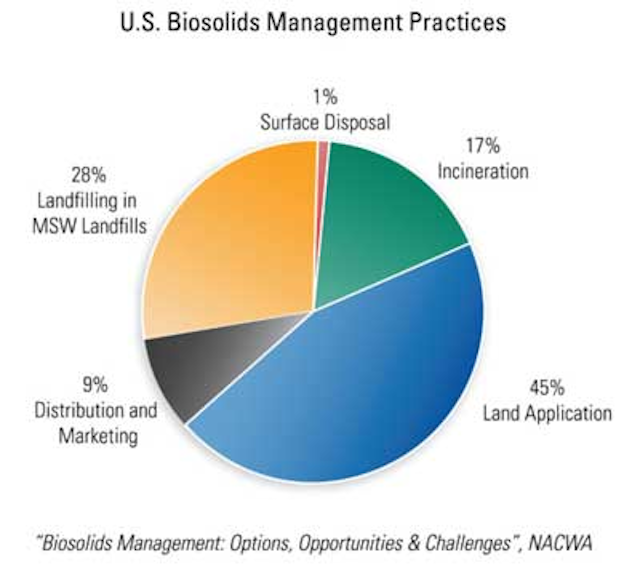 Quinn acknowledged the unique struggle that municipal agencies face when considering new technologies like this one. "On one hand we have a public service obligation to NOT invest in something unless we know it's going to work," she explained. "On the other hand, there's a need to innovate and there's a lot of potential for innovation."
One of the ways of meeting that challenge is through state and federal programs that can help fund the research and development, the demonstration, and then the first steps towards commercialization of these technologies.
The California Energy Commission took an interest in furthering BAB2E's mission, providing a $1 million grant through its Public Interest Energy Research (PIER) program to help fund the demonstration project. That money, combined with private funding from Intellergy, will finance the first commercial demonstration of steam/CO2 reforming using municipal biosolids.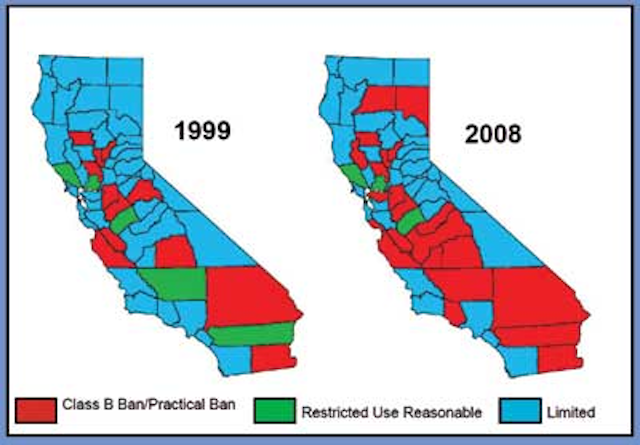 Local, State and Federal regulations are becoming increasingly stringent and restrictive of the current biosolids management practices of soil amendment and landfill cover in California.
"Using economies of scale and putting all their energies together, the Coalition is really leading the way in terms of their efforts," said Chris Hornback, Senior Director of Regulatory Affairs for the National Association of Clean Water Agencies (NACWA).
NACWA has been a tireless champion of harnessing the value of municipal biosolids as a renewable energy source and a vocal proponent of a national renewable energy standard. While we're not quite there yet on a national level, Hornback does see some forward-thinking trends at the state and local levels that could mean big things for biosolids.
"Michigan is a good example," he said. In 2008, Michigan established a renewable energy standard that calls for electric utilities and co-ops to generate 10% of their power from renewable energy sources. As a result, some power companies are working with local wastewater utilities to utilize biosolids (in the form of pellets) as a substitute for coal.
Detroit Water and Sewerage Department (DWSD), for example, will provide DTE Energy Services (DTEES) with 800,000 wet tons of biosolids annually — biosolids that would otherwise have been incinerated. DTEES will further process the biosolids into pellets that it will sell to its River Rouge Power Plant and other utilities that currently burn coal.
"Using dry biosolids pellets as a substitute for coal is a way for energy companies to meet a state mandate for renewable energy," said Hornback. "And the savvy energy providers are seeing where they can get nearby green energy sources."
It's not without its hurdles, however. In March 2011, EPA finalized a rule identifying which non-hazardous secondary materials are (or are not) "solid wastes" when burned in combustion units. Under that rule, all biosolids were classified as solid waste.
The term "solid waste" has a certain regulatory significance with regard to the Clean Air Act, explained Hornback.
"EPA is trying to put some boundaries around what secondary materials are being burned for legitimate energy recovery purposes and what are being burned for the purposes of destruction," he explained.
"If you are burning for energy recovery, then you're regulated under a more flexible provision under the Clean Air Act," he said. The catch is that the material must be considered a "legitimate fuel" by EPA. "So now, in order to burn biosolids you have to go through a process where you petition the government to declare your biosolids a legitimate fuel."
It's added an additional regulatory barrier, but there have been successful petitions, including the Detroit/DTEES project.
Despite regulatory and financial challenges, the need for wastewater utilities to diversify biosolids management options will likely continue to drive interest in this area. "But the more interesting trend," suggested Hornback, "is the utility themselves looking for ways to harness the resources that they manage."
Indeed there appears to be a changing mindset among wastewater utility managers as they realize the untapped resources at the end of their processes. "They've got nutrients that they can pull out of their wastewater and solids; they've got potent green fertilizer; they've got high Btu fuel," said Hornback.
As leaders like BAB2E and DWSD bring innovation to fruition, the business case for biosolids-to-energy will emerge, paving the way for wastewater operators to reduce their carbon and energy footprints, and broaden their resource recovery opportunities.
---
Land Application is Still King

While interest in deriving energy from biosolids is growing, it's still a very small piece of the biosolids management pie. "Land application is still king," said Chris Hornback, Senior Director of Regulatory Affairs for the National Association of Clean Water Agencies (NACWA), "accounting for about half of the sludge managed in this country."
Case in point: the Metropolitan Water Reclamation District of Greater Chicago. According to MWRD Supervising Environmental Soil Scientist Dr. Albert Cox, the agency produces approximately 160,000 dry tons of biosolids per year — making it the largest single producer of biosolids in the United States. And almost all of it is beneficially reused through land application.
"We have two local programs," explained Dr. Cox. "In one, biosolids are used on farm land for production of crops like corn and soybean. The other is a very local program where biosolids are used in the Chicago metro area for fertilizer on recreational fields, like golf courses, parks, and high schools."
One of the biggest challenges for the MWRD program is public perception. "Informing people that the material is safe for use is a challenge," said Dr. Cox. To meet that challenge, MWRD organizes a number of public relations activities, including an annual Biosolids Field Day.
"It's one of our main activities to minimize negative perceptions and to promote biosolids to new users and attract new users," said Dr. Cox. About 75 people attended the most recent event.
"We also have a green house at our lab where people can see how biosolids can be used to grow plants," he said.
---
How Do Biosolids Stack Up to Coal?
In its response to DTE Energy Services' petition to use dried biosolids pellets as a replacement for coal, EPA prepared an analysis of the contaminant levels in both substances. In nearly every instance, the dried biosolids showed lower contaminant levels than coal.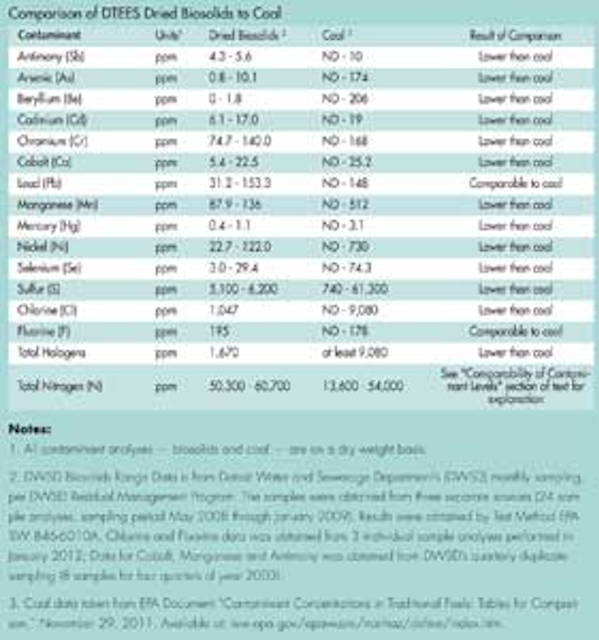 More WaterWorld Current Issue Articles
More WaterWorld Archives Issue Articles