Mobile GIS Solution Helps District Locate, Map Wastewater Services
West Central Conservancy District in central Indiana needed help accurately locating and mapping their wastewater services. With the GRS-1 field controller from Topcon Positioning Systems, it found a solution. The GRS-1 is a scalable handheld GPS system that can be configured for different accuracy levels from sub-meter to centimeter.
Sep 1st, 2015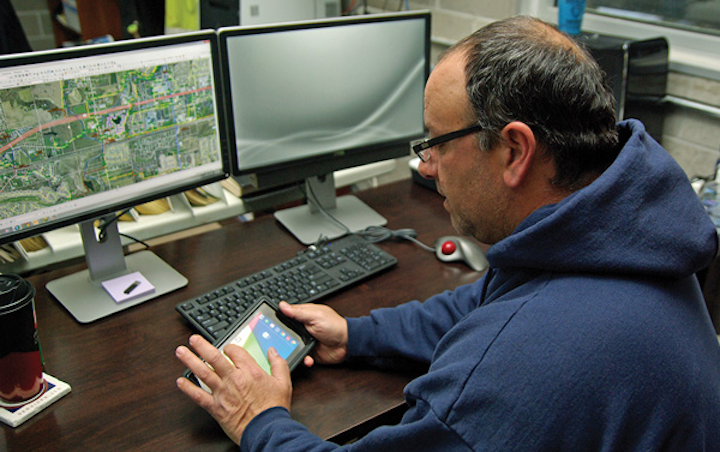 By Richard Ries
Formed in 1992, the West Central Conservancy District (WCCD) provides sewer service to more than 8,000 customers in Hendricks County, located just west of metro Indianapolis. As development from the city continued its westward march, it became necessary for the District to implement a geographic information system (GIS) for its 51.25-square-mile service area.
WCCD ultimately settled on Beehive for its ease of use and lower costs -- but the District needed data. However, a field inventory of WCCD's system revealed that it was incomplete and, in some cases, inaccurate. Determined to correct the data and improve the GIS inputs, WCCD contacted Positioning Solutions Company (PSC).
Based on WCCD's requirements at the time, PSC's Tim Kerans believed the Topcon GRS-1 would meet the District's need. The GRS-1 is a scalable handheld GPS system that can be configured for different accuracy levels from sub-meter to centimeter. He assisted the District in setting up an account with Indiana's Statewide Network for receiving sub-meter corrections via a cellular connection. Immediately, WCCD began seeing tremendous results as its GIS became more meaningful.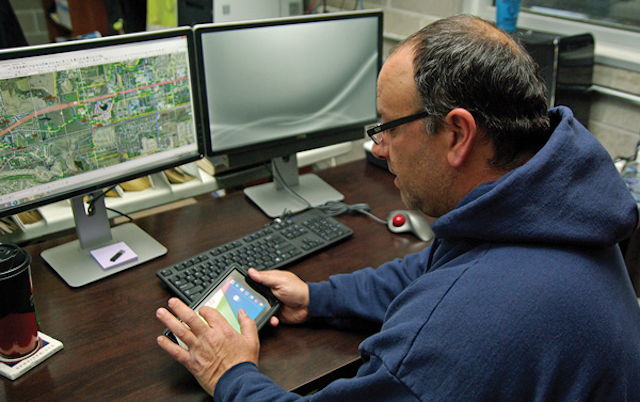 WCCD's Don Raley holds the Nexus tablet with the Topcon display.
As the District became comfortable with the new technology, Don Raley, GIS technician at WCCD, wondered what more it could do. The first task that came to mind was getting away from paper maps and the constant driving to and from the office when they were needed. The maps were a few years old, which meant they no longer depicted data accurately and were becoming worn out. Paper map books also cannot provide the same amount of information as a digital dataset with all attributes.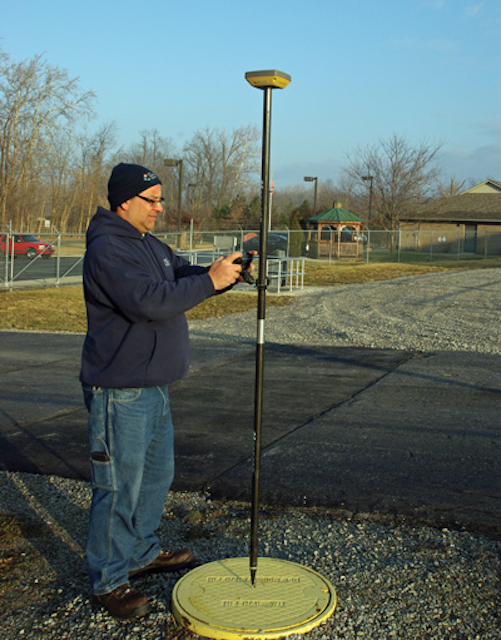 Raley demonstrates how the unit is used to establish the location of manhole covers. Photos by Richard Ries.
While the GRS-1 was a good tool for the District's initial need, it was quickly determined that it was not the ideal tool for everything. With maps of sewers covering more than 50 square miles -- and each map having multiple layers -- massive files were being created for the field. Trying to store and access so much information on mobile devices can result in slower performance speeds. For the District to maintain optimum performance on its Windows Mobile-based devices, only certain maps or specific layers were being loaded onto the GRS-1. But the goal was to have all the information available all the time.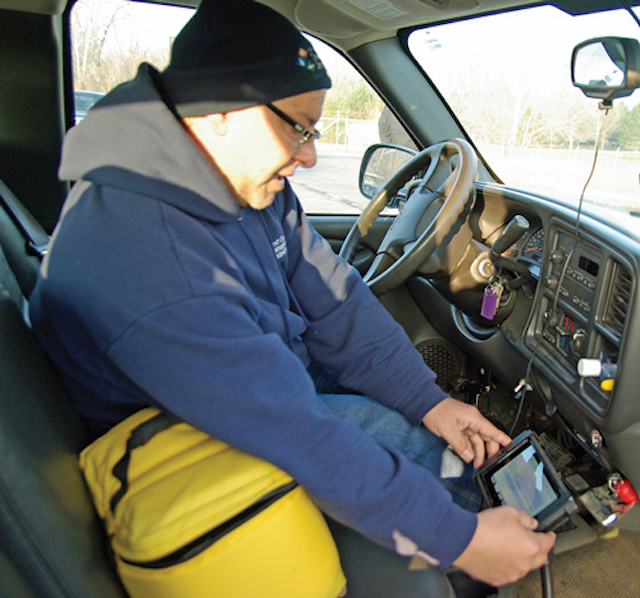 Raley mounts the Nexus tablet in the cab of his work truck. Photo by Richard Ries.

eGIS for Android to the rescue
In June 2013, Raley contacted GIS consultant Jason Tuck of Providence GIS to discuss the limitations of the current solution and the desire to do more now that the GIS data was becoming more accurate and usable. Tuck consulted with Jason Hooten, national sales manager of GIS products for Topcon, who suggested a move to eGIS for Android. The system was still in development but WCCD moved forward as an early adopter customer.
"Android brings flexibility and increased performance over many Windows Mobile-based devices," said Hooten, "and the devices are typically much more affordable for the customer." eGIS is also available for Windows Mobile devices, and "for many of our customers, eGIS for Windows PC or Mobile-based products have been great solutions," said Hooten. "By offering eGIS for Android, we're making the eGIS solution available to an even larger number of users."
WCCD installed eGIS Android on two Google Nexus 7 tablets, which offer a great display and multiple uses beyond data collection. They are also inexpensive. "The cost is anywhere from $1,500 to $3,000 lower than a comparable dedicated handheld field data collector," said Tuck.
WCCD also traded in its GRS-1 for Topcon's new HiPer SR integrated receiver. This allowed the Nexus 7 tablet to connect to the high-accuracy HiPer SR via Bluetooth, as needed, for initial collection, position edits, or locating tasks. For simple navigation, using maps or updating attribution, eGIS uses the Nexus 7 standalone. The move to Android brought with it an easier-to-use interface; touchscreen functionality for easy zooming in and out of data; a screen size increase to 7 inches; better performance with large datasets; and the potential for better communication with the office through email, text and even live video via Skype.
Regardless of the device or OS, eGIS offers several features that attracted WCCD:
Use of Shapefiles. Shapefiles have been around for some time, but they still provide speed and compatibility with many different GIS and Survey desktop applications such as Esri, Autodesk and Beehive.
Real-time correction. There is no need for post-processing. Utilizing WAAS corrections or state network RTK-based solutions, accuracy can be achieved in the field instead of waiting to post-process in the office. Real-time accuracy is essential for anyone relocating buried infrastructure such as utility lines.
eWebSync. This cloud-based data transfer utility connects the field with the office for faster decision-making and elimination of time-consuming and costly trips to and from the office. eWebSync also helps speed decision-making by getting near real-time data back to management for review and quick action planning.
eViewer. As its name implies, this desktop application is a simple viewer of eGIS collected field data; but it is so much more. Within eViewer is the eWebSync desktop utility to manage data flow between office and field through the cloud. Also, the template wizard provides simple tools to customize forms, button bars and settings so eGIS can be designed to best fit a user's requirements and workflows.
HiPer SR
In Hendricks County, fields that once grew soybeans and corn were now sprouting office complexes and shopping centers. The benefits of moving from the GRS-1 to Topcon's HiPer SR were both obvious and essential to WCCD's GIS progress. The HiPer SR would continue to provide speed and accuracy as development and density increased. The unit is built on Topcon's Vanguard system-on-chip, which includes 226-channel tracking of all current and upcoming GNSS constellations, L1/L2/L5 signal support, and up to 20 hours of operation on a single charge. The SR brings superior tracking in challenging environments with the patented Fence Antenna and is scalable for required accuracy levels.

The eViewer provides a simple view of eGIS collected field data. Screenshots by Jason Tuck.
WCCD's account with the Indiana Department of Transportation for use of its InCORS network can achieve 1- to 3-feet accuracy with the sub-meter version of the HiPer SR. Options for the SR would allow the District to increase its accuracy to less than 1 inch if it also used the RTK correction instead of the DGPS correction from the network. While the HiPer SR is used for precision locating and mapping, the accuracy of the tablets is sufficient for WCCD personnel in the normal course of their jobs.
GPS for mapping purposes continues to evolve. Many early GPS systems for meter or sub-meter accuracy were backpack based, until the handheld sub-meter system became a standard due to the smaller size and lower cost. As demand increases for tablets that feature touchscreens and an ever-increasing amount of quality datasets, there is a new shift from handhelds with limited use to tablets and smartphones being paired with receivers only when a task calls for the accuracy.
"With devices like the HiPer SR, we provide reliable, high-accuracy positioning to our applications as well as third-party applications on devices likely already purchased for other tasks within the organization," said Hooten. "This helps clients get better utilization, increased ROI, and less warranty and maintenance fees."
Feeding the GIS
With the initial success of eGIS on the Android tablets, WCCD added an additional tablet and license of eGIS Android that enables an additional field crew access to the latest GIS map data and the tools to update as needed. Raley hopes to have tablets with eGIS Android for all employees as the District's Beehive GIS implementation continues. "Our tablets and eGIS for Android give us the speed and efficiency that a small agency like ours needs in order to remain cost-effective," he said. "We appreciate the benefits, and so do our customers."
About the Author: Richard Ries is an independent writer and photographer whose office is in Madison, Ind. His career began in 1985 and for the past twenty years, he has been serving the heavy and highway construction industry.