Xylem honored as part of 2016 CAGC Pinnacle Award team
The prestigious award, presented annually, was awarded to the team involved with the North East Interceptor (NEI) Rehabilitation Phase 2 Project in Wilmington, NC.
Mar 2nd, 2016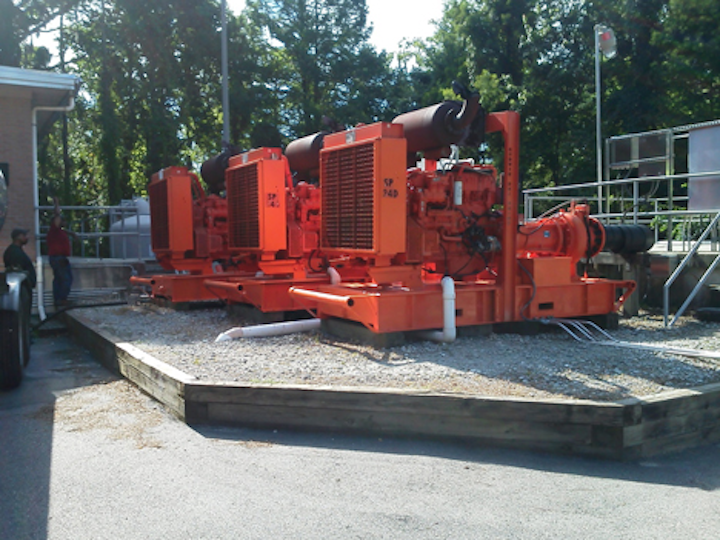 Bridgeport, N.J., March 2, 2016 – Xylem Inc. (NYSE:XYL), a leading global water technology company dedicated to solving the world's most challenging water issues, was a primary subcontractor on a project that received the Carolina's Associated General Contractors (CAGC) Pinnacle Award at the Carolinas AGC convention. The prestigious award, presented annually, was awarded to the team involved with the North East Interceptor (NEI) Rehabilitation Phase 2 Project in Wilmington, NC.
The team, led by State Utility Contractors, Inc. included Xylem's Dewatering business, KRG Utility, Cape Fear Public Utility Authority, Kimley-Horn and Associates, and Underground Solutions, Inc., all of whom provided critical engagement throughout the eight month project.
The multifaceted project, to replace approximately 5,140 Linear Feet (LF) of 20-inch Ductile Iron force main, required a 100% redundant sewer bypass system – capable of handling 13.5 million gallons of flow per day. Xylem engineers worked closely with State Utility Contractors and Kimley-Horn to provide the optimal pump rental solution for the bypass component.
"We are thrilled and honored to have participated with State Utility on this project," states Jarrod Williamson, Southeast Region Manager for Xylem's Dewatering business. "They're a first-rate organization, and it's their skill and experience that earned them this prestigious award on this very complex project."
To handle the added head requirements of the temporary force main bypass operations, and to minimize the use of diesel fuel during the project, Xylem recommended a Godwin CD300M Electric Bypass pump at both the PS 34 and PS 35 pumping stations. These pumps enabled $1 million in diesel-fuel savings, and were used alongside the existing Godwin pumps at the pumping stations. They were integrated into the system using a separate PLC Controller and Godwin's Field Smart Technology (FST), providing 24 hours a day, 7 days a week monitoring of the bypass system.
"Engaging Xylem in the planning and execution of the project gave us the reassurance that we had the right pump for the job," says Dustin Wagner of State Utility Contractors. "Their team of engineers was able to identify some of the challenges upfront, saving us time, money, and headaches throughout the project. Their inherent knowledge and expertise, and knowing what it takes to get the job done, is what we needed in a trusted partner. And that was very reassuring for us."
To find out more about State Utility Contractors, their award-winning project, and their extensive capabilities please visit www.sucontractors.com.
Through its Godwin brand, Xylem has been providing rental solutions for wastewater and bypass applications for over 40 years. For additional information about Godwin pumps, and the right pump for the job, please visit www.xylem.com/dewatering/us/industries/municipal.
About Xylem
Xylem (XYL) is a leading global water technology provider, enabling customers to transport, treat, test and efficiently use water in public utility, residential and commercial building services, industrial and agricultural settings. The company does business in more than 150 countries through a number of market-leading product brands, and its people bring broad applications expertise with a strong focus on finding local solutions to the world's most challenging water and wastewater problems. Xylem is headquartered in Rye Brook, New York, with 2015 revenue of $3.7 billion and approximately 12,500 employees worldwide. Xylem was named to the Dow Jones Sustainability Index for the last four years for advancing sustainable business practices and solutions worldwide, and the Company has satisfied the requirements to be a constituent of the FTSE4Good Index Series each year since 2013.
The name Xylem is derived from classical Greek and is the tissue that transports water in plants, highlighting the engineering efficiency of our water-centric business by linking it with the best water transportation of all — that which occurs in nature. For more information, please visit us at www.xylem.com.