Washington County, Md., selects Evoqua system for wastewater treatment
System saves Washington County, Md., $16 Million in wastewater facility upgrade costs.
Jun 2nd, 2016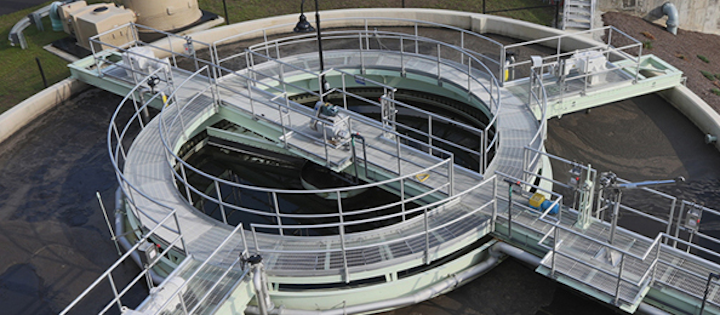 PITTSBURGH, PA, June 2, 2016 -- Evoqua Water Technologies has been selected by Washington County, Md., to supply its BioMag® ballasted biological treatment system to meet stringent Chesapeake Bay nutrient removal limits at the Conococheague Wastewater Treatment Plant, which saves the County $16 million in upgrade costs. The $3.0 million BioMag System contract will be the County's third installation of this technology at its wastewater treatment facilities.
"Washington County is saving approximately $16 million by purchasing BioMag Systems," said Julie Pippel, director of the county's Division of Environmental Management. "It is much more cost effective to reuse existing infrastructure with the BioMag System, rather than incurring the expense of building an all-new treatment plant."
The BioMag System infuses magnetite -- fine, fully oxidized, iron ore particles -- into biological floc to make it heavier, enhancing the clarification process. The System uses the world's fastest proven settling clarification technology for biological floc – allowing capacity expansion and performance improvement with minimal plant modifications at the lowest cost possible.
In addition to the Conococheague facility, which is north of Williamsport, Md., Washington County's Winebrenner Wastewater Treatment Plant in Cascade, Md., and the Smithsburg Wastewater Treatment Plant in Smithsburg, Md., are also already using the BioMag System to meet the state's new nutrient removal standards. The System will be operational at the Conococheague facility by the spring of 2018.
The state of Maryland's Chesapeake Bay Initiative is intended to reduce pollutants, such as nitrogen and phosphorus, in the bay by 25 percent by the year 2025. The initiative helps protect the aquatic habitat for fish and other wildlife that depend upon the local Chesapeake Bay watershed.
"We want to thank the Washington County management team, Kershner Environmental Technologies, our sales partner, and RK&K Engineers for pioneering this innovative new technology," said Marc Roehl, vice president and general manager of Evoqua's Municipal Wastewater Treatment division. "They have been great to collaborate with to implement a progressive approach to overcoming local environmental challenges."
About the BioMag System
The BioMag System provides up to 300 percent more treatment capacity in existing tanks and smaller treatment volumes by delivering faster and more reliable clarification than alternative technologies. It also enables plants to meet tougher ENR standards without tertiary filtration. The BioMag System can be applied to any type of activated sludge process. Magnetite ballast, which is added into the biological reactor to accelerate settling, is continuously separated from the waste-activated sludge stream. Up to 95 percent of the magnetite is recovered and reused in the System. For more information, visit www.evoqua.com/biomag.