Following rainfall damage to major U.S. sewer main, Xylem delivers emergency bypass in record time
Turnkey solution minimizes environmental impact and maintains service while ensuring regulatory compliance.
Apr 19th, 2017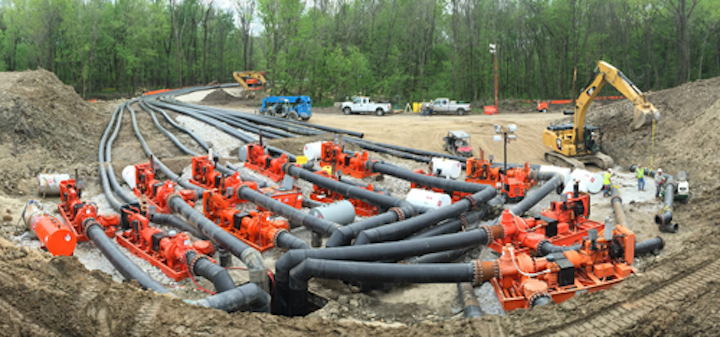 Fourteen Godwin CD400M diesel-driven Dri-Prime pumps were put in place in the suction pit. Photo: Xylem.
MEMPHIS, TENNESSEE, APRIL 19, 2017 – Xylem, (NYSE: XYL), a leading global water technology company dedicated to solving the world's most challenging water issues, designed and built a major emergency sewer bypass in Memphis, Tennessee in just six days. Sixteen inches of rain fell on the city, half of which fell during a two-day deluge, during spring 2016. This unprecedented rainfall eroded the soil supporting a 96-inch sanitary sewer main that carried wastewater to one of the city's central treatment plants.
City of Memphis officials immediately activated their Emergency Response Plan, bringing Xylem on board to design and develop a turnkey bypass solution to maintain sewer services, minimize the environmental impact and ensure regulatory compliance, while the main line was repaired. The project included the construction of a 2,400-foot-long, 40-foot-wide road through swamp land, so the site could be accessed.
A team of nearly 200 people composed of Xylem engineers, Memphis Public Works and contractor personnel worked in tandem to accelerate the project timeline, completing the entire turnkey bypass operation in record time. Typically this magnitude of bypass pumping would take between two to three weeks to be designed and constructed. However, the Xylem-led team completed the emergency task in just six days.
"At Xylem we pride ourselves on being a 24/7 company. We're always available with a team of people who use their expertise and experience to solve complex customer challenges every day," said Ken Albaugh, Regional Director for Xylem's pump rental business. "This project is a great example of how we use our in-depth experience and resources to rectify an emergency situation, while minimizing environmental impact and ensuring adherence to all regulations."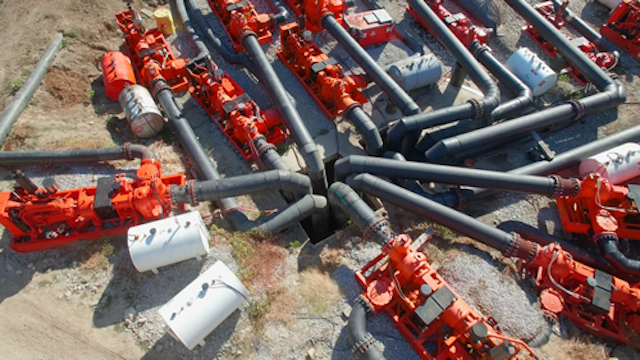 Aerial shot of the suction pit. Photo: Xylem.
"Xylem provided us with the expertise and efficiency we needed in this emergency situation," said Paul Patterson, Environmental Engineering Administrator for the City of Memphis. "This allowed us to focus our efforts entirely on design and construction and getting the pipe replaced. And that was key."
The damaged 96-inch sanitary sewer main crossed South Cypress Creek and carried wastewater to the T.E. Maxson Wastewater Treatment Plant in Memphis. The bypass system needed to handle 160 million gallons per day (MGD) of peak flow and traverse 2,400 linear feet from the suction point to the discharge location.
Fourteen Godwin diesel-driven Dri-Prime CD400M pumps, two Godwin hydraulically driven CD300M pumps and nearly 30,000linear feet of HDPE pipe were commissioned as part of the turnkey bypass, successfully pumping 60 to160 million gallons per day of raw sewage daily.
About Xylem
Xylem (XYL) is a leading global water technology company committed to developing innovative technology solutions to the world's water challenges. The Company's products and services move, treat, analyze, monitor and return water to the environment in public utility, industrial, residential and commercial building services, and agricultural settings. With its October 2016 acquisition of Sensus, Xylem added smart metering, network technologies and advanced data analytics for water, gas and electric utilities to its portfolio of solutions. The combined Company's nearly 16,000 employees bring broad applications expertise with a strong focus on identifying comprehensive, sustainable solutions. Headquartered in Rye Brook, New York with 2016 revenue of $3.8 billion, Xylem does business in more than 150 countries through a number of market-leading product brands. The name Xylem is derived from classical Greek and is the tissue that transports water in plants, highlighting the engineering efficiency of our water-centric business by linking it with the best water transportation of all -- that which occurs in nature. For more information, please visit us at www.xylem.com.