LA Sanitation honored by California Water Environment Association
Utility's Wastewater Collection Systems and Green Chemistry Guide earn honors.
Apr 6th, 2017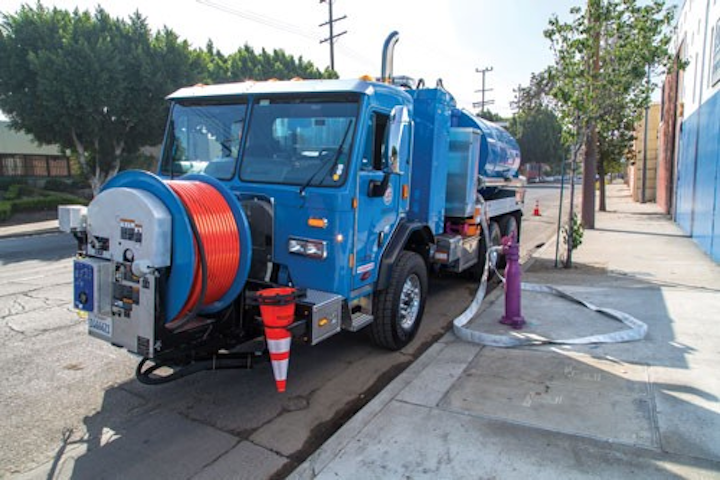 LOS ANGELES, CA, APRIL 5, 2017 -- LA Sanitation received recognition for its Wastewater Collection Systems and the Green Chemistry Guide by The California Water Environment Association (CWEA). An award ceremony is planned for next month at CWEA's annual conference.
CWEA selected LASAN as the 2016 recipient of the Collection System of the Year Large Award (Over 500 miles). LASAN owns one of the largest sewer systems in the country with 6,700 miles of sewers and a system flow of over 350 million gallons of wastewater processed daily. Even with those large numbers, Sanitary Sewer Overflows (SSO) in the City's sewer system has declined by 90% since 2000-01 Fiscal Year and over 500 miles of sewers renewed and rehabilitated over the last decade.
The association will also recognize LASAN's Industrial Waste Management Division for the Green Chemistry Guide, which received 2nd place in the 2016 Community Engagement and Outreach category: Project of the Year Small Budget (Under $20,000). The Green Chemistry Guide -- which includes a five-part webinar series -- is a resource that helps manufacturers select environmentally-friendly raw-materials and provides a competitive advantage for companies willing to embrace and implement the principles in the work place. The guide also suggests ways for factories to minimize the harmful waste products that are released into the wastewater stream.
"LA Sanitation is honored to receive this recognition from the California Water Environment Association," said LA Sanitation Director and General Manager Enrique C. Zaldivar, P.E. "Our Wastewater Collection Systems division does an outstanding job operating and managing our vast sewer system, while our Industrial Waste Management division, through the Green Chemistry Guide, provide manufactures and factories with valuable information to operate in a more sustainable manner."
About LA Sanitation
As the lead agency for the City's environmental programs and initiatives, LA Sanitation protects public health and the environment through the administration and management of three program areas: Clean Water (Wastewater), Solid Resources (Solid Waste Management) and Watershed Protection (Stormwater). These infrastructure programs collect, treat, recycle, and dispose the solid and liquid waste generated by the nation's second largest city of more than four million residents. Through these essential public service programs, LA Sanitation delivers a triple bottom line of economic, environmental, and social benefits that sustain the quality of life in Los Angeles. For more information, please visit www.lacity san.org