Managing Wastewater with Reuse in Mind
Water scarcity issues, which now affect every continent in the world, are spurring utilities to think more strategically about the way they treat and manage wastewater.
Nov 1st, 2016
By Sarah Fister Gale
Water scarcity issues, which now affect every continent in the world, are spurring utilities to think more strategically about the way they treat and manage wastewater. While many facilities are making incremental improvements that focus on regulatory requirements, forward thinking utility leaders are looking for more innovative solutions that exceed standards while addressing broader water accessibility issues.

Aerial photo of the Upper Occoquan reservoir.
"It is time to start thinking about wastewater as a resource and how we can benefit from it, rather than just treating it," said David Jassby, assistant professor of chemical and environmental engineering at the University of California - Riverside. The challenge is finding projects that meet the unique needs of the climate and the community. Jassby recently co-authored a report on how treatment facilities could tailor wastewater treatment for high-value crops, like citrus and wine, by balancing the saline, nitrogen and phosphorus. "With a little additional treatment we can engineer the water to suit agricultural needs," he said. This may be an innovative solution to California's water crisis, but it isn't cutting-edge technology, Jassby said. "It's about building the right treatment train to meet needs."
As wastewater reuse and recycling becomes more mainstream, many utilities across the country are following this approach, seeking new ways to use existing technology to address local water issues. According to a 2016 report from Bluefield Research, the U.S. wastewater reuse sector now has an installed capacity of 18.5 million cubic meters per day, with another US$12 billion worth of projects in the pipeline. According to Erin Bonney Casey, senior analyst for Bluefield Research, the company has seen the reuse project pipeline more than double in the last six months due in large part to "growing municipal utility concerns about long-term water supply risks."1
Treat It Yourself
Many of these projects involve the reuse of treated "gray water" for non-potable uses, like irrigation and cooling towers, as a way to reduce stress on local water sources. San Francisco, for example, has launched several water recycling projects in the past five years, including construction of infrastructure to irrigate Sharp Park Golf Course in Pacifica with gray water in 2014, and the opening of a truck fill station that dispenses recycled water to contractors, street cleaners, landscapers and city departments. It is all part of a broader citywide plan to harness the benefits of wastewater reuse to reduce the use of potable water, said Paula Kehoe, director of water resources for the San Francisco Public Utilities Commission (SFPUC). "Our local water program starts with conservation, then we focus on recycling where we can."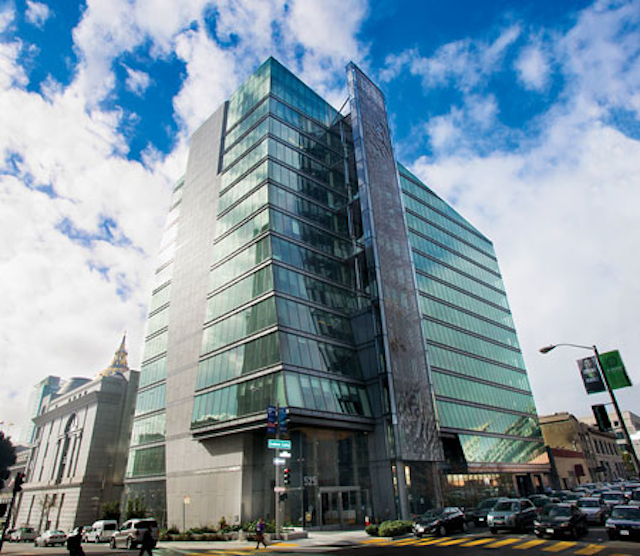 The SFPUC headquarters at 525 Golden Gate consumes 60% less water than similarly sized buildings and is one of the first buildings in the nation with onsite treatment of gray and black water.
Though recently city leaders have come to the conclusion that SFPUC can't do it all on their own, which is why they have launched the decentralized Non-Potable Water Program. The program allows private building owners and developers to build on-site infrastructure to capture, treat, and reuse alternate water sources, including stormwater, gray water, black water, and foundation drainage. Kehoe estimates buildings can reduce their potable water use by up to 65 percent by implementing these systems.
To ensure public safety and oversight, SFPUC, working with the local public health agency, received guidance from municipal leaders in Minnesota, New York City, Oregon and other regions that have already passed regulations supporting decentralized water treatment options. "It took two years to develop the regulatory framework to ensure the program could be safely implemented," Kehoe noted. The final version was rolled out in 2013, and in 2015 the city made it mandatory for all new buildings larger than 250,000 square feet. There are already 20 systems online, and Kehoe expects more to come. "Decentralized water systems aren't right for every community," she said. "But in a dense, rapidly growing environment (like San Francisco) it works."
Upper Occoquan's Hidden Gem
Some people might be surprised to hear that San Francisco is seeking water management guidance from cities in the Midwest and on the east coast where water is seemingly plentiful. But wastewater reuse programs are not limited to drought-stricken communities. In fact, one of the most ground-breaking projects was launched by the upper Occoquan Service Authority in Fairfax, Va., which has been treating wastewater to water quality standards for almost 40 years.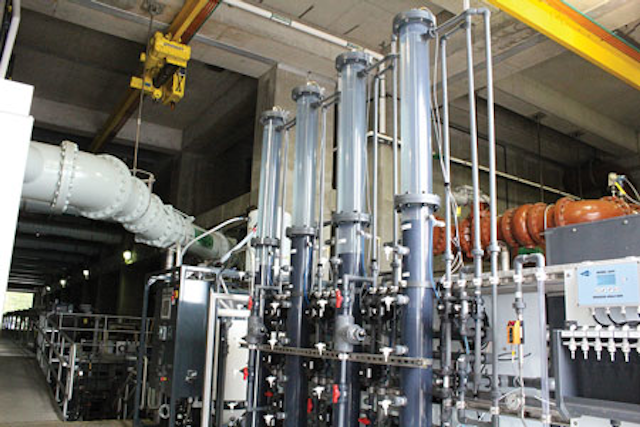 HRSD's highly treated water passes through BAC/GAC filtration columns as part of the carbon-based advanced water treatment process at the SWIFT pilot facility.
The community, which is 40 miles west of Washington, D.C., was rural until the late 1960s when a new highway turned the agricultural community into a popular commuter destination. Within a few years, the eleven small and relatively inefficient wastewater treatment plants couldn't handle the rapid growth, and water quality in the local reservoir started to suffer, explained Chuck Boepple, executive director of the Upper Occoquan Service Authority. Despite it being the 1970s - when water scarcity wasn't even a thing - local leaders realized that they were going to need more, and better quality, water as the community grew. So the Virginia Water Control Board created the Upper Occoquan Service Authority (UOSA) to provide state-of-the-art treatment for all wastewater generated in the Occoquan Watershed, and established the Occoquan Watershed Monitoring Laboratory (OWML). They also adopted stringent discharge requirements and put a plan in place to build a new high-tech regional water reclamation facility to replace the eleven existing treatment plants.
The new facility, which opened in 1978 and has gone through several expansions, features a multi-step treatment process that exceeds water quality requirements. It includes:
Initial conventional treatment to remove roughly 90 percent of incoming pollutants
A high lime treatment process to create a barrier against viruses and reduce phosphorus to below 0.10 mg/L
Multimedia depth filtration using granular activated carbon to meet requirements for total suspended solids and chemical oxygen demand.
A chlorination and dechlorination process to create a barrier for pathogens.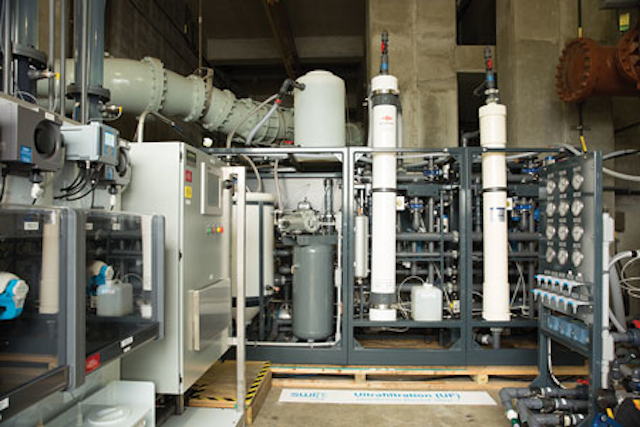 HRSD's highly treated water passes through ultrafiltration columns as it's purified through the membrane-based advanced water treatment process at the SWIFT pilot facility.
"All of these treatment steps are fairly common," Boepple said, "but together they bring our effluent discharge to drinking water quality." While the treated water doesn't go to a direct potable reuse system, it is discharged directly upstream from the drinking water impoundment. A number of studies have been conducted since building and expanding the plant, and they all conclude the wastewater facility generates the highest quality water source entering the Occoquan reservoir. "The bigger the facility gets, the better our water quality gets," he said.
A SWIFT Solution
Upper Occoquan has become something of a legend, attracting visitors from all over the world, including Ted Henifin, general manager of the Sustainable Water Initiative for Tomorrow (SWIFT) at the Hampton Roads Sanitation District (HRSD) in eastern Virginia. SWIFT is a water purification project designed to enhance the sustainability of the region's long-term groundwater supply, while supporting Chesapeake Bay restoration and addressing salt water intrusion in the water system.
The idea for SWIFT emerged when local planners were discussing their frustration with having to continually update their thirteen local wastewater facilities to meet new pollutant rules and what their long-term water management strategies should be. "Every five to ten years we invest millions of dollars to address new restrictions," Henifin said.
Rather than continuing to make incremental improvements, the team decided that with the next upgrade they wanted to bring their treated water to drinking quality standards, thus eliminating the need for future upgrades. Then to make the best use of the treated water, they would discharge it into the shrinking Potomac aquifer, which serves multiple states in the east coast region.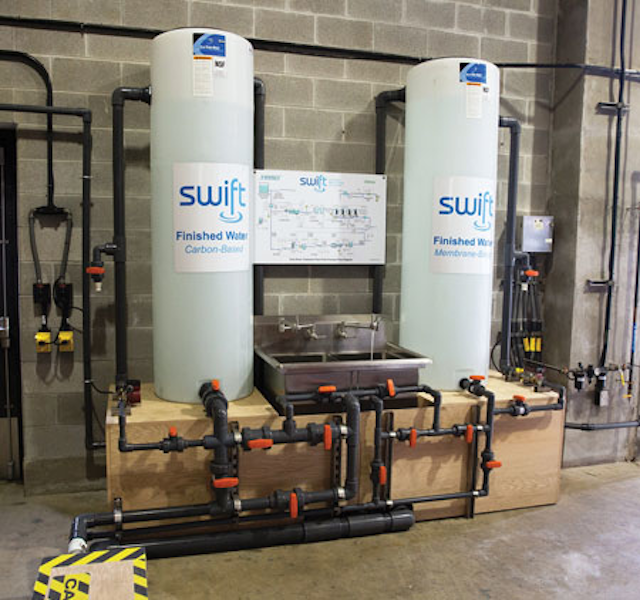 Water purified by two different treatment technologies is waiting to be sampled.
"The challenge was how to get it there," he said. They didn't want to pay to ship the treated water a long distance. Instead, they worked with engineering firm CH2M Hill to figure out if they could cost effectively put the water directly into the ground at the plant. "The model they built was more positive than we could have imagined," he said. Because the ground in that area is permeable, building injection wells would be relatively low cost, and the pressure differential and size of the aquifer meant the water could move quickly into the water table to benefit all of the communities it serves over time.
It was still a billion-dollar project, but HRSD already had a $4.4 billion, 20-year capital improvement budget in place, half of which is driven by wet weather work. Henifin's team worked with EPA to adjust their investment strategy so they could use $1 billion of it for the SWIFT project, and push some of the wet weather work beyond the 20-year window. "We had to have a capital plan in place to make this work," he said. "It would have been very difficult to sell it as a discretionary project."
HRSD is using the Upper Occoquan facility as a model for its own treatment strategy. The utility launched a pilot program at one of the treatment facilities in June, and on September 15, at a press event, Henifin drank the first glass of the treated water. "It tasted great!" he said. HRSD's plan is to eventually treat as much as 120 million gallons of wastewater to drinking-water standards per day, then inject it into the aquifer.
HRSD General Manager Ted Henifin pumps the first taste of SWIFT purified water on September 15, 2016.
Like Jassby, Henifin noted that this solution isn't right for every community. The lesson, he said, is that you have to look at all of your various water issues and opportunities to see if there might be one big solution. "I hope our project makes other people think about what is possible in water-rich communities like ours."
About the Author: Sarah Fister Gale is a Chicago-based correspondent for WaterWorld. Over the last 15 years, she has researched and written dozens of articles on water management trends, wastewater treatment systems and the impact of water scarcity on businesses and municipalities around the world.
References
1. "Water Reuse Gains Momentum in U.S. Amid Drought, Water Scarcity," Bluefield Research, press release, April 4, 2016.